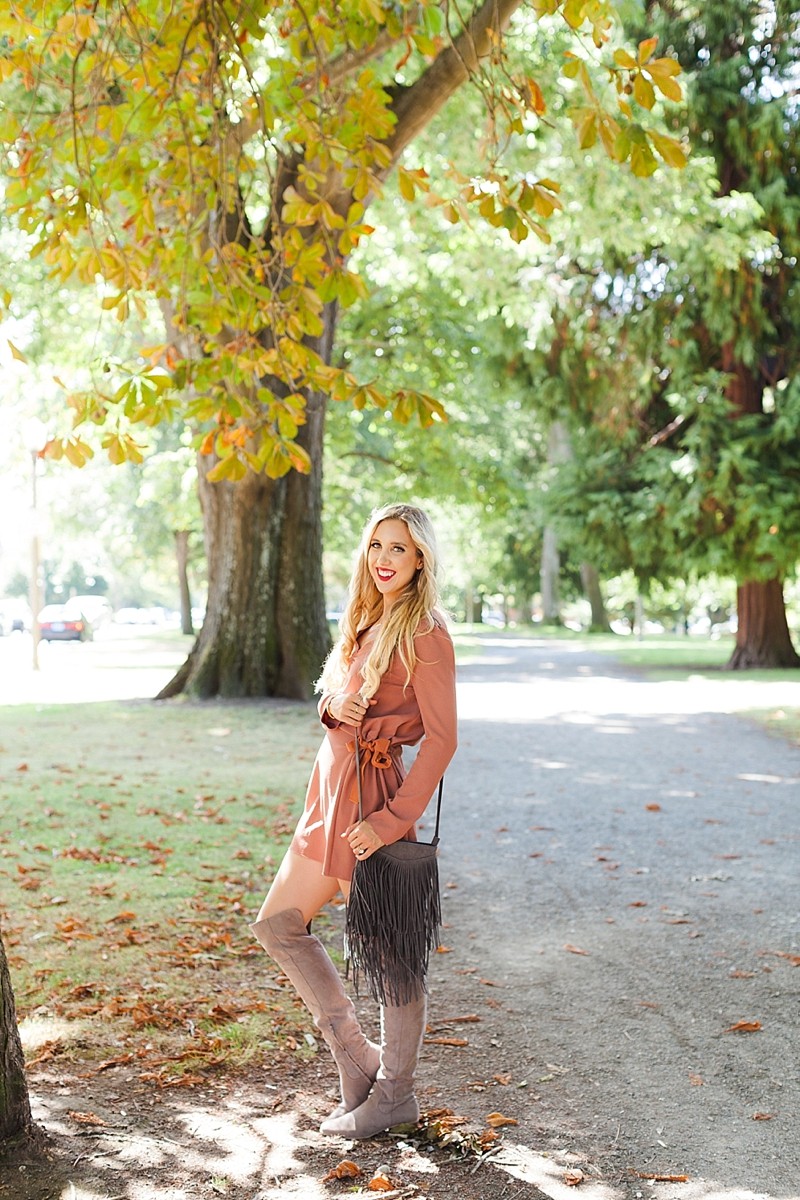 Hello, Gorgeous! The fall season rolling in means a new colors to style into outfits! Summer is all about bright hues and pastels whereas fall colors are darker toned. I love the variety of colors each new season brings, but fall is especially fun!
In today's post I'm sharing some hues you may not think to incorporate into your wardrobe for fall, or that you might shy away from. These colors aren't your typical black and grey. Keep reading to find out which hues you can start incorporating into your next look!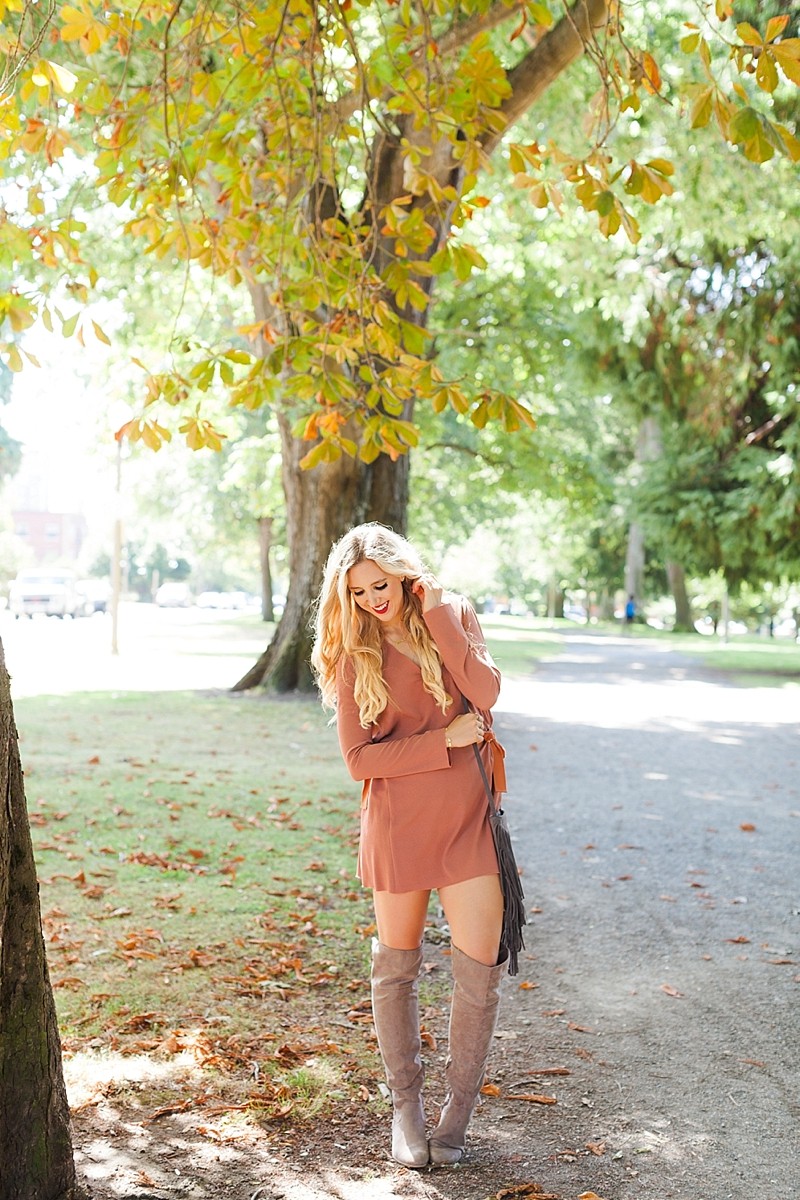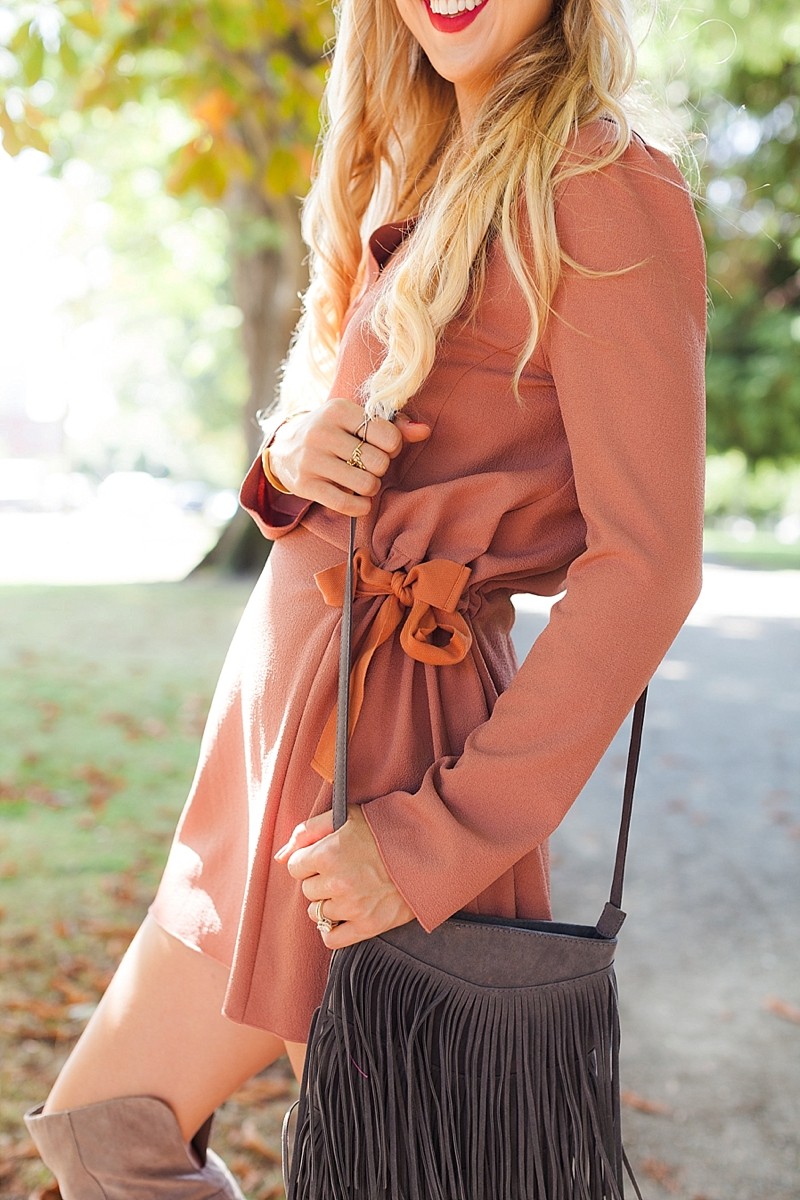 COLORS FOR FALL
BURNT ORANGE
This hue screams fall vibes because this color mirrors the changing of the leaves during this season! The reason you want to wear this color is because it's not super common as a main focal point in an outfit, but this hue looks perfect on SO many skin tones! You'll look like a fall princess and be rocking a very unique hue!
ACCENT COLORS FOR THIS LOOK: Burnt orange looks AMAZING (yes, all caps are necessary!) with greys and dark brown tones. If you tend to wear black opt for a grey color to prevent your look from appearing to much like Halloween and giving your outfit some serious chicness.
If you want to create an ultra luxurious vibe for your look adding darker brown tones will really compliment burnt orange and instantly elevate your look!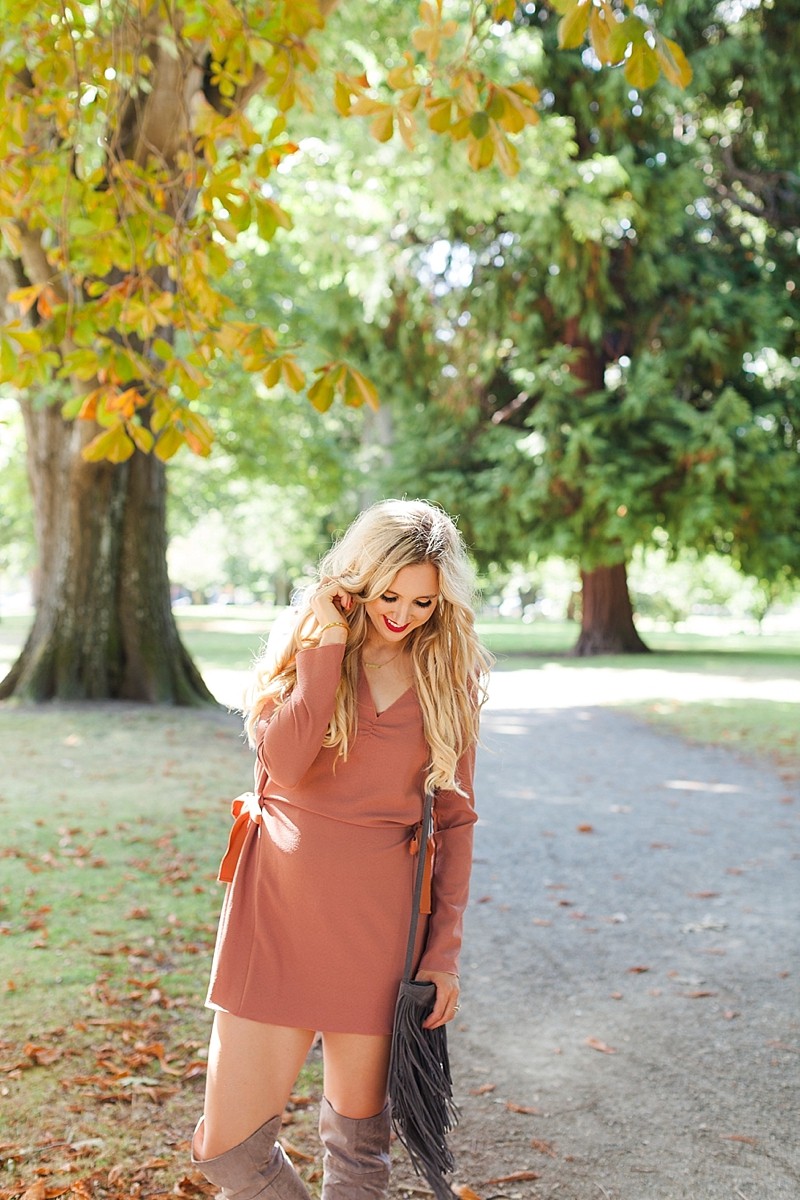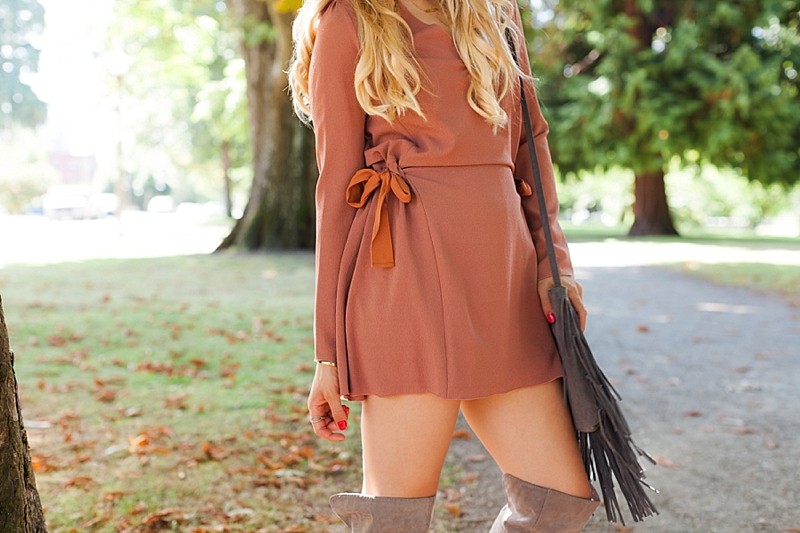 DARK YELLOW
Dark yellow for fall pieces (just like burnt orange!) pulls inspiration from nature and the changing of the leaves on the trees! This hue is super gorgeous on women with darker skin tones or features:).
Since this hue is one of the harder colors to wear as a main focal point in a look I recommend wearing this tone as a layering piece such as a cardigan, handbag, or blouse!
Just wearing a print with dark yellow as the base is also an amazing way to wear this hue as a focal point in a look (such as a dress or jumpsuit!) and is also my style trick for having all women of all skin tones look amazing while rocking this color!
ACCENT COLORS FOR THIS LOOK: Navy compliments dark yellow extremely well and the best part about this accent color when styling your look is it's super easy to incorporate! The reason is because all you need is a dark pair of denim (yepp, it's that simple!). Click here to see how I styled a dark yellow hued item!
Dark brown also looks amazing and is my "go-to" fall style tip for instantly elevating any look!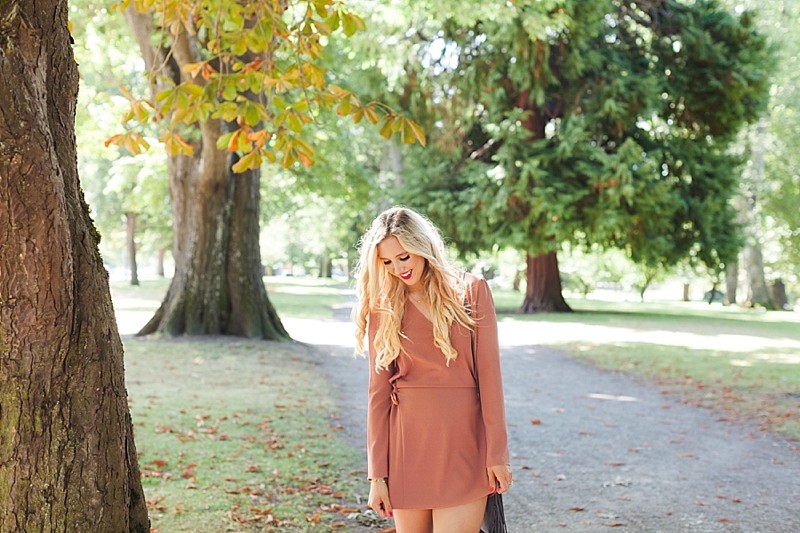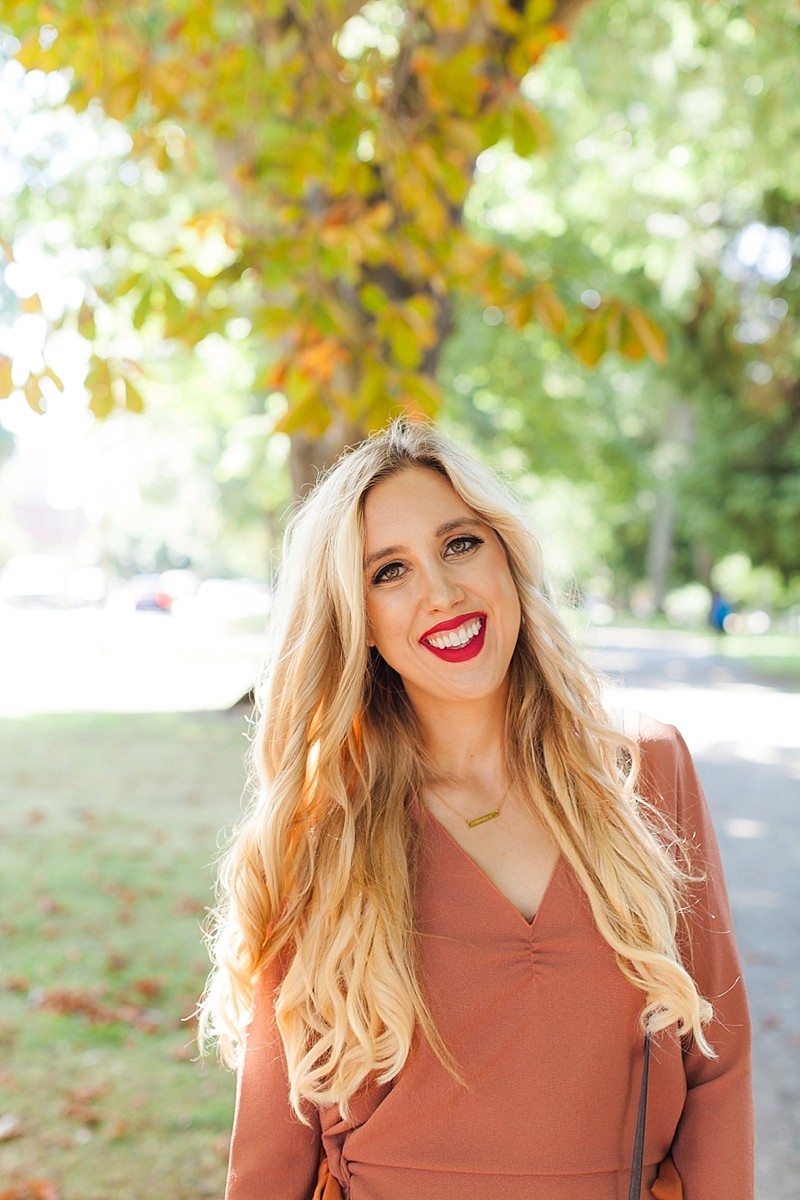 DEEP PURPLE
Deep purple is a very chic and modern take on wearing black for fall! If you want to create a look that is both fashion forward and #swoonworthy try swapping out a few black hued pieces for items that are deep purple.
This hue is flattering on everyone and deep purple is a darker tone this is also very slimming when wearing a clothing item in this hue (as is wearing black!).
ACCENT COLORS FOR THIS LOOK: Shades of light grey are the perfect compliment when styling a look with a deep purple hue!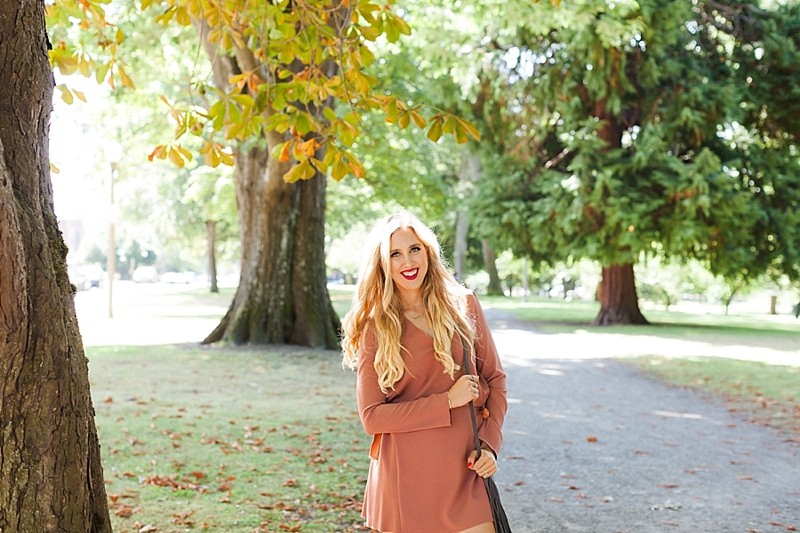 CAMEL BROWN
I cannot get enough camel brown hued items in my closet! The reason is because not only does it instantly make your outfit look more expensive but this color is not faddish. This is a classic color that will always be in style. Yes, ALWAYS be in style!
This means you can splurge on items that are in this hue and know that you can wear these pieces over and over again!
ACCENT COLORS FOR THIS LOOK: Honestly, anything is going to look amazing with this color and it's entirely up to your personal preference. Camel brown is the chameleon of fall hues because it blends seamlessly with any color!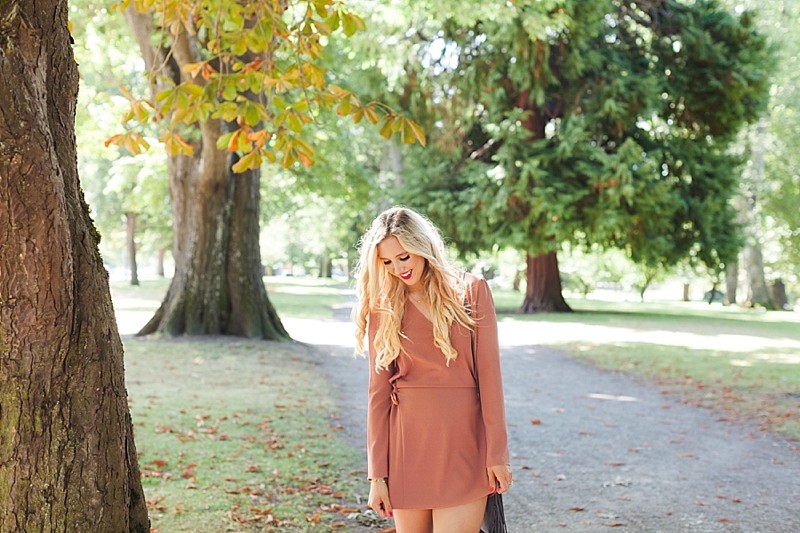 BLUSH 
Blush is back this season and in a huge way! This feminine hue is perfect for fall because any piece you want to style whether it be an accessory such as a handbag or shoes to a jacket or dress- you will find any item in this blush color. It's just that popular!
ACCENT COLORS FOR THIS LOOK: This item looks amazing with darker toned neutrals such as hunter green, blacks, and dark greys! It's the perfect hue for mixing feminine and edgy looks together!
What did you think of today's post and what colors do you plan on wearing this fall?! Let's start chatting in the comments below! Don't forget to follow me along on Instagram, Pinterest, and Facebook for daily style inspo!
Thank you so much for stopping by Blush & Camo!
xx Julianna