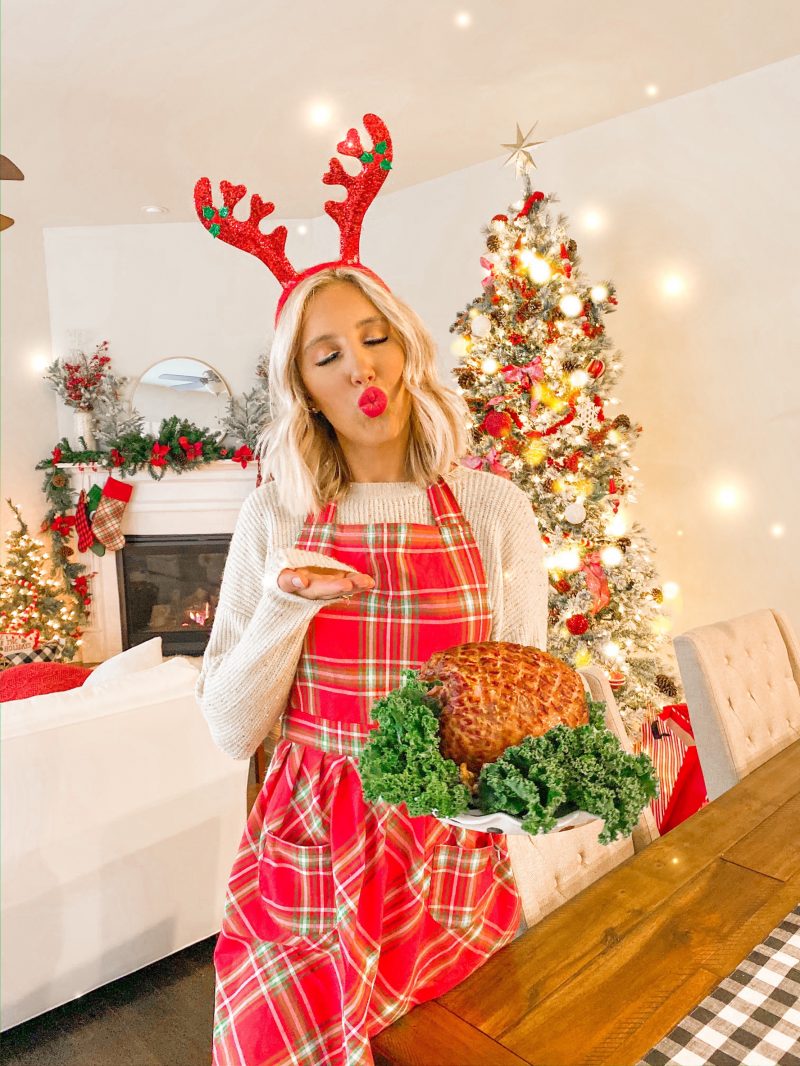 Welcome back to Blush & Camo! The holidays are officially here and that means lots of baking and cooking for friends and family. I love all the cookies, chocolate, and amazing meals that surround the holidays.
One tradition my family has every Christmas is cooking an entire Thanksgiving feast but instead of a turkey we cook a ham! For the past few years Chuck and I have hosted Christmas at our house and this year I'm SO excited to finally have a grill to help cook all of our holiday foods. My dad and I have been planning out our Christmas menu and we decided we are going to grill our ham and vegetables for the dinner!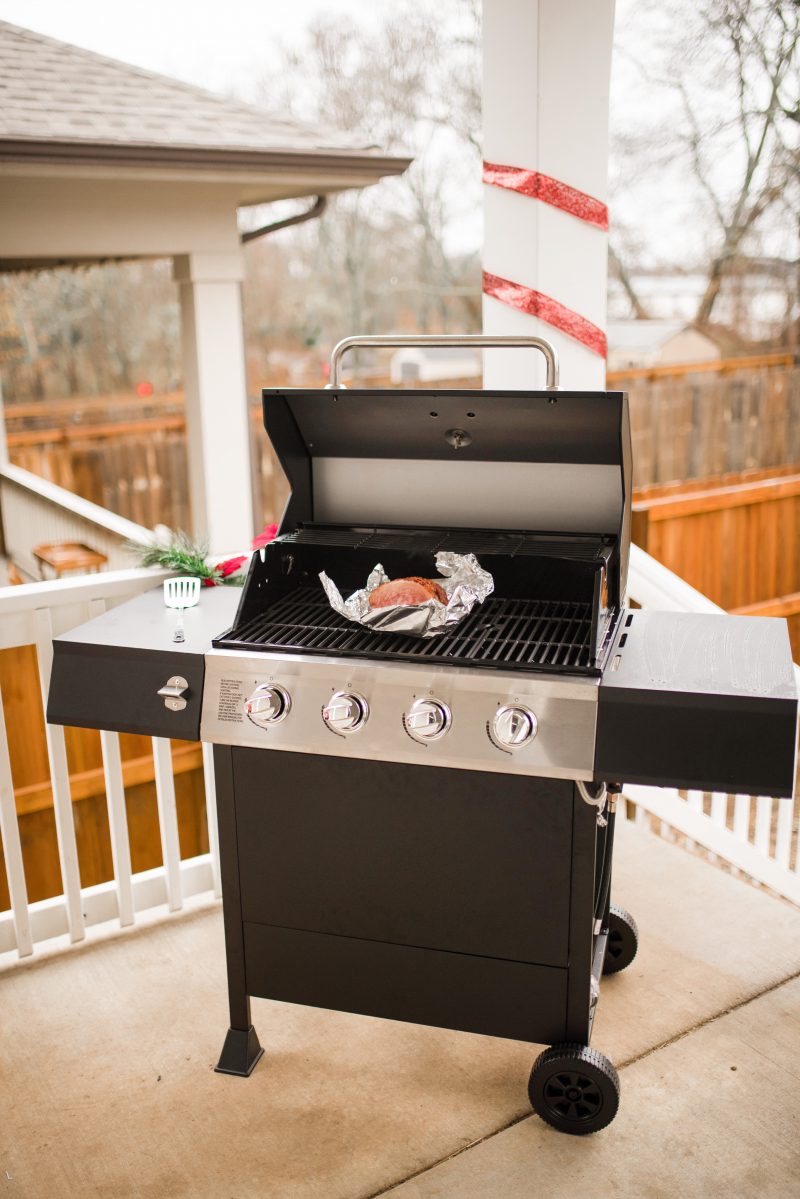 I got my grill from The Home Depot and we opted for the Dyna-Glo Four Burner Open Cart LP Gas Grill in black! There are certain features that Chuck and I both love about this grill and these features include:
Stainless steel control panel
Cast iron cooking grates
Removable drip pan and grease cup for easy upkeep
Built in bottle opener (Chuck loves this element!)
Push and turn ignition (I love this because it's so easy to use!)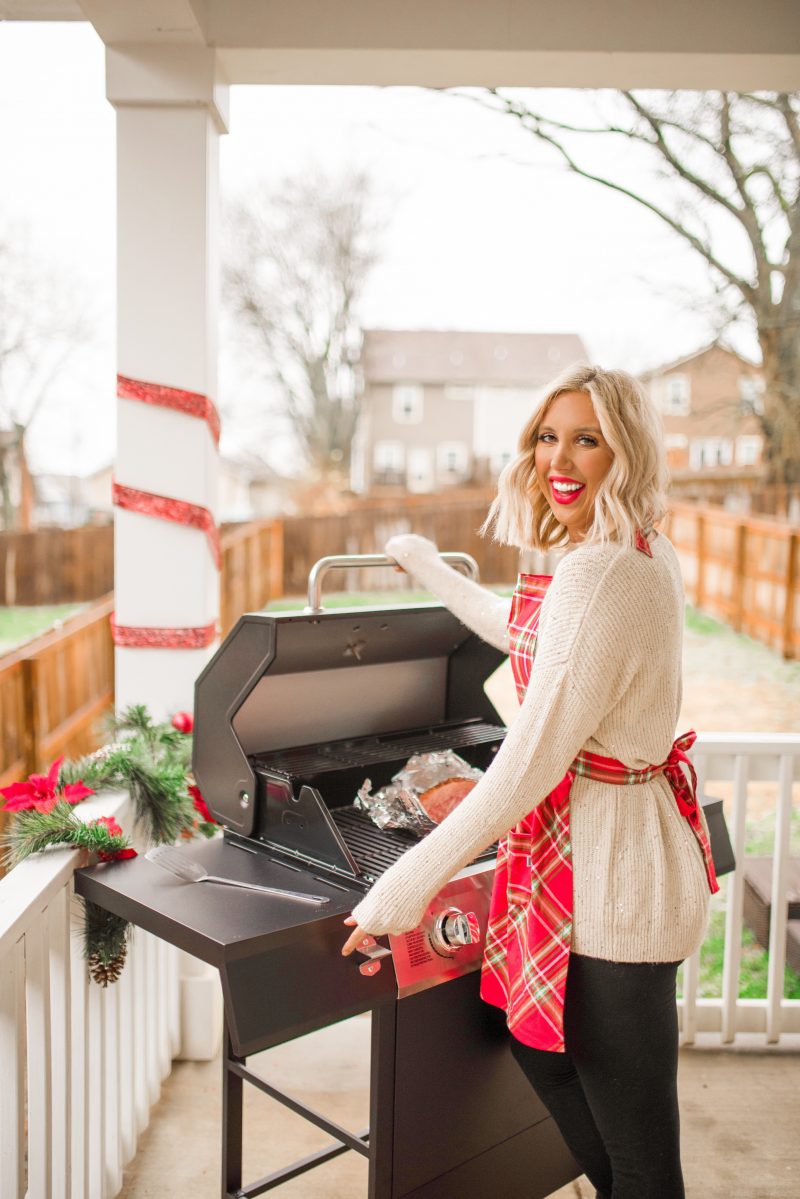 The Home Depot offers a wide selection of grills for all your grilling needs and is currently offering FREE DELIVERY on all grills purchased online and free assembly on all grills purchased in-store!
I've used this grill a few times prior to all my family coming into town and I have found it's super simple to use and helps cook delicious tasting food!
If you are looking for an easy way to grill a ham for the holidays keep reading to learn how YOU can grill your very own ham!
ITEMS YOU WILL NEED:
8- to 10-pound ham (bone-in)
Dyna-Glo Grill from The Home Depot
13-inch-by-nine inch aluminum foil pan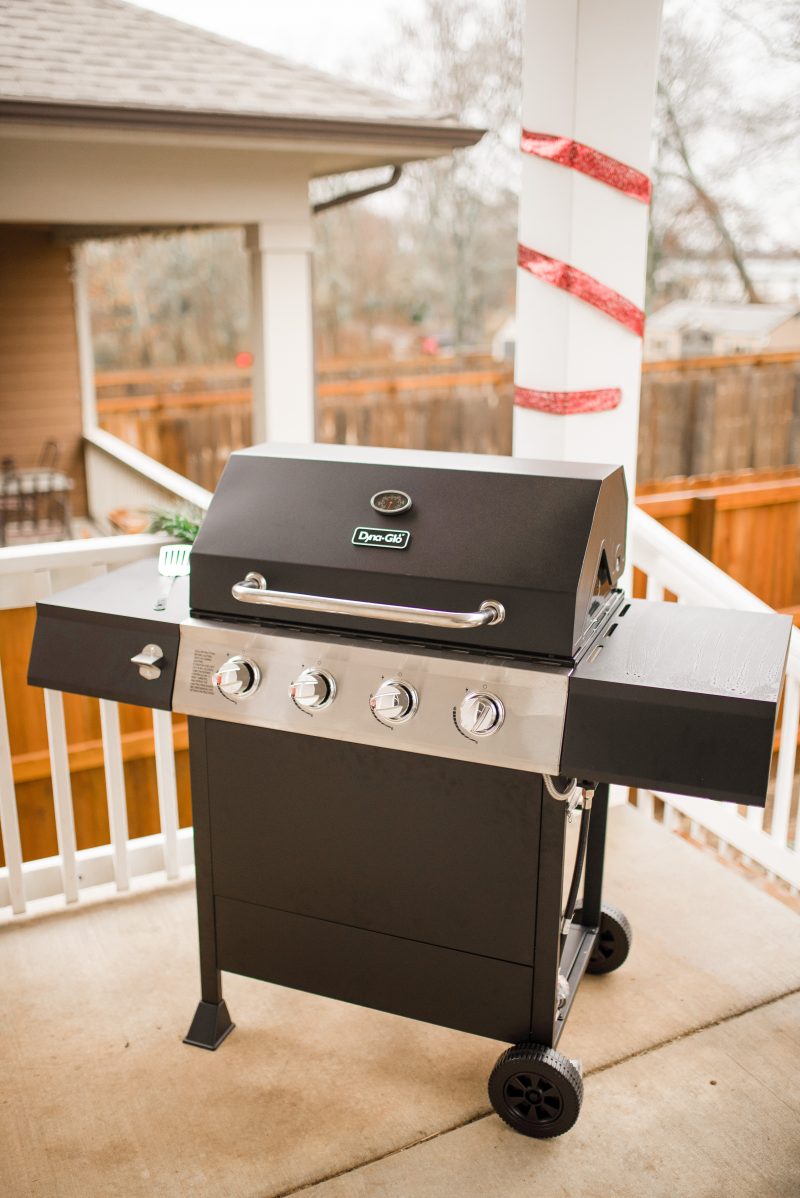 Step 1:
Preheat the grill to 500 degrees. Once the gas grill reaches this temperature, reduce the heat to 350 degrees. The high heat kills harmful bacteria on the grill grates (thanks dad for the tip!).
Step 2:
Place the ham, flat side down, in the aluminum foil pan. Discard the plastic disc over the bone, if one is on your ham. Add 1 cup of water to the pan.
Step 3:
Cook the ham over indirect heat for one hour. On a gas grill, this means leaving one burner off completely. Place the ham over the burner that is off, but ensure that you maintain a temperature around 300 to 350 degrees.
Step 4:
Close the lid to the grill. Continue to check on the temperature while the whole ham cooks.
Step 5:
Add the glaze you would like! I personally love this recipe here! It only takes five ingredients to create! You apply the glaze after one hour of the ham on the grill.
Step 6:
Add more water to the ham if the pan is dry. You can continue to add water as it dries at ½-cup intervals.
Step 7:
Continue to bake the whole ham on the gas grill for an additional hour to ½ hour. The ham needs to cook for 10 minutes for each pound. Apply glaze every half hour to keep adding flavor to the ham.
Step 8:
Remove the ham from the grill. Take the ham out of the aluminum pan, and place it on a cutting board. Tent a sheet of foil over the ham to allow the juices to stay intact. Allow the ham to rest for 20 minutes before you begin carving.
There you have it! An amazing, delicious grilled ham perfect for the holidays!
**Thank you to The Home Depot for sponsoring today's post. All thoughts and opinions are my own.
You can follow me on Pinterest by clicking here! 
Get more daily inspo by following me on Instagram and YouTube!
xx, Julianna