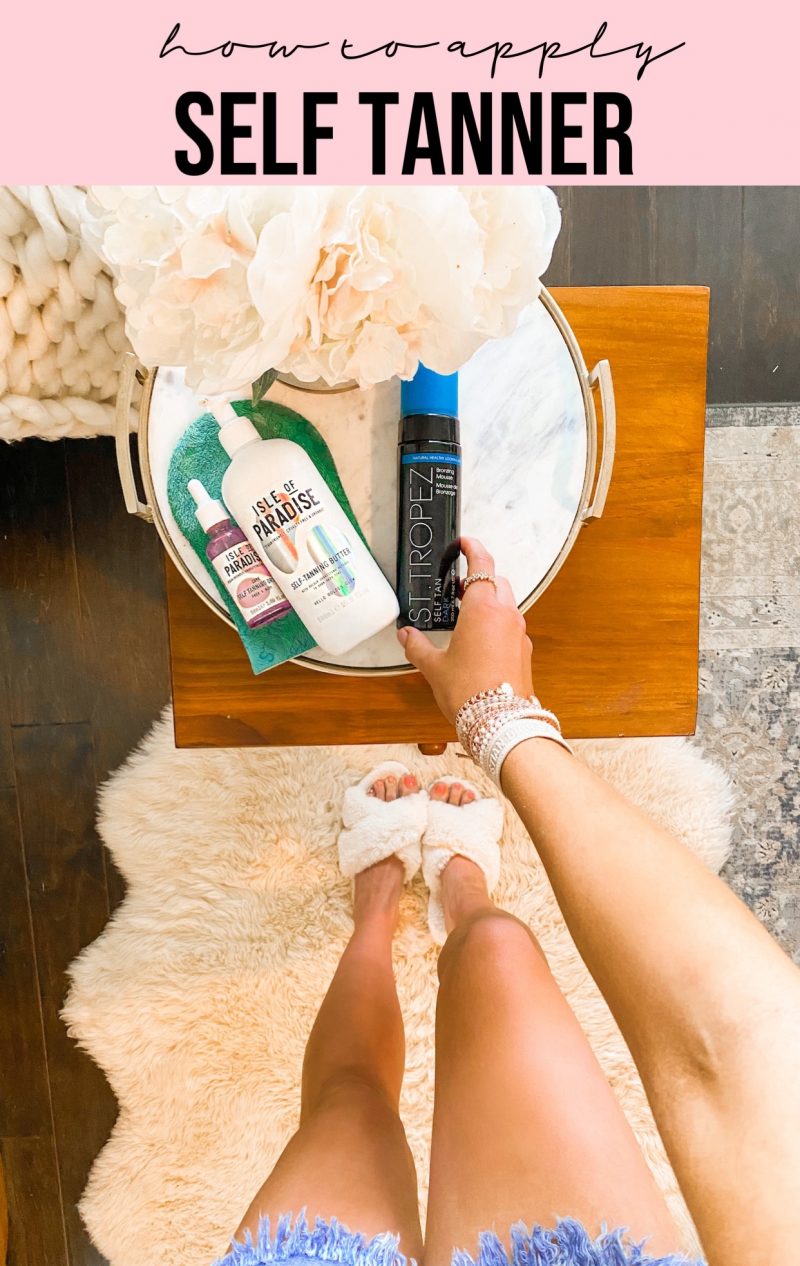 Welcome back to Blush & Camo! In today's post I'm sharing how to easily apply self tanner so you can glow all spring and summer long.
Last year was the first time I tried self tanner, and I was a little intimidated. Was it going to look streaky? Would I look orange?! Getting spray tans every other week was time consuming and expensive. So, last year, I took matters into my own hands (literally!) and decided to try out self tanners.
Over the last year I've learned a thing or two about best practices, and what to absolutely not do, so I've rounded up those best practices into today's post!
1.) EXFOLIATE YOUR BODY
You can do this in the shower with a sugar scrub! This process takes about three minutes, but will allow your self tanner to go on smoother and last longer! Ensure whatever scrub you decide to use does not have any oils in it, because this could affect the outcome of your tan.

2.) APPLY MOISTURIZER
Once you're out of the shower apply your favorite all over body moisturizer! This will help your tan last longer. Make sure your moisturizer is completely soaked in and your skin is dry prior to applying the self tanner.

3.) USE A MITT or GLOVE
This is the best tip I can give you! Using a tanning mitt or glove gives you a streak free tan, prevents your hands from turning orange. I've linked my favorites down below for you!

4.) APPLY SELF TANNER IN SMALL SECTIONS
Once you have your mitt on you're going to apply your self tanner on in sections. I like to break up applying by body part. This is my routine:
Face and Neck
Left Arm
Left Leg
Chest
Stomach
Right Arm
Right Leg
By applying your self tanner in sections this ensures you don't miss a spot!

5.) SAVE YOUR FEET FOR LAST
Feet are the trickiest body part to tan since your skin in thinner in this area and ankles are a pain to tan. I use a very small amount of product and lightly go over my feet and ankle area with my mitt.
6.) ALLOW 10-15 MINUTES TO DRY
I've gotten questions about when is the best to apply self tanner. Is is morning or night? The answer to this is personal preference! I know some of my friends prefer to put it on at night, but I apply in the morning right after I take a shower.
Regardless of the time of day you apply always allow 10-15 minutes for the self tanner to dry. I like to wear a robe or towel as I am getting ready in the morning to ensure I don't get any residue on my clothes!
7.) CONTINUE TO APPLY MOISTURIZER
To extend the longevity of your self tanner try and moisturize your body once a day!
I like to repeat this steps and reapply my self tanner every 3-5 days!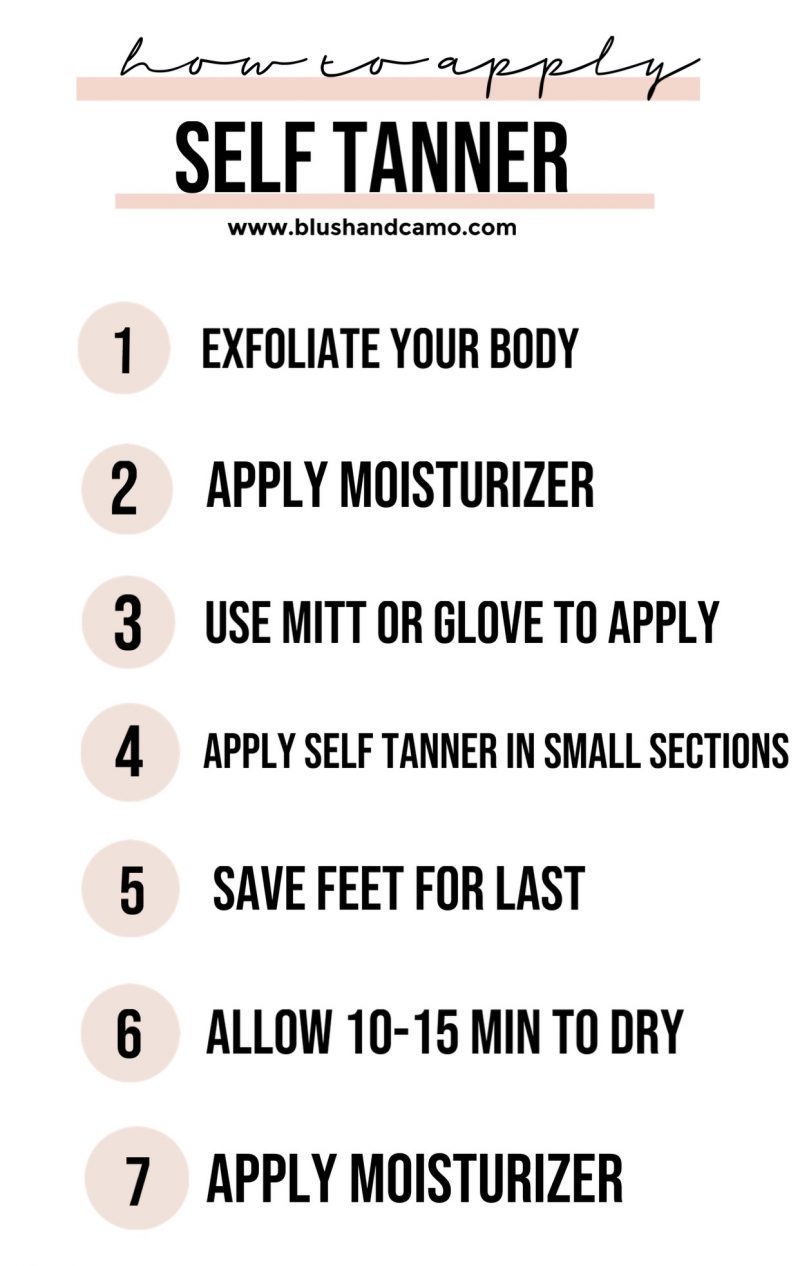 You can follow me on Pinterest by clicking here! 
Get more daily inspo by following me on Instagram and TikTok!
Thank you for stopping by Blush & Camo!
xx, Julianna