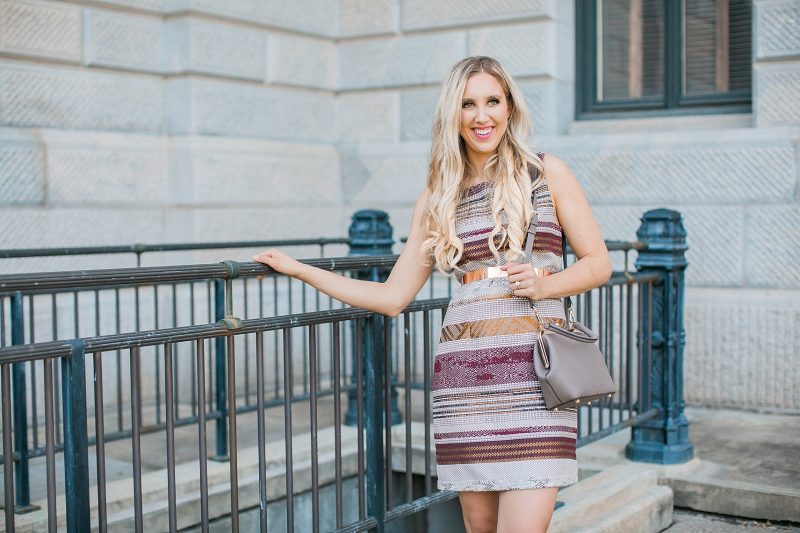 Hello, Gorgeous! Today I'm sharing a dress from Lauren Conrad's label Paper Crown and let me just say Lauren crushed the style game with this gorgeous fall piece. In today's post I'm going to share why this dress is so amazing, plus how to style this beautiful dress for fall!
Let's elevate your style!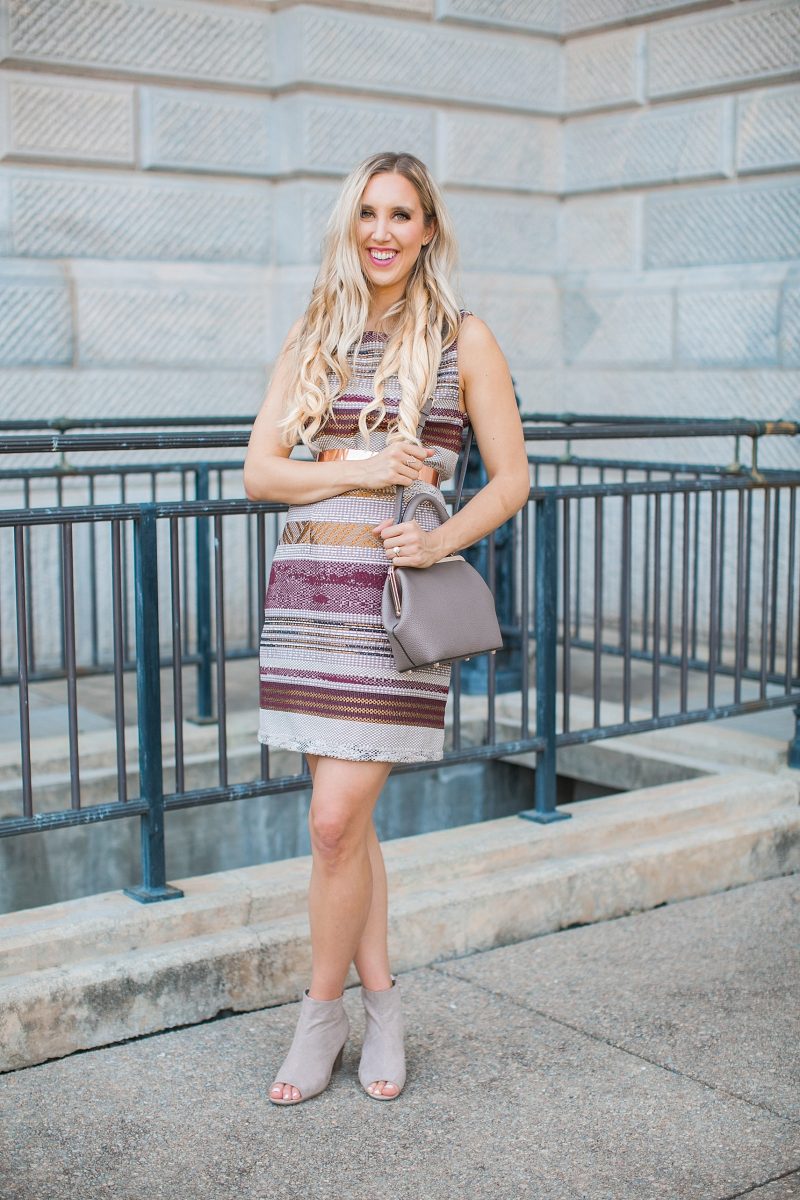 A LITTLE BIT ABOUT PAPER CROWN
For those fashionista's who have never heard of this brand by Lauren Conrad this is her higher end brand. She also has another label called LC Lauren Conrad which is sold at Khol's and I am equally obsessed with!
LC Lauren Conrad features every day pieces such as sweaters, jackets, skirts that are classic in style with an ultra feminine twist! If I could purchase every item in this collection I would totally do it in a heartbeat!
Lauren's Paper Crown label features more dresses and items that are for more special occasions. This label was launched in 2011 and has been slayyying the style game ever since! I love this label because the dresses are classic in their silhouette with an emphasis on amazing fabrics, like today's dress!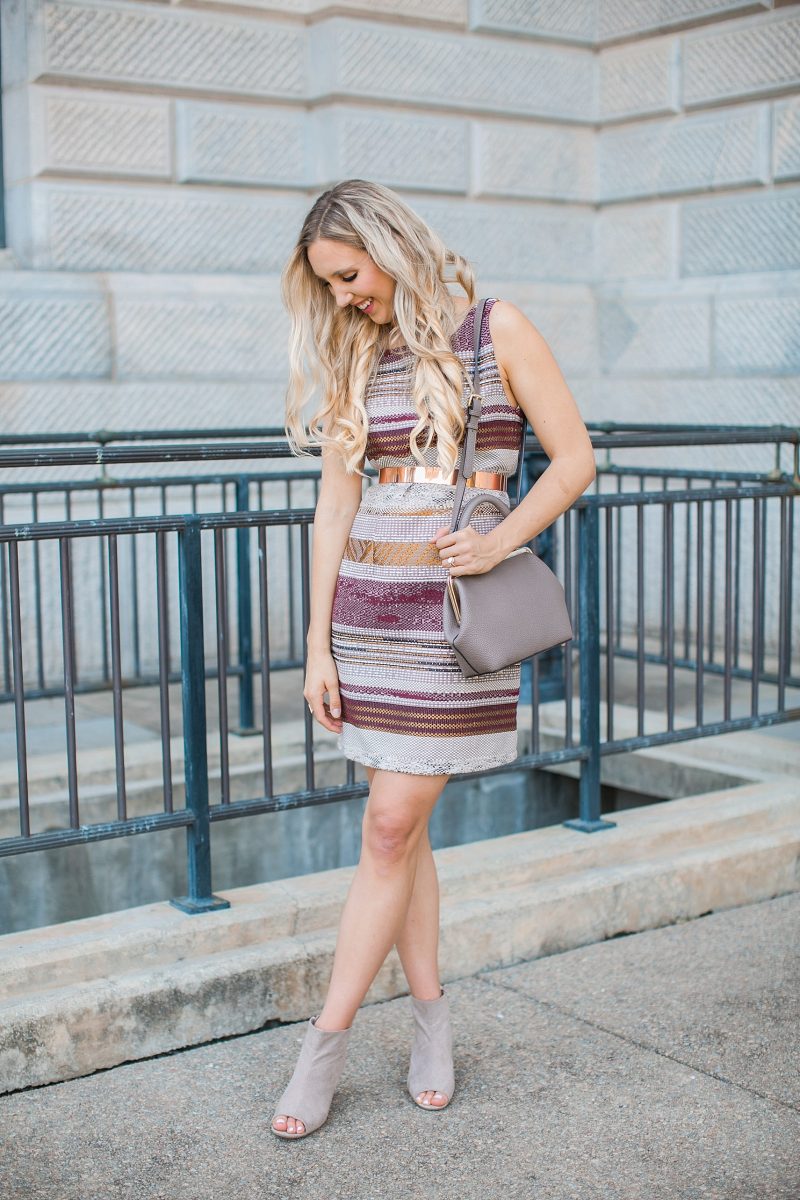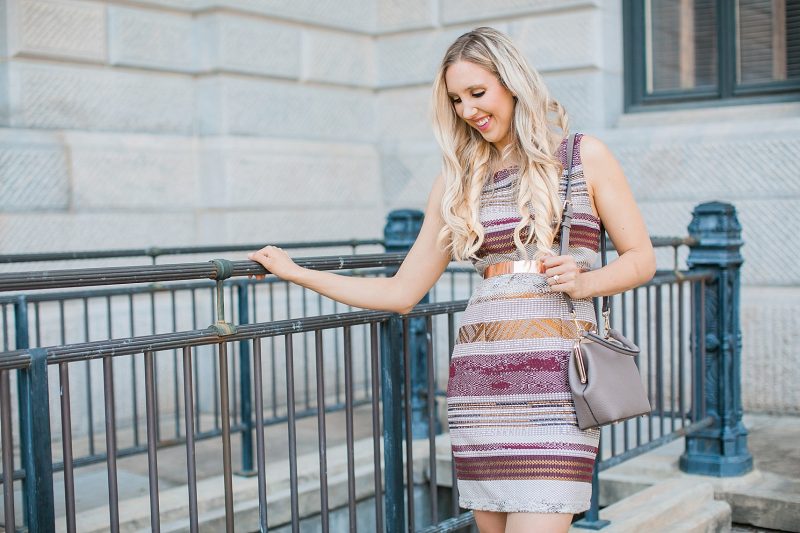 WHY THIS DRESS IS AH-MAZING
This dress is simply stunning and perfect for every single fall season due to it's classic silhouette and the unique stripe fabric in rich, fall hues!  The dress is elegant and simple at the same time which makes this dress perfect for dressing up or down.
The styling options for this dress are limitless!
If you don't already own a dress that is high quality (#SplurgeWorthy) and can be worn season after season I highly recommend adding one to your closet ASAP. I've already worn/styled this dress down for running weekend errands and then a few hours later adding a pair of block heels and a bauble necklace for date night!
When you are looking for a dress to splurge on, such as this Paper Crown dress, here is what to look for:
A dress in a classic silhouette
A dress with a classic pattern such as stripes or dark florals
A dress that is in a darker hue to exude some serious fall vibes
A dress that cuts off right above the knee or below because this will allow you to style this dress for multiple occasions instead of only a handful of events.
Now that you know what to look for in a classic fall dress worthy of your hard earned money here are a few ways to style this type of dress!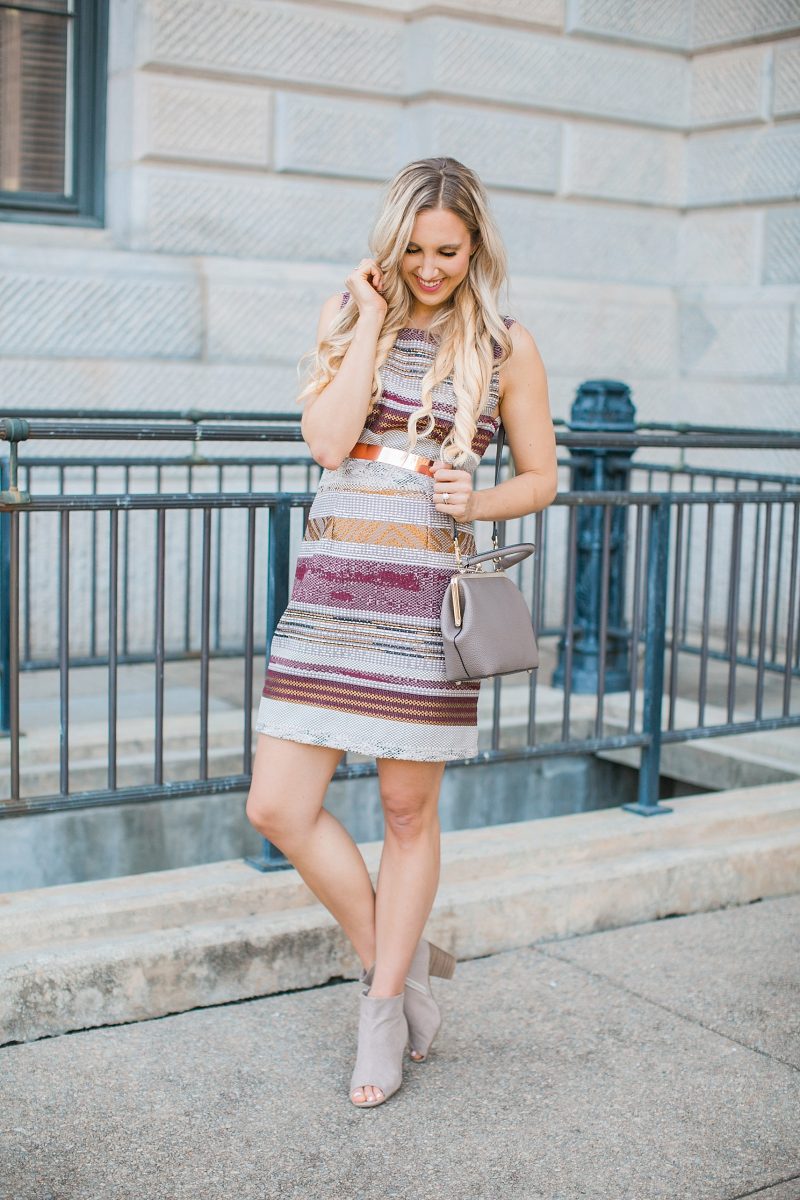 TO DRESS DOWN
To style a fall #staple dress such as the one in today's post I recommend adding the following pieces to your look!
– Shoes: Booties or a great pair of classic flats
– Handbag: incorporate a handbag in a neutral hue to really let the dress be the main focal point
– Accessories: Mixing metals or adding delicate jewelry is the perfect touch to complete this look
– Layers: Duster Cardigans, vests, leather jackets, or a jean jacket are the perfect layers to style this everyday look!
TO DRESS UP
To dress up I recommend styling these items into your date night look
– Shoes: Heels or a killer pair of boots!
– Handbag: Opt for a clutch in a unique pattern such as leopard!
– Accessories: Adding bolder jelwery such as a cocktail ring or bauble necklace is the perfect way to amp up your nighttime look!
– Layers: Leather Jacket or structured blazer depending on your personal style!
What did you think of today's post? I would love to chat with you in the comments below! Follow me along on Instagram, Pinterest, and Facebook for daily style inspo!
Thank you SO much for stopping by Blush & Camo and I'm sending you so much love!
xx Julianna
Belt