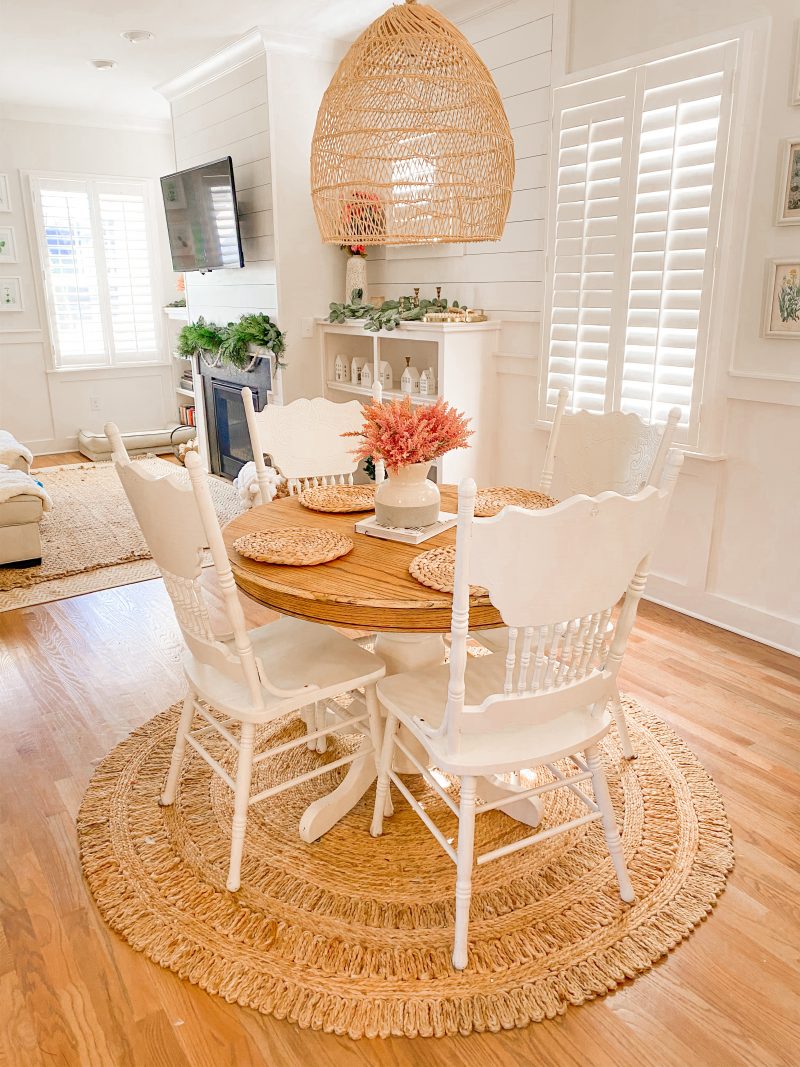 Welcome back to Blush & Camo! I've been getting a ton of questions on my Instagram on how I shop for items on Facebook Marketplace. Over the years I've bought a faux sheep skin area rug valued at over $2000 for $100, a dining room set my husband and I flipped into our dream dining room set, super cute area rugs throughout our home saving us hundreds of dollars , and vintage wall decor I couldn't go to a retailer to find, and a church pew from 1910 that I restored!
But, how do you shop on Facebook Marketplace and what items are the best to shop for on this platform? In this blog post I'm breaking this all down!
First, let's start with items you'll find the most success at finding and save you tons of money!
BEST ITEMS TO SHOP ON FACEBOOK MARKETPLACE
RUGS– There is no shortage of supply of area rugs on Facebook Marketplace; and many of these items are lightly used. Many of the rugs I purchased are simply because the seller moved and the rug didn't fit the space it was originally purchased for.
END TABLES– Say it with me- furniture is expensive, but when you shop on Facebook Marketplace for certain pieces like end tables you'll find some gems people are selling and save hundreds of dollars.
WALL DECOR– There are all types of wall decor aesthetics sold on Facebook Marketplace, but the most common home decor aesthetic I've found for wall decor is if you love the farmhouse/cottage/vintage vibe. There is no shortage of supply of cute wall decor to decorate your home!
ART– From wall decor to paintings Facebook Marketplace has it all!
MIRRORS– There are some AMAZING finds on here! One time I found an Anthropologie Primrose mirror being sold at a fraction of the price!
COFFEE TABLES– Many sellers of coffee tables make these by hand and use this platform to promote their amazing work. Since Facebook Marketplace is where people go for deals these pieces are rarely overpriced! I've also found some vintage coffee tables that are beautiful!
BOOKSHELF DECOR– People are always looks to sell knickknacks on this platform and you know the saying "One man's trash is another man's bookshelf decor" 🙂 or something like that!
CHAIRS– From living room to dining room chairs Facebook Marketplace has it all!
HOW TO SHOP FACEBOOK MARKETPLACE
Now that you know what to look for on Facebook Marketplace, here's how to shop this platform!
I'm going to be super honest and say most people selling on Facebook Marketplace don't know anything about SEO (search engine optimization). This means when you search for an item you want start broad. For example, if you are looking for a dining room table I would start with very broad and basic searches such as:
Dining Room Table
Farmhouse Dining Room Table
Vintage Dining Room Set
Dining Room Set
The people selling these items are going to use basic, broad terms to describe the item. The more basic search, the higher the chance the item you are looking for will pop up!
The various times I've used Facebook Marketplace the more narrow my search nothing every pops up I'm looking for!
I hope this post helps you score some amazing finds on Facebook Marketplace! If you have any questions leave them in the comments below!
Thank you for stopping by Blush & Camo!
You can follow me on Pinterest by clicking here!
Get more daily inspo by following me on Instagram and TikTok!
xx, Julianna