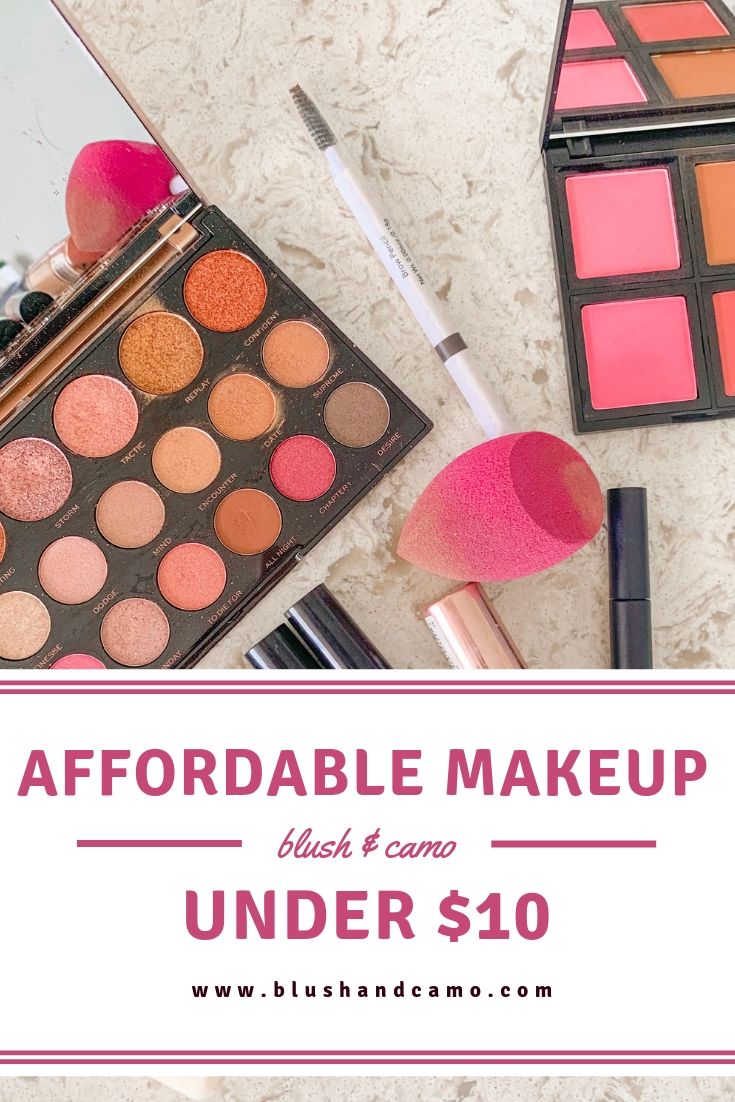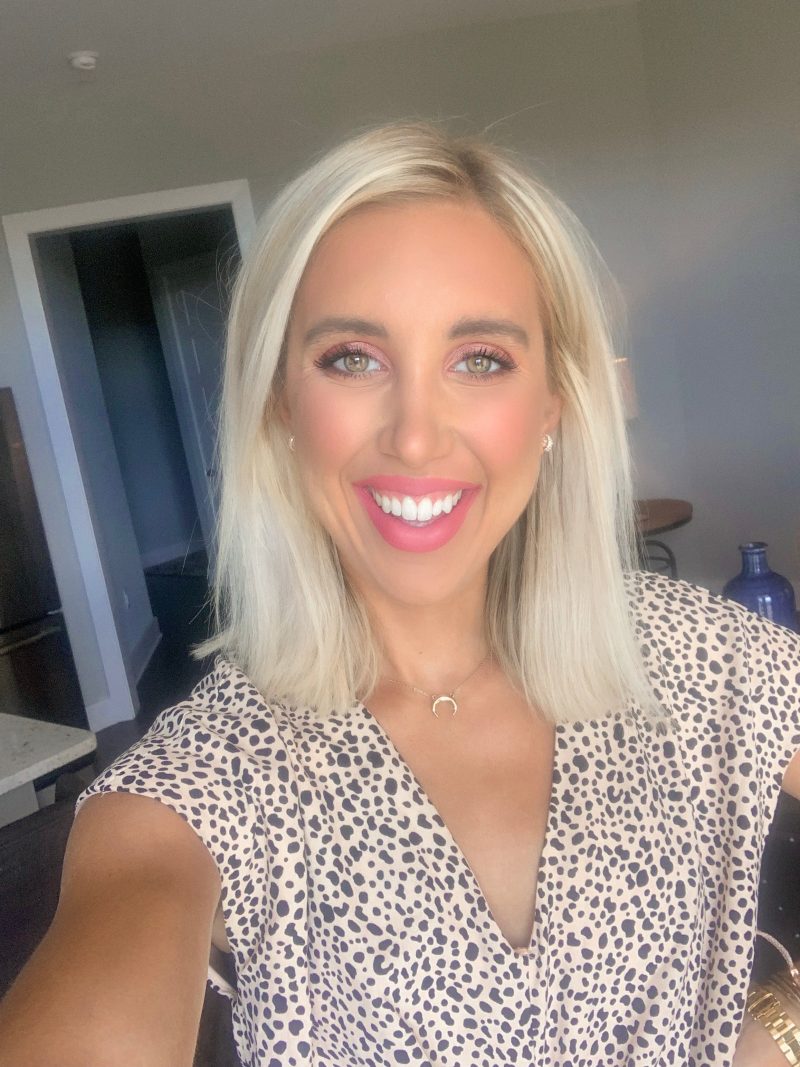 Welcome back to Blush & Camo! Thank you so much for taking time out of your busy schedule to be here and I'm so happy you are.
For those of you who are new around here, welcome! I'm Julianna, and I inspire women to boost their lifestyle and grow their dream wardrobe through budget friendly tips! I believe you don't have to break to have an elevated lifestyle!
Recently, I've wanted to shake up my makeup routine and find products that don't make me cringe when I hear the total at the checkout counter. I've stuck to the same products over the years and wanted to know if I could find the same quality, or better, for less money!
That's what inspired my Budget Beauty finds over on my Instagram Stories! You can also click on the link to watch my Instagram highlight titled "Budget Beauty" to watch the full video review!
Over the past two weeks I've tested out two different makeup brands-Makeup Revolution and e.l.f Cosmetics to see what worked and what didn't.
Just for reference I purchased all of these products at Ulta Beauty! I will link all of them in this post and everything is also linked on the LikeToKnow.It app! Follow me on the app to shop all my daily looks!
I was SHOCKED at the results!
Keep reading to find out!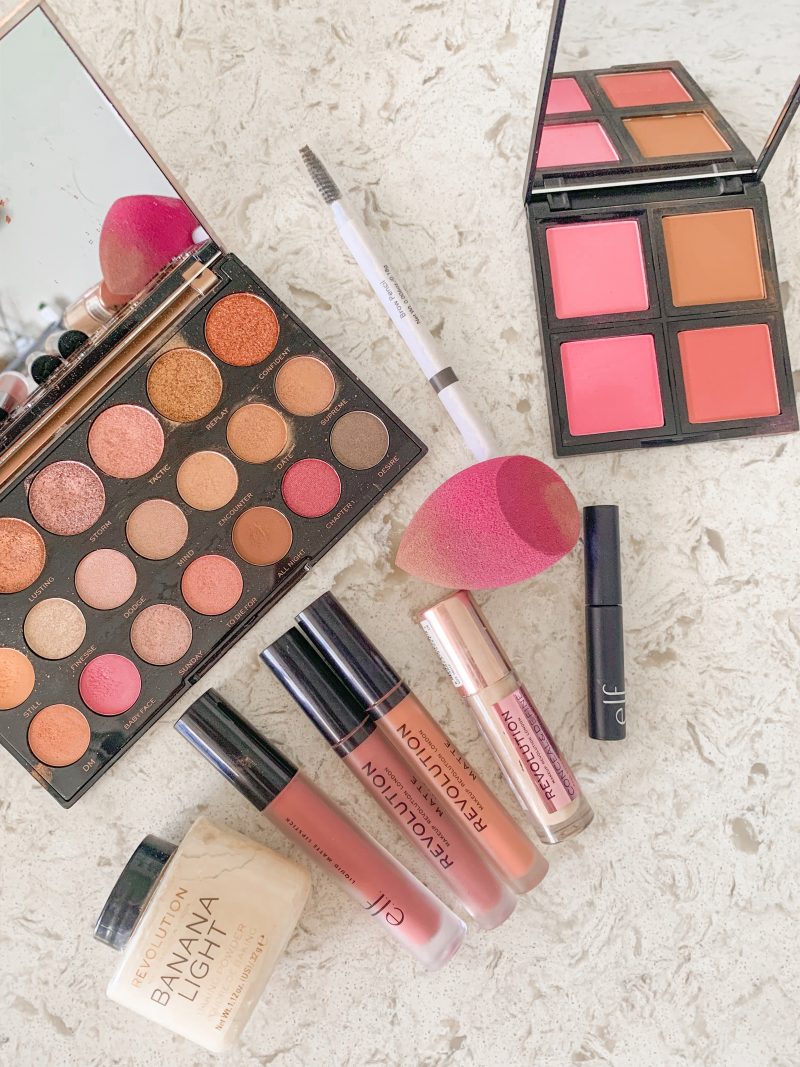 EYESHADOW PALLETE: $9.99

Pros: This palette is extremely pigmented and blends like a dream! I didn't have any issues when layering the colors and every eye look I've created I've loved! Since the day I purchased this palette I've used it to create my makeup looks.
Cons: When picking up various shades there is both fall out in the pan and under your eyes. This isn't a deal breaker for me at all, but I put it in the con section because some people don't like fall out with their eyeshadow palettes.
Final Thoughts: This palette is TOTALLY worth the money and I love using it everyday.
CONCEALER: $7

Pros: This Makeup Revolution concealer is an EXACT dupe of the $27 Tarte Shape Tape! In fact, I prefer this concealer to the Tarte Shape Tape concealer because it has a more natural finish. This concealer is super full coverage, blends really well, and doesn't crease under your eyes.
I've worn this concealer every single day since I've purchased it and I can't recommend this enough.
Cons: I honestly don't have anything bad to say about this concealer.
Final Thoughts: Purchase immediately! You won't regret it!
SETTING POWDER: $8 (shade: "Light Banana")

Pros: This setting powder doesn't settle into fine lines and gives your skin a flawless finish. I've tried other powders that make my skin look dry or flaky, but this setting powder gives my skin a natural glow. You also get 1.12 oz of product which is an insane amount of setting powder.
In comparison, I used to use the Hourglass translucent powder and it was .36 oz for $46. You are getting FOUR TIMES more product for $8!
Cons: The only downside to this product is that is doesn't come in a jar that holds the product once you shake out the powder. I did find a solution to this thanks to Amazon and linked it above!
Final Thoughts: BEST setting powder I have every used and I cannot believe that it is only $8! I would pay way more for this!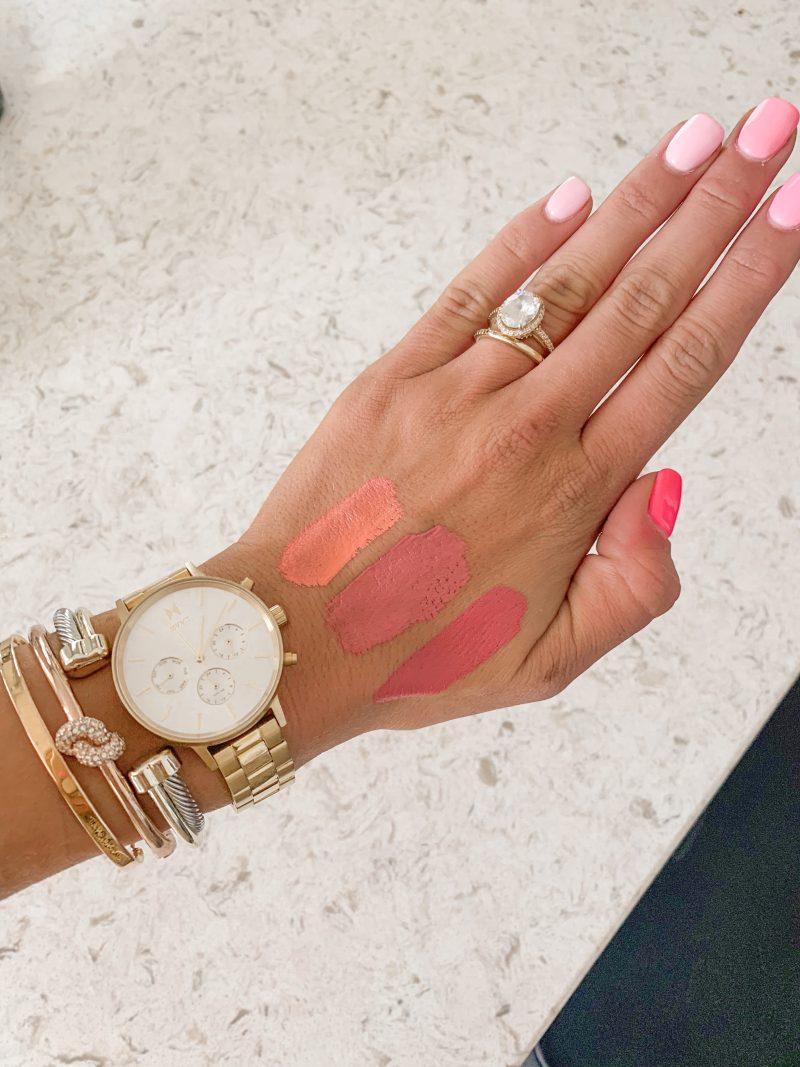 MAKEUP REVOLUTION LIQUID LIPSTICK: $6 (shades "Kockout" and "Ballerina")

Pros: This liquid lipstick is one of the most lightweight formulas I have ever worn and super comfortable to have on your lips all day long. It doesn't leave your lips sticky, dried out, or cracked when worn throughout the day. It last about 6 hours of wear time before I noticed the shade begin to fade a little bit.
Cons: The lighter shades may need two coats to get the opacity you are looking for in a liquid lipstick. Again, this is not a deal breaker for me at all, but I wanted to add that note in here for those who like to have one swipe and be done!
Final Thoughts: For $6 you can't beat the formula and how comfortable the lipstick is to wear. I plan on purchasing more shades from the line! I love to use "Knockout" as a base to mix with other pink liquid lipsticks to create a custom peach lipstick!
e.l.f Cosmetics Liquid Lipstick: $5 (shade "Mauvelous")
This is the shade I have on in the first pic of this post!

Pros: Just like the Makeup Revolution liquid lipstick this formula is super lightweight and comfortable to wear on your lips all day! t doesn't leave your lips sticky, dried out, or cracked when worn throughout the day.
Cons: There isn't a huge shade range which is a bummer because I want to add more hues!
Final Thoughts: Totally worth the $5 and this liquid lipstick is going to be a makeup staple in my makeup looks!
e.l.f Blush Palette: $6

Pros: The two shades on the left hand side of the palette are beautiful! They are pigmented and easy to blend. Definitely apply this blush with a light hand because of how pigmented the blush shades are!
Cons: The bronzer in this palette was bad! It was very orange when applied and didn't look natural at all. It was also hard to blend out. I ended up switching bronzer halfway through because of how bad I thought it made my skin look.
Final Thoughts: I recommend skipping out on this palette and purchasing an individual e.l.f blush instead.
e.l.f sponge: $4

Pros: I loved everything about this sponge! It has both a tapered tip to get into those crevices of your face and also a flat surface to easily apply setting powder.
Cons: I don't have any!
Final Thoughts: I prefer this sponge over my BeautyBlender any day! I highly recommend purchasing!
e.l.f. Brow Pencil: $2 (shade neutral brown)

Pros: This formula is amazing and I loved that you don't need to sharpen the pencil- you simply need to twist the top! I also love that is comes with a spoolie on the other end to easily blend the product into your brows.
Cons: Half of the brow pencil fell out of the applicator the second time I used it. The fix was easy and I put the pencil back into the applicator and it held it in there, but still something to share with you!
Final Thoughts: Loved this brow product, especially for the price! While there is quality issue with half the product falling out during the second use, it didn't ruin using the product and for $2 I didn't bug me that much.
e.l.f. Wow Brow: $4

Pros: This product does exactly what it says it will! It fills in your brows while also acting as a brow gel. I loved this product so much!
Cons: I don't have any cons!
Final Thoughts: HIGHLY recommend adding this to your makeup routine!
OVERALL ASSESMENT
Overall, I was shocked at the high quality and lower price tag of these products. With the exception of the blush palette I've started implementing these products into my everyday makeup routine!
I love knowing that I am not breaking the bank while maintaining my beauty routine!
I hope you found this post helpful!
Thank you so much for stopping by Blush & Camo!
You can follow me on Pinterest by clicking here! 
Get more daily inspo by following me on Instagram and YouTube!
xx, Julianna