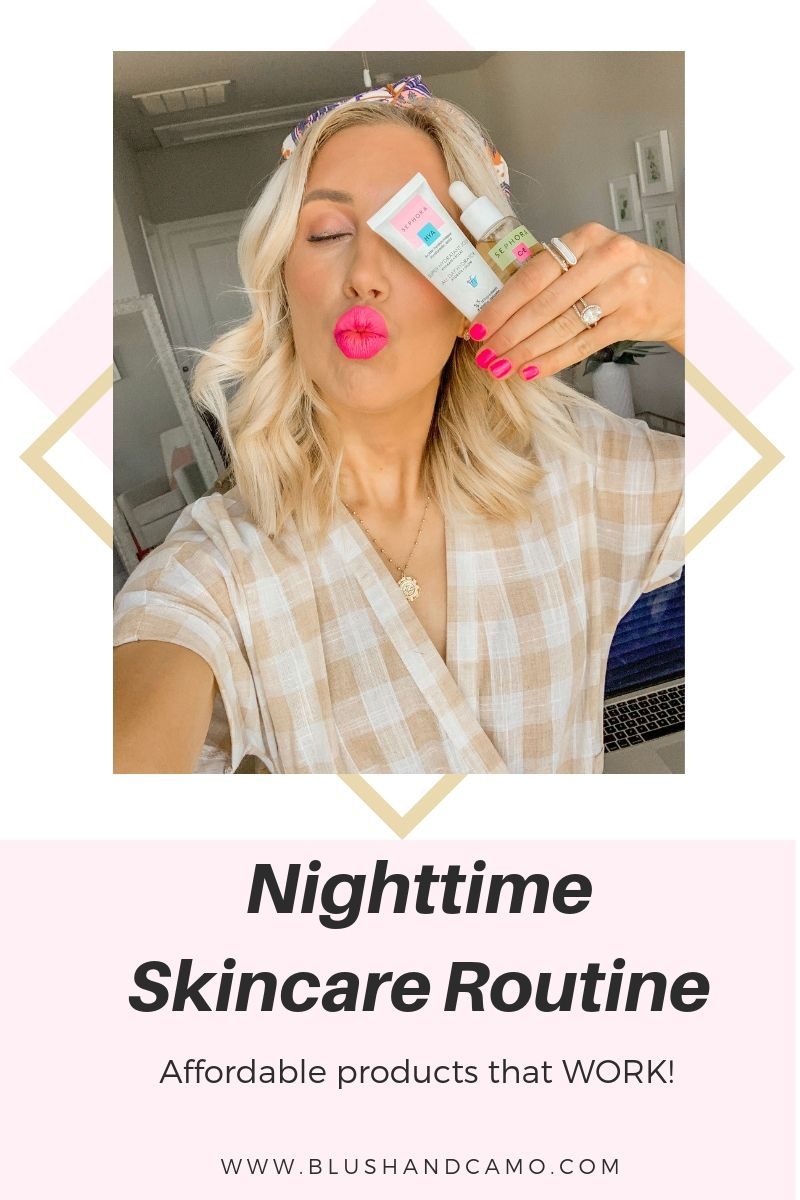 Welcome back to Blush & Camo! Thank you so much for taking time out of your busy schedule to be here and I'm so happy you are. For those of you who are new around here, welcome! I'm Julianna, and I inspire women to elevate their lifestyle and grow their dream wardrobe through budget friendly tips! I believe you don't have to break the bank to look amazing!
Today I'm sharing my full nighttime skincare routine and linking all the products I use! I think skincare is so important! For the past few months I felt like I wasn't super happy with all the products I was using, but this past month I finally found products that work really well together, give me results, and I feel like my skin looks better then it ever has!
Keep reading to find out my step by step routine!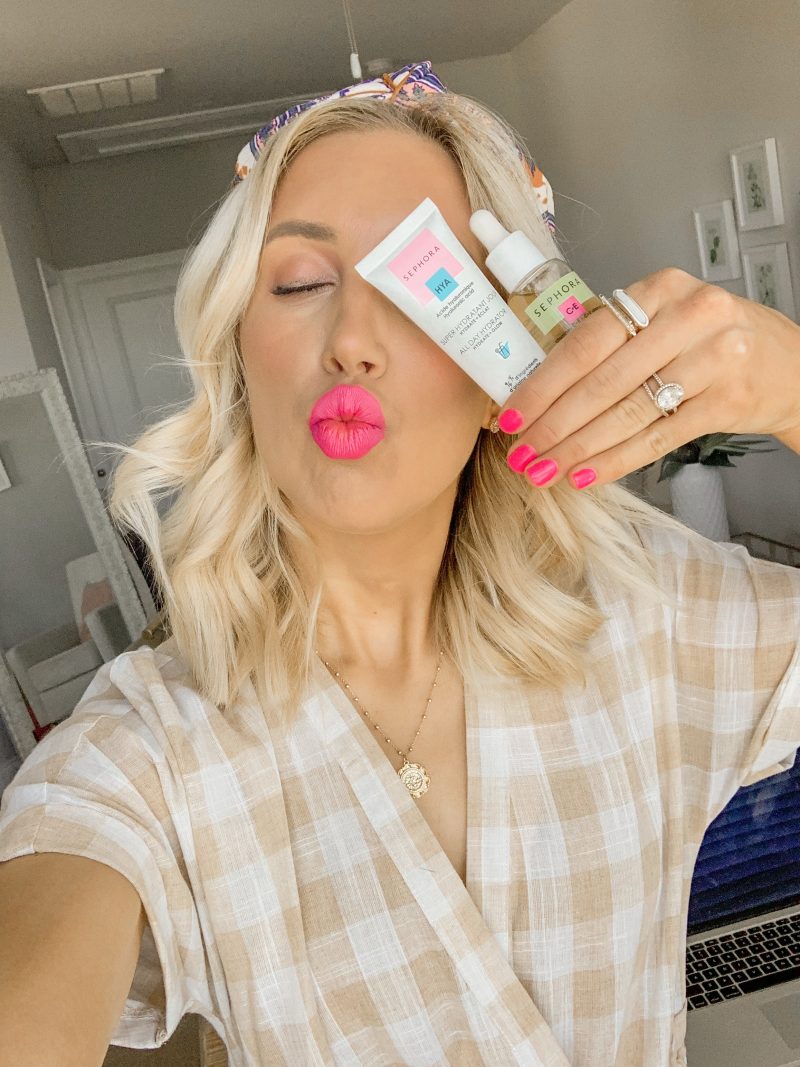 1.) Neutrogena Makeup Wipes
This is the first step to my nighttime skincare routine. These wipes take off all my makeup to include mascara with just one wipe. I use the hydrating wipes since my skin is so dry.

2.) TULA PROBIOTIC FACEWASH
When I first got this I honestly thought it was an overrated product that a lot of bloggers used because it was sponsored, but IT WORKS SO WELL!! Honestly, I was shocked at how amazing my skin looks. I now SWEAR by this face wash.
Since I love this brand and their products so much I asked to become an affiliate!
You can use code "JULIANNA" to save 20% off your purchase! This works for every TULA purchase you make!
This product is gentle on my skin and has never left my skin feeling dry or tight afterwards.
Here's what's in it:
Lactic acid naturally cleanses and exfoliates to reveal healthy, radiant looking skin.
Chicory root is a natural anti-inflammatory prebiotic that helps boost the appearance of firmer skin.
Turmeric root is a powerful antioxidant that helps reduce signs of inflammation.
Blueberries are rich in antioxidants that help protect from free-radical attack.
Probiotics hydrate and lock in moisture
A little bit only goes a long way and I only need a dime sized amount!

3.) TULA PRO-GLYCOLIC 10% PH RESURFACING GEL (TONER)
Another TULA product that is amazing and I 100% recommend to you! This is a toner that takes out any extra dirt and improves skin tone. I saw results within two weeks of using this toner. On the TULA website it says results usually take up to 4 weeks!
Here's what's in the toner:
Pro-Glycolic Complex proprietary blend of 100% natural lactobacillus probiotics and glycolic acid helps tone and exfoliate skin and removes excess oil and debris.
Natural Mushroom + Beet Extract is 400X more hydrating than hyaluronic acid alone.
Turmeric Extract is a powerful antioxidant that helps reduce signs of inflammation.
Blueberry Extract natural anti-oxidant helps to fight free radical damage.

4.) DRUNK ELEPHANT C-FIRMA VITAMIN C DAY SERUM
This is the priciest skincare item that I own, but again, I swear by this product. I've used vitamin-c serum in the past and it left my skin feeling dry and super tight.
This serum leaves my skin feeling ultra hydrated.
This super-potent vitamin C day serum packed with a powerful antioxidant complex, essential nutrients, fruit enzymes, and a chronopeptide that mimics the antioxidant benefits of vitamin D, all working together to firm and brighten the appearance of skin, while improving the signs of photoaging.
C-Firma™ has a reservoir effect, which means it will stay active on skin for up to 72 hours and cannot be washed or rubbed off.
On the Sephora website there are over 1k reviews and this product has four stars!

5.) ULTRA REPAIR CREAM INTENSE HYDRATION
I've talked about this moisturizer in SO many IG Stories because this is the most hydrating moisturizer I've ever used and a 6.0 oz container is $32. I lather my face with this stuff every night and I've barley made a dent in my container!
This moisturizer is suitable for all skin types, especially dry, flakey skin. Formulated with Colloidal Oatmeal, Shea Butter, Ceramide 3 and the FAB Antioxidant Booster, it provides immediate relief and visible improvement for parched skin and it is clinically proven to increase hydration by 169% immediately upon application!

To complete my skincare routine I always put a ton of vaseline on my lips right before I go to sleep so they feel ultra moisturized when I wake up!
Have you ever used any of these products?! I would love to hear from you in the comments below!
You can follow me on Pinterest by clicking here! 
Get more daily inspo by following me on Instagram and YouTube!
Thank you so much for stopping by Blush & Camo!
xx, Julianna