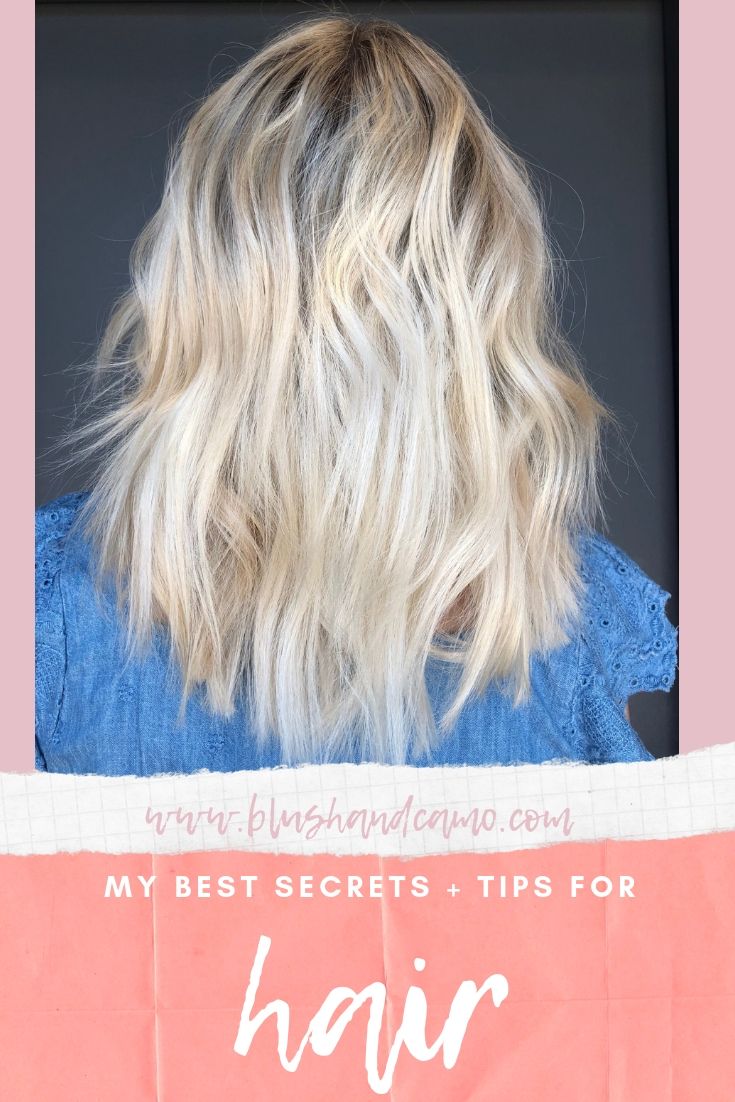 Welcome back to Blush & Camo! Thank you so much for taking time out of your busy schedule to be here and I'm so happy you are.
For those of you who are new around here, welcome! I'm Julianna, and I inspire women to elevate their lifestyle and grow their dream wardrobe through budget friendly tips! I believe you don't have to break the bank to look amazing!
Today I'm answering all your hair questions and sharing all my best hair secrets to maintaining healthy hair. Plus, I'm linking all the products I use!
I used to have long hair and recently made the chop to shorter hair! If you're thinking about taking the plunge and cutting your hair shorter check out the post I wrote called "How To Know When You Cut Your Hair Short" click here!
Let's get started!
TOP TIPS FOR HEALTHY HAIR
Talk to your hairdresser about the integrity of your hair!
I do this every time I see my hair stylist. I'll ask if my hair has too much breakage, dry, split ends, etc. By asking this simple question every time you see your hairdresser you're able to switch up your routine (i.e. not curling it so often or washing it less!), your hairdresser starts to notice patterns, and you ensure your hair stays healthy.
Invest in quality tools!
If you are someone who likes to style their hair and put hot tools on them I highly recommend investing in high quality tools! My favorite brand is Sultra Beauty and I'll link the exact products I use below.
One time I didn't bring my tools and used a hair dryer I knew was going to damage my hair. Sure enough, I burned my hair using it and it took months for that damaged hair to grow back.
The two products below are the two products I swear by!

Know the products your hair needs!
Since I have blonde hair I use a purple shampoo to maintain it's color and hair oil since my hair can get dried out due to the highlighting. I also love using a heat protectant prior to putting any type of hot tools on my hair!
Talk to your hairdresser about the texture, integrity, and needs of your hair to get the right products within your budget!
WHAT'S YOUR NATURAL HAIR COLOR?
My natural hair color is medium brown and I've been highlighting my hair ash blonde for about five years now! If you look at my root color in these photos that's my natural hair color!
HOW DO YOU GET YOUR BEACH WAVES?
I used to be really bad at curling my hair when I first started six years ago! Then, I found a curling wand that made the entire process easier. I use my Sultra Beauty Bombshell 1″ wand and I've never used any other curling product to create my waves. Here are the steps I do to get my curls:
1.) Spray my roots with Batiste Dry Shampoo
2.) Take 1″ -1.5″ sections of hair and curl away from my face
3.) Finish the look with Garnier Fructis Flexible Control hairspray
4.) Comb my curls through with my fingers to separate and give a more relaxed look to them!

DO YOU USE PURPLE SHAMPOO?
Yes! I love using my purple shampoo and I use it every time I wash my hair (I usually wash my hair once or twice a week!). I'll link the purple shampoo I am using below!

HOW OFTEN DO YOU PUT HEAT ON YOUR HAIR?
I try to limit the amount of heat I put on my hair to 2-3 times a week. My hair is naturally straight and doesn't hold a curl very well, so I'm experimenting with straight hairstyles at the moment!
WHAT HAIR ACCESSORIES ARE YOU CURRENTLY LOVING?
I'll link my current favorites below! I wear these ALL the time and you can find them in SO many Instagram pictures!

HAVE YOU EVER HAD EXTENSIONS?
Yes! I had hair extensions in for about 7 months! You can read all about my extensions in this blog post here!
HOW OFTEN DO YOU GET YOUR HAIR COLORED?
It truly depends on the integrity of my hair. For the past six months I've gotten my hair highlighted every 8 weeks, but alternate between a full and partial foil.
Hopefully you found this post helpful! Please let me know if you have additional hair questions below!
You can follow me on Pinterest by clicking here! 
Get more daily inspo by following me on Instagram and YouTube!
xx, Julianna