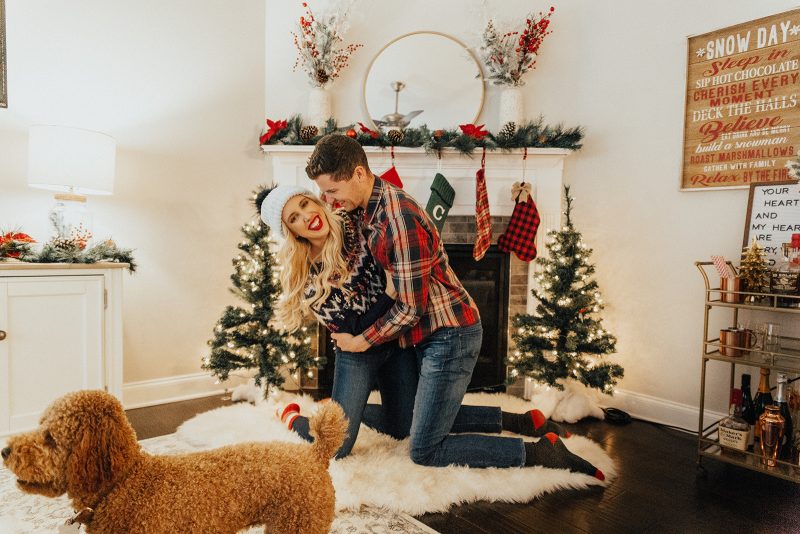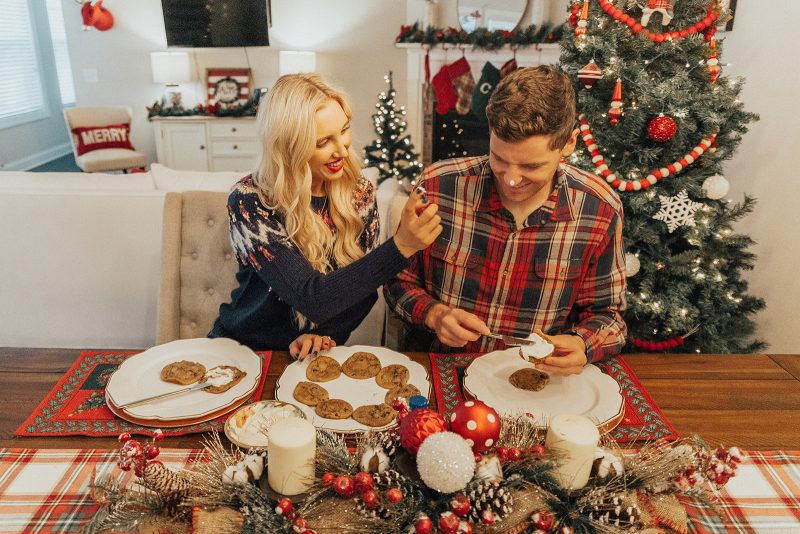 Welcome back to Blush & Camo! I recently partnered with maurices for their #ServiceWithStyle campaign. Part of the campaign was sharing my top photography tips for every holiday occasion: family, work, and friends!
Today I'm rounding up all of my tips and putting them into today's post so you have all my tips in one easy to find location! After reading the tips below you'll definitely be ready for your photo op this season.
FAMILY CONTENT
Chuck and I love getting our family photos taken every holiday season and over the years I've realized the more natural we are in the photos the more I love them!
I'm so excited to partner with @maurices to share my top photography tips when taking photos with your family this holiday season. Here are my top three!
Bring as much natural light into the room you are shooting in as possible. Normally you don't want to shoot in the middle of the day, but when shooting family pictures inside shooting in the middle of the day allows as much natural light to come into your home as possible! Pull up all the blinds to ensure there are no weird shadows in your images!
Pretend the camera is not there! I know this is hard to do, but the best way to master this tip is to have someone take your photos while you are doing an activity. For Chuck and I this is playing with our dogs, being goofy around one another, or baking Christmas cookies. These pictures are the most natural and are my favorite!
Have your Christmas display as your backdrop! To capture your family traditions in the perfect picture ensure your back is to your beautiful Christmas decorations and the lights are turned on. This gives the ultimate holiday vibes and a little extra sparkle to your pictures!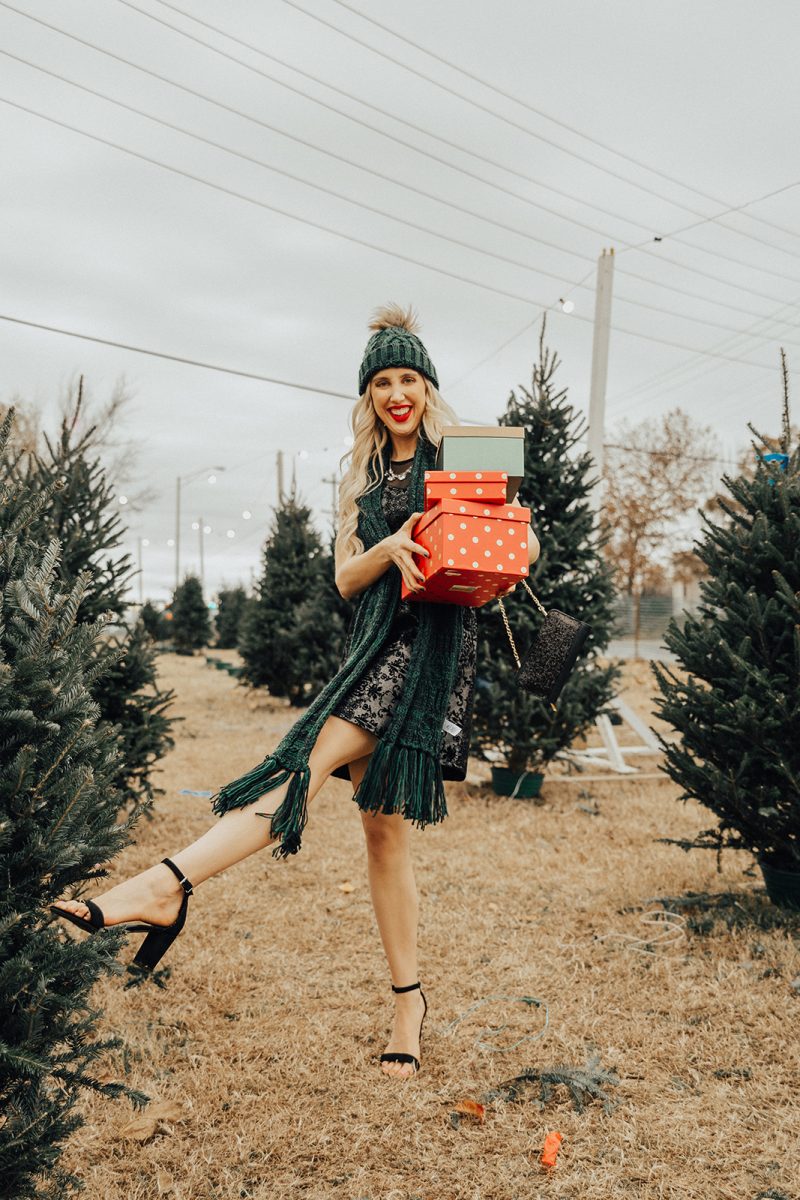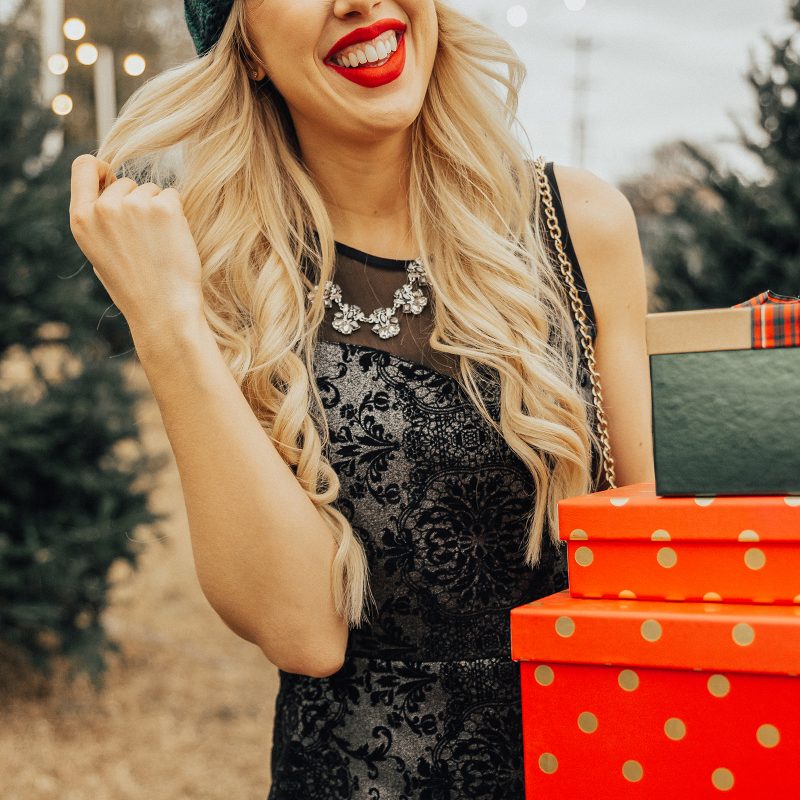 WORK PARTY
Who else is attending, or hosting, a holiday party at work this season?! When these evens occur usually you have limited time to get the perfect shot to upload to your social media. Here are my top three tips to ensure you get the perfect shot every time!
When taking a selfie with a co-worker straighten your arm out and angle your phone so the top half is leaning towards you and the bottom half is leaning away from you. This is the most flattering angle for a selfie and if you have a pop socket this makes it even easier to snap a cute selfie!
Have your go-to pose prepared! When taking full body shots you'll want to have a pose prepared that you know you'll look amazing in. This is because when taking pictures at work parties usually one or two photos are taken and then the moment is over. You want to ensure you have as many photos as possible to choose from to upload to Insta or FB and showoff your amazing outfit!
Don't be afraid to give directions to the person taking the photo! When handing your phone to someone don't be afraid to say what type of photo you're looking for. Examples of this could include you want a horizontal or vertical photo, you're looking for certain aspects of the room to be in the photo, or you only want the photo to be waist up. I've politely asked my co-workers before to take a photo how I would like and they have never taken offense. In fact, it's helpful because it helps them know exactly what you need!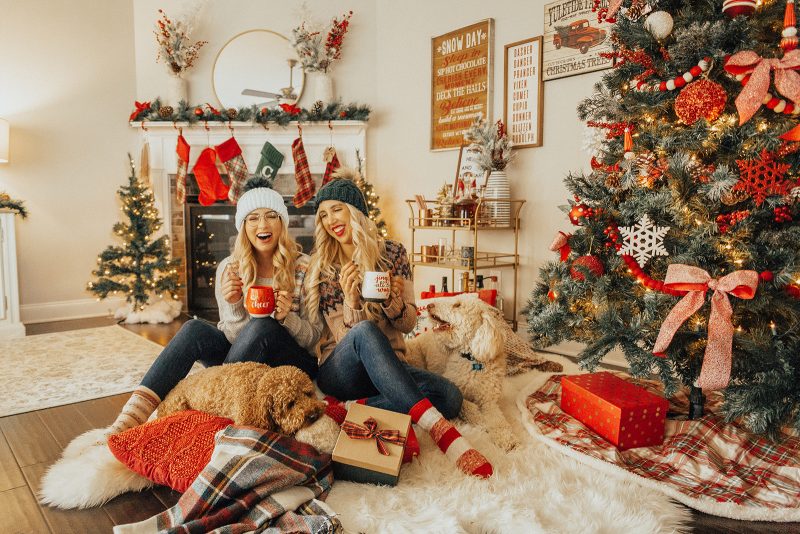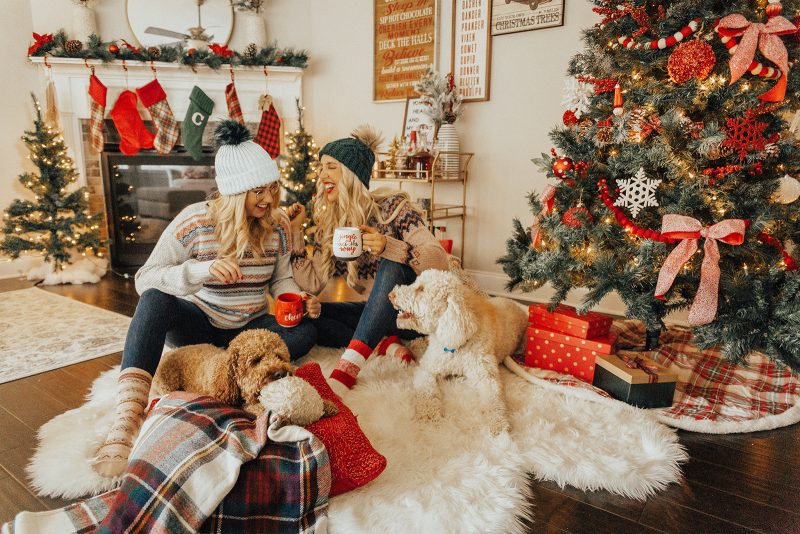 FRIEND PHOTOS
Try and coordinate outfits! If you are going to a holiday gift exchange, brunch, or any other holiday activates with your besties try and and coordinate your outfits to the best of your ability. This translates in photos and makes them ULTRA insta worthy!
Wear accessories! Styling your outfits with hats, cute socks, and even scarves adds a fun, cozy element to your photos. Jess and I are both wearing pom hats from maurices and they are under $20!
Candid pictures are the best! Don't be afraid to laugh, move around, and interact with your bestie. When taking candid photos ask your photographer to snap away! This way you are bound to have the perfectly captured moment for the holidays!
What did you think of today's tips? I would love to hear from you in the comments below! Thank you for stopping by Blush & Camo!
xx Julianna
SHOP MY POST