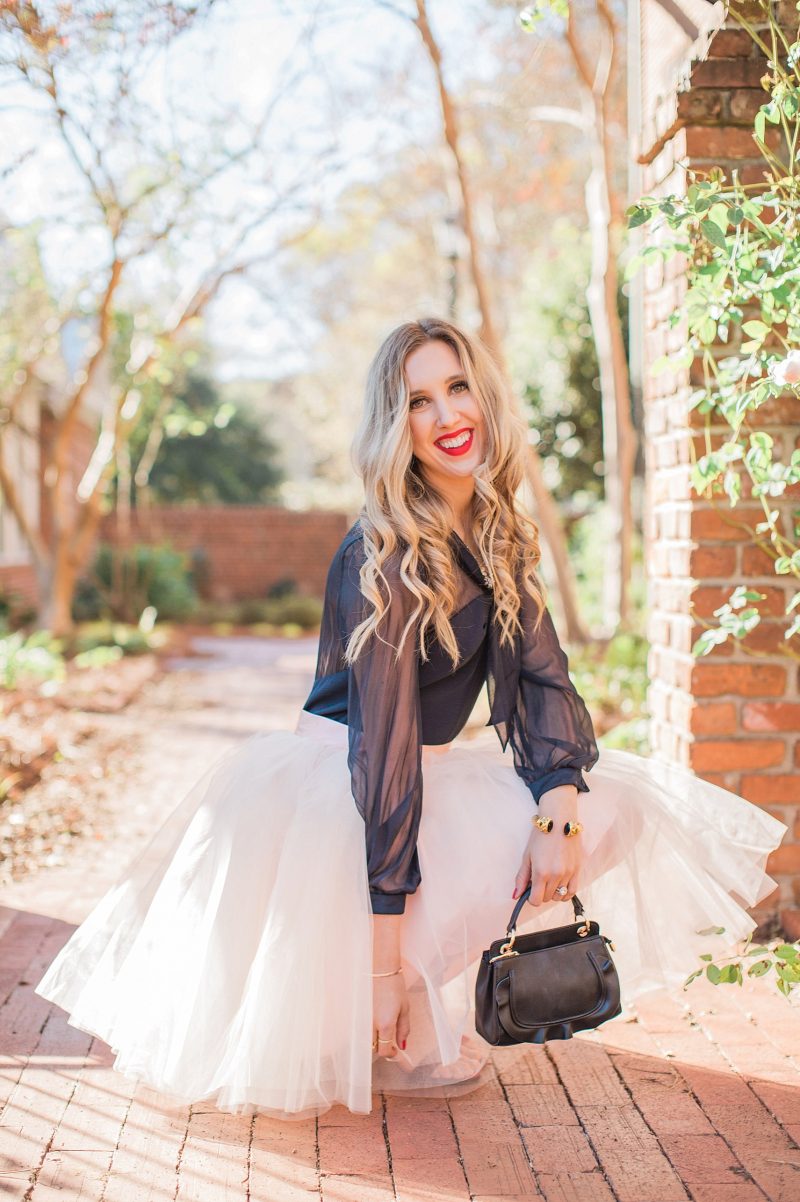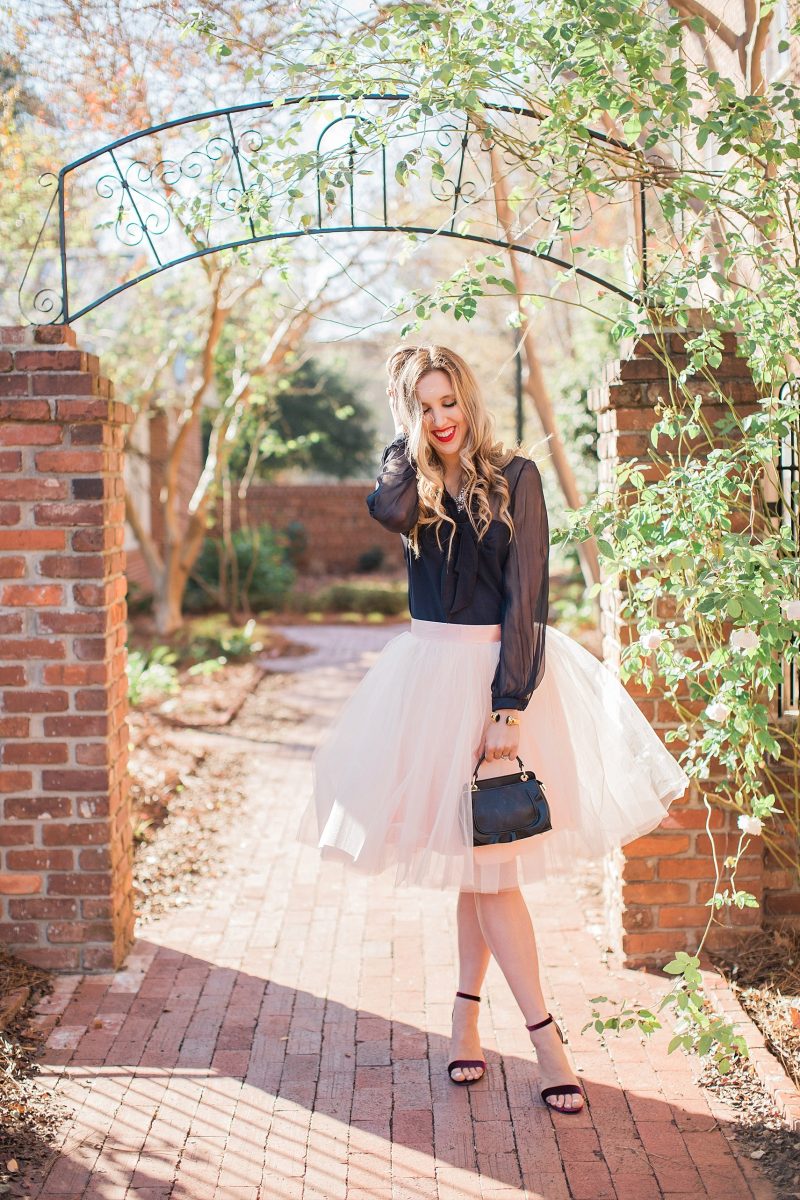 Hello, Gorgeous! A tulle skirt is the perfect items to style for the holiday season. They are fun, glamorous, and totally over the top! This item is basically everything you want to create a holiday inspired look. There was only only problem with my tulle skirt for the holidays- I could not find a top in my closet that would match or coordinate perfectly with my blush hued skirt.
Keep reading to find out about my style dilemma and the style tip I used to fix it (and you can too!). Oh, and this style tip will not cost you a dime because we are "shopping" in our own closets! I love this style tip because if any of you ladies are in the same style dilemma I was, and have your heart set on wearing a tulle skirt to a holiday party, this blog post will solve all your fashion problems!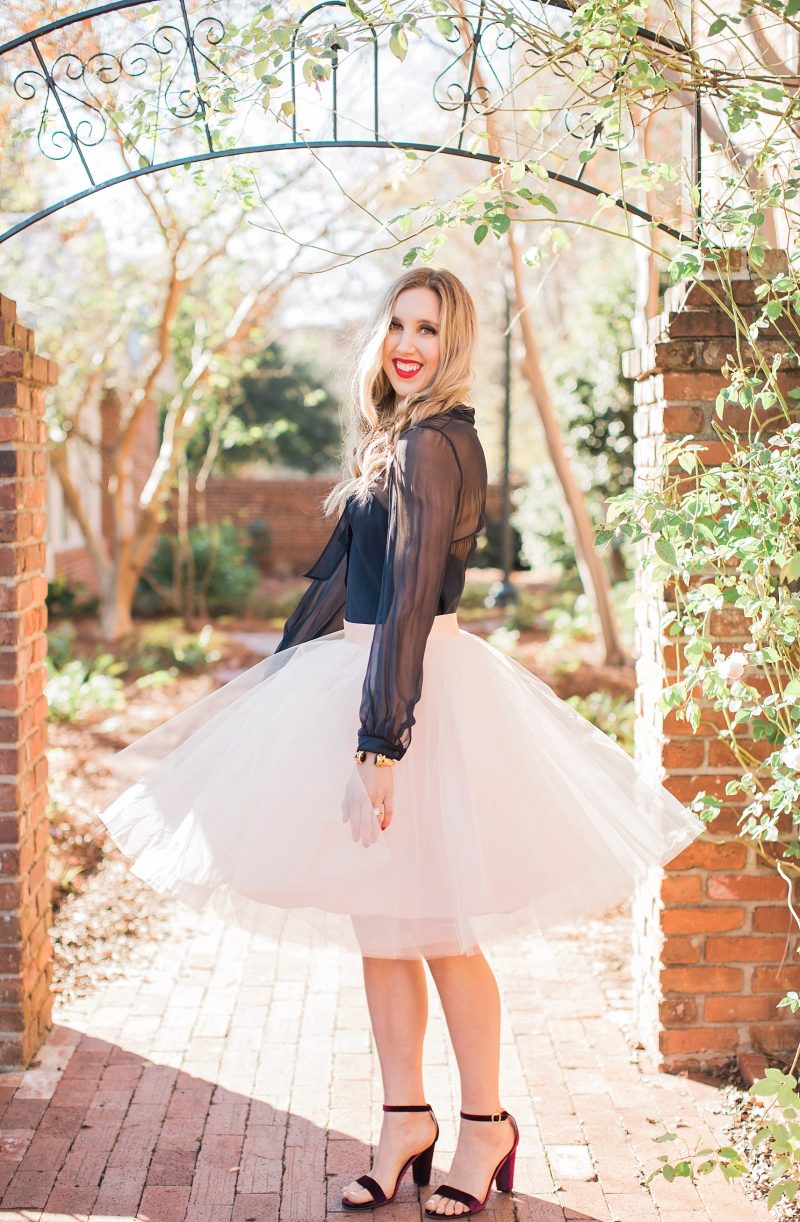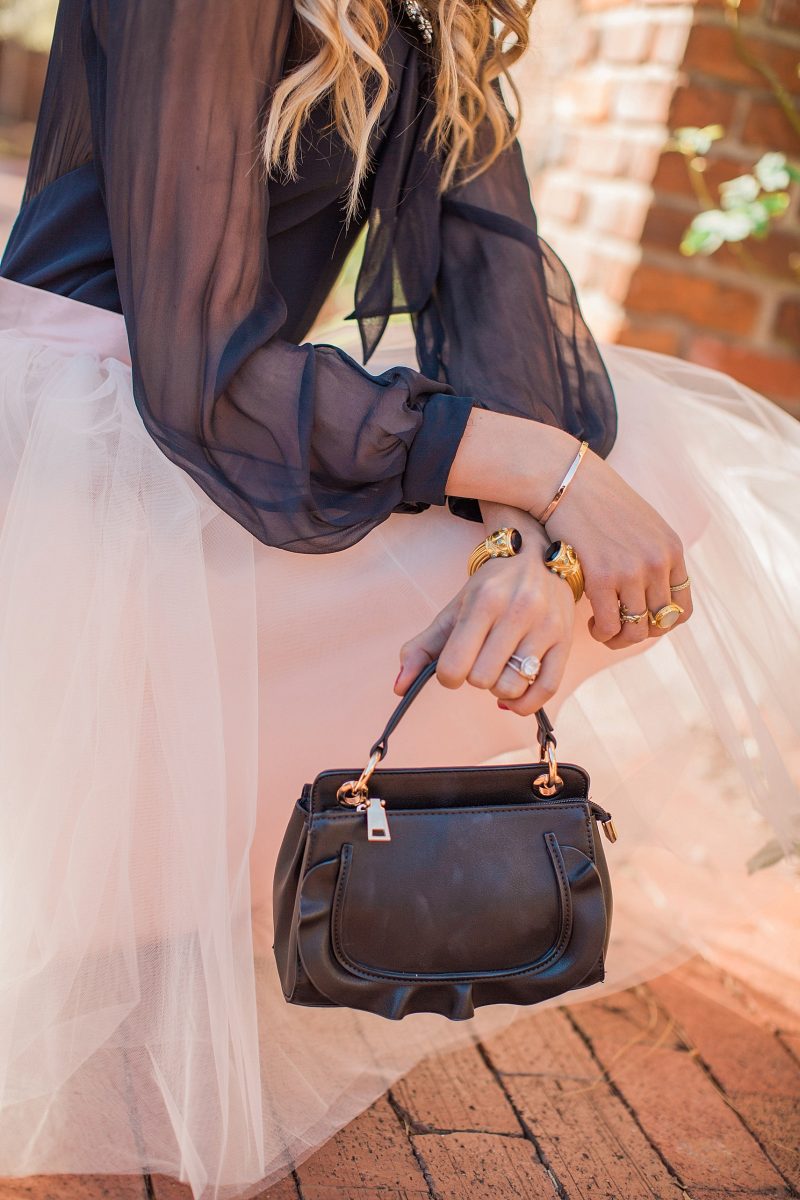 THE FASHION DILEMMA 
Wearing a tulle skirt for the holidays is a look I have been wanting to style FOR YEARS. I'm not kidding. I've had a Pinterest account since 2011 and have seen all the whimsical, beautiful pictures of women wearing holiday inspired looks with a tulle skirt. Every time I saw those pictures I was like, "I have to style a look with a tulle skirt too!". I have dreamed of creating this outfit for years and I this past year I finally have a tulle skirt in my closet to style (#heckYASSS).
There was only one problem.
My tulle skirt was a peachy, blush hue and I did not have a sweater or plaid shirt that would matched at all. All my sweaters were to chunky or my plaid shirts just didn't look good with the peachy hue of the skirt. I stared at my closet for the longest time trying to make all these tops work that absolutely weren't working at all. I didn't want to go out and purchase something because #holidaygifts and #budgeting are so real right now.
I was standing in my closet trying to style this skirt and then a lightbulb went off! I decided to take a piece of my own style advice and think outside the box the create today's look.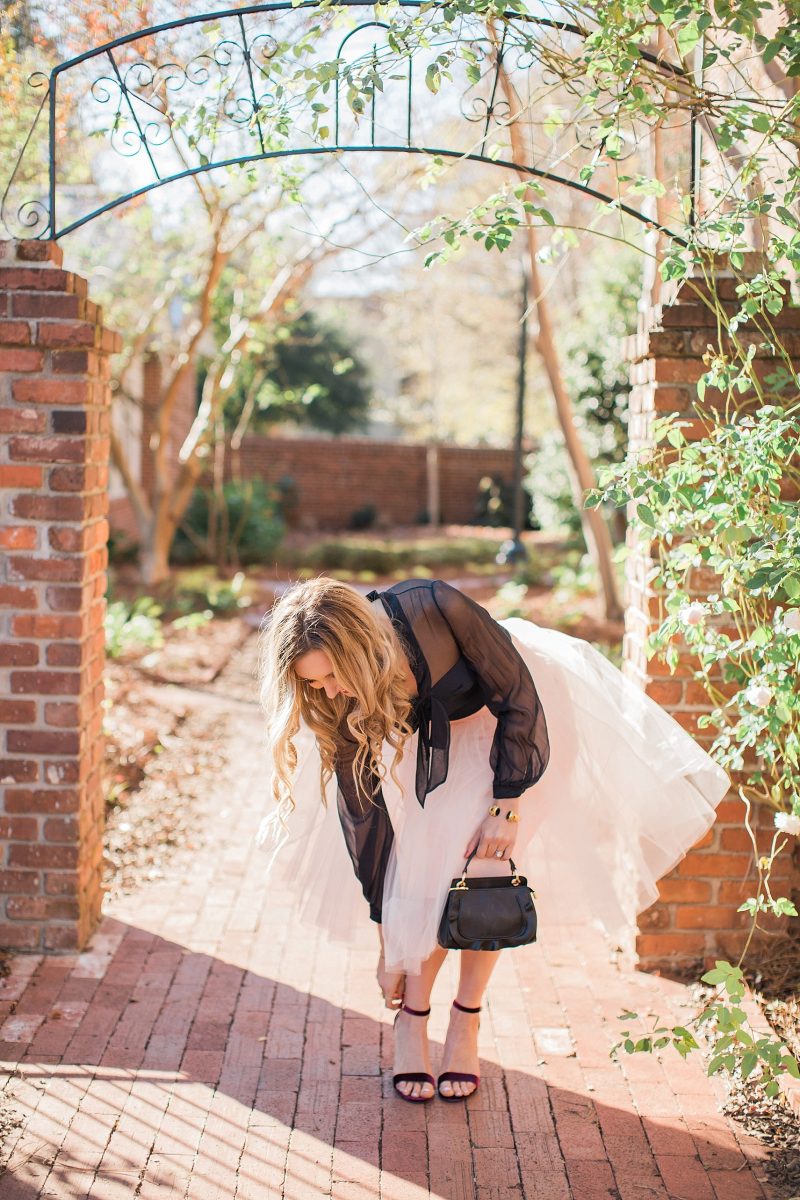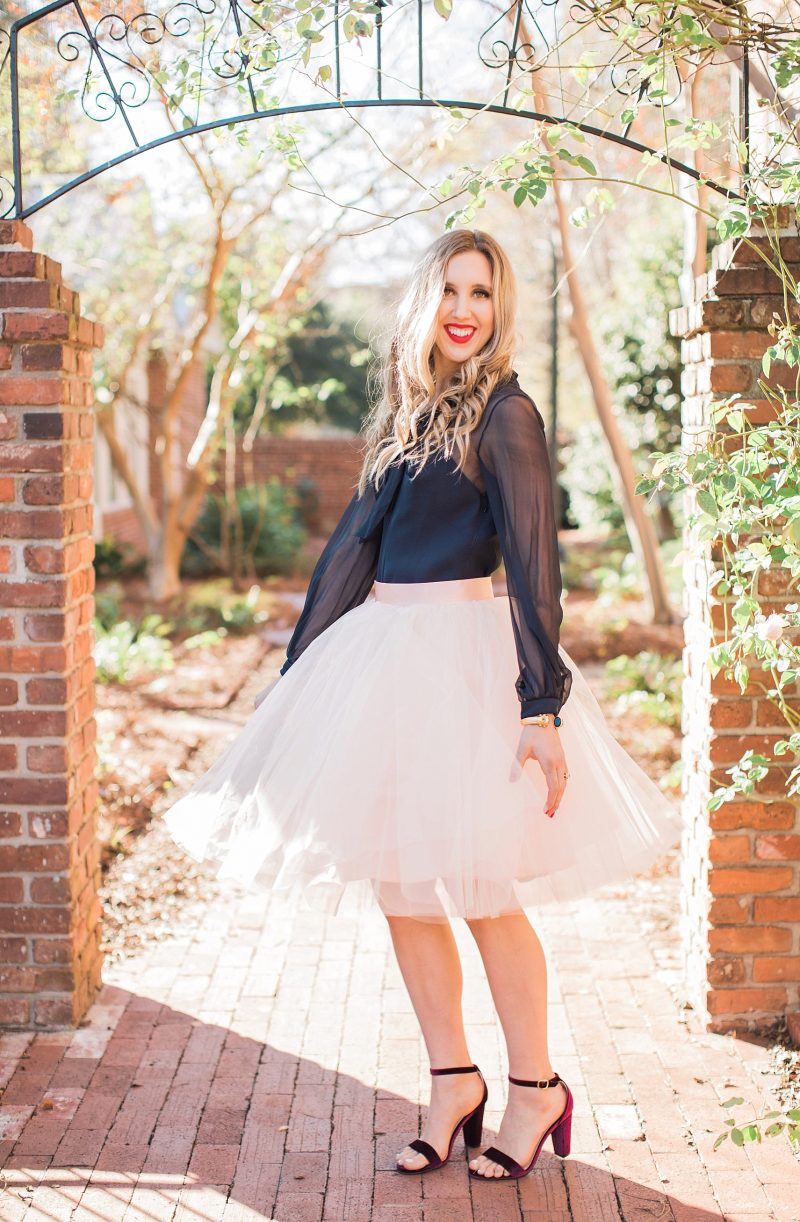 THE FASHION SOLUTION 
I realized I was only looking at tops and sweaters. I wasn't looking at my entire wardrobe. I have written a few blog posts about not letting the traditional label of "dress" or "cardigan" determine how you style an item.
I knew the only hue that would look perfect with this blush hue was black. I started looking at all my LBD's and finally found the dressI needed. The dress is vintage Valentino I found while on my honeymoon in France! I loved the top of the dress so here was my style solution…
Take a dress that I loved the top portion of and use the tulle skirt to cover the bottom of my outfit. This gave the appearance of a top and skirt- even though I am wearing a dress with a tulle skirt. Not only did this style tip work perfectly, but I got an additional layer which kept my legs warm throughout this entire shoot!
If you are a Blush Babe and want to wear a tulle skirt this season don't go out and purchase something new. Simply shop your closet and see if a dress would look perfect when paired with your tulle skirt!
What did you think of today's post?! Would you wear a tulle skirt for the holidays?! Send me a message below and I would love to talk with you:)!
Follow me along on Instagram, Pinterest, and Facebook for daily style inspo and if you loved this post don't forget to share with your friends:). Both your friends, and myself, will thank you!
Thank you SO much for stopping by Blush & Camo!
xx Julianna
SHOP MY POST