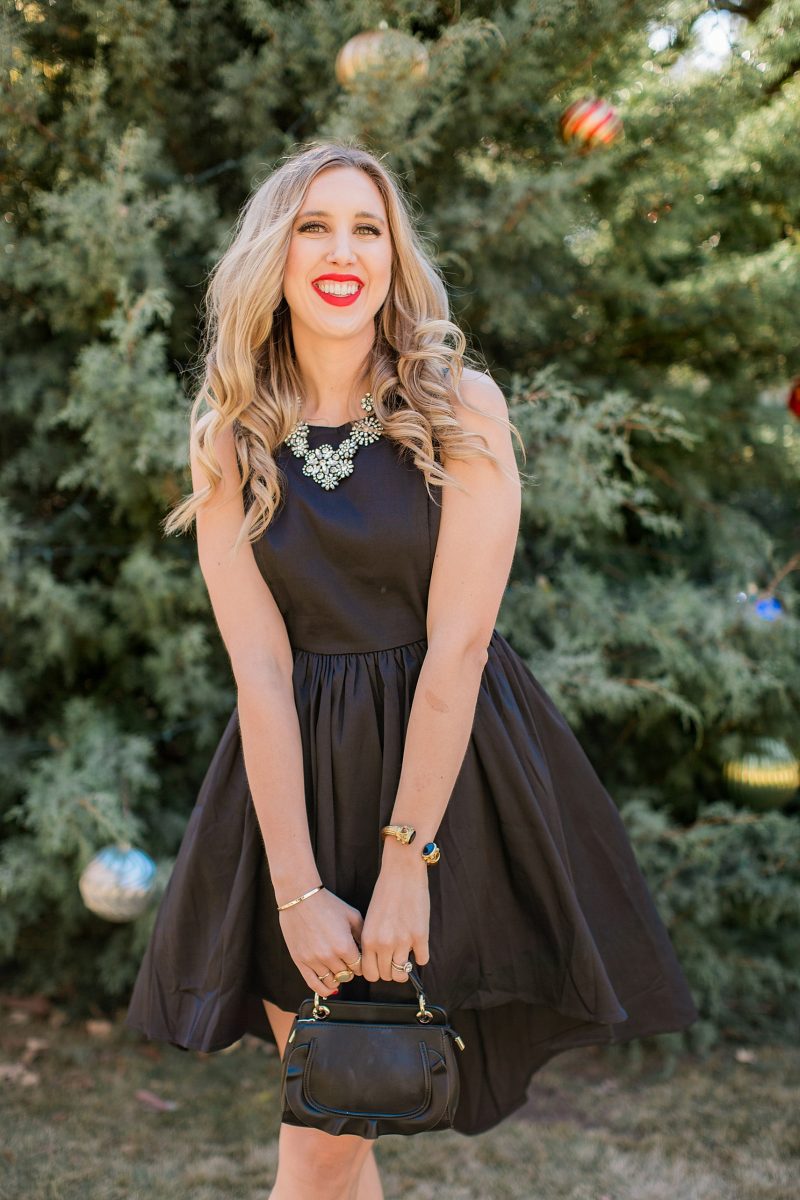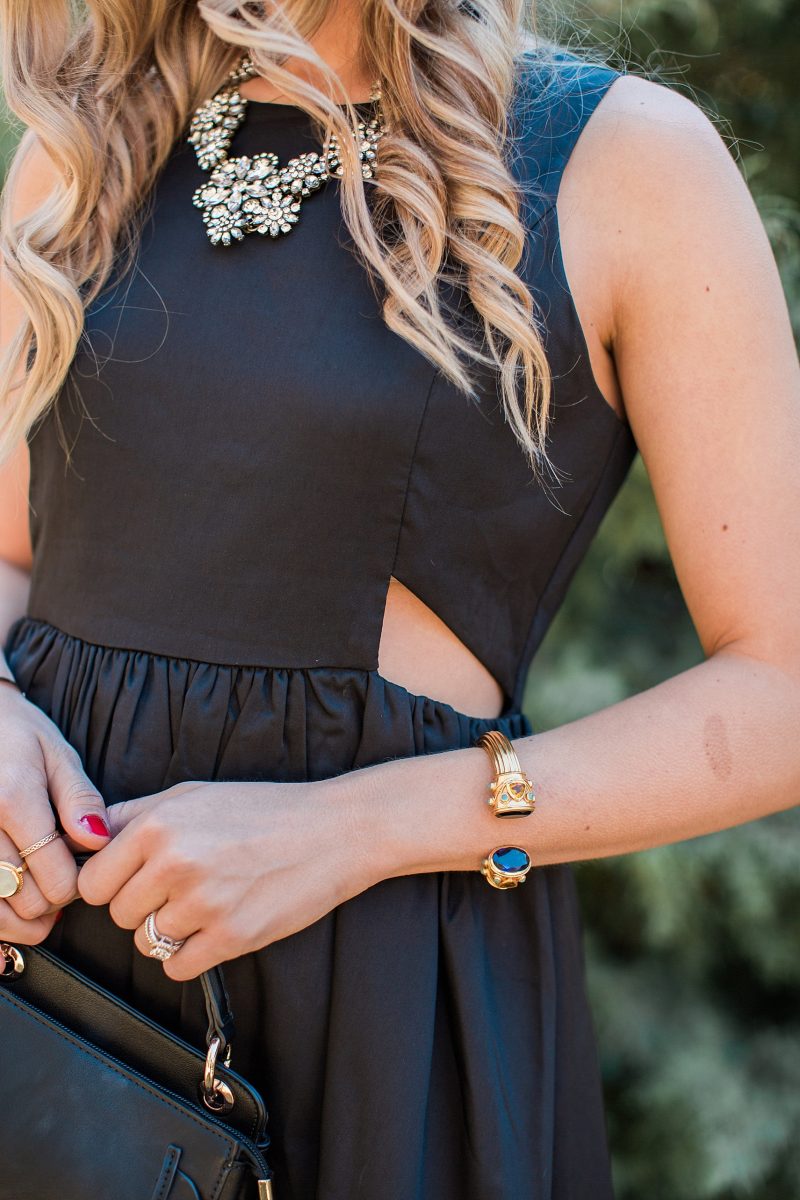 Hello, Gorgeous! I'm so happy you stopped by the blog because today I'm sharing tips on how to style a LBD for the holidays. This look is head to toe from Francesca's, a brand I have adored since I started Blush & Camo. Their clothes are amazing quality, totally affordable, and one of the stores I regularly shop at! I love that their store offers everything from classic wardrobe pieces, trendy items, and all the accessories you could ever ask for. Almost all of my jewelry is from Francesca's because of the high quality and affordable prices.
If you want to know how to style a LBD for the holidays keep reading to find out!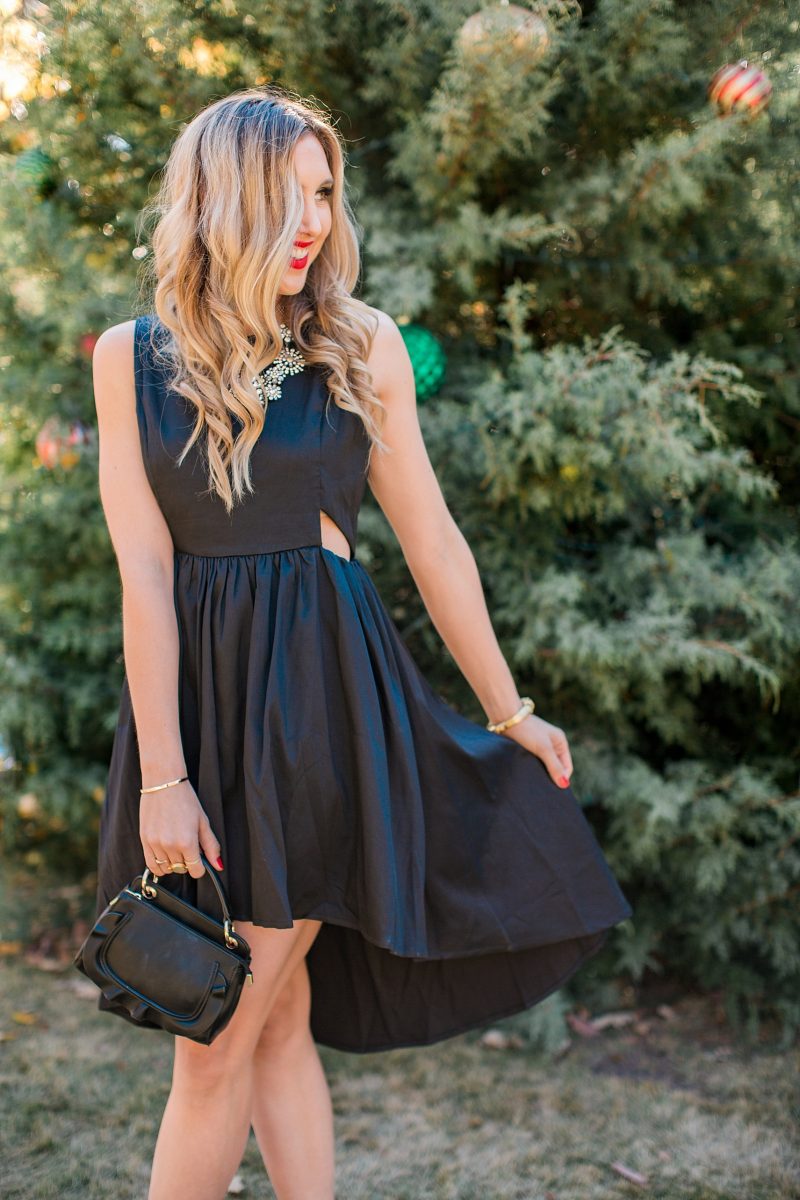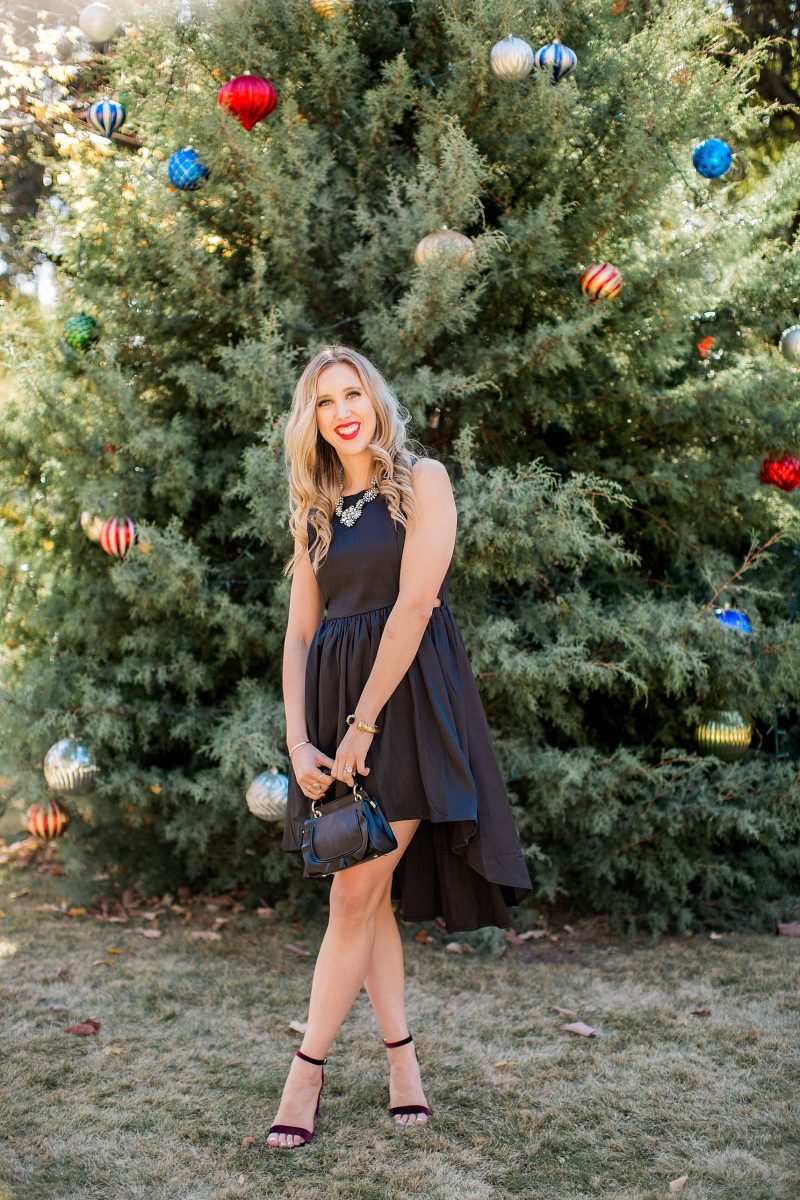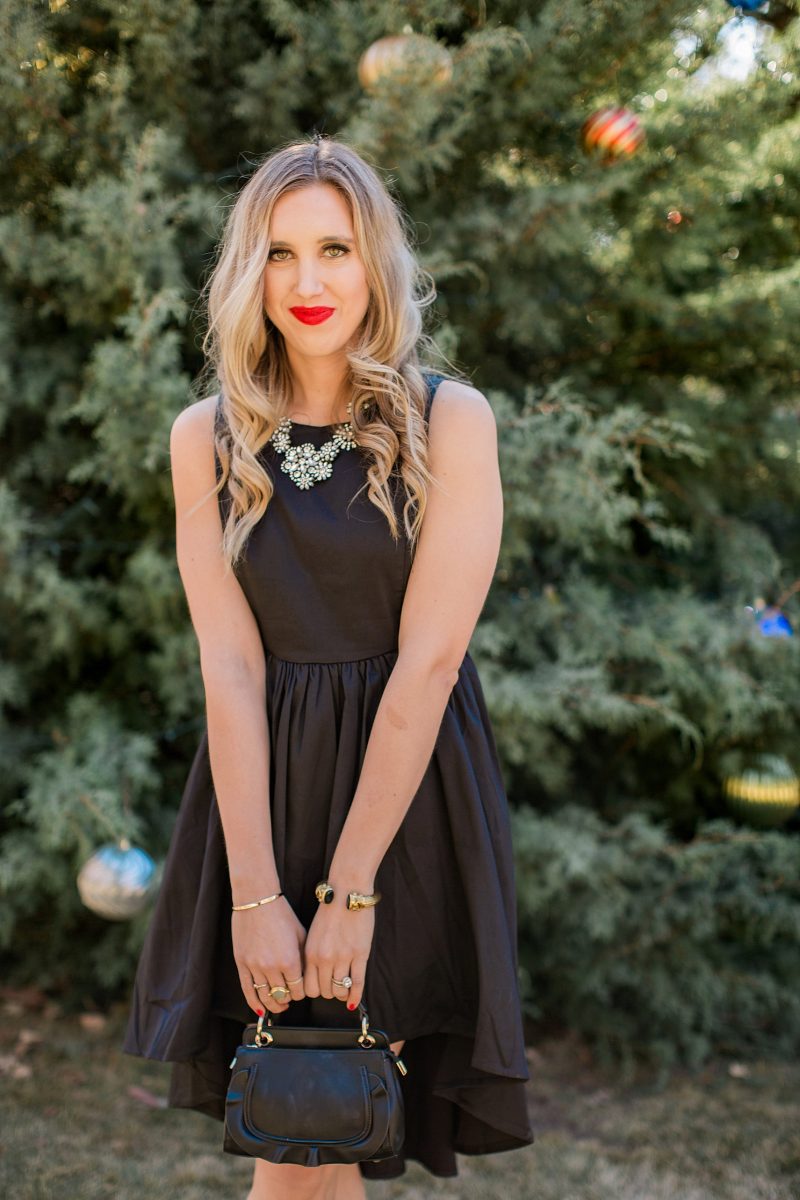 ADD ALL THE SPARKLE YOUR HEART DESIRES 
When styling a LBD for the holidays there is NO limit on the amount of sparkle you can incorporate. The reason for this is because the holiday season is all about adding that extra "glam factor" to all your outfits. When wearing a LBD you can add sparkly jewelry, shoes, and a handbag! This would not be overboard. In fact, this would be so festive and appropriate for the holiday season!
I'm telling you babe, add as much sparkle as you like during the holidays because not only is it fashionably acceptable- it's encouraged!
In this look I am wearing the Acacia Crystal Floral necklace and love what a statement piece this is!
BONUS STYLE TIP: If you love to wear necklaces in your outfits a fun style tip is to layer your bauble necklaces to create a stunning focal point in your outfits and make your holiday look sparkle!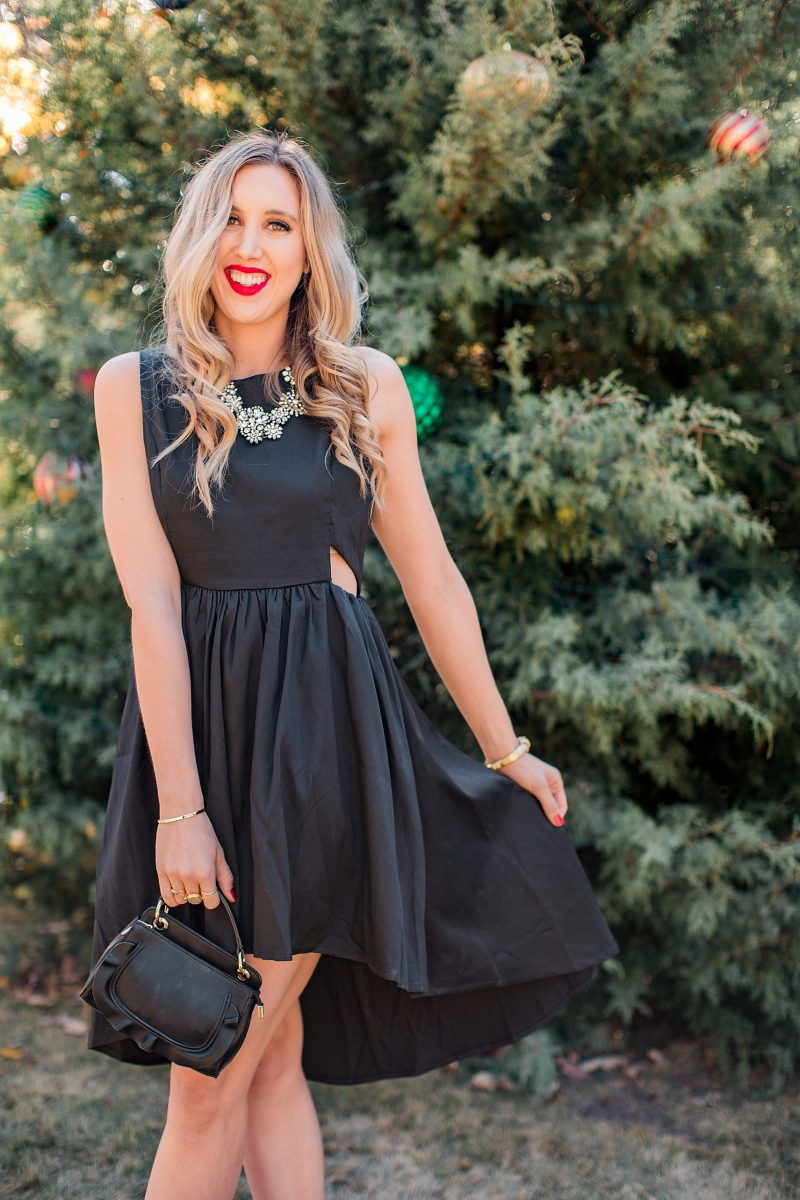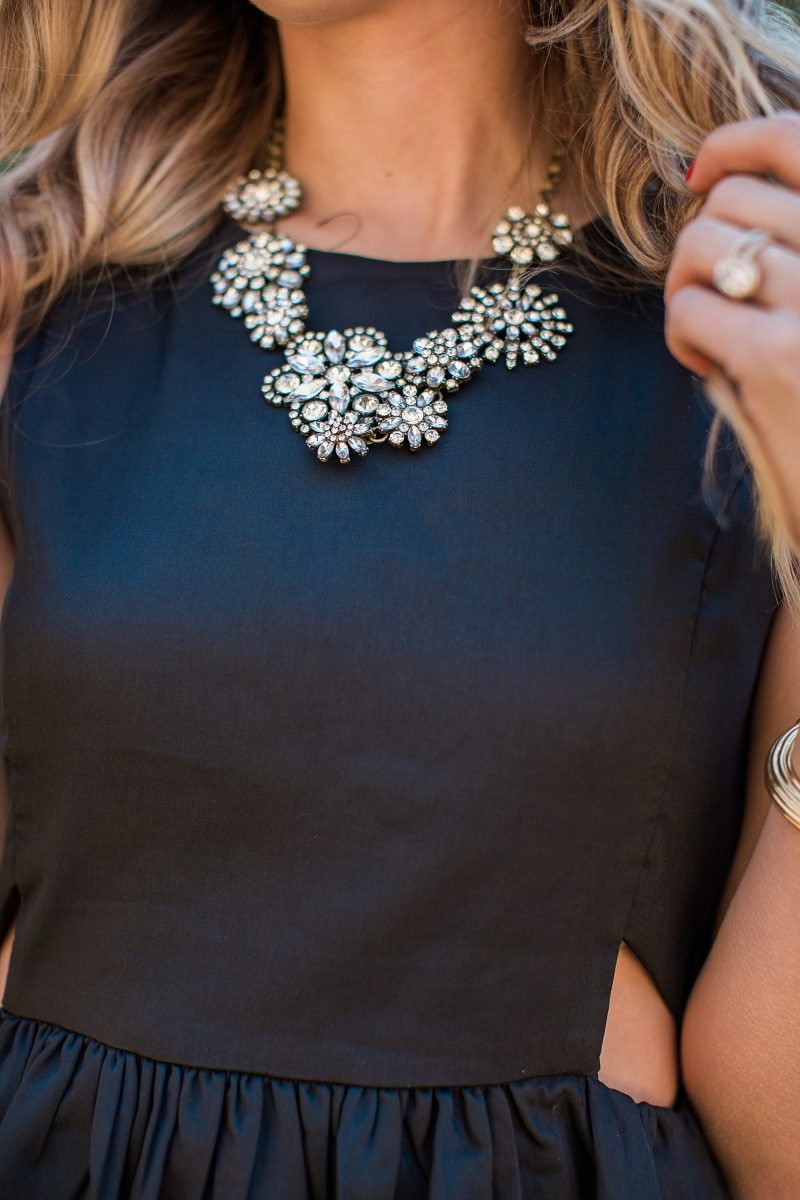 PLAY WITH TEXTURES 
Wearing a LBD is the perfect time to play with various textures! The reason you can do this is because your LBD is like a blank slate for styling. Incorporating various textures will add depth to your overall outfit! Velvet is a huge trend this season, especially on shoes, so I decided to add these gorgeous velvet block heels. I love how the rich texture of the velvet ties in perfectly with a LBD.
BONUS STYLE TIP:  The deeper the velvet hue (such as burgundy) the more luxe your outfit will appear. If you opt for a lighter the hue of velvet your will give off a more whimsical appearance. There are no right or wrong answers when styling various shades into your look. It's all a matter of personal preference! Both would look amazing for the holidays.
Another material that would look amazing with a LBD for the holidays are lace or sequins depending on your personal style. Velvet and lace together are very feminine, while sequins and velvet make more of a statement (especially if you layer your bauble necklaces!).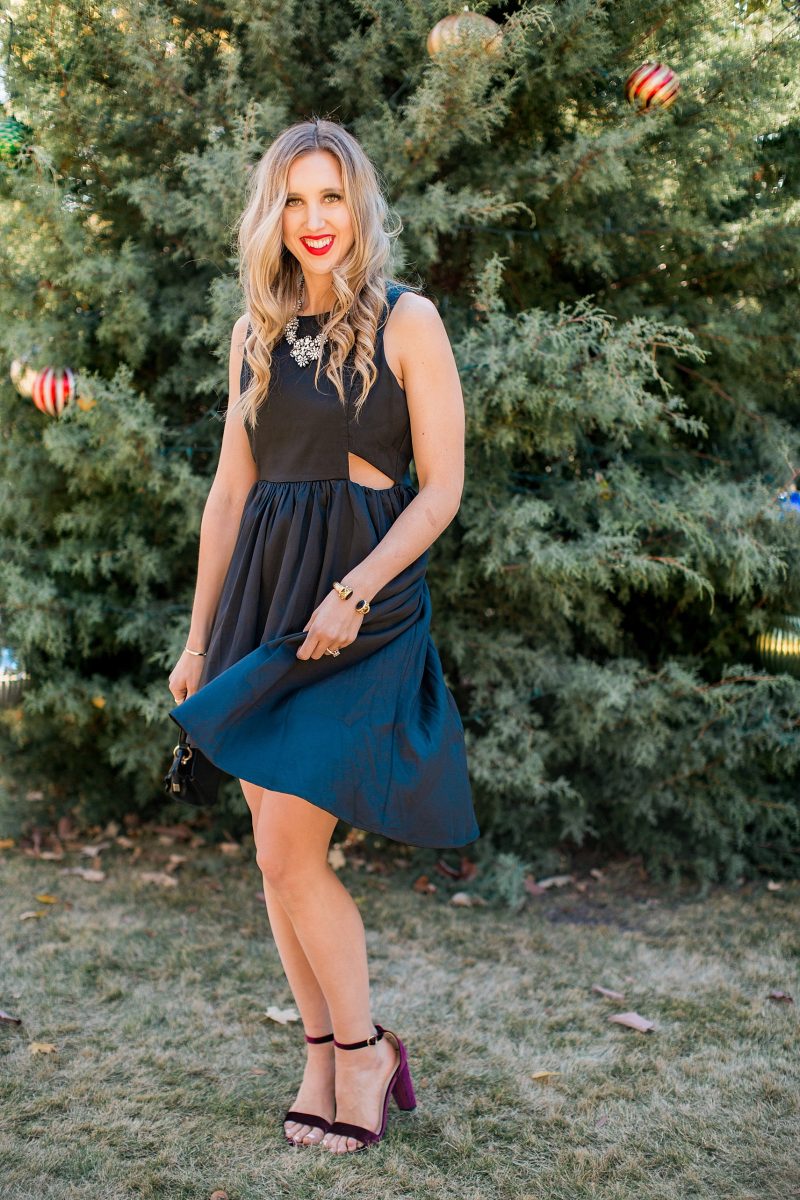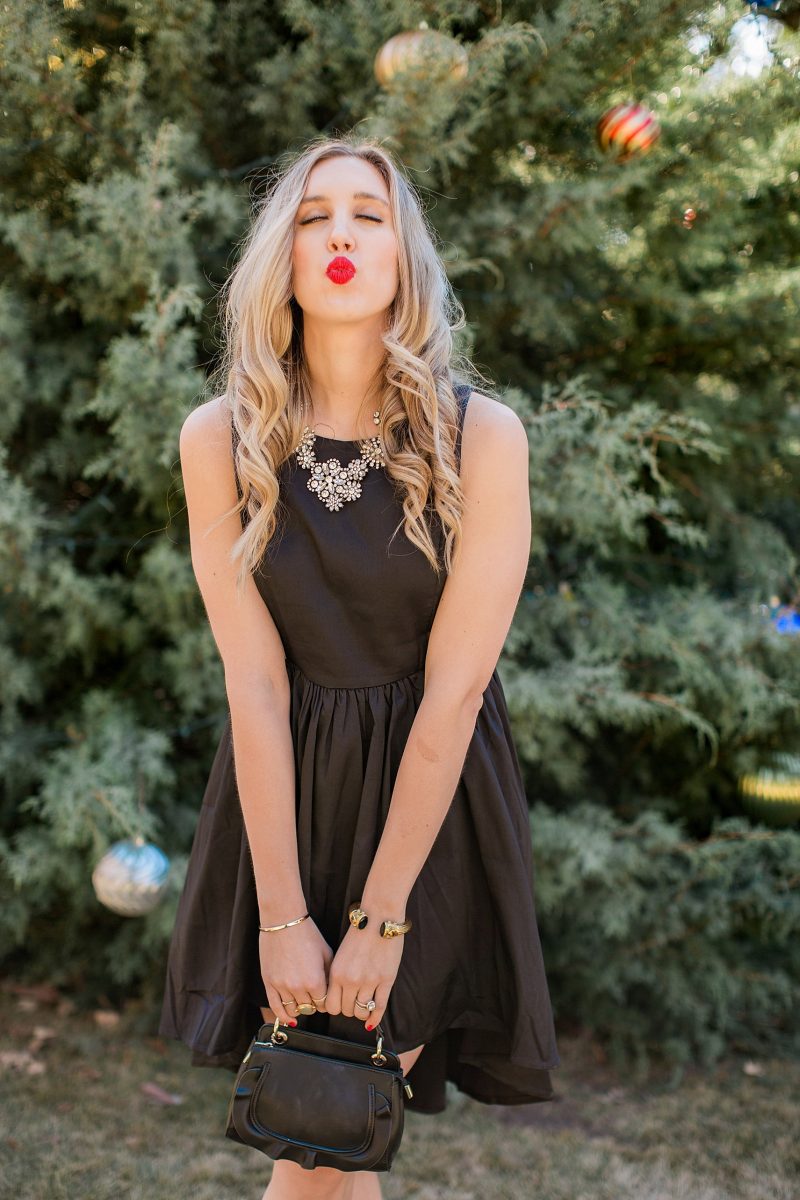 A LBD IS INSTANTLY SLIMMING
A LBD is instantly slimming due to it's darker hue! Let's be honest… who doesn't want that?! It doesn't matter what type of silhouette you choose for your LBD because this style tip is true 100% of the time. I consider the LBD to be "fashion magic" because wearing black will always be figure flattering! If you're unsure of what silhouette to choose as your holiday dress I highly recommend opting for a dress that cinches at the waist such as an A-line dress because this dress will highlight the smallest part of your waist! This type of dress is flattering on everyone.
A LBD IS A WARDROBE CLASSIC
A LBD is a wardrobe classic because you can style this dress for any occasion. It's easy style for more formal occasions or dress down for everyday wear! This is one of those wardrobe pieces you can totally splurge on because you know you can wear this item season after season and it's never going out of style. Like ever.
I love these LBD dresses from Francesca's here, here, and here!
What did you think of today's post? I would love to chat with you in the comments below! Follow me along on Instagram, Pinterest, and Facebook for daily style inspo!
Thank you SO much for stopping by Blush & Camo and to Francesca's for sponsoring this post!
xx Julianna
SHOP MY POST