Welcome back to B&C! On my Insta stories last week I asked if you ladies wanted a BBG workout review and you overwhelmingly said YES! So today I am going to give an in-depth review on my entire experience. I did BBG from May 2015 until April 2018. After three years of BBG I needed to switch it up and try something else. Alright, here's my full BBG workout review.
WHY I STARTED BBG
In 2015 I was looking for a change in my workout routine other than running a few miles everyday. I wasn't getting the results I wanted and knew I needed to switch it up. I was also in the Army then and had mandatory PT one hour each morning. This ruled out going to a gym near my house or signing up for any type of workout class since I would be on base around 5:30am each morning.
My requirements for my new workout regiment were:
I could do the workout anywhere
The workout didn't require a ton of equipment
The workout didn't take longer than 1 hour
Even in 2015 there was a big buzz about Kayla Itsines and her amazing Bikini Body Guides (BBG). I kept seeing women on Instagram using the hashtags #bbgstronger and #bbg and I was intrigued. I went onto her Facebook page which had millions of followers, pictures of amazing results, and her healthy lifestyle tips and workouts were so genuine. Her workouts also crossed off every requirement I had when looking for a new workout routine. I immediately went to her website and downloaded her Bikini Body Bundle which was the BBG1 ebook and the nutrition ebook. I am a vegetarian, so I opted to get the vegetarian ebook with my bundle. In total in cost me around $90 which I thought was kind of expensive for an ebook, but at this point I was willing to do anything to change up my workout routine!
THE BBG WORKOUTS
I will never forget my first BBG workout. One of the big selling points of BBG is that it only takes 28 minutes! It's two circuits you do continuously for seven minutes each, and then repeat them agin! In total it takes 28 minutes and then you're done!
I started at the very beginning at week 1 with legs and cardio. I remember looking at the workout which had reps of 15 squats and 10 burpees and thinking, "I was a division one athlete in college, this is going to be a piece of cake!". I was SO. WRONG. By the end of the workout I was sweating in a way I have never sweated before and my legs were complete jello. Finishing my first BBG workout was a reality check that maybe I wasn't in as good of shape as I thought.
As I walked from my friends apartment gym to my car my legs were shaking the entire way. I thought about quitting, but I didn't. I loved the workouts were only 28 minutes and didn't require any (or sometimes minimal equipment). So I kept with it, and each day I would follow the workout for that day.
Before I knew it I completed the first 12 weeks! I loved the workouts so much that I bought Kayla's BBG2 for an additional 12 weeks of workouts. BBG2 is an extension of BBG1 so the exercises you do in them are a little more complex because you've had 12 weeks building up to the next 12 weeks!
I absolutely loved the workouts from both BBG1 and BBG2. Each time I completed a workout I really feel like I got in a great workout. And the results proved it (more on that below!).
Throughout my entire three years of doing BBG I loved that I could do my workouts from my house, during PT hours on base, and even on vacation. While on vacation I convinced Chuck to do one of my workouts and he was SMOKED! I actually beat him in every circuit and at the end he told me he didn't think the workout would be hard, but that even he really liked the circuits and it was a great workout!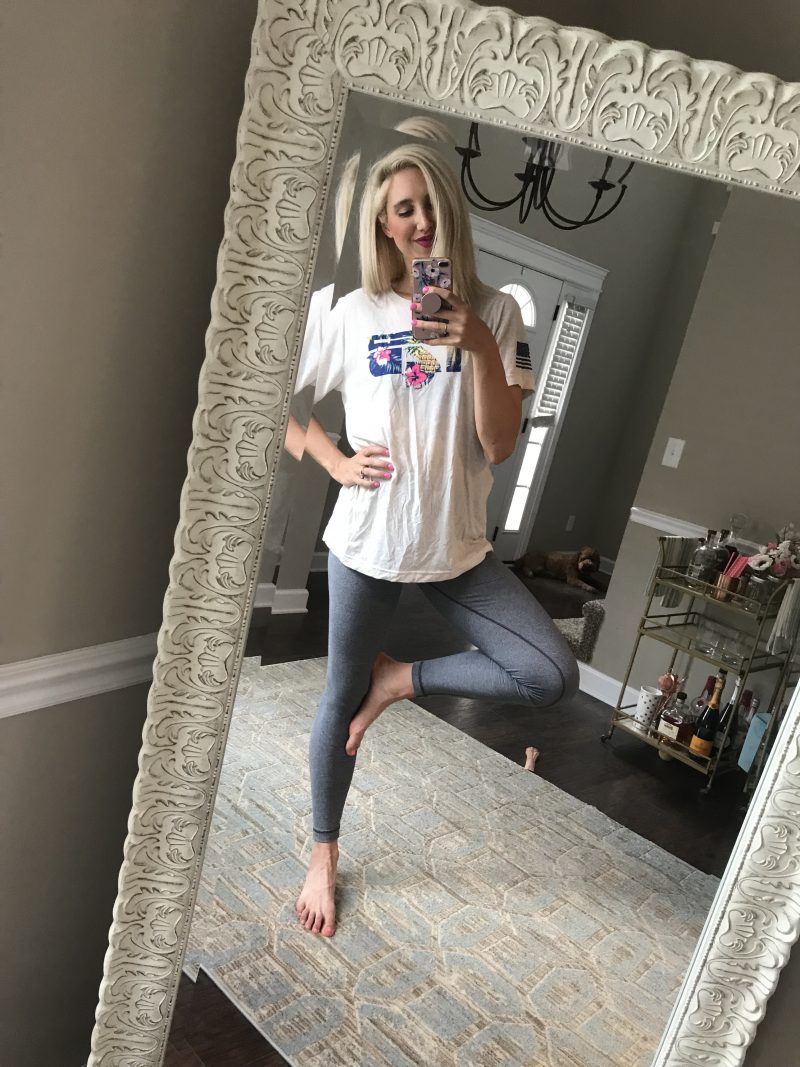 THE NUTRITION PLAN
To be honest, I didn't use the nutrition plan at all. I read through the nutrition ebook, tried one of the breakfast recopies, hated it, and never used it again. I already ate pretty healthy, and most of my diet consists of vegetables, so I didn't think the nutrition book was as vital to my fitness routine.
MY RESULTS AND FINAL THOUGHTS
Now to the good stuff, and the question you ladies are all wondering… did I see the results?! The answer is YES! I saw amazing results! My legs got leaner, my stomach had never been so toned, my arms got more defined, and Chuck was noticing a difference too! I was beyond happy with my results and that's why I stayed with BBG for three years:).
I would recommend this workout routine to anyone and talked to my family and friends about it too! I honestly don't have many negative things to say about BBG other than I don't think the nutrition book is necessary unless you are looking for healthier recepies to cook, or trying to change your diet. If you are happy with your diet and just looking to try a new workout routine I recommend purchasing BBG1, not the bundle, and saving yourself some cash!
I also love that BBG is such a community! There are literally millions of women who are completing BBG workouts each day and there are BBG community groups around the world where women meet up and do the workouts together. You can find out if there is a workout group in your community by clicking here!
At first I thought purchasing the BBG ebooks were a bit expensive, but it was honestly some of the best money ever spent! I also wish I had before and after photos, but those are long gone on my old phone:(.
I will always be a #BBGgirl and while I am taking a break from BBG at the moment, I know I will come back to these circuits and complete BBG1 and BBG2 again! In the next few months I am also going to try BBG Stronger which are gym workouts that use weights for strengthing.
If you have been thinking about taking the plunge and purchasing your BBG ebook I say go for it!
I know this was a longer post and hopefully I was able to answer your questions about BBG! If you have any more questions leave a comment below and I will answer them:)!
Thank you so much for stopping by Blush & Camo!
xx Julianna
SHOP CUTE WORKOUT GEAR