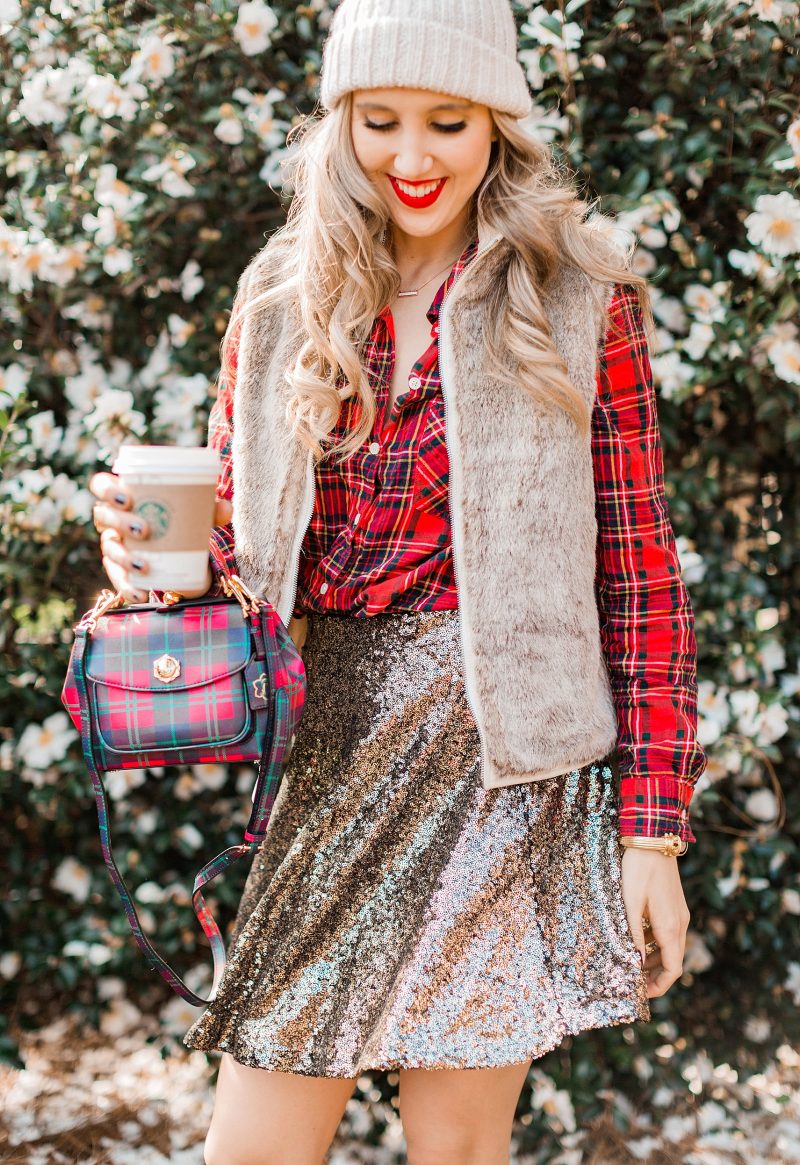 The holiday season is in full swing and this is my favorite time of the year! One of the colors I can't wear enough of during the holiday season is red! There are various shades of red, but not all shades of this hue are created equal. Today I'm going to share how to make red pop in your outfits (and just in time for all those holiday parties!).
Keep reading to read all of today's style tips!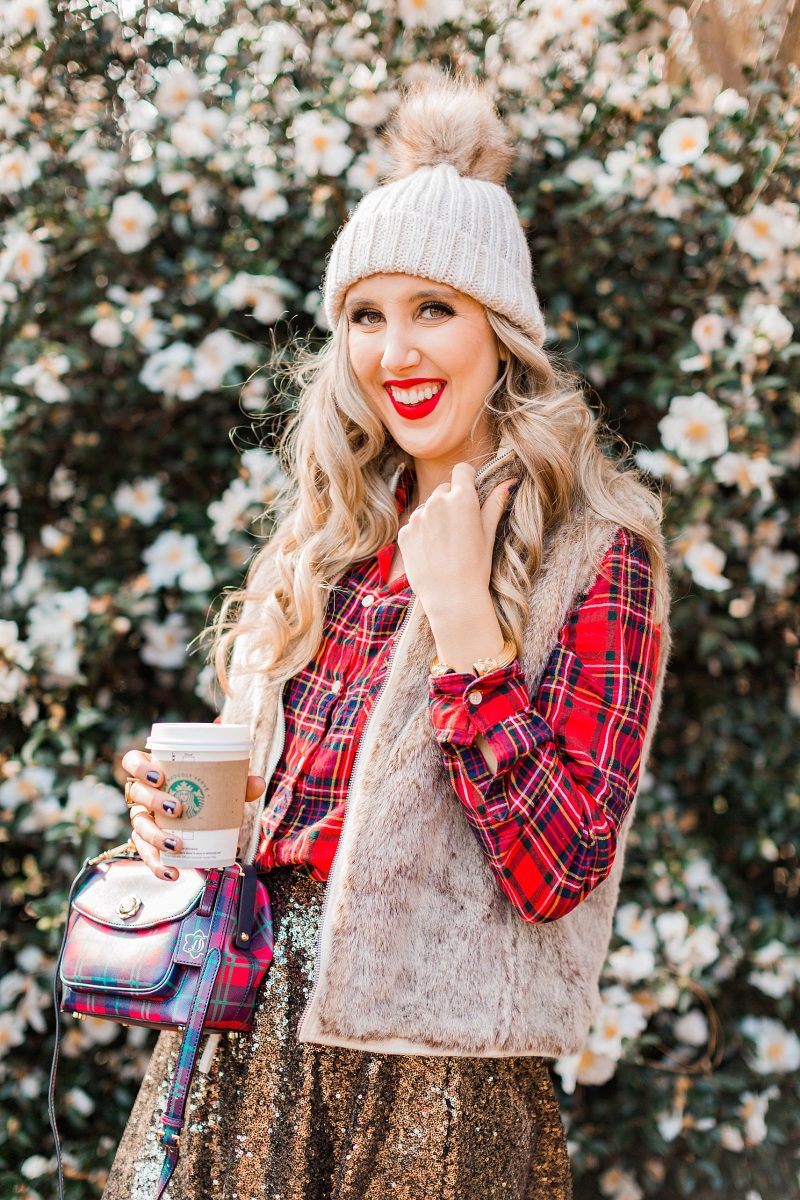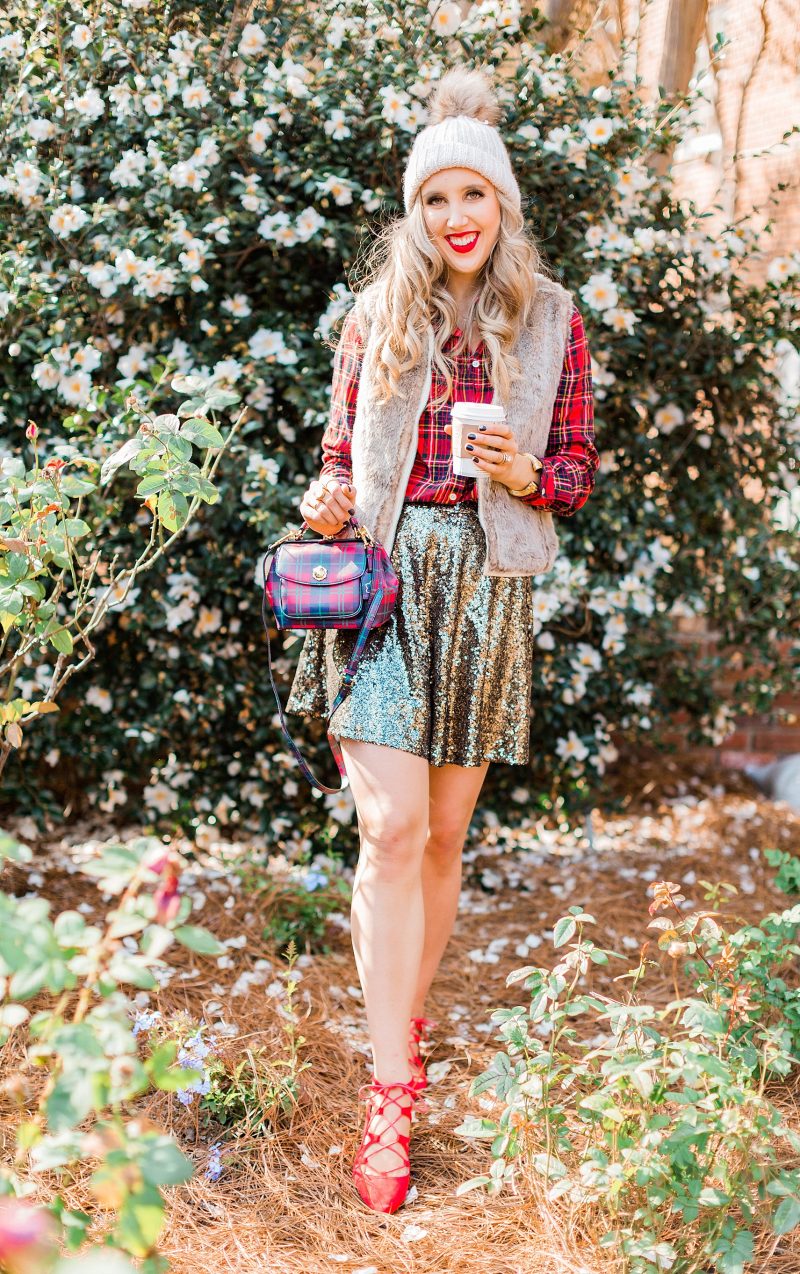 1.) LOOK FOR REDS THAT POP AND AN EASY #SHOPPINGTIP
In order to make a #colorstatement you first need to have a color that really pops. Red already demands attention due to it's bold hue, but you want to look for a red that REALLY pops. This can make or break your outfit when showcasing off red colors.
This is the test I use when looking for reds. Walk into a store such as Old Navy or Forever21. Stop in the front entry of the store and scan the room. Whatever red catches your eye is 99% of the time a red color that pops and will look amazing as a statement piece!
I used this style tip for this red flannel top! I walked into the Old Navy entry way and stopped. I scanned the store and this is the first item that caught my attention. (Yepp, this style tip is that easy!).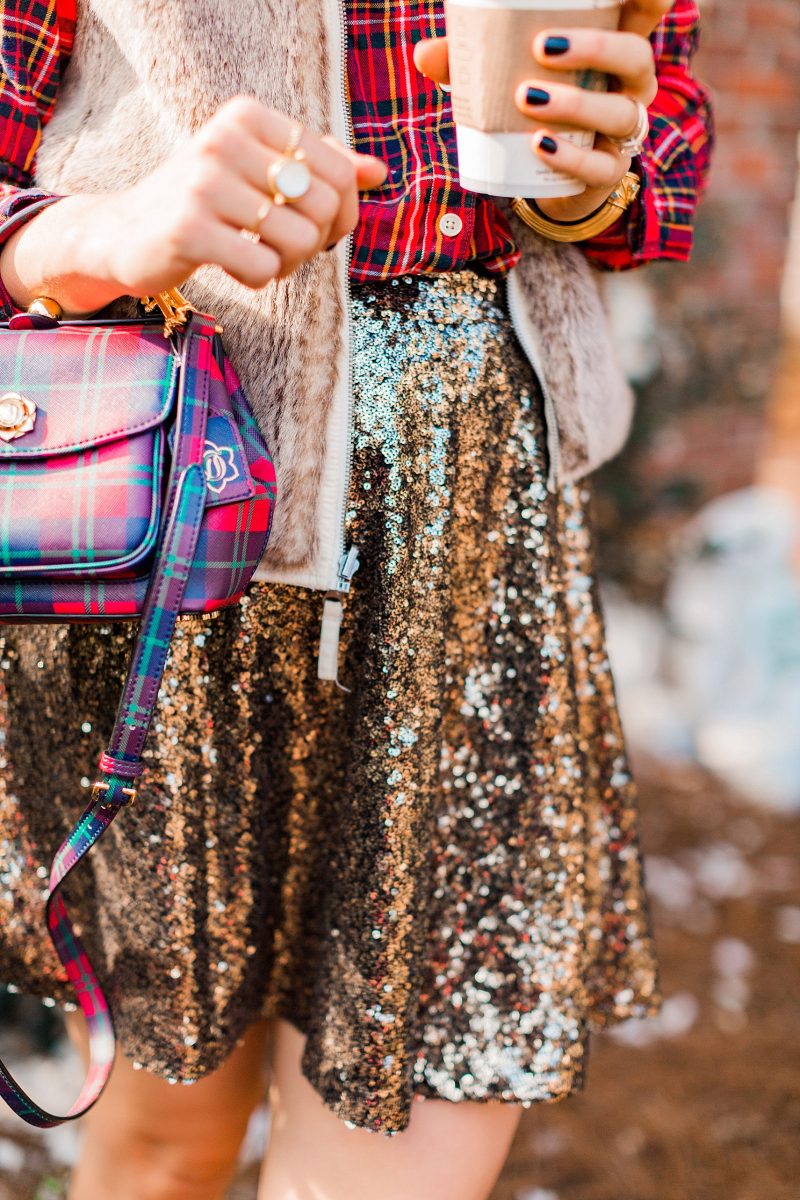 THE POWER OF TWO
If you want to make a statement you don't want to wear the color in just one section of your outfit. You want to reiterate the statement you are making. A general fashion guideline (since I don't believe in fashion rules!) is what I'm calling the "Power of Two"!
You want to pick two items that really are the same pop of color. In this blog post I choose my red flannel and my red lace up flats. These colors are about the same color and really pop.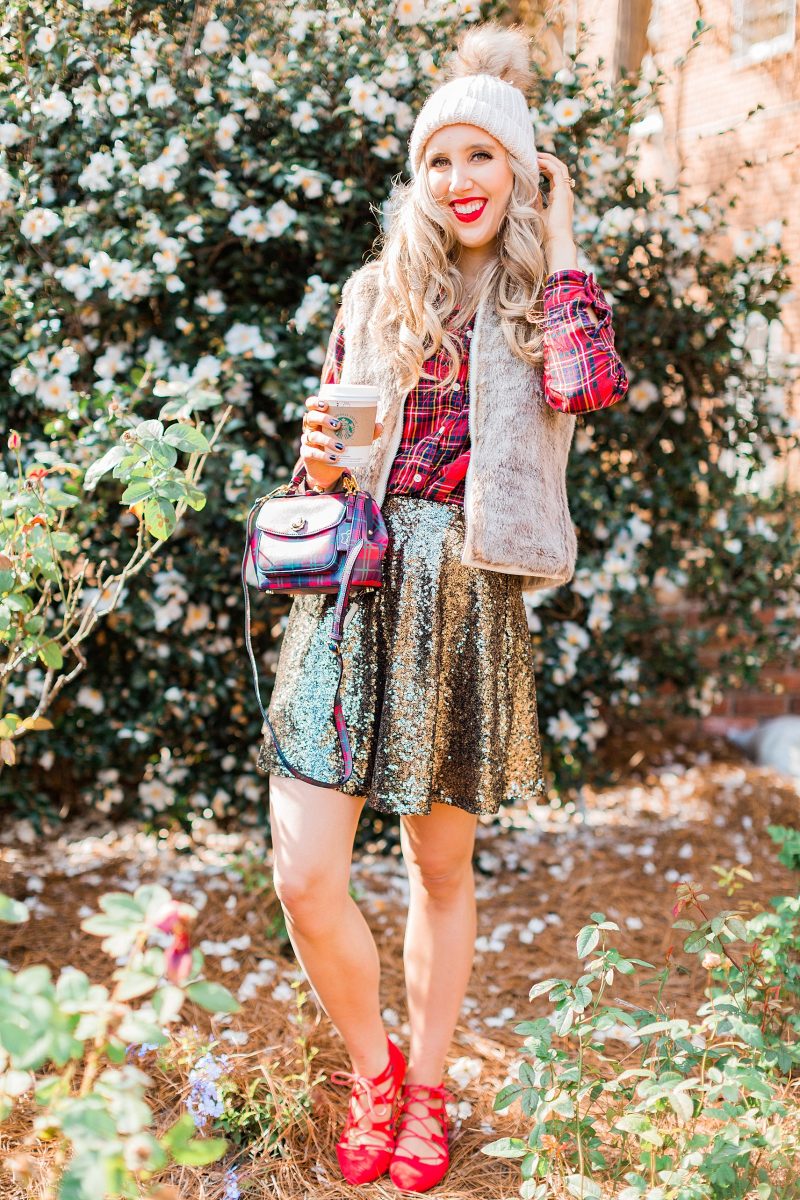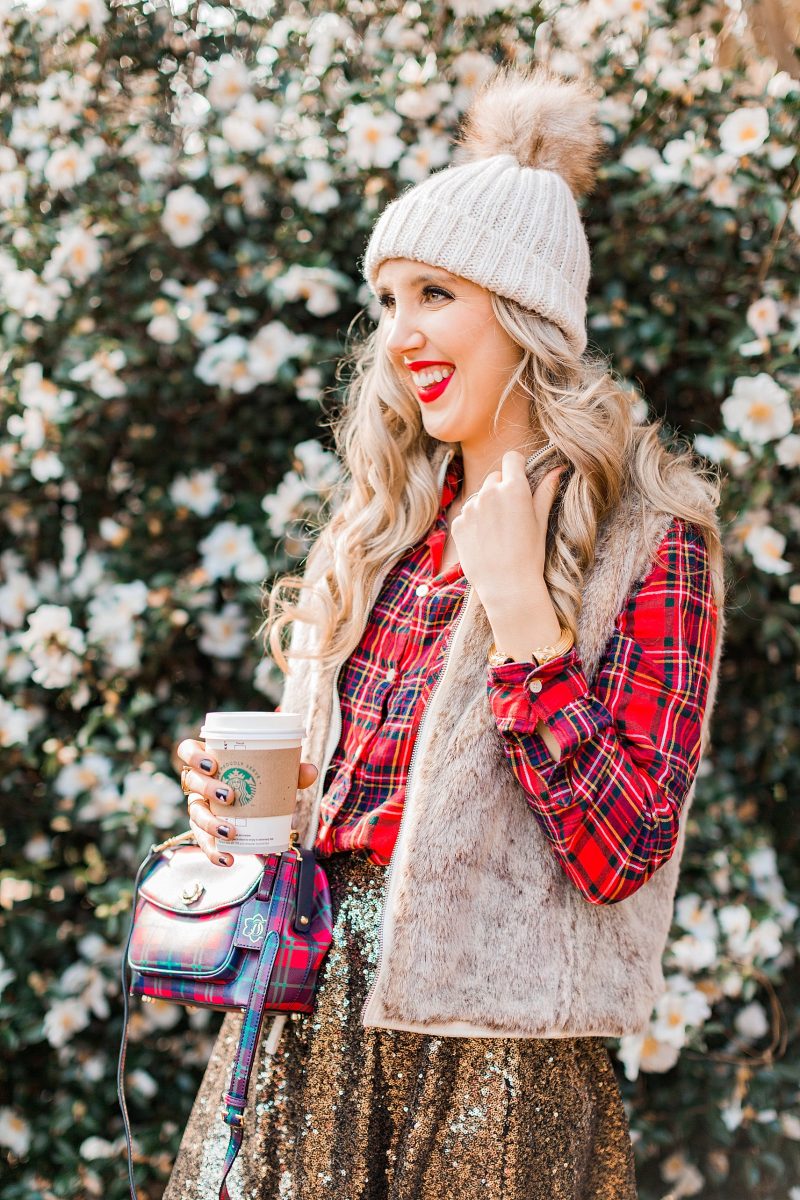 3.) PLAY WITH PRINTS
When putting together an outfit with a focus on a bold color you want the overall outfit to be sans print- except for your accessories!
In this look I have my button down in a plaid print and my handbag is also in a fun print! This is a fun way to add some depth to the outfit and break up the whole look. Two accessories I highly recommend using as a way to mix in prints are handbags and scarves! Leopard print would also have looked amazing with this outfit.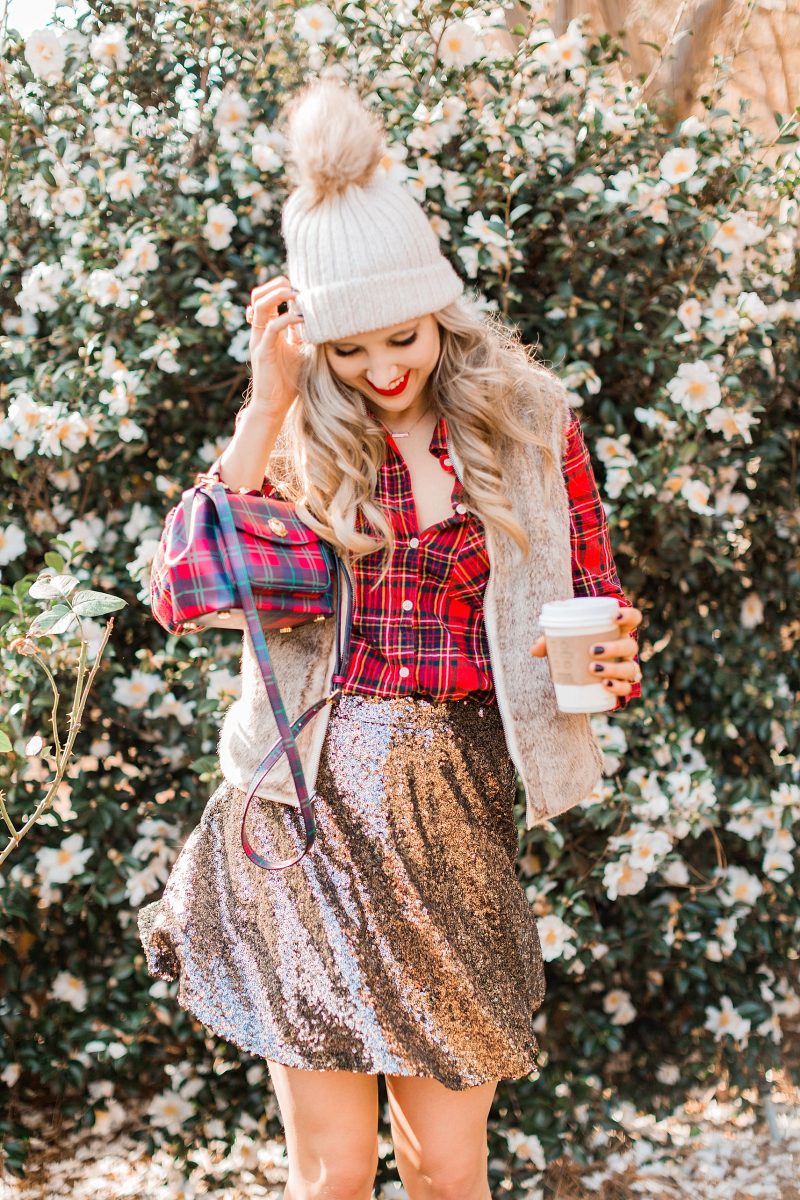 ADD A SEQUINED ITEM
You don't have to use this style tip when wearing red, but I highly recommend it because this is one of the only times during the year you can walk around in sequins and everyone totally understands. The holidays are all about sparkle and that extra glam to your outfits! You only want to pick one item that will be covered in sequins, like I did in this post today, because it will really make your red hue pop and give MAJOR holiday vibes! If you pick more than one item with a ton of sequins on it the two pieces will compete with one another for attention and we don't want that!
Balance is the key to this final #styletip!
What did you think of today's post? I would love to chat with you in the comments below! Follow me along on Instagram, Pinterest, and Facebook for daily style inspo!
Thank you SO much for stopping by Blush & Camo and I'm sending you so much love!
xx Julianna
SHOP MY POST
Hat