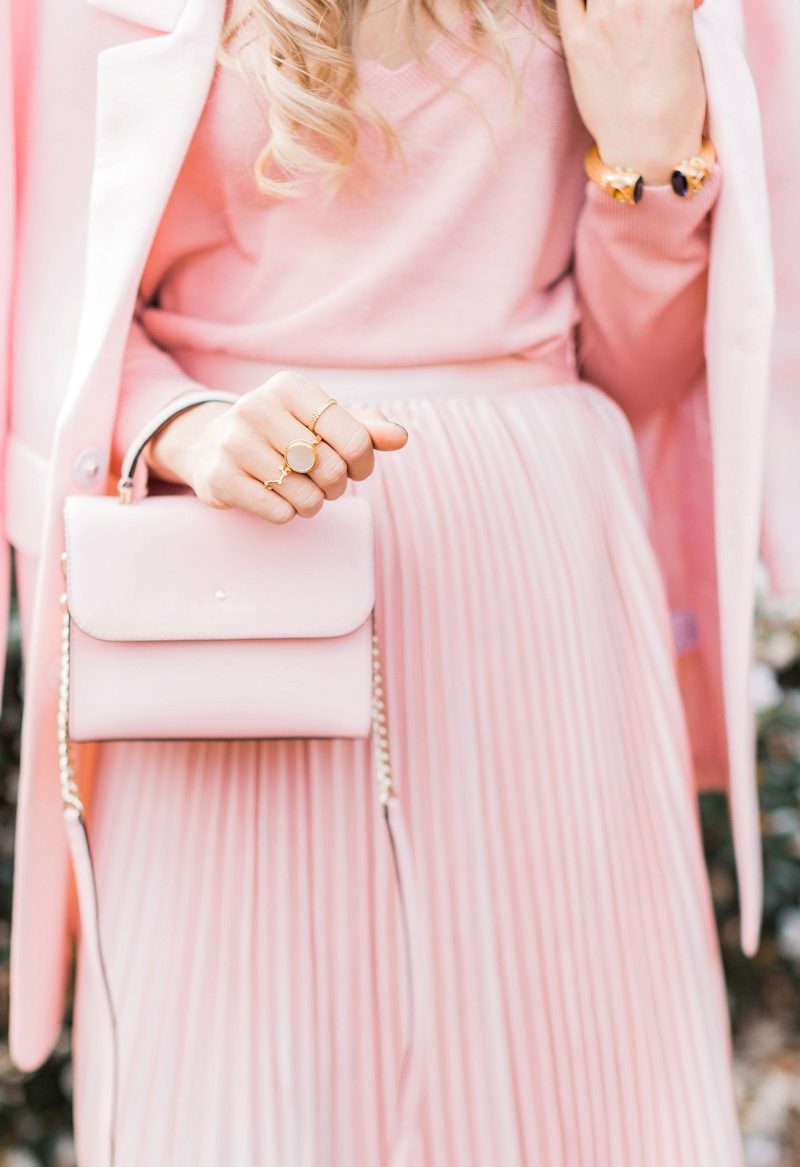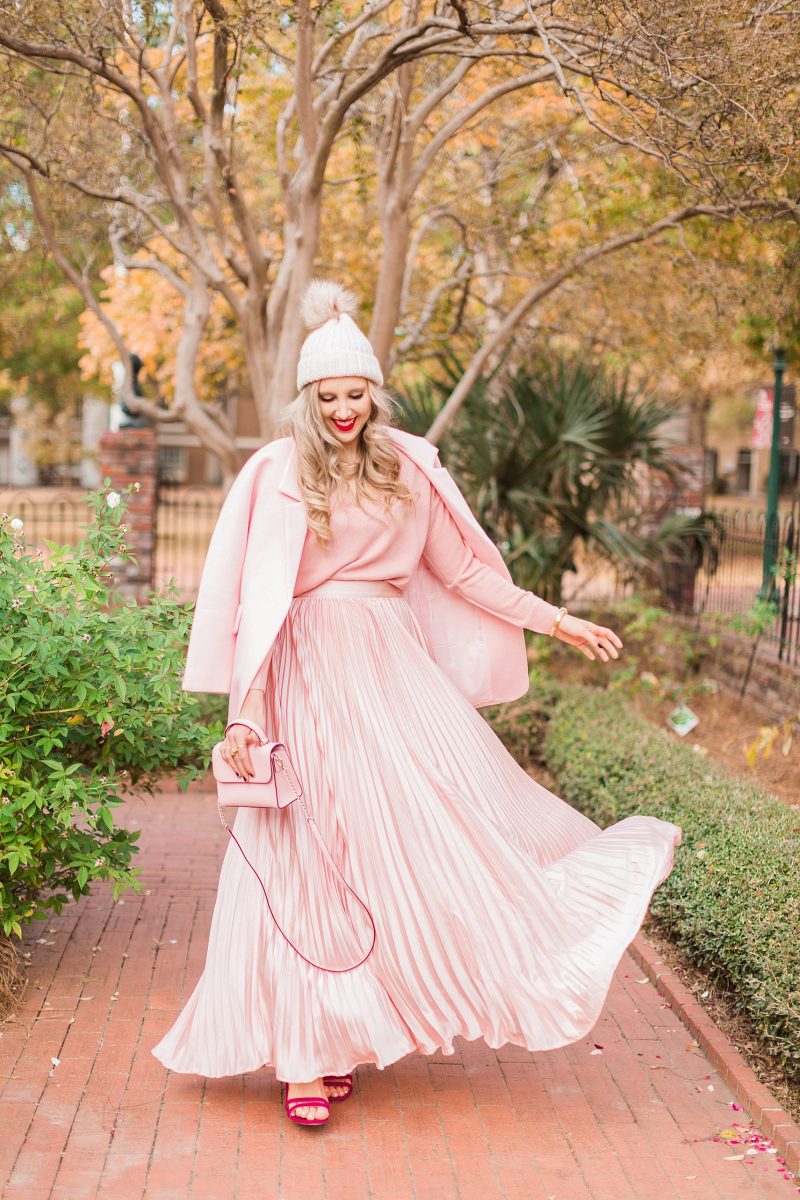 Hello, Gorgeous! Thank you so much for stopping by Blush & Camo because today I'm sharing some colors you can totally rock to a holiday party that are NOT red and green! Don't get me wrong, I love wearing these two festive colors to holiday parties, but sometimes you want to switch things up a bit and wear a color that's a little outside the box for the holidays!
Keep reading to find out what alternative hues you can totally wear during the holiday season!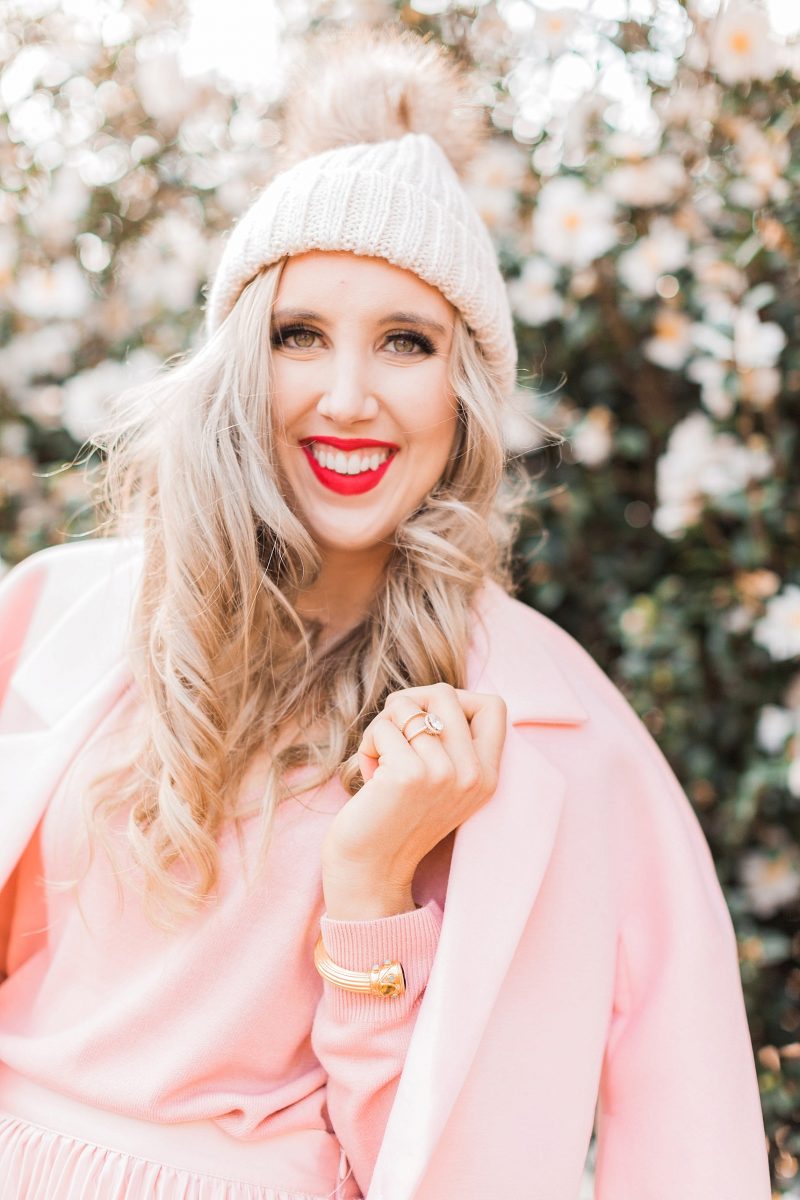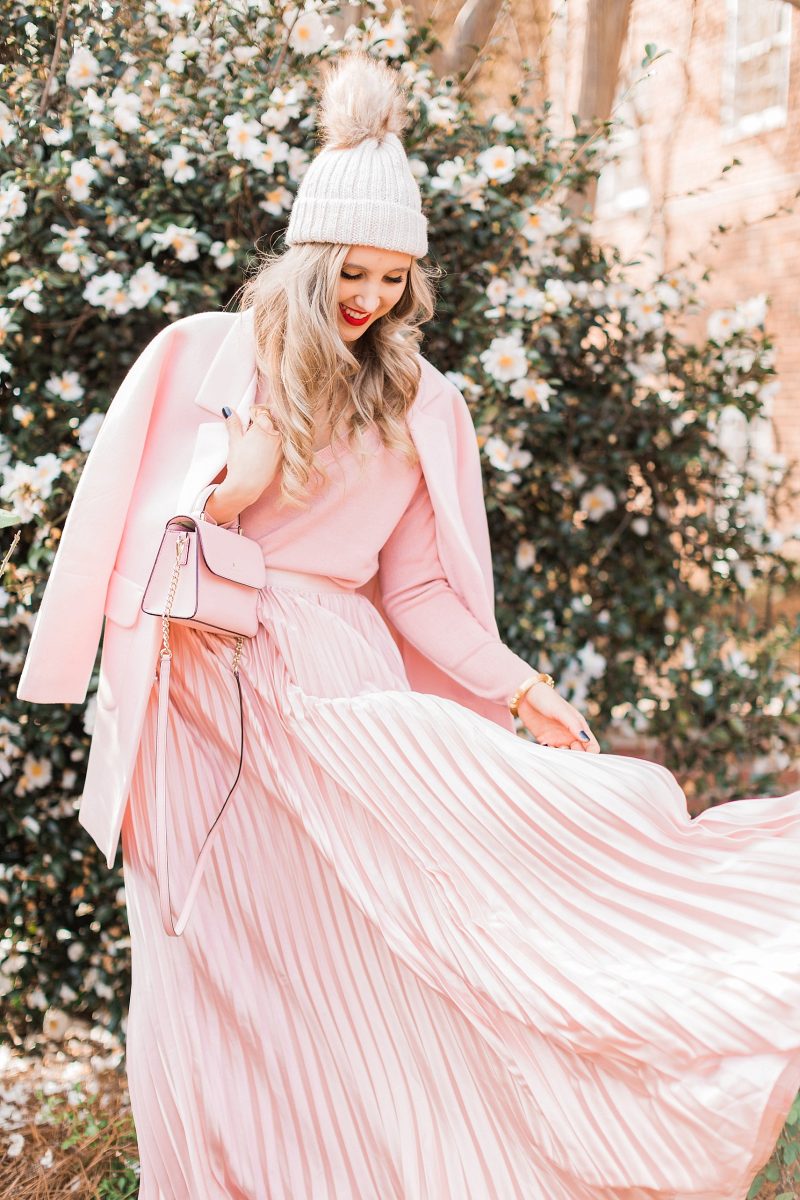 PINK
The first hue that is a perfect alternative to red or green is the color pink! The reason why this color works is (not only is a totally trending!) but pink is loosely in the red color family. It's a lighter, more subtle version of red and a hue that's always acceptable to wear to a holiday party.
I am wearing a head to toe pink look that I would totally rock for the holidays! The chucky knit hats helps to pull the whole look together and give this outfit more of a winter feel!
Materials To Try This Hue In: To really exude some holiday vibes try wearing a pink item made of a soft velvet or an oversized chunky knit (like I did with my chunky hat in today's post)!
Colors To Compliment This Color: Since pink isn't your traditional holiday color try wearing various shades of cream and some gold/silver accents throughout your look! This way you're still giving off some serious holiday vibes while remaining true to your personal style.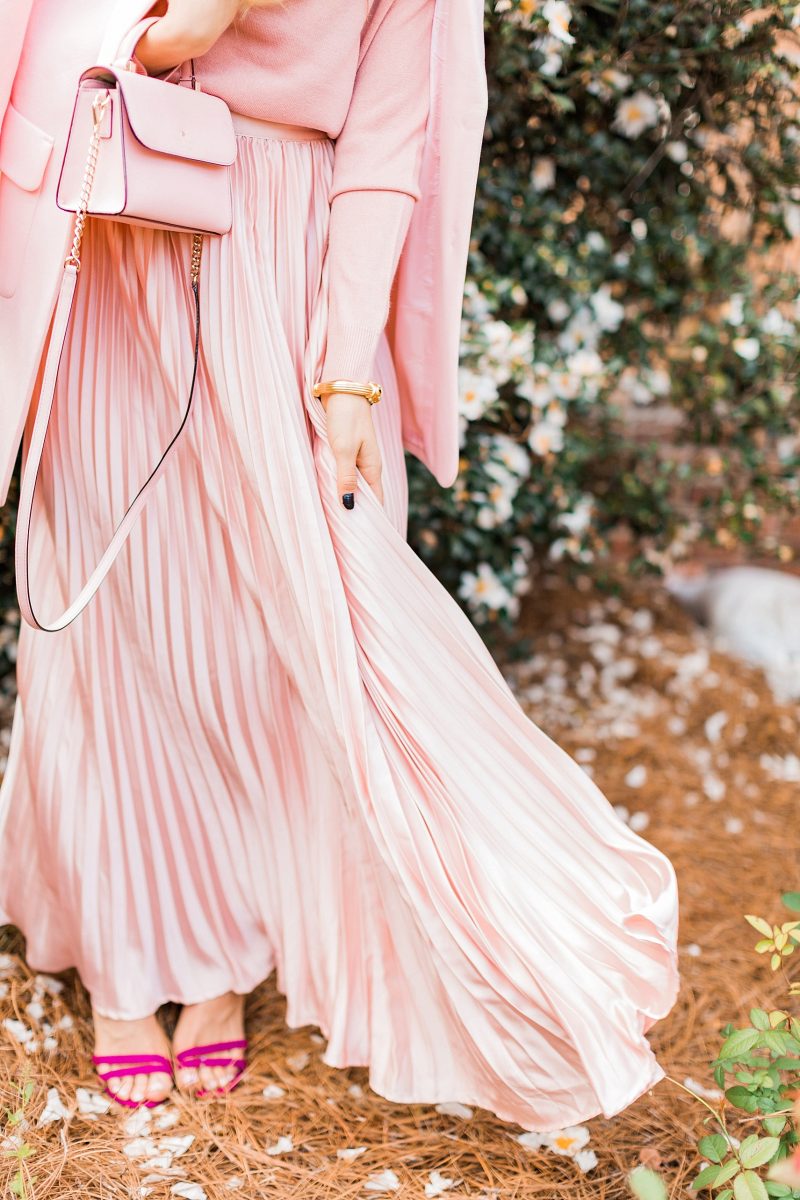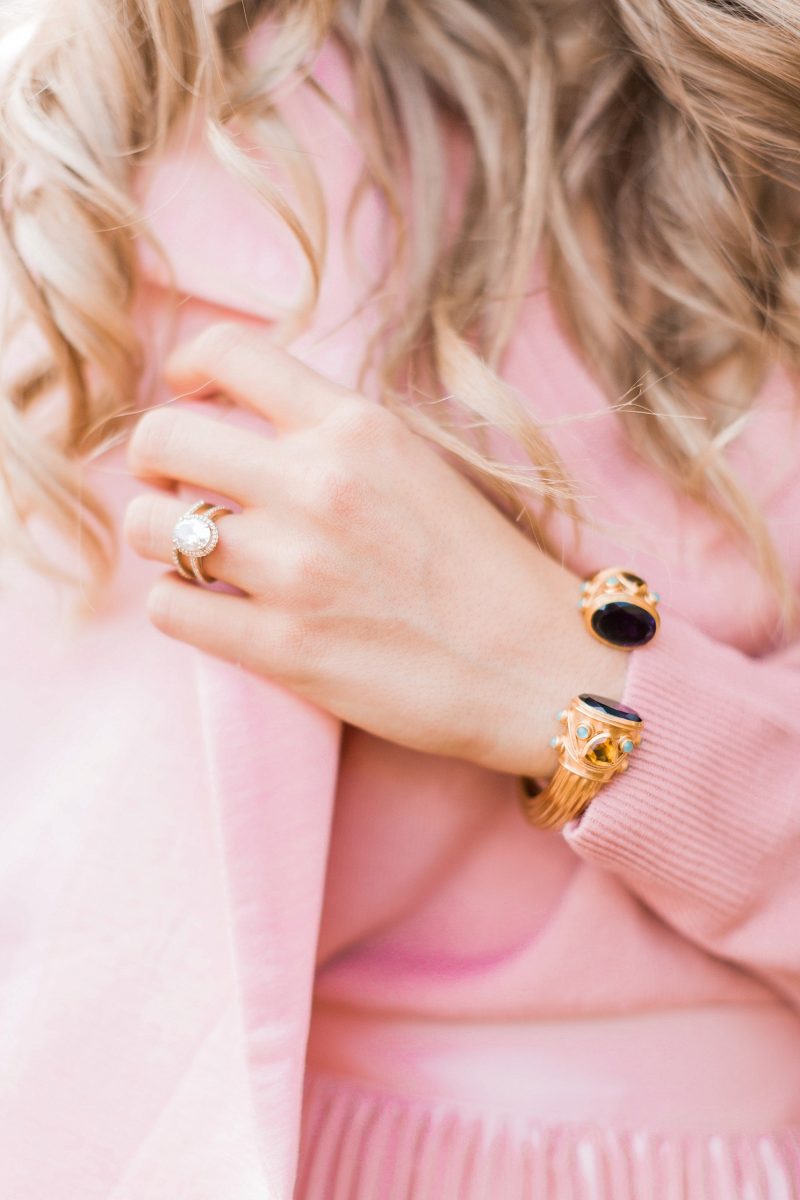 WHITE
White is an amazing alternative to wearing red or green throughout the holiday season. The reason why this hue works is because white reminds people of snowflakes- and snow is a quintessential part of the holidays! I highly recommend wearing a monochromatic white look when rocking this hue to a holiday party. You want to do this because monochromatic looks are ultra chic0 especially in this color!
Materials to Try This Hue In: Honestly, any material would look amazing in this shade! I recommend going with whatever matches your personal style best!
Colors To Compliment This Color: Try adding pops of glitter (in the fashion blogging world, this is totally a color!). This means anything with sparkle to it will pull your entire outfit together!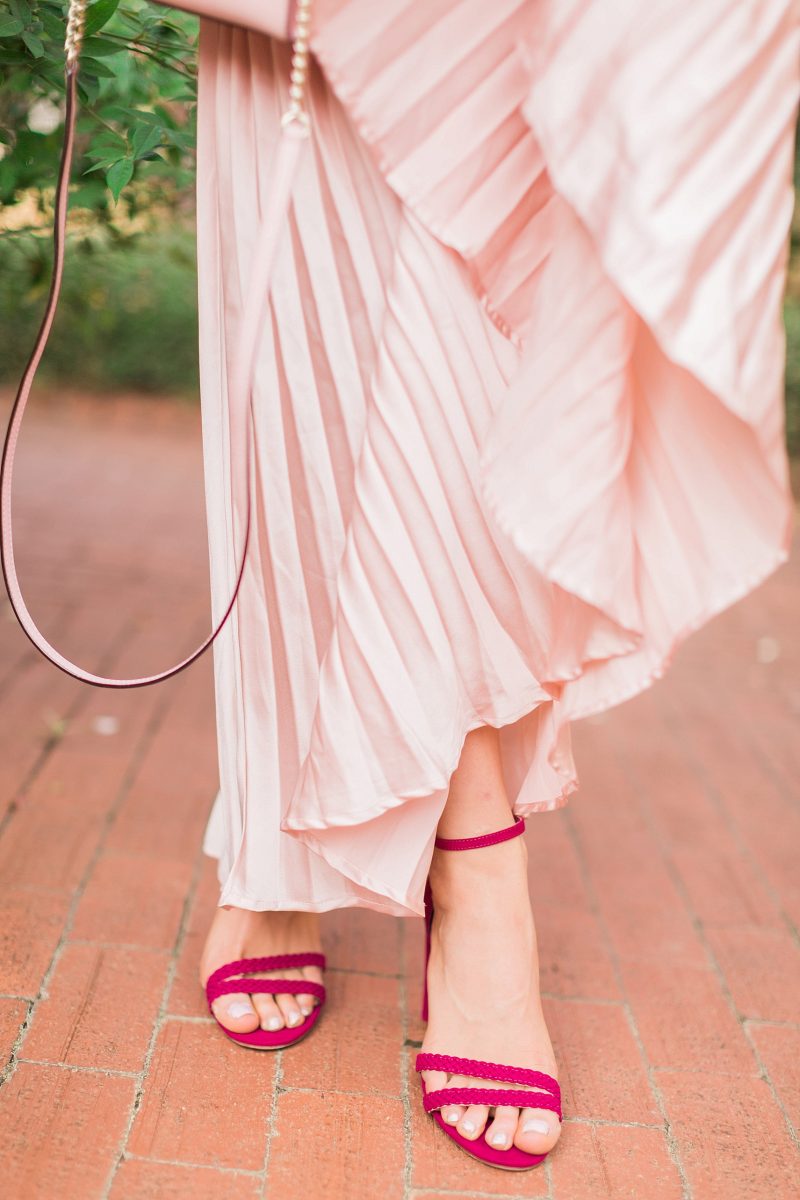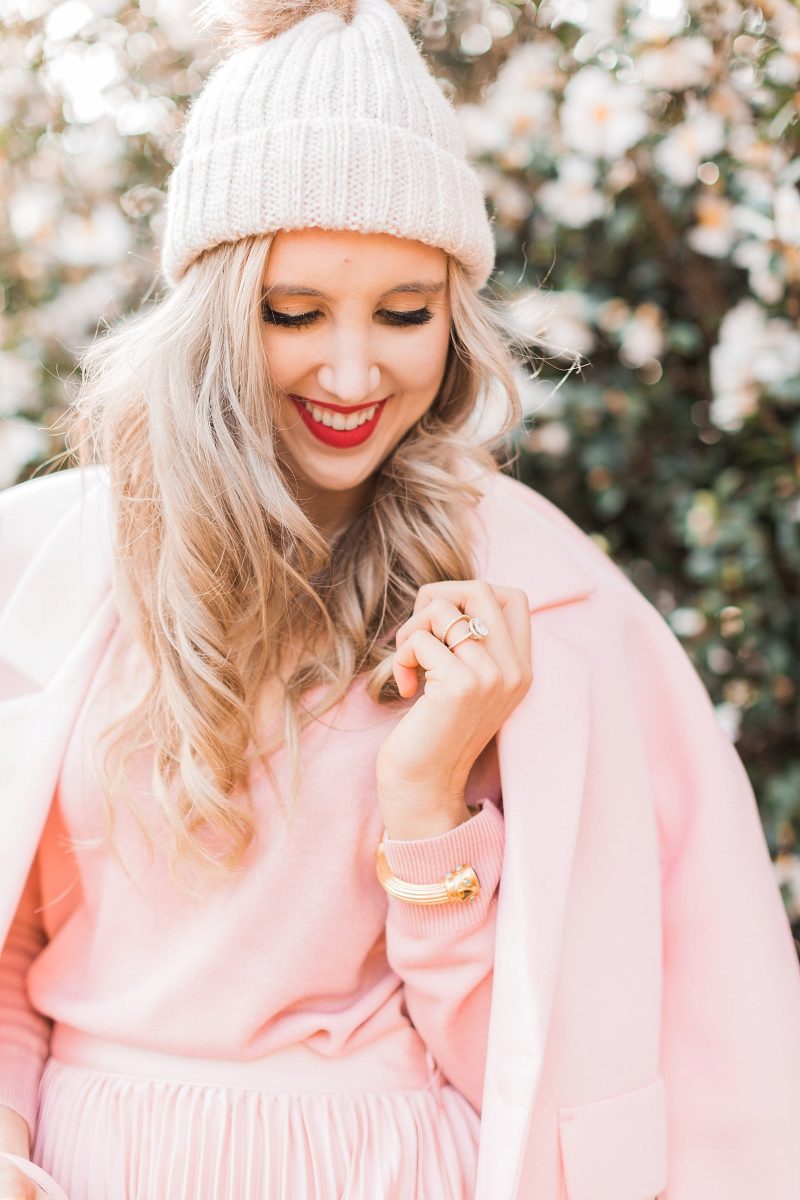 BLUE
Think Elsa from Frozen! The shade of blue also reminds people of snow and depending on your shade of blue (cough- think navy!) this shade can also appear ultra luxurious for a holiday look! It doesn't matter if you prefer a lighter shade of blue, or a deeper shade of blue. Any shade of blue will be perfect!
Materials to Try This Hue In: I highly recommend trying a smooth velvet material or even satin which appear very luxe (especially in a navy blue!).
Colors To Compliment This Color: Red would be the perfect pop of color to really tie in some serious holiday vibes to your holiday look, but if you are not a red/green colored girl then white and silver would also look amazing when paired with blue. I recommend silver over gold because silver will look amazing with any shade of blue!
What did you think of today's post? I would love to chat with you in the comments below and see what color you would prefer for your holiday outfit! Follow me along on Instagram, Pinterest, and Facebook for daily style inspo!
Thank you SO much for stopping by Blush & Camo and I'm sending you so much love!
xx Julianna
SHOP MY POST