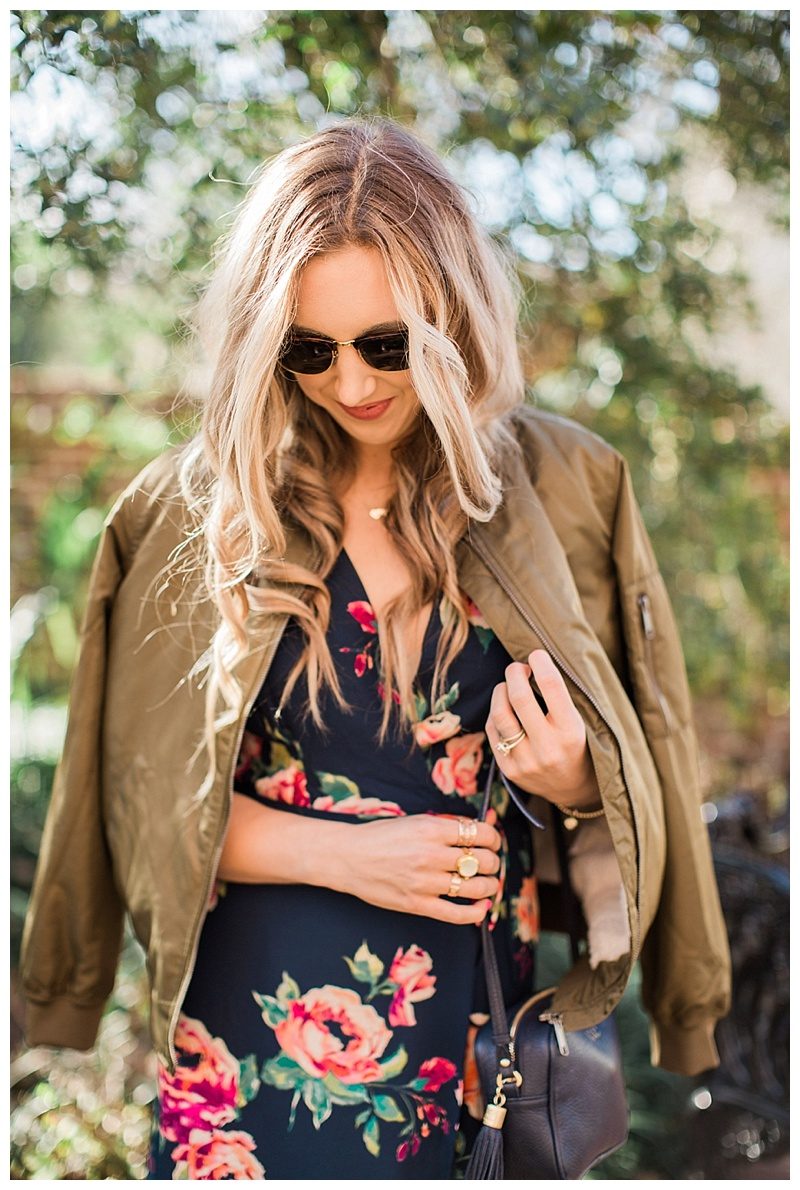 Hello, Gorgeous! Thank you so much for stopping by Blush & Camo because today I'm sharing the easiest way to create transitional outfits for spring in two simple tips. Yes, it's really that easy! I promise!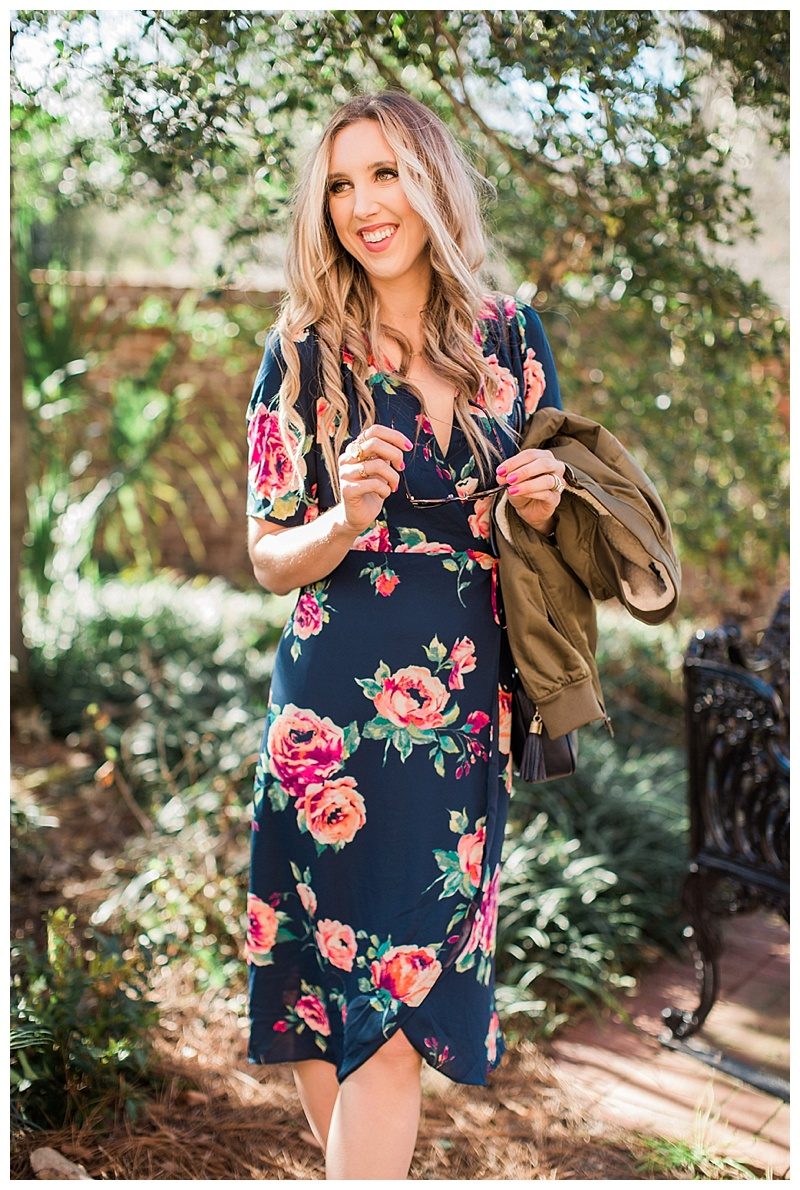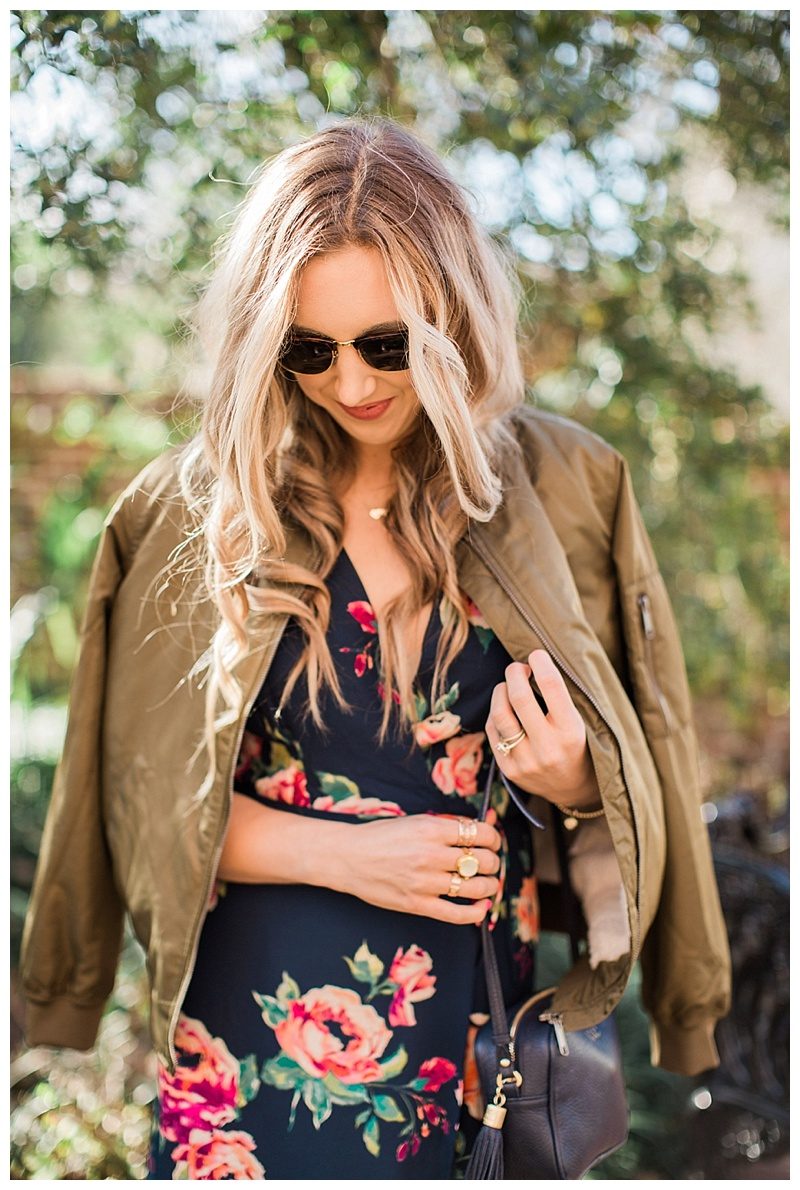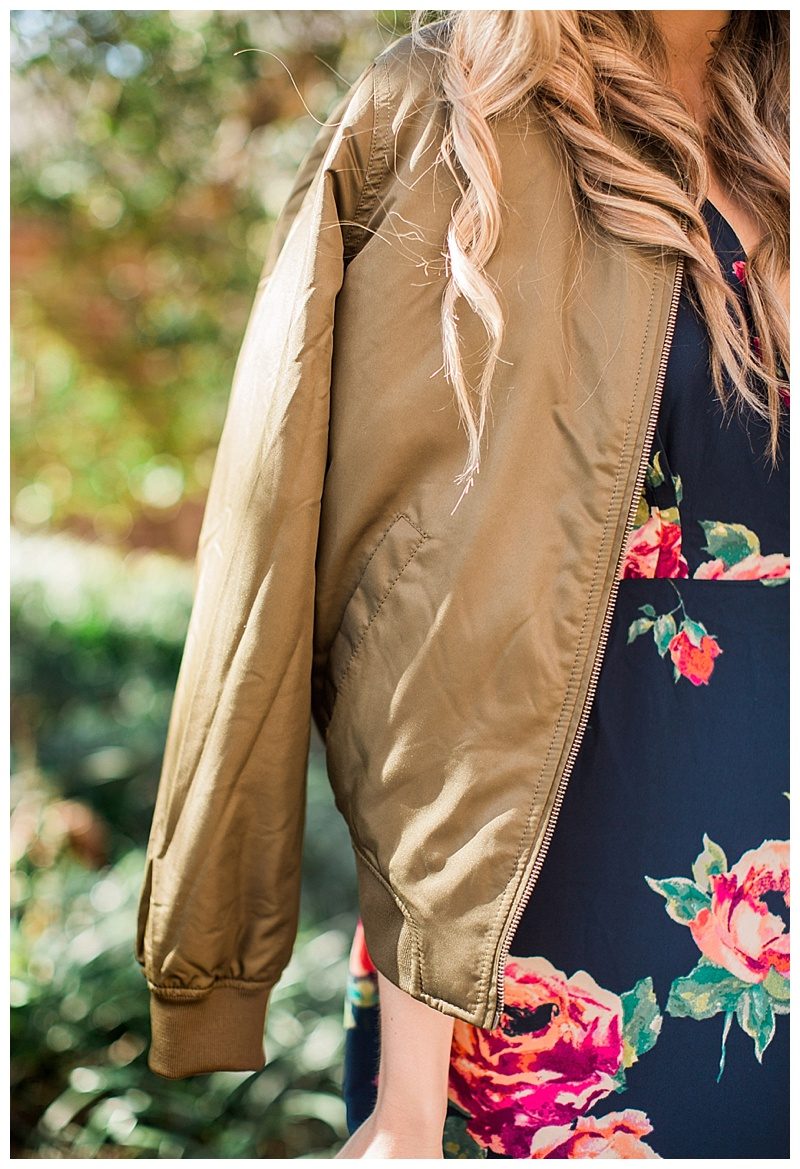 OPT FOR DARKER FLORAL PRINTS
My first tip in today's post is create an outfit that incorporates dark floral print like I have on in today's post! I choose this print for multiple reasons to include:
Floral is a classic print that never goes out of style!
Floral print comes on every wardrobe item so no matter what your personal style is there is a piece you can incorporate!
Floral print is so classic and popular that every store sells this print. This means that no matter what your budget is for clothing you are able to find a floral print piece at a price you love (if your closet isn't already filled with this print!).
Foral print makes you think of spring and flowers blooming which is perfect when creating transitional outfits!
This print is perfect for both day and night (#heckYASS)
I could honestly create an entire blog post on why this print is so amazing, but I've summarized my top reasons  above for why adding floral print is the perfect for creating transitional outfits. Every. Single. Time!
The key to creating a transitional outfit for spring is you want to have a floral print with a darker base (if possible, but not required!) such as my dress from Morning Lavender!
The darker base still allows this print to be appropriate for winter, while the colorful flowers give off major spring vibes!
You can also flip this tip and have a light floral print base, such as white, and then the actual flowers are much darker hues. Whatever your personal style this is guaranteed to work!
I told you this was super simple:)!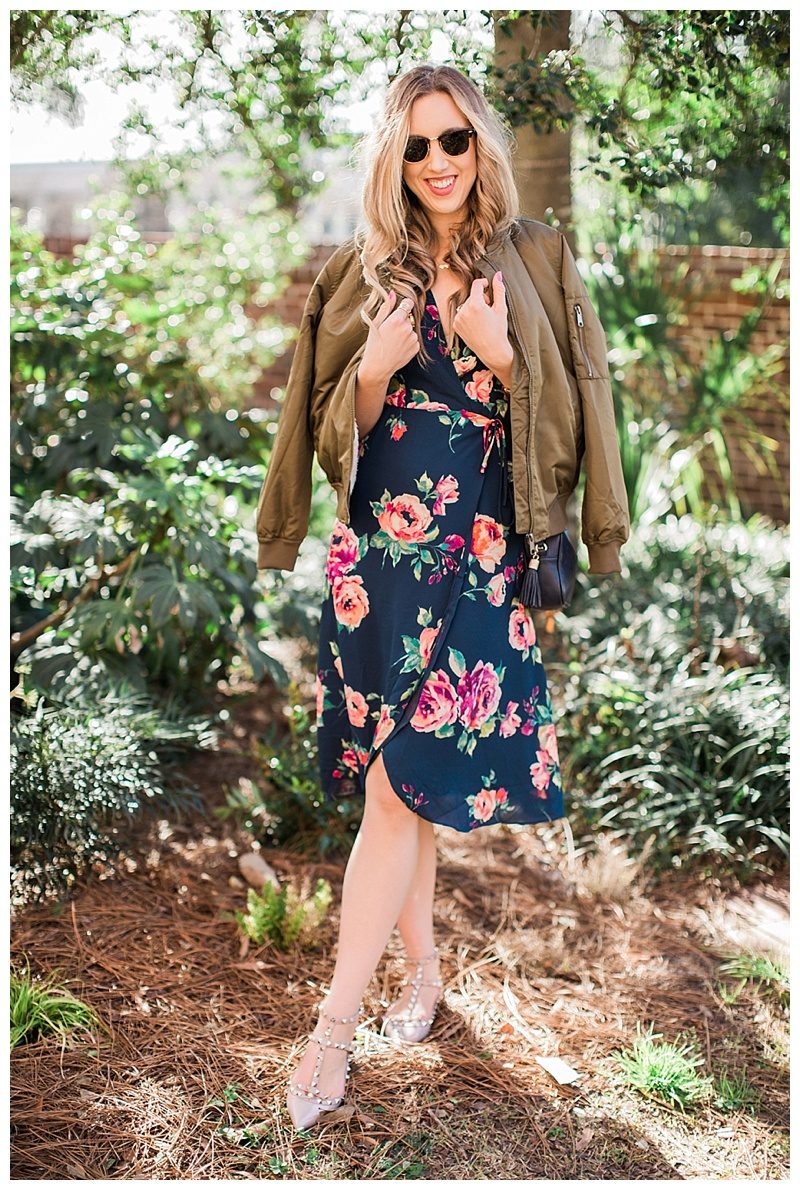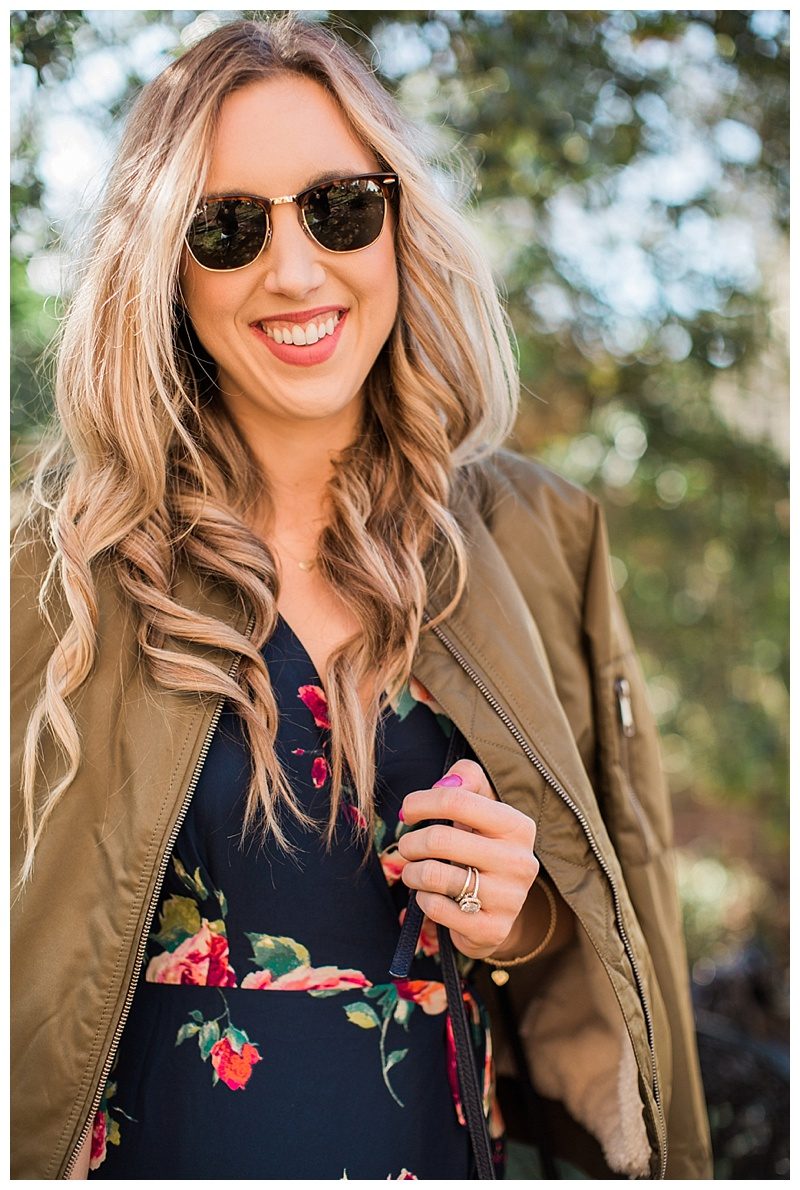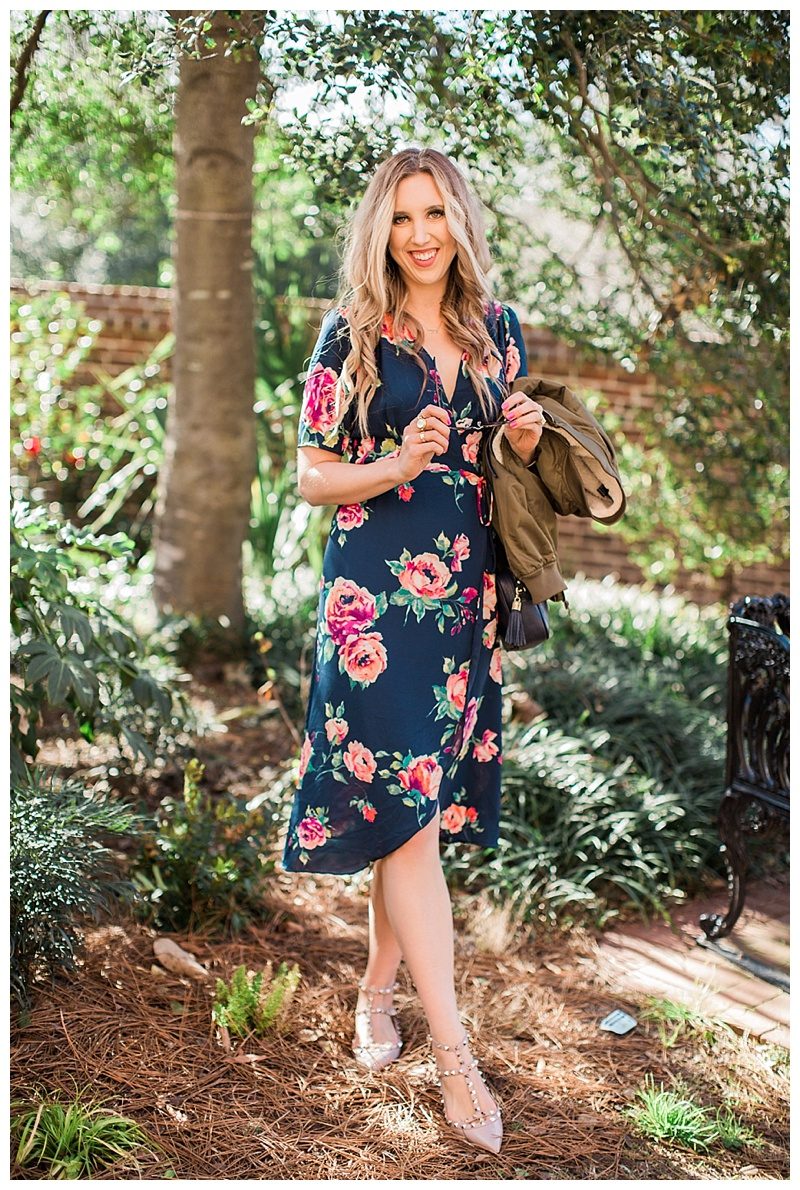 THE 50/50 RULE FOR TRANSITIONAL OUTFITS 
The key to transitional outfits is you don't want to give off too many winter or spring vibes. You want your outfit to look perfectly balanced. If you're confused on how to do this- Girl, I got you!
The key is to have roughly 50% of your outfit made of spring items and the other 50% of your outfit to be more of a winter vibe. This isn't an exact science, but the percentages help to understand how to balance your look!
In today's post I am wearing this floral print dress (which is super comfortable and linked below!) paired with a bomber jacket and rocketed flats.
The flats are a lighter hue and look more spring. The bomber jacket is more for winter. The dress is right in the middle because of the style tip talked about above!
I would say this look is perfectly embodying the transitional outfit 50/50 rule (I am also a little bias;) )
In just two easy steps you have created a perfectly stylish and transitional outfit guaranteed to work every single time!
What do you think of the color coral and the meaning behind it?! I would love to hear from you in the comments below! Don't forget to follow me along on Instagram, Pinterest, and Facebook for daily style inspo!
Thank you SO much for stopping by Blush & Camo!
xx Julianna
SHOP MY POST 
c/o Morning Lavender- Dress