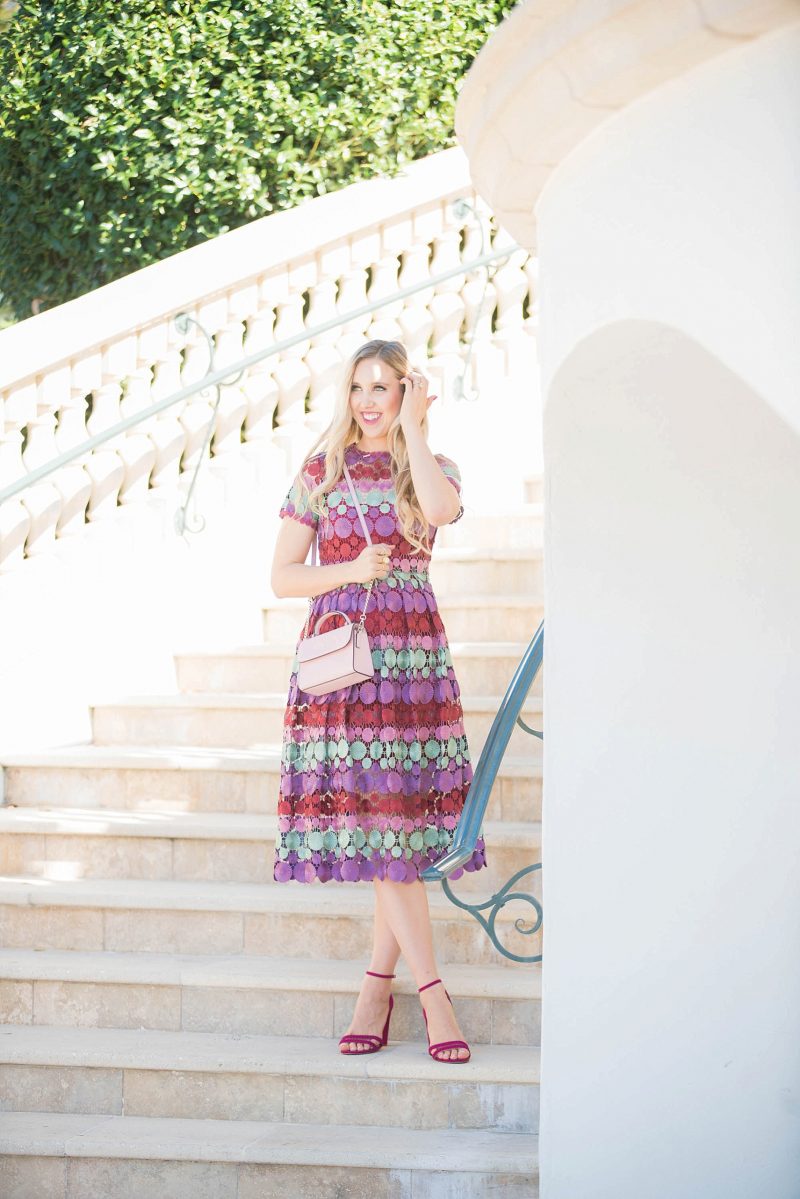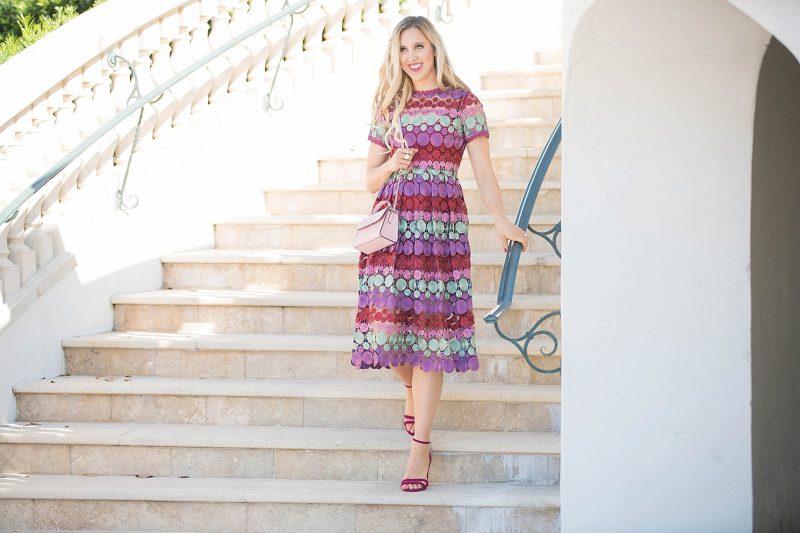 Hello, Gorgeous! Thank you so much for stopping by Blush & Camo because today I'm sharing how you can wear more than one bold color in an outfit (or dress!). This post is just in time for the holiday season when you're outfits can bit a bit more playful than usual (aka think glitter, tulle, and lots of red and green!).
The best part about this post is that there are only two style tips to pull off more than one color. You may be thinking, "Wait! I thought wearing lots of colors was wayyy more complicated than this?!". I'm here to tell you that it's super simple and you can adjust these tips to your personal style #heckYASSSS!
Let's get styling!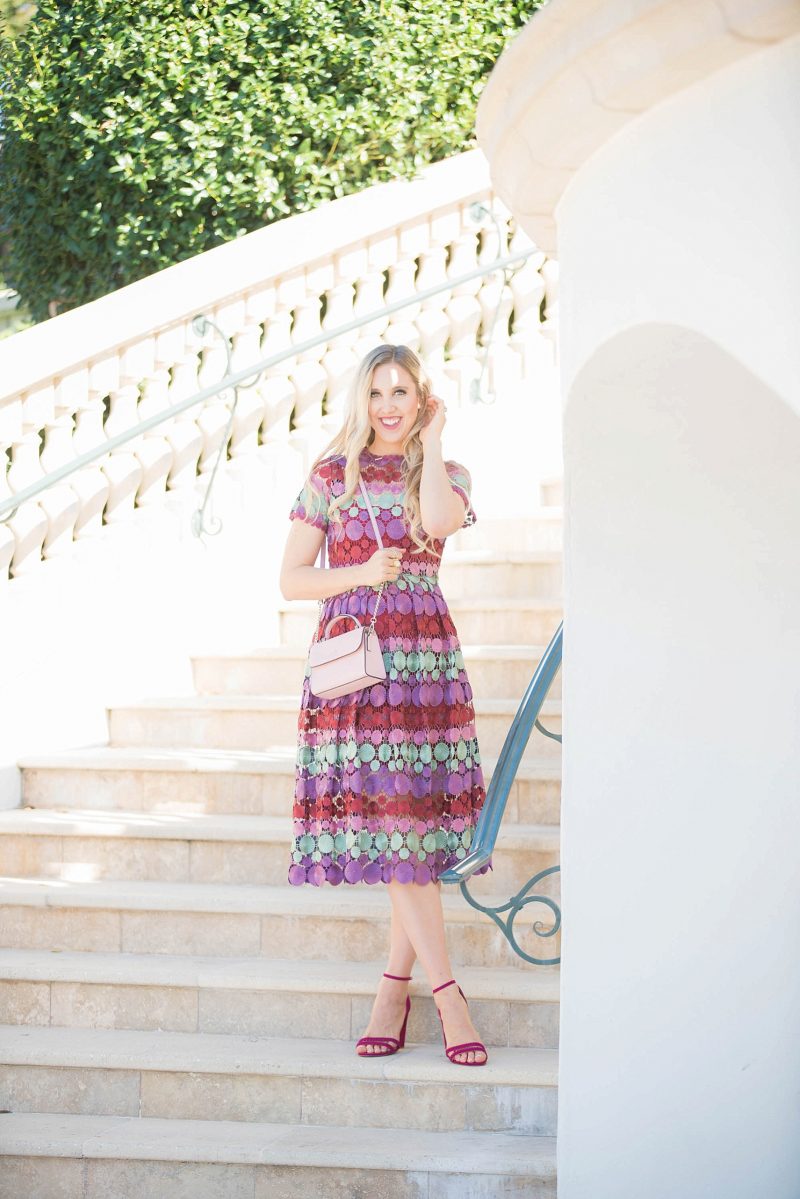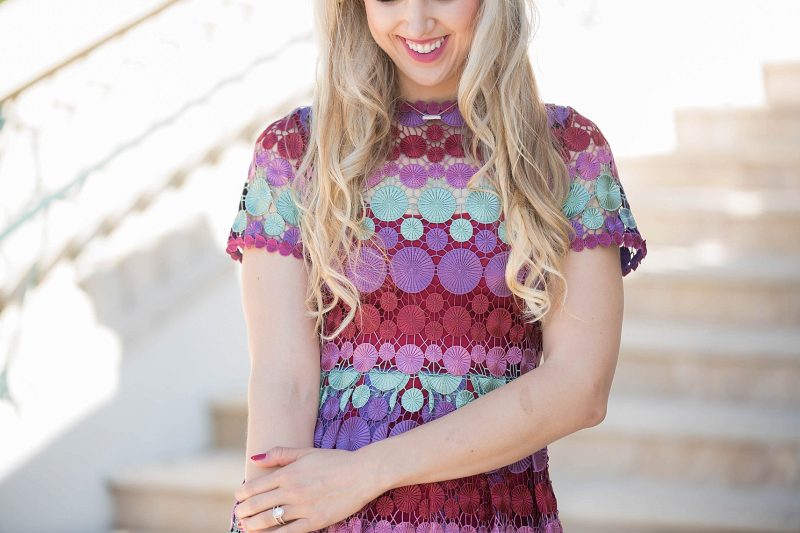 WEAR ALL THE BOLD COLORS YOU WANT…BUT MAKE THEM ALL THE SAME SHADE
I know that style tip may sound confusing! But, this is what I mean…
If you styling a look together with lots of colors you want all the colors to be muted or all the colors to be bright. For example, the dress I am wearing in today's post is green, pink, red, and magenta. There is A LOT going on here. The reason why these colors work perfectly together is that they are all muted hues that aren't too dull or too bright- they are the same shade.
This dress would also work if all the colors were super vibrant and bright. The reason why this works is because your eye is drawn to your overall look and not confused at what you're looking at. If this dress had one bright color and the rest of the colors were a bit muted the dress would look weird.
This dress works because all the colors are the same shade. So, if you want to wear an outfit with lots of different colors (and I say go for it, Gorgeous!) then you want to make all your colors around the same shade so one hue doesn't stick out like a sore thumb.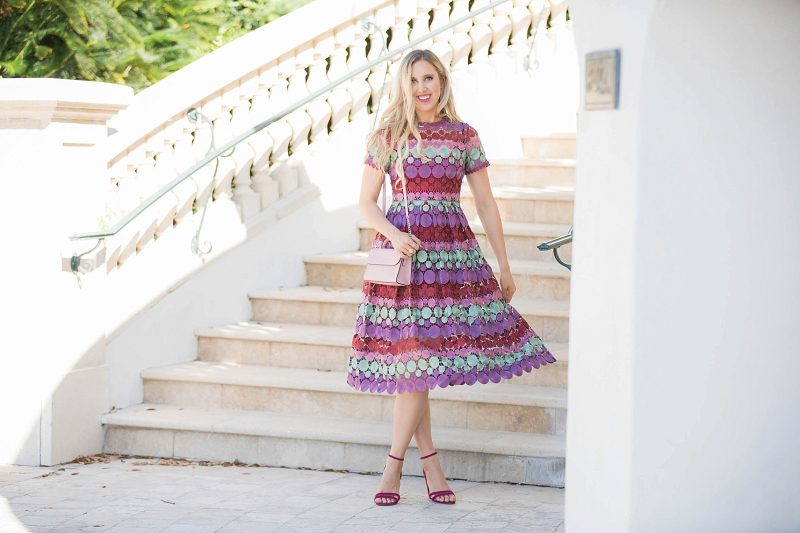 MIX IN A PRINT
So wearing lots of bold hues and adding a print doesn't sound like a good idea, but here's why you totally want to do this. Wearing a print with all of your colorful hues actually helps to create a more cohesive look. The reason you want to do this is because a print helps to organize all your colors in a pattern that looks aesthetically pleasing.
For example, if this dress didn't have a pattern this all these colors may appear to overwhelming and jumbled. The best print to coordinate multiple prints with is stripes because this print is extremely uniform and a classic!
With these two style tips you can style any outfit with multiple hues and look like a total #fashionista doing it! I'm sending tons of love your way and I hope you're having a fabulous day!
What did you think of today's post and what colors do you plan on wearing this fall?! Let's start chatting in the comments below! Don't forget to follow me along on Instagram, Pinterest, and Facebook for daily style inspo!
Thank you so much for stopping by Blush & Camo!
xx Julianna
SHOP MY POST