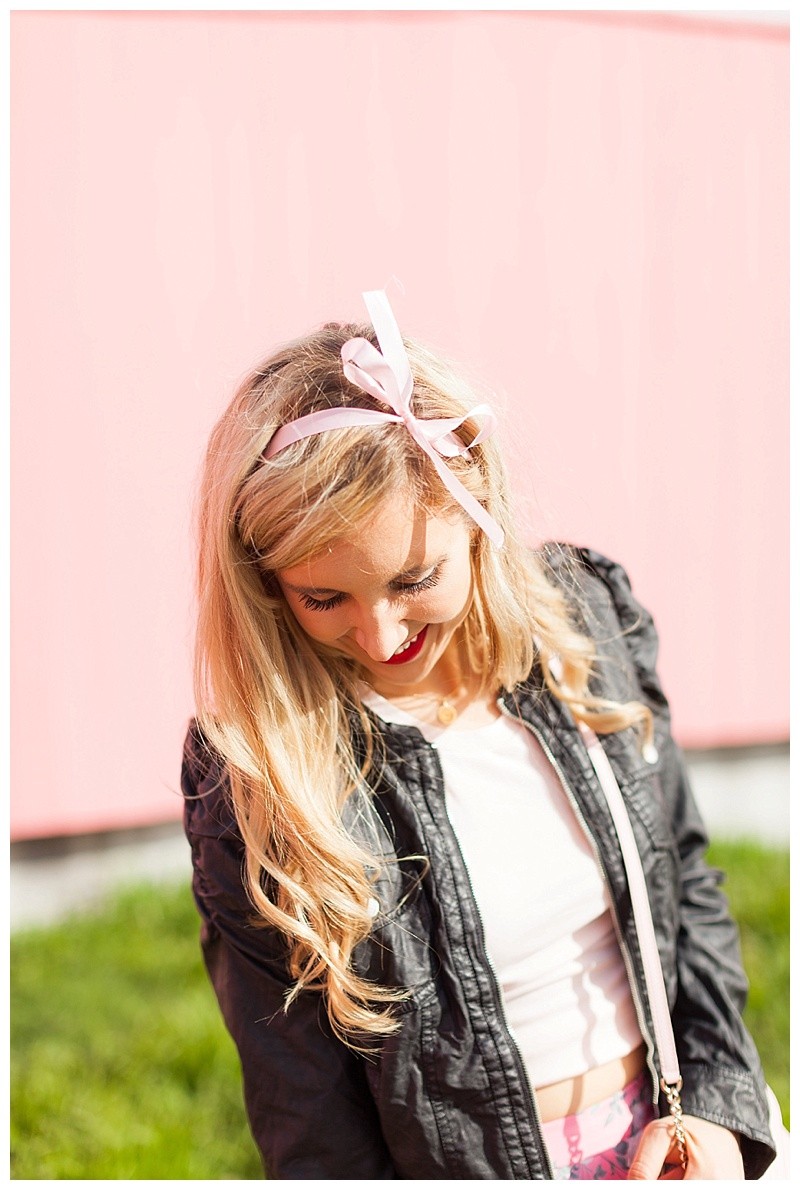 Hello, Gorgeous! I'm celebrating my 25th birthday today and also sharing three ways you can make floral print edgy this season- because sometimes Blush Babes want to add some edge to their look! The best part about this blog post is you can customize these tips for ANY floral print item you want to style (I promise!). You can use all of these tips, as I did in today's post, or just opt for one to create your perfectly styled look!
Let's get styling!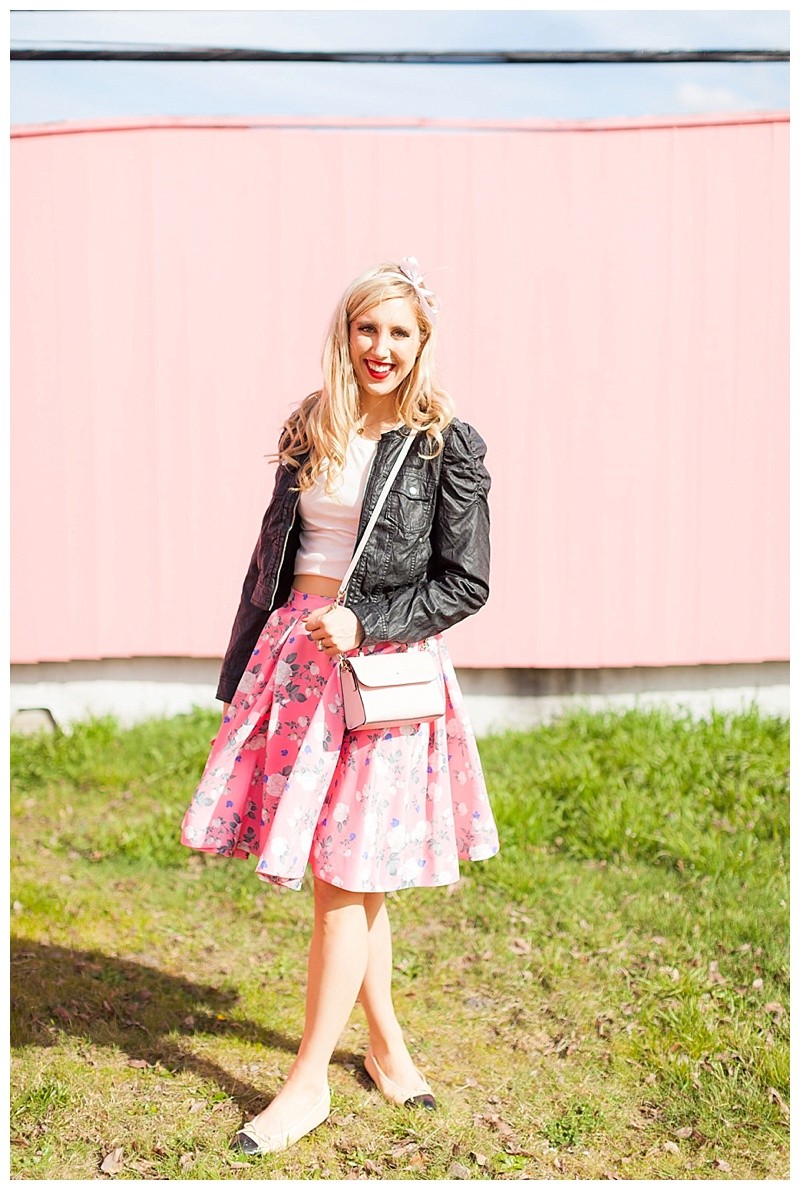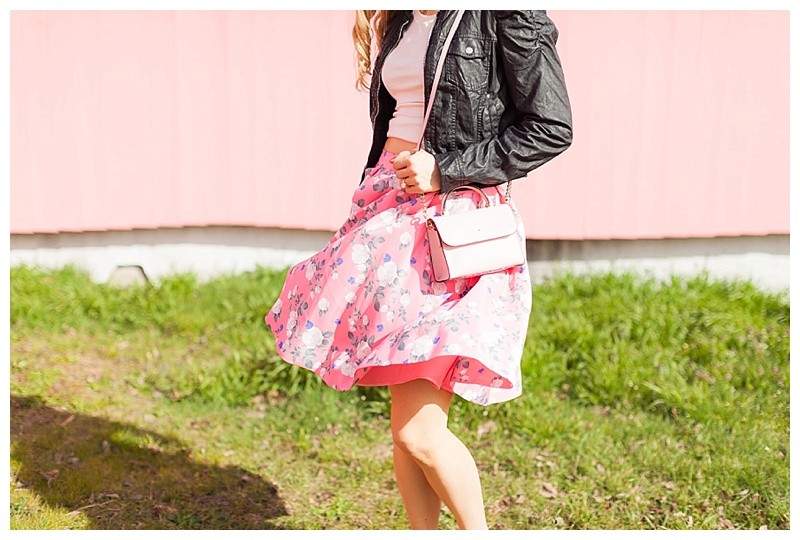 ADD A FAUX LEATHER JACKET
The first tip is to add a faux leather jacket because this material gives the ultimate edgy vibe to your look! Plus, spring is a season filled with fluctuating temps and adding layers to your look will keep you warm and stylish!
Another reason you want to incorporate this tip is because a faux leather jacket will add the perfect edgy touch no matter what floral item (or items!) you are incorporating into your look! This layering piece adds edge to tops, bottoms, and accessories!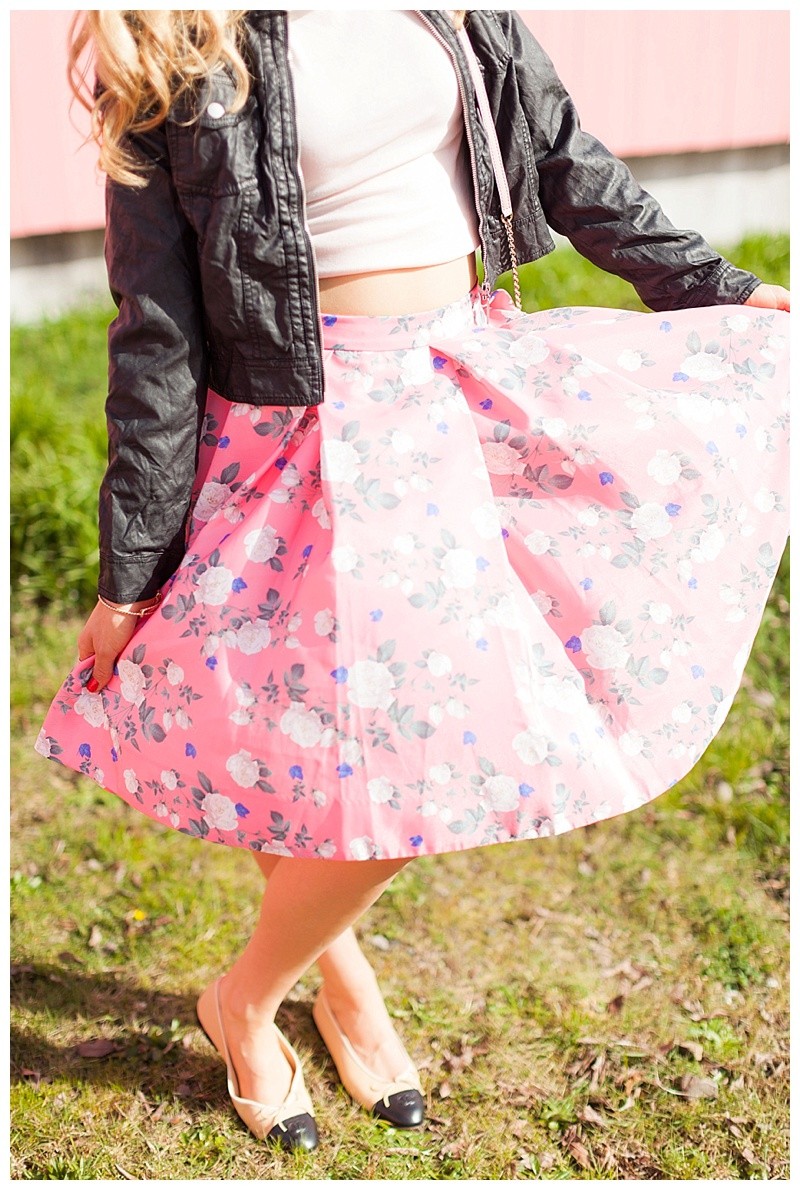 INCORPORATE DARKER HUES 
If a faux leather jacket just isn't your style, or you're looking for more ways to add more edge, incorporate darker hues to your look! Think blacks, greys, and even deep browns! Darker hues juxtaposed with floral prints is style perfection because there is an alluring balance to brights mixed with darker hues.
This step is also great for incorporating your own personal style into the outfit! There are no right or wrong answers:). Ways to add this hue to your look are through:
Handbags
Shoes
Nail Polish (no detail goes unnoticed!)
Hair Accessories
Bag Acessories (think a scarf tied around your bag, or a black pom pom!)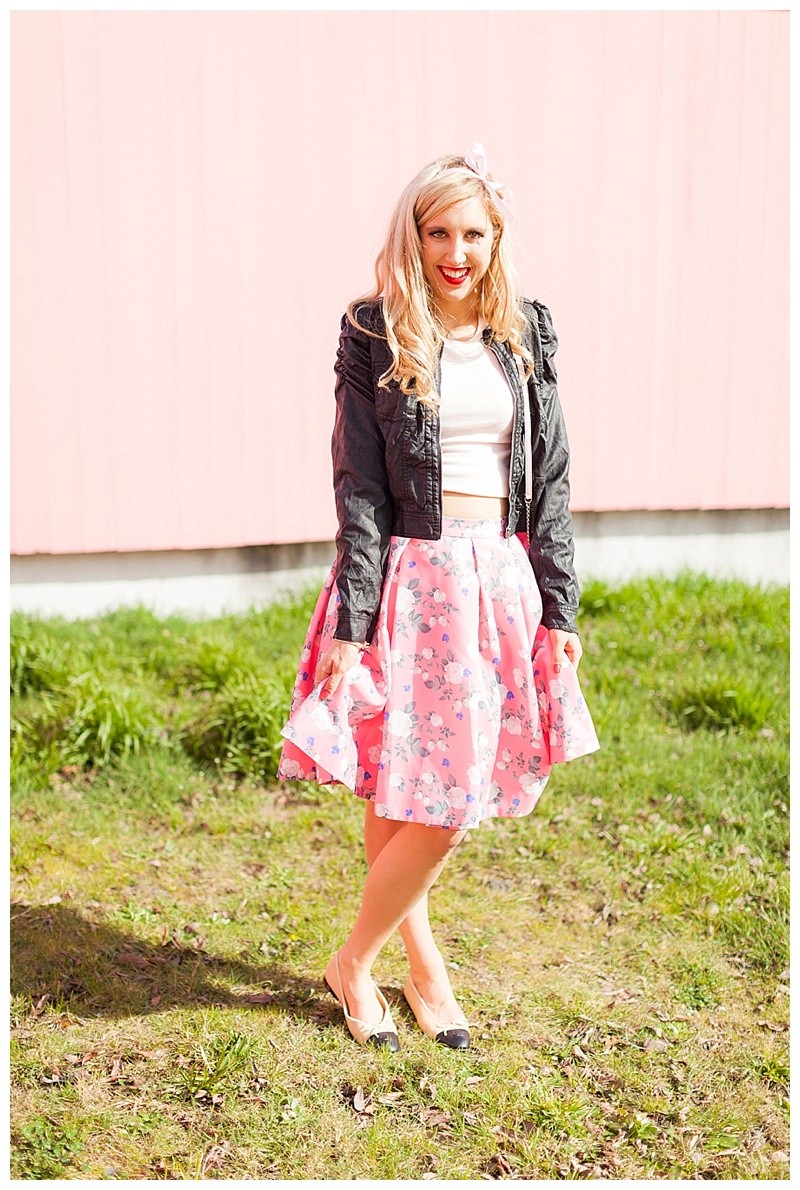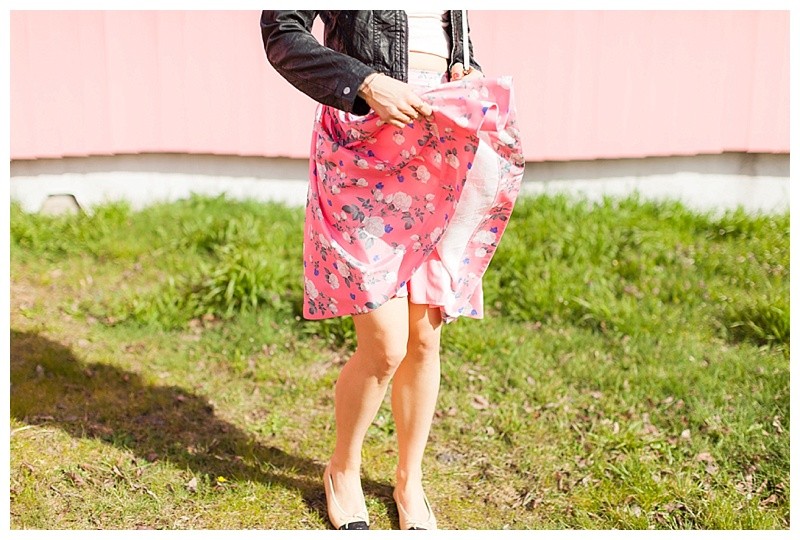 SHOW A LITTLE SKIN
Showing a little skin is the most subtle way of all the tips in today's post for adding edge to your look! I love using this tip with one of the others stated above to really give my outfit that perfect combination of feminine and edgy!
I opted for a crop top I made myself (see this post here to find out how you can do this too, and it's FREE!) to show the tinest sliver of skin which adds an unexpected element when paired with this ultra feminine skirt!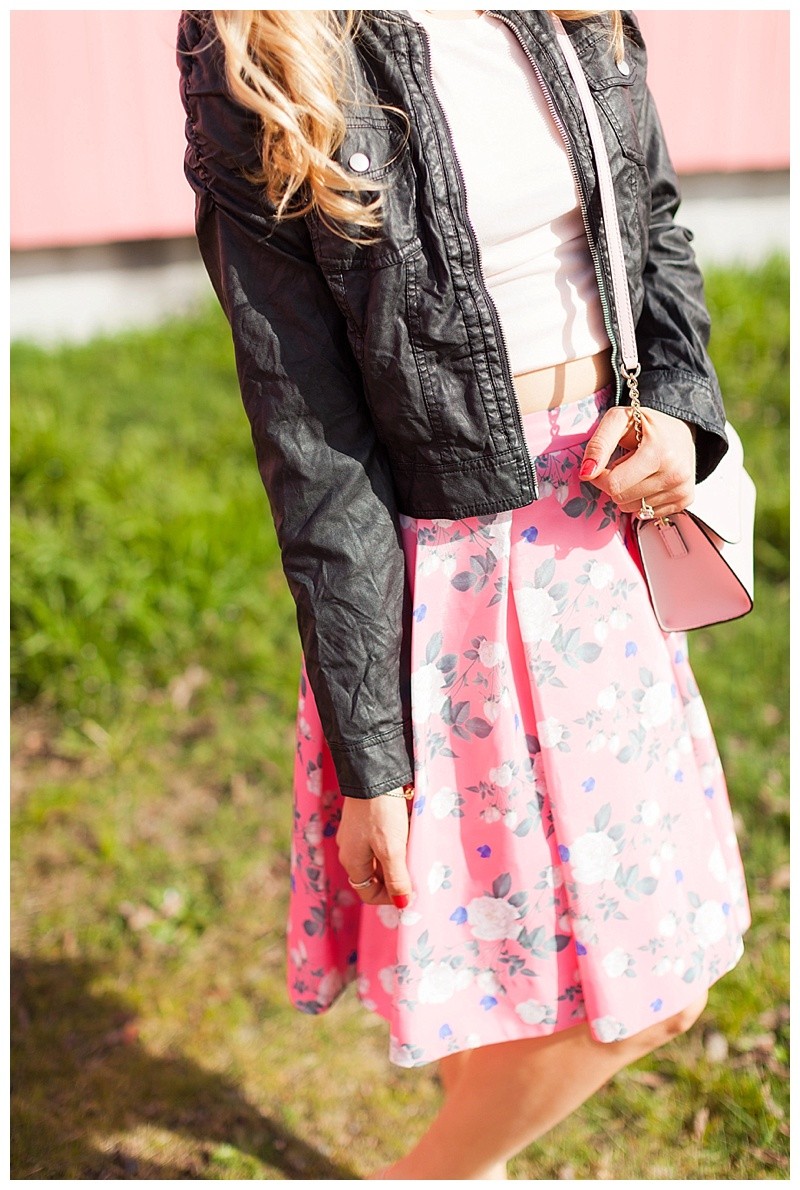 What did you think of today's post?! I would love to talk with you in the comments below! If you know a friend who would love this post go ahead and share it with them using the social media icons below! Both your friend, and myself, will thank you:).
Thank you SO much for stopping by Blush & Camo!
xx Julianna
SHOP MY POST
Cedar street magnolia • Kate Spade
SEPHORA COLLECTION Cream Lip Stain
Moon Pink Floral Skirt
Eliza J Floral Print Faille Skirt • Eliza J
Topshop 'Polly' Faux Leather Biker Jacket (Regular & Petite) • Topshop
Kate Spade New York 'cedar Street – Mini Nora' Crossbody Bag • Kate Spade