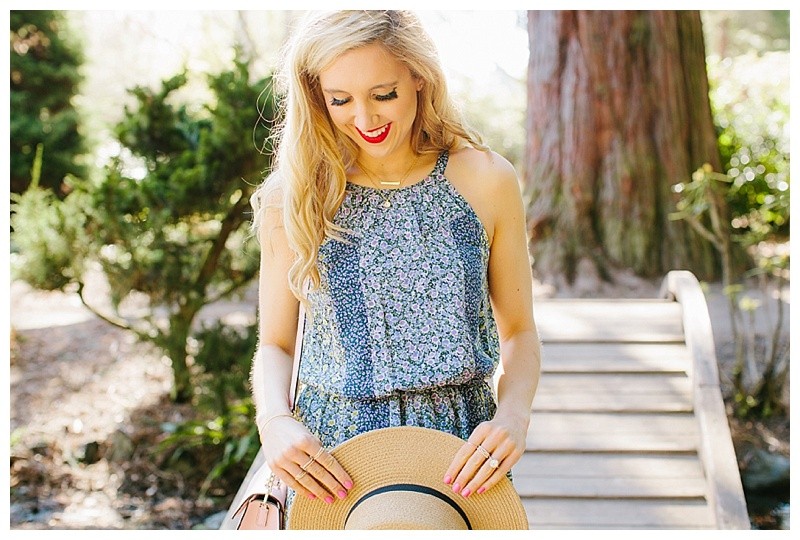 Hello, Gorgeous! I'm so happy you stopped by Blush & Camo because today I'm sharing how to create an effortless floral print outfit! Floral print is a spring/summer staple and will NEVER go out of style! Yes, it's true- this print is always classic, feminine, and on trend. This means you can apply today's style tips each spring season and they will still be relevant (insert emoji praise hands here!).
Let's get styling!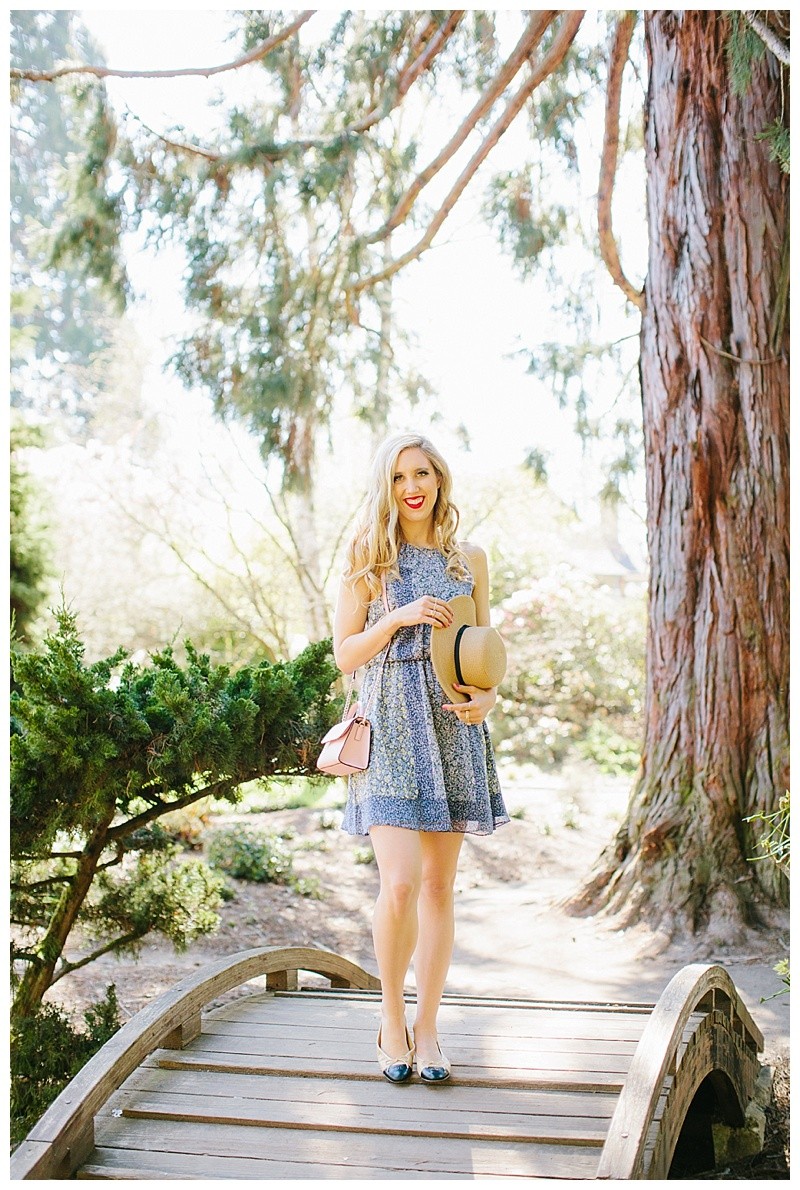 CHOSE A FABRIC WITH MOVEMENT
In order to create an effortless vibe to the outfit you'll want to opt for a fabric that gives lots of movement when you walk. I recommend chiffon since this fabric is feminine, comes in various price points, and always gives great movement.
Having a fabric that gives movement and doesn't hug the body to tightly gives the "not trying to hard vibe" which is totally effortless. Plus, just because the fabric won't cling to your body doesn't mean this look isn't alluring:). More about how to accomplish this later on in the post!
For this tip it doesn't matter if you chose a dress or just a top. Both will work perfectly for this look and will give you that effortless!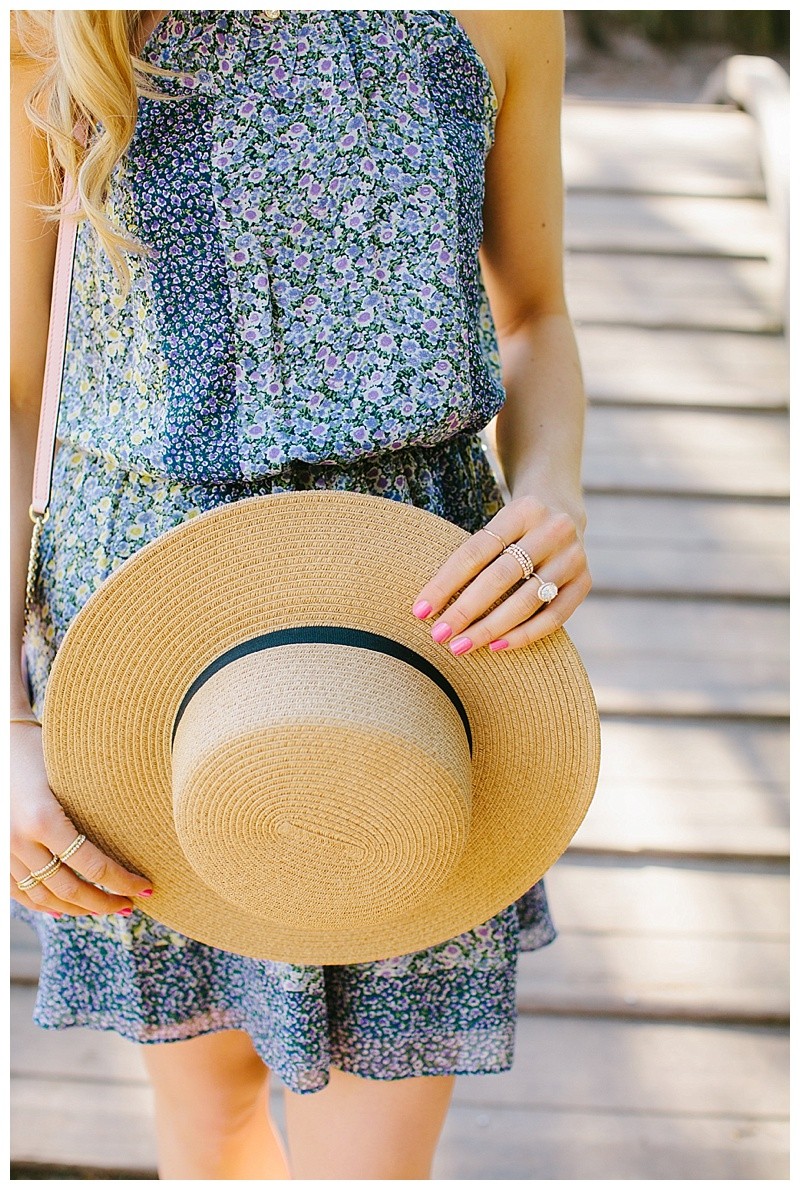 MIX AND MATCH FLORAL PRINT
The second style tip is to mix and match floral print! You want to incorporate another print because pattern mixing is chic and fashion forward.
When mixing prints try and stick with two small floral prints such as the prints in my dress today! Opting for smaller prints will allow the outfit to look more cohesive and effortless- almost like you didn't mean to incorporate two floral prints (but you totally did because you're a styling goddess!).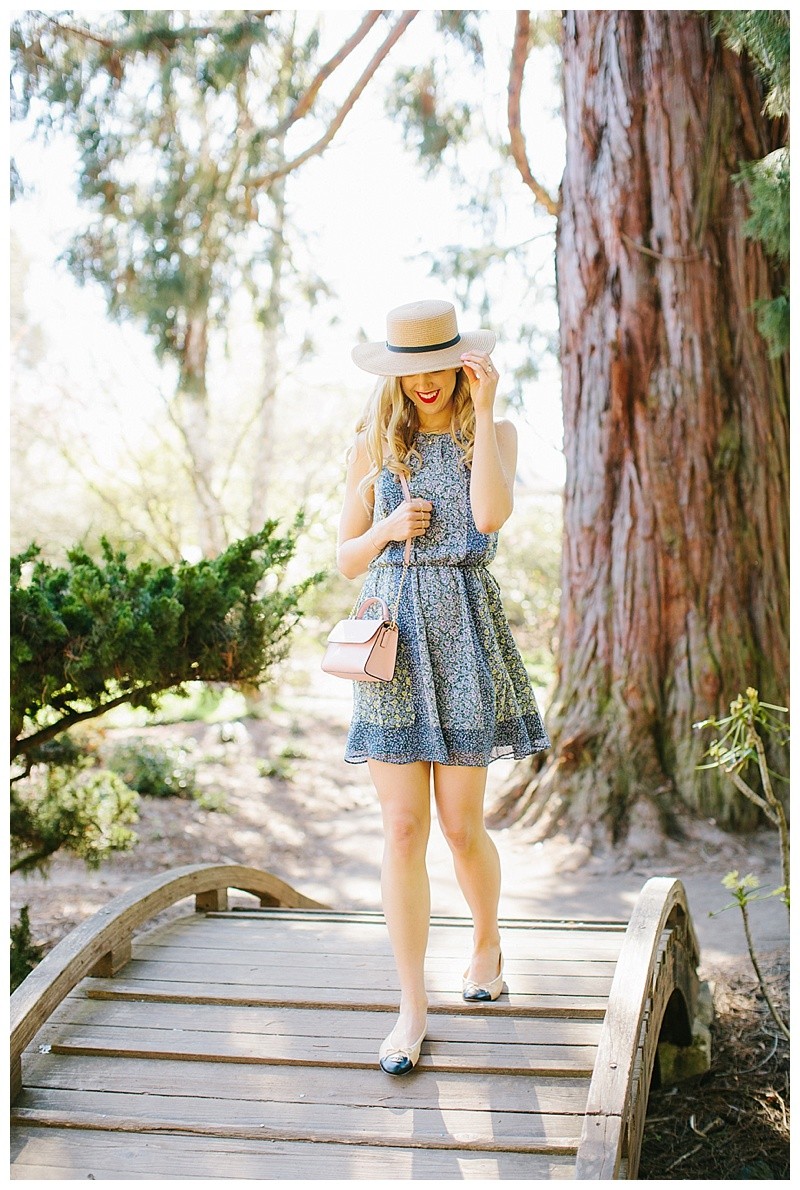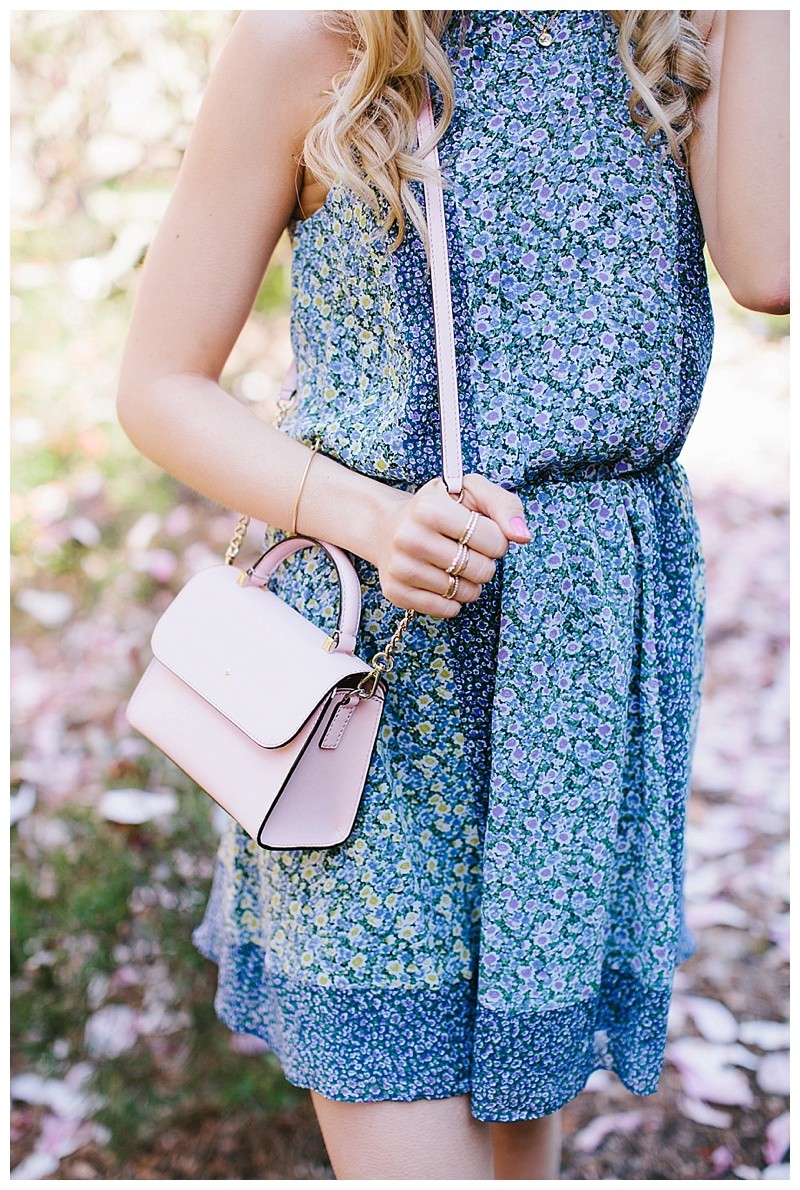 IF YOU ARE WEARING A DRESS
There are a few ways you can incorporate two floral prints into a dress and pattern mix!
Chose a dress that already has two prints incorporated into the piece. This is the easiest way to accomplish this style tip!
Add a top to your dress and make this item look like a crop top. This way your outfit looks like you're wearing a skirt and top. I first talked about this style tip in this post here!
Incorporate a handbag or clutch with a floral print. This is the most subtle way to incorporate pattern mixing into your look.
Adding a midi skirt over your dress so it looks like two seperate pieces is another creative way to add this style tip!
IF YOU ARE WEARING A TOP
Incorporating a mini skirt with major movement like these options here and here are a great way to add two floral prints
Adding a chic pair of shorts and tucking your top into the bottoms is effortless and classic all at the same time!
Opting for a midi skirt is totally romantic and a guaranteed way to give off effortless vibes to your look!

SHOW A LITTLE LEG
Since it's spring showing a little skin is totally acceptable! The best way to do this is to show off a little leg:). How much leg you show off is entirely up to your personal style!
The reason why this style tip works is because the fabric we choose is a looser fit. Since this fabric is looser showing some skin is understated sexy and completely effortless. We work hard on our bodies at the gym, so show off some leg ladies!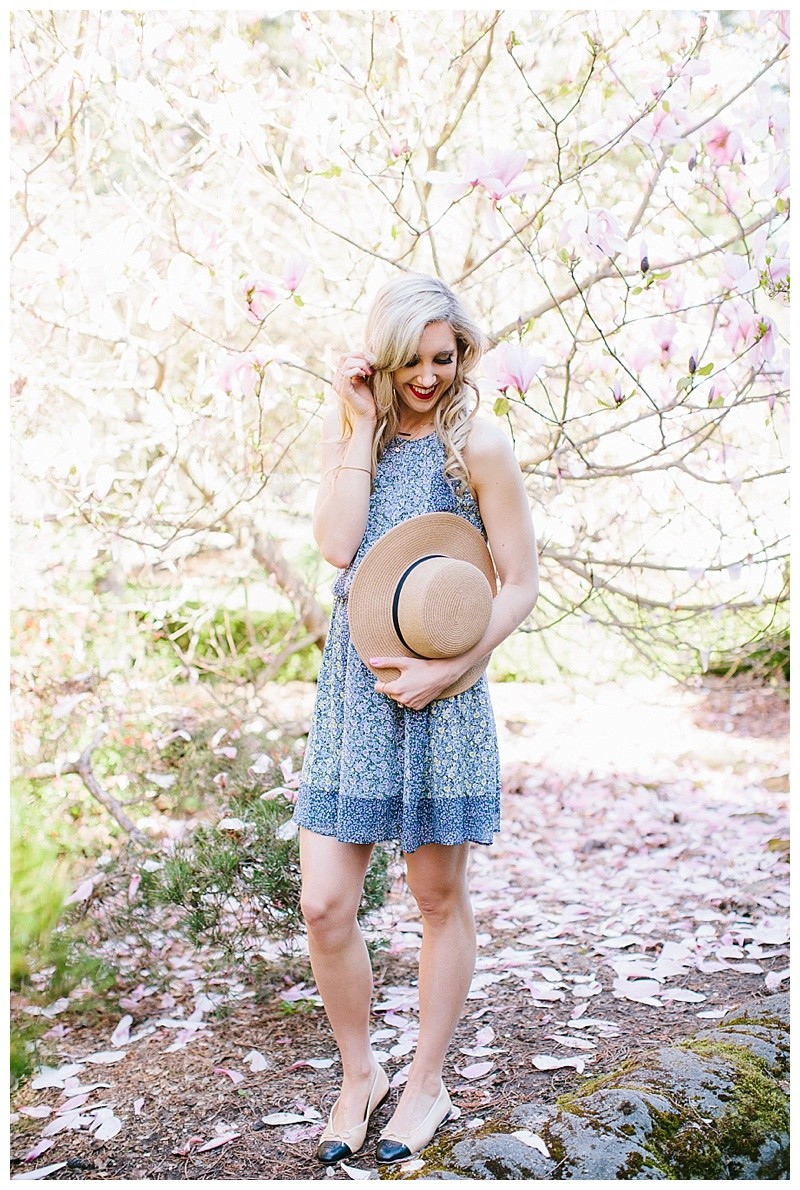 ADD A HAT
Adding a hat not only protects your eyes from the sun but is also chic and carefree. For this look since our fabric is looser I recommend staying away from floppy hats and opt for a more structured hat like these options here and here! The hat I have in today's post is from Forever 21 and under $20!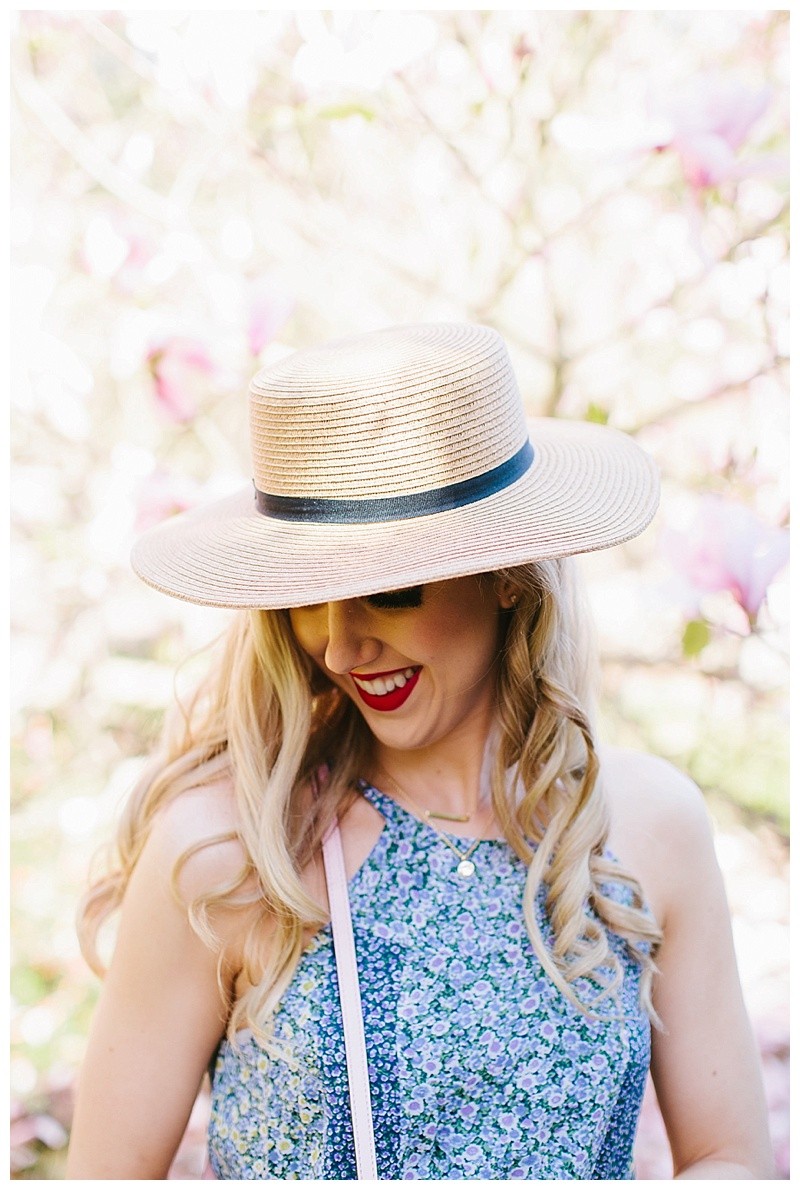 FINISH THE LOOK WITH A PAIR OF FLATS
I normally give the option to chose heels or flats depending on personal style. However, for this look, adding a pair of ballet flats is so effortless because it looks like your not trying to hard. Plus, flats are also classic and feminine just like the floral print so they balance each other perfectly!
These tips are guaranteed your outfit to look effortless EVERY TIME and you can refer back to this post every single season!
What did you think of today's post?! I would love to talk with you in the comments below! Don't forget to follow me along on Instagram, Pinterest, and Facebook for daily style inspo!
Thank you so much for stopping by Blush & Camo!
xx Julianna
SHOP MY POST
Joie Makana C Floral Crepe Dress
JOIE Short dresses
Soft Joie Arryn B Dress
Kate Spade New York 'cedar Street – Mini Nora' Crossbody Bag
FOREVER 21 straw boater hat
SEPHORA COLLECTION Luster Matte Long-Wear Lip Color