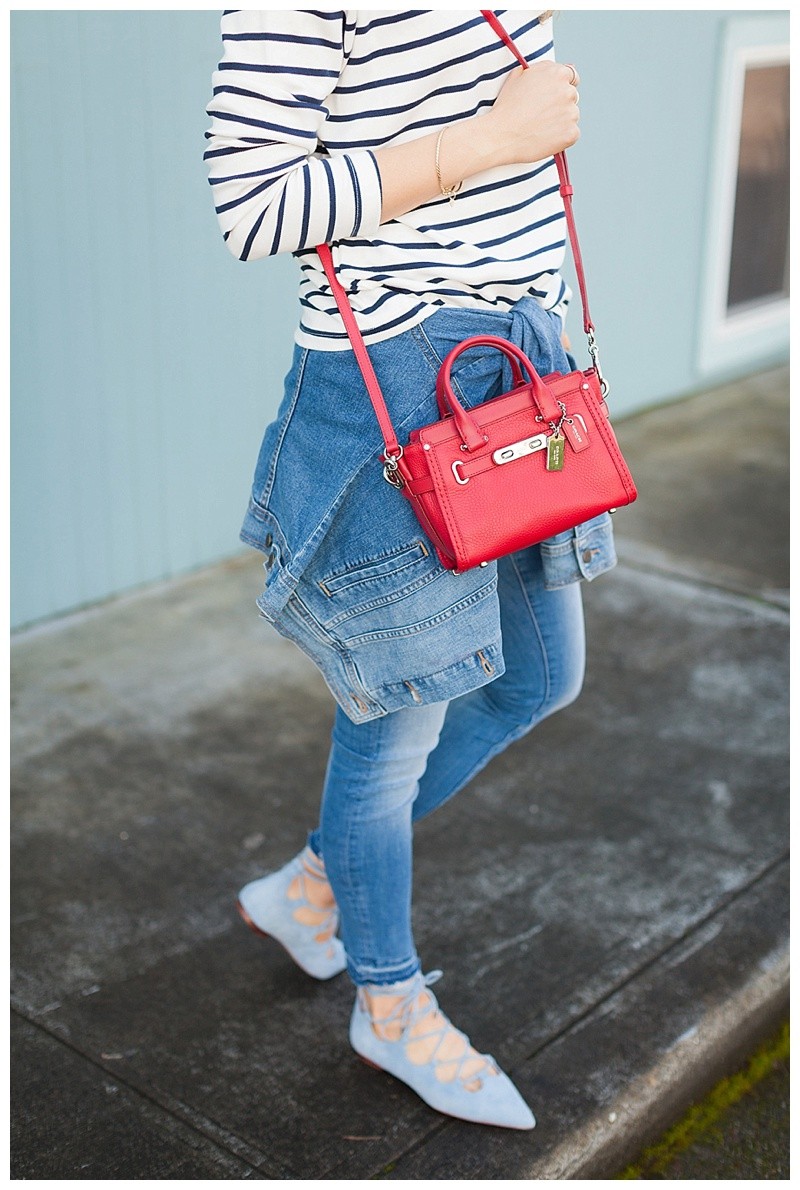 Hello, Gorgeous! I'm so happy you stopped by Blush & Camo today because I'm sharing 4 simple steps to creating an effortless and classic spring outfit! You can wear this outfit season after season and always look chic (and what Blush Babe doesn't want that?!).
Since I know you're dying to know what these steps are let's get styling!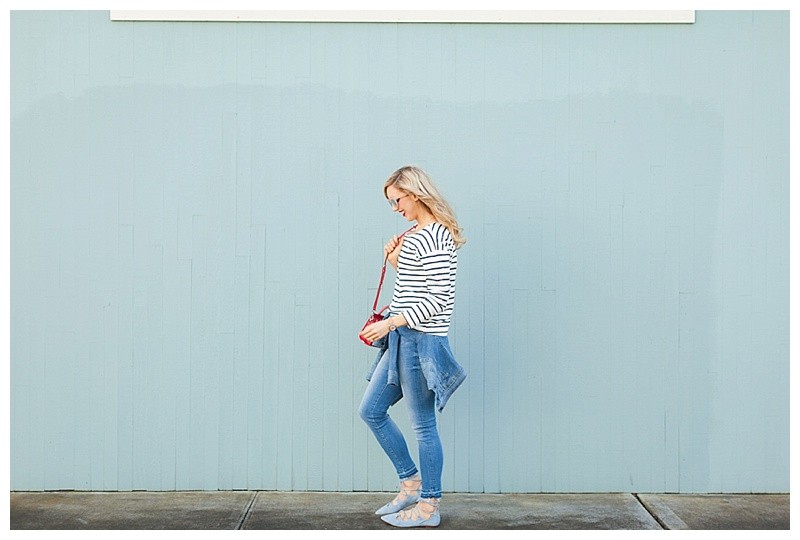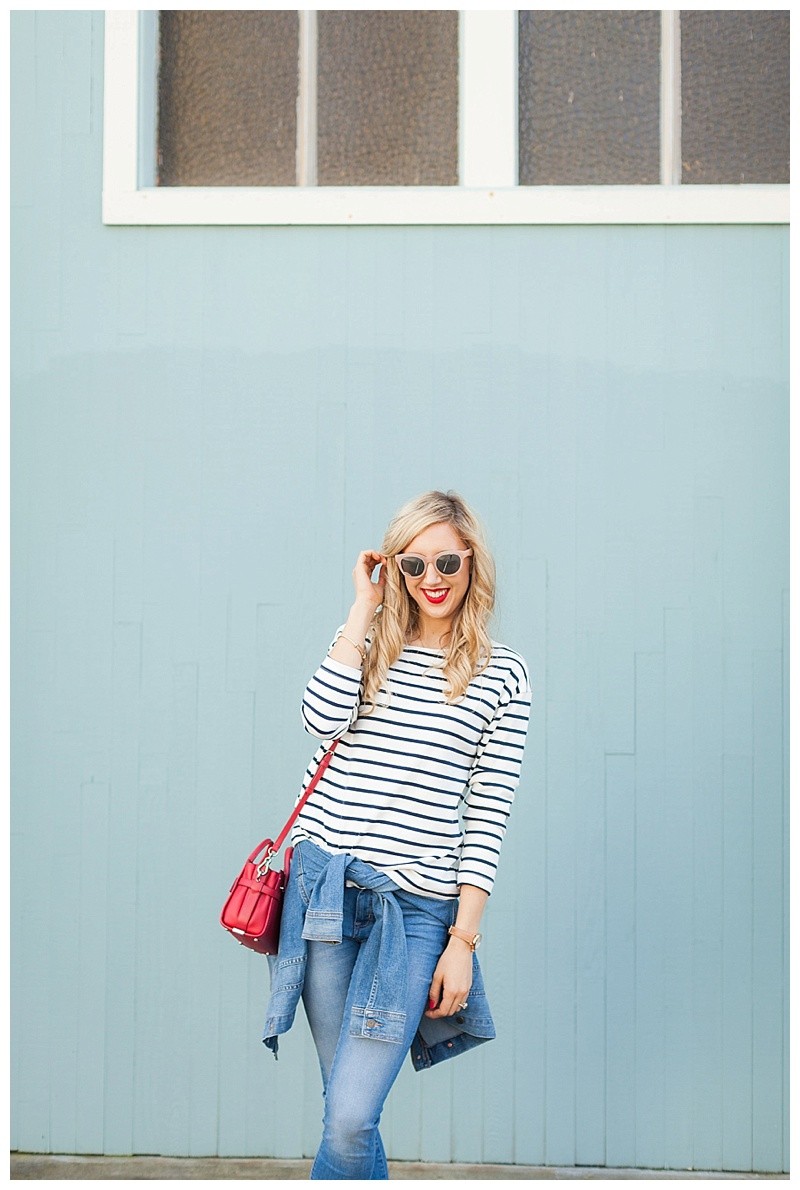 OPT FOR A STRIPED TOP
Stripes are classic, nautical, and perfect for spring! For this step pick out a striped top you love. The reason you want your top to be a striped pattern is because this will add depth to your overall look!
It doesn't matter what color stripes your top is, but I recommend sticking with black or navy stripes like I did in today's post.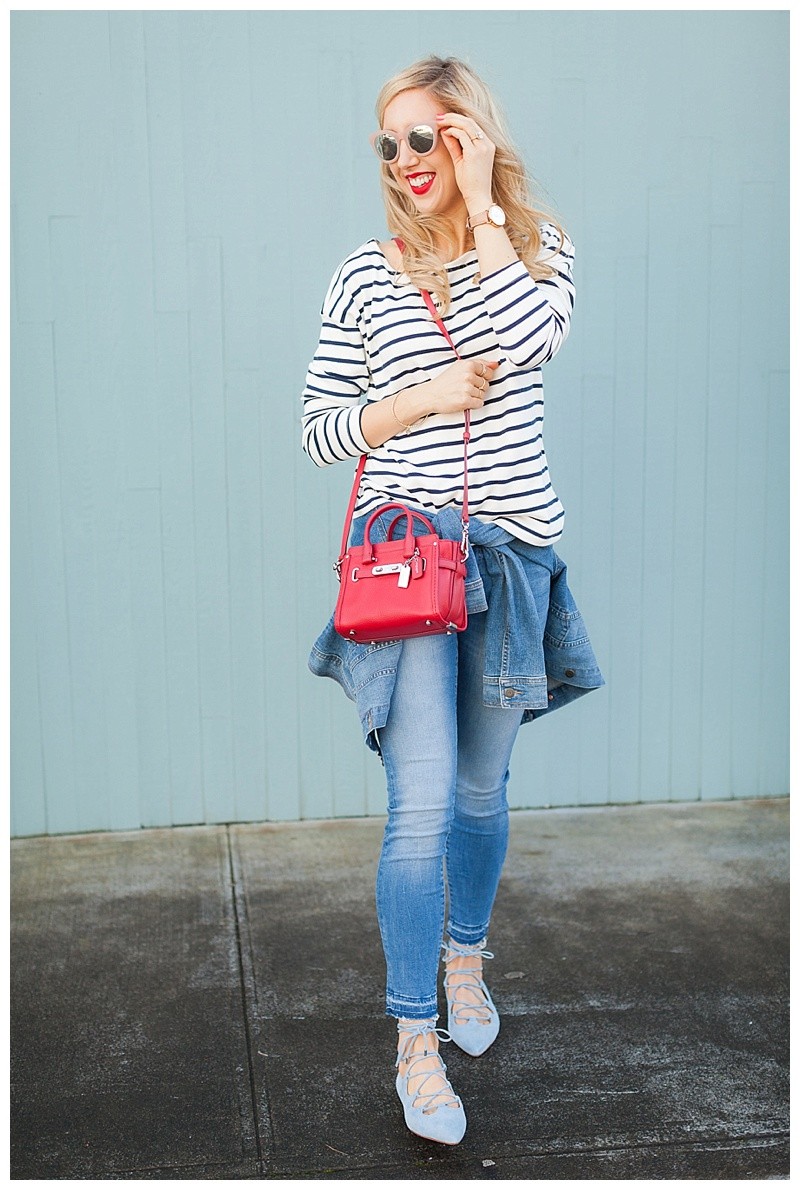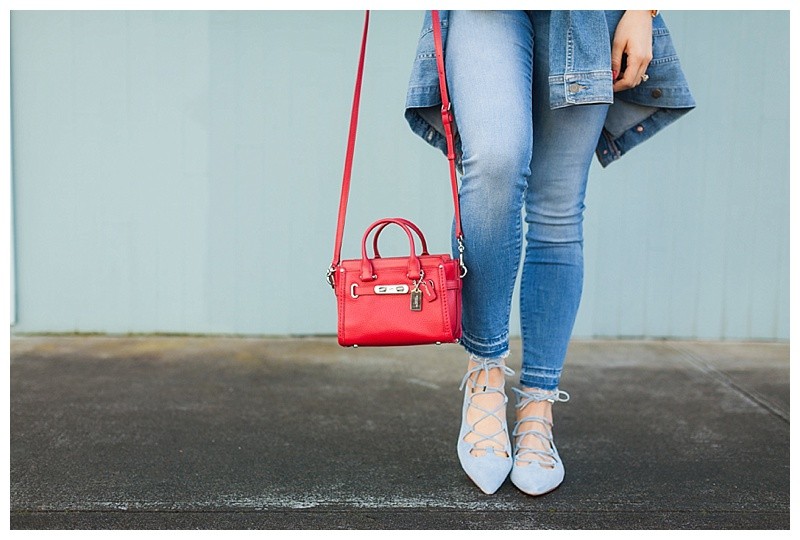 ADD A POP OF COLOR (OR TWO!)
The second step is to add a pop of color, or two!
If you choose one pop of color some great hues are pink, red, pastels, and yellow since these colors are bright and appropriate for spring!
If you decide to choose two pops of color I recommend having one bright hue, like my red Coach handbag. Then, the second color a be a little more subdued (but still pop!) so the two colors are clashing or competing with one another! My baby blue Coach flats are the perfect complimentary color to my handbag. These colors are both bright, but they aren't competing.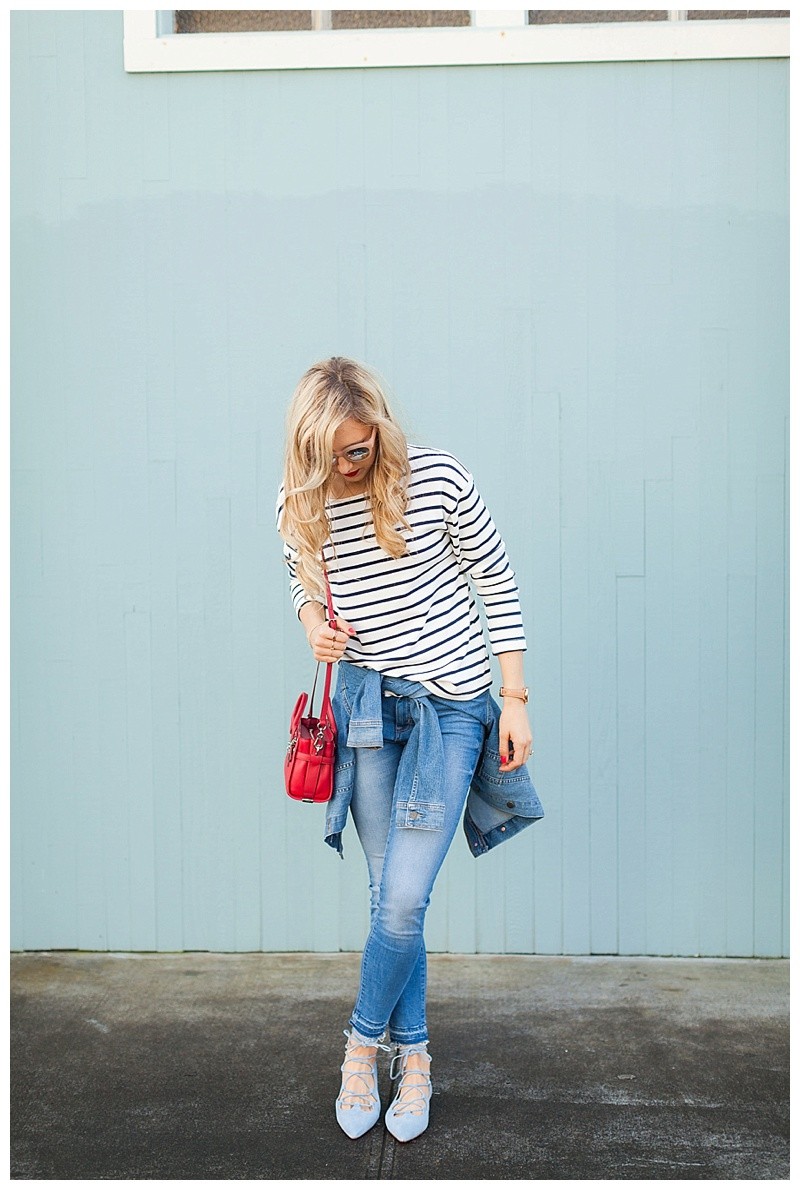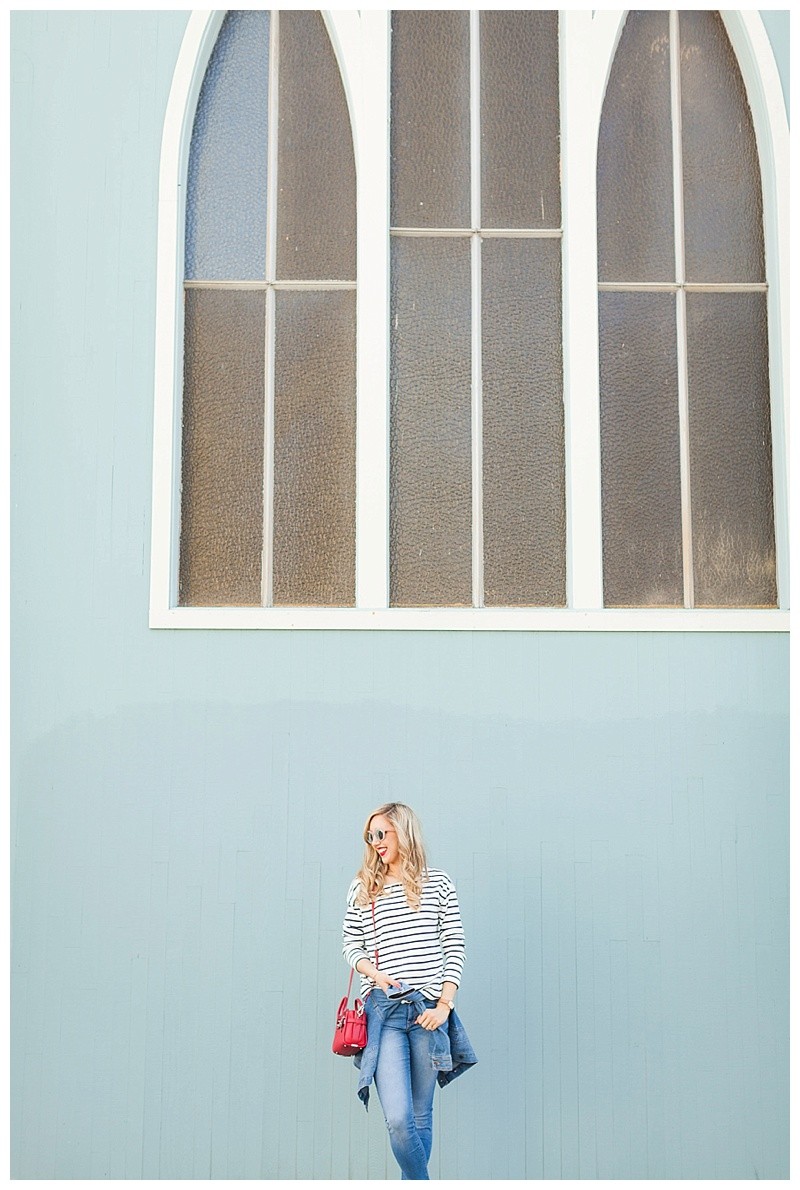 LAYER LIKE AN (EFFORTLESS) BLUSH BABE
The last step is to add a layering piece, but this is where the effortless piece comes into play. You don't have to actually wear the layering piece you have on. Simply tie this item around your waist for that perfectly effortless vibe we are going for today!
A jean jacket is the perfect coat for this look because it is denim, so it's not adding another material into the look, and it's blue so it blends perfectly with the white and blue color scheme this outfit has (a classic spring color palette!).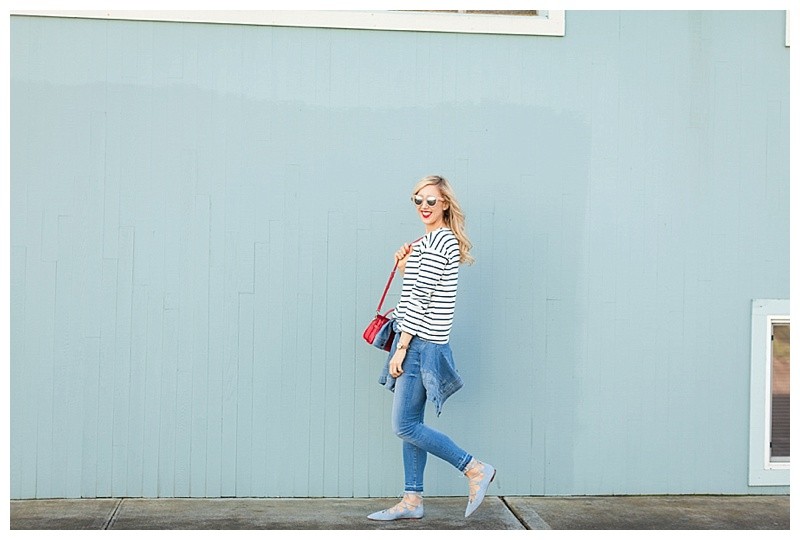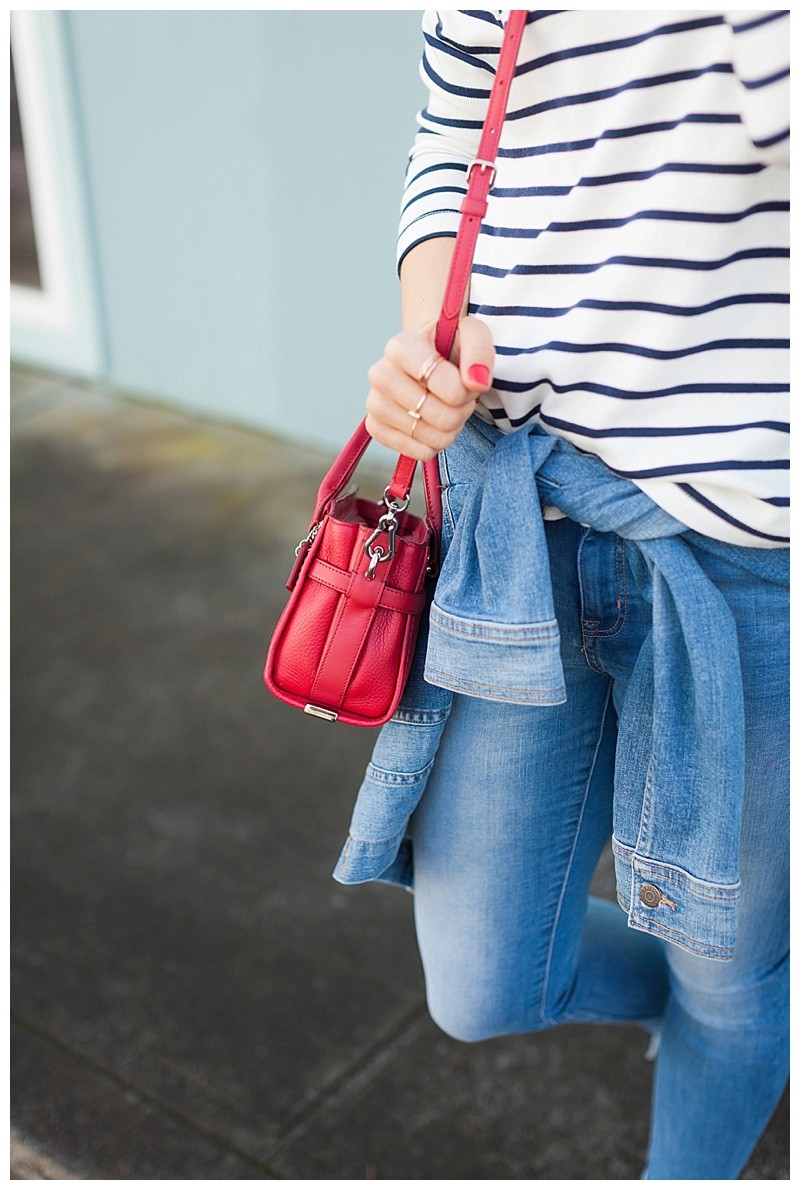 THE CASUAL ACCESSORY 
My favorite accessories to complete an effortless outfit are a great pair of sunnies because they can make such a quiet statement (total oxymoron right there!) and pull the whole look together!
I recently purchased these sunnies from Nordstrom and I love the subtle cat-eye they have so they are appropriate with so many casual looks!
What was your favorite style tip from today?!
Would you wear a look like this for spring?!
What is a classic outfit you styled for spring recently?! (if you are a blogger babe leave a link to your post!) I would love to talk with you in the comments below! Don't forget to sign up for the Blush Babe GLAM newsletter and follow me on Instagram, Pinterest, or Facebook for our daily dose of style inspo!
Thank you so much for stopping by Blush & Camo!
xx Julianna
*Thank you so much to Coach for partnering on this post!
SHOP MY POST
Flats c/o- Coach
Handbag c/o- Coach
SEPHORA COLLECTION Cream Lip Stain 
H&M – Jersey Top – Dark blue/striped 
H&M – Shaping Skinny Regular Jeans