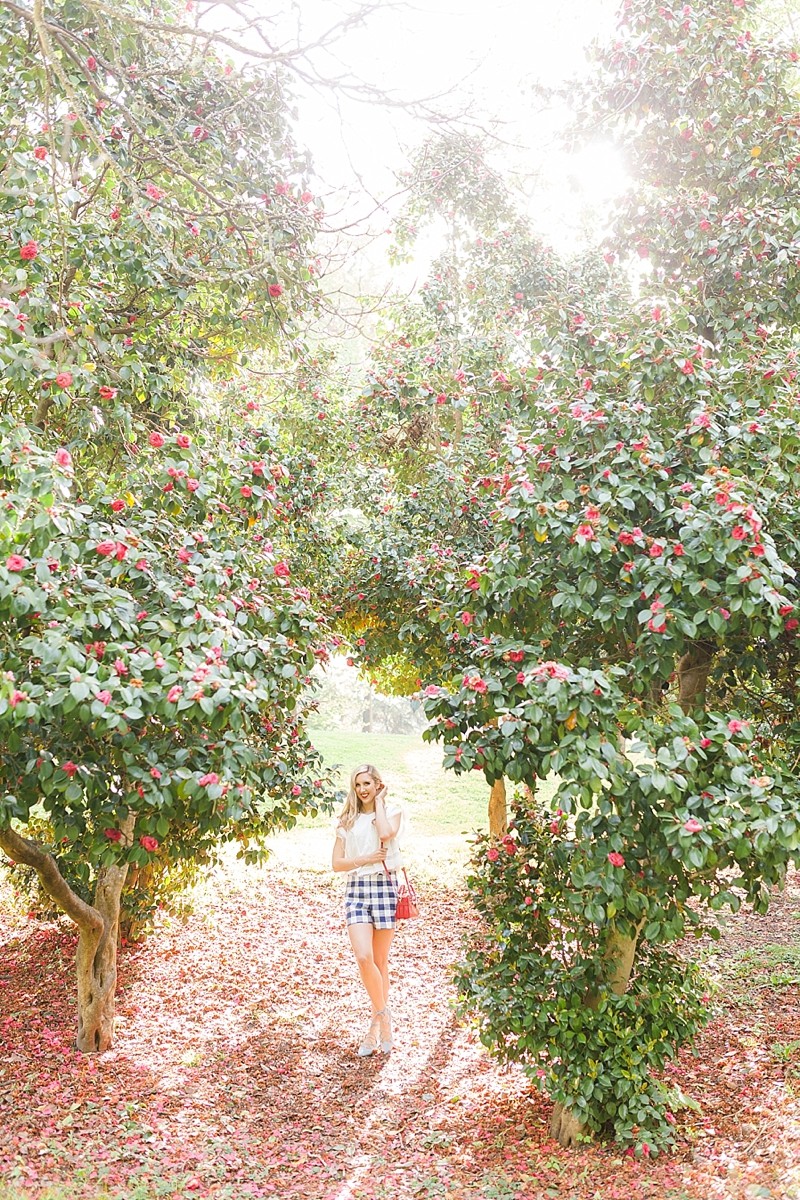 Hello, Gorgeous! I'm so excited you stopped by Blush & Camo because today I'm sharing how to style a look ALL your friends will #swoon over. I promise, they will. Blush Babes always want to look fashion forward, chic, and feminine! Today's 4 tips ensure your look will be just that! Plus, these tips can be used for any outfit so feel free to bookmark this post and refer back to it again and again!
Let's get styling!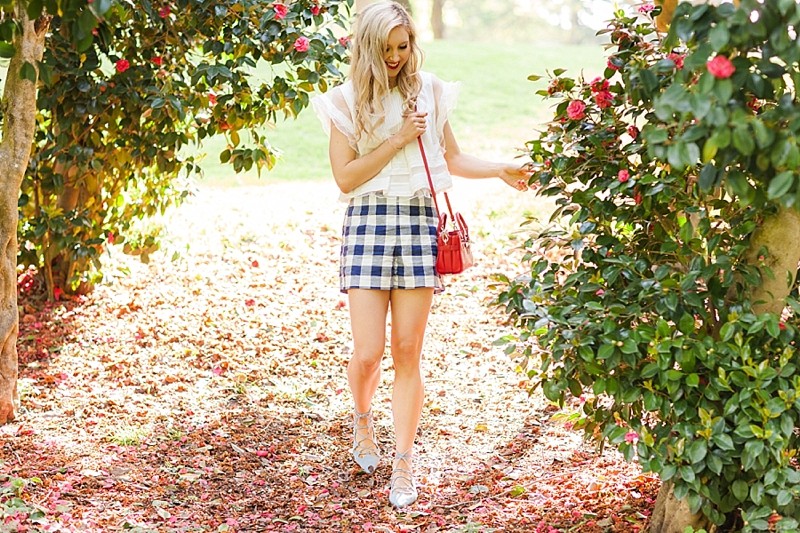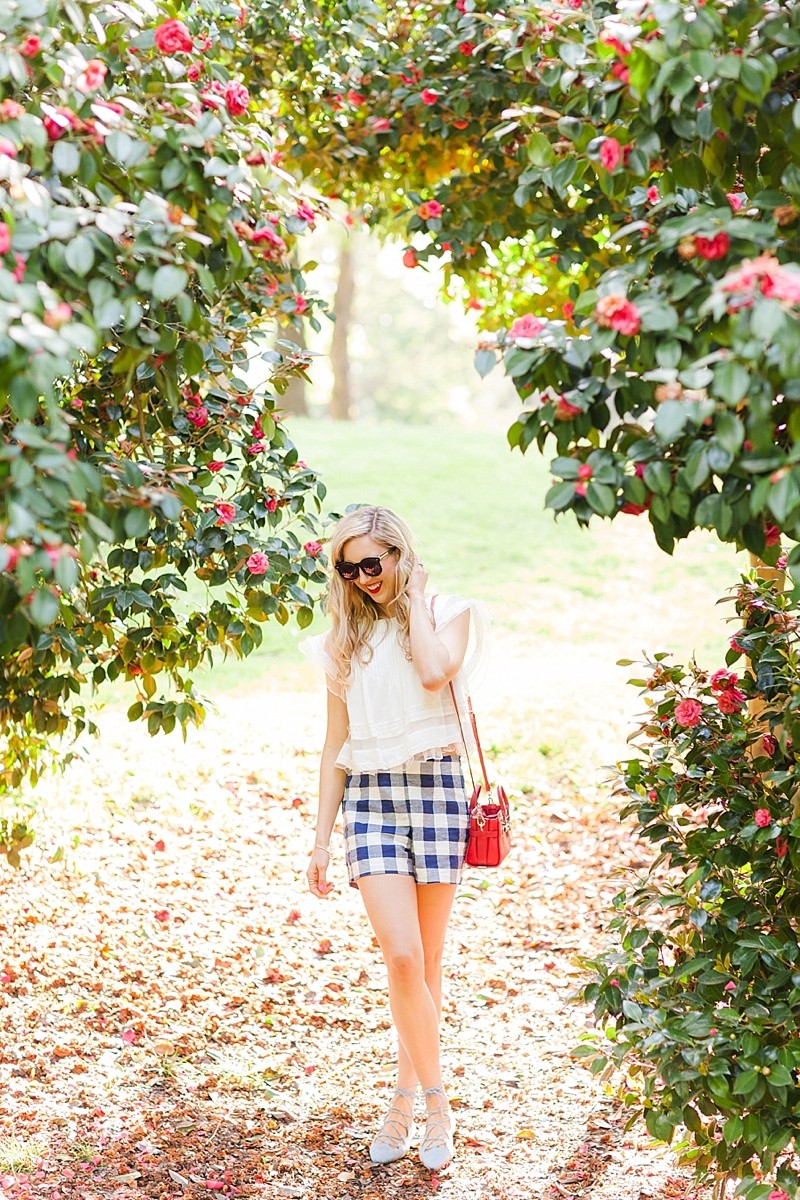 INCORPORATE A PRINT
This style tip is so simple, yet SO effective.
*EXCERSISE: Think about an outfit your friend recently wore that totally LOVED. You just wanted to take the outfit and put it on yourself (maybe I'm the only one who wants to do this- but you get where I am going!). Was your friend wearing a print?! 9 times out of 10 I guarantee your friend was rocking a print.
Why should you incorporate a print?! I print is eye catching and a sophisticated way to break up your overall look. The right print can make your entire look pop!
For today's look I am wearing my new favorite pair of gingham shorts from Old Navy. These shorts are high waisted (#win!) and are under $15! Say what?!?!? Yes, under $15 and you can purchase them here!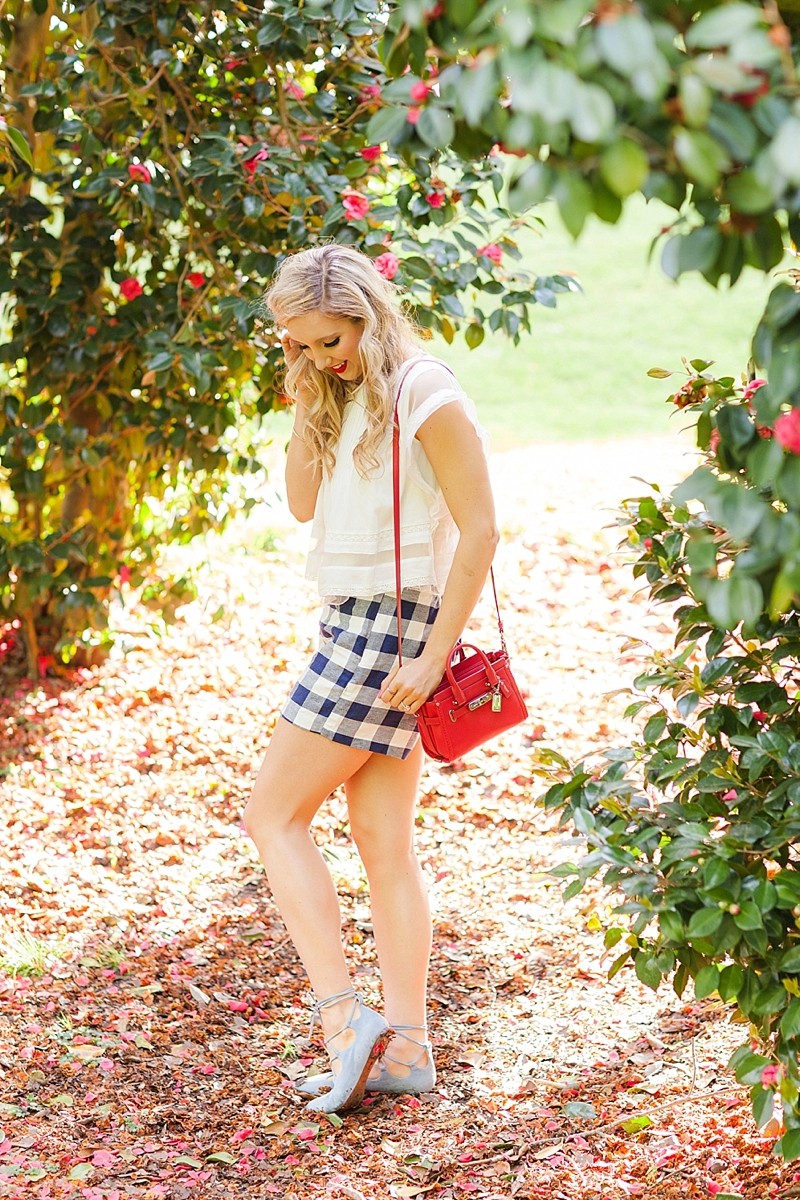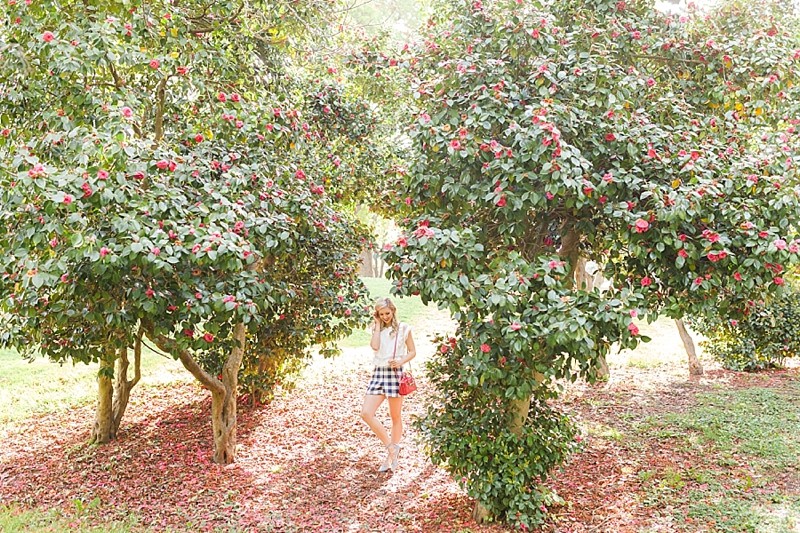 USE AT LEAST TWO MATERIALS
When styling a swoon worthy look try and incorporate at least two different materials. For example, in today's post I am wearing three. These materials are chiffon, lace, and cotton. If I was wearing all cotton or all lace the outfit would still look cute (we are Blush Babes after all;) ) but when the second or third material is added that's when the swooning starts to happen!
Adding two materials creates depth to your look and makes your look like the #StylingGoddess that you are!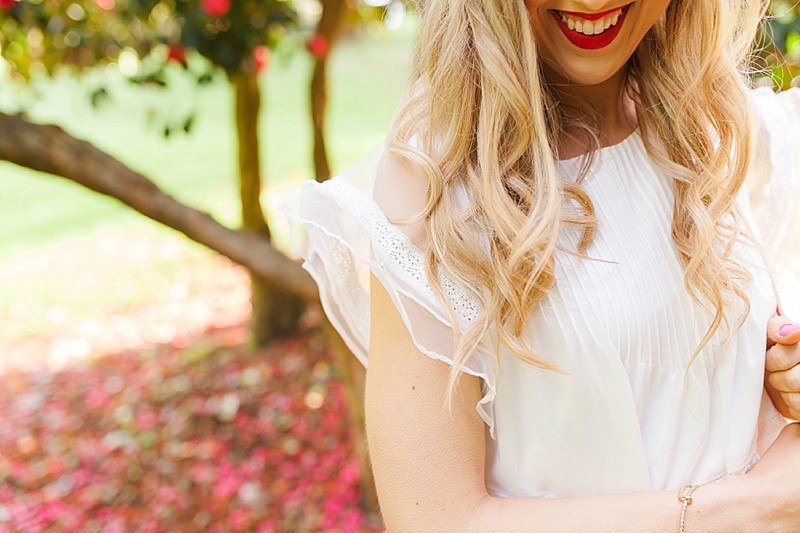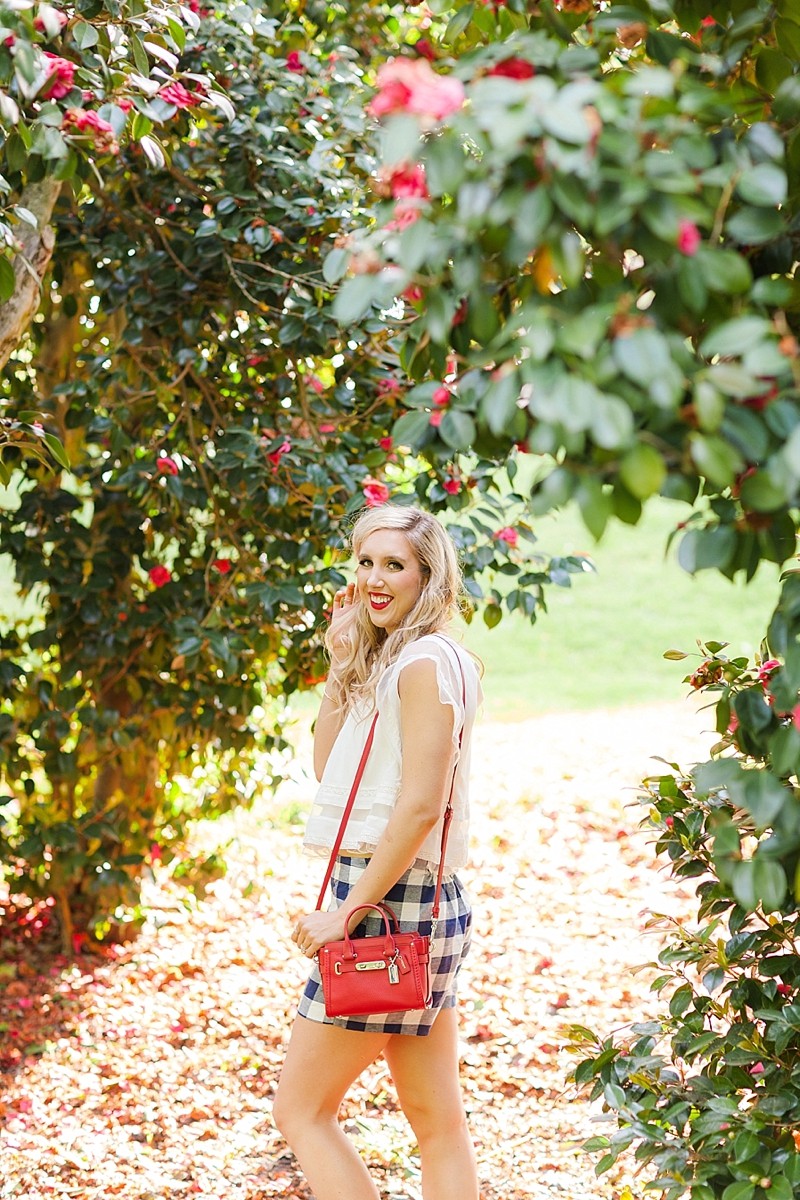 ADD AN ULTRA FEMININE ELEMENT
If you only take away one styling tip from this post THIS is the tip to remember. To create a totally swoon worthy look add an ultra feminine element! In today's look this is the ruffled flutter sleeve in my top!
Other ultra feminine elements include:
A tulle skirt
A ruffled top
Adding lace
Sheer material strategically placed (I did a blog post about this trend in this post "How To Style The Sheer Trend For Spring")
A dress or skirt that is totally twirl worthy
A soft blush hue
This is a very short list of other ways to incorporate feminine elements to your look, but will help give some creative inspo! The reason you want to add an ultra feminine element is because this is a unique outfit detail (not every outfit has this girlie touch, even if we want all our outfits to have one!) and really makes your outfit pop! When your outfit pops, it catches people's attention:).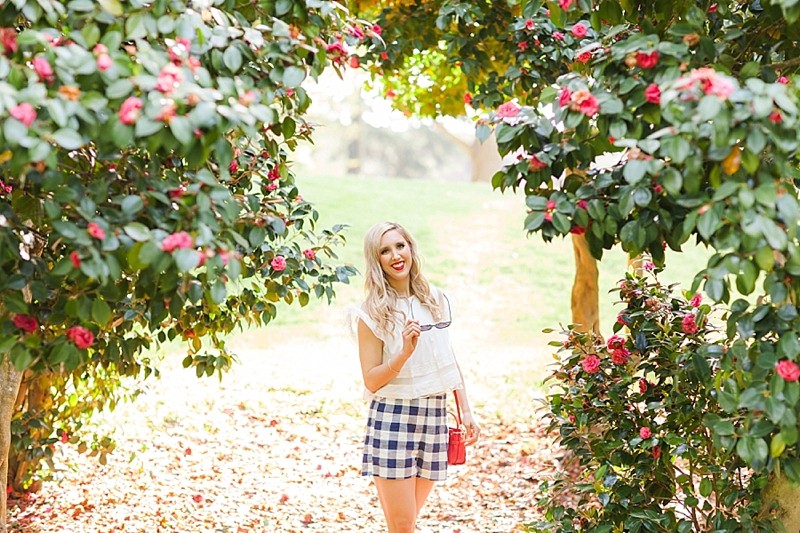 ENSURE ONE ELEMENT IS BUDGET FRIENDLY 
When you're rocking a swoon worthy outfit one of the questions you're bound to get asked is "Where is this piece from?!". To really create outfit envy it's always best if at least one of your pieces are budget friendly.
You might be asking why?! The reason is simple. There are tons of cute clothes out there and many of them are expensive- but sometimes finding gorgeous pieces under, or at budget, can take time (this is my daily struggle!). Wearing an extremely affordable piece that's totally chic is not only a total #BlushBoss move, but your friends will appreciate your outfit SO much more!
My budget friendly piece in today's look are my Old Navy gingham shorts that are on sale under for $15!  These shorts are a classic print and will last me season after season!
These are the 4 style tips to creating a swoon worthy outfit! What do you think of these tips?! I would love to talk with you in the comments below!
Thank you SO much for stopping by Blush & Camo!
xx Julianna
SHOP MY POST
High-Waisted Linen Shorts for Women (31/2″)
A.N.A a.n.a Ruffle Lace Top
Coach Soft Swagger In Soft Grain Leather
Coach Justine Flat
Karen Walker Super Duper Thistle Sunglasses
SEPHORA COLLECTION Cream Lip Stain