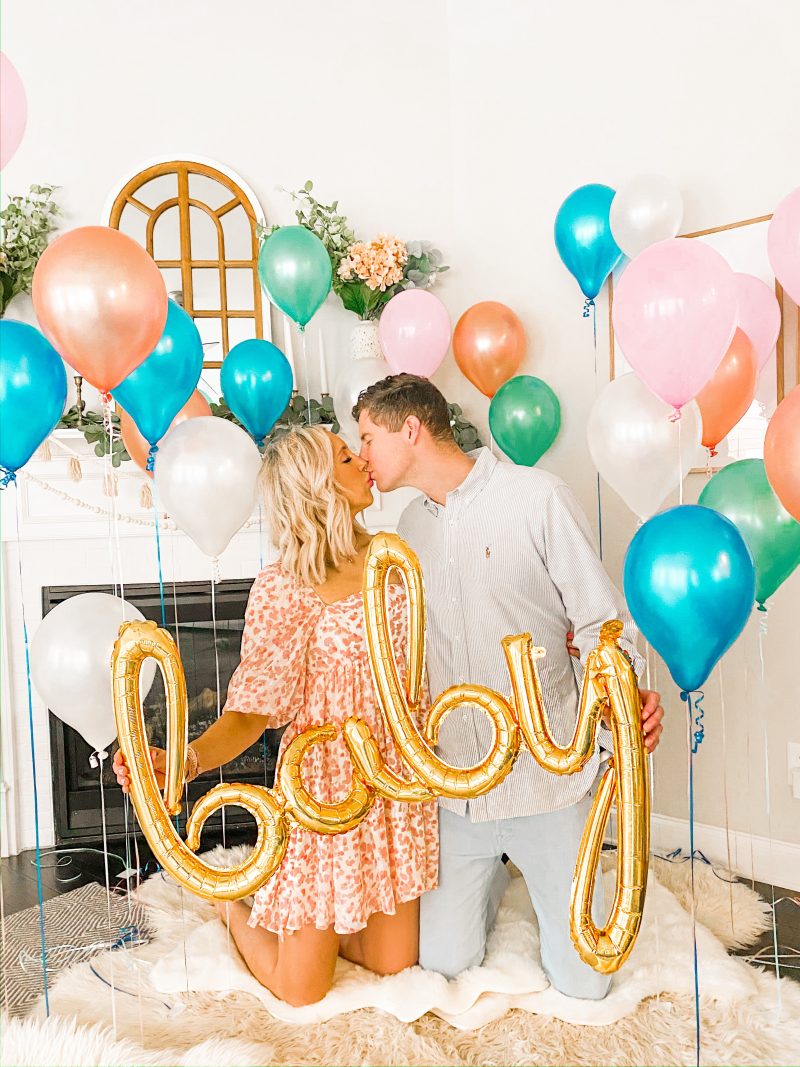 Welcome back to Blush & Camo! I have some exciting news to share with you–
I'm pregnant!!
Baby C is expected to arrive on August 14th, 2020, and Chuck and I are beyond excited!!
This pregnancy is going by so quickly, and I wanted to share in today's post how Chuck and I found out we were pregnant. There will be further posts in the coming weeks on Blush & Camo sharing details about my first trimester + weird cravings I had so stay tuned!
HOW WE FOUND OUT I WAS PREGNANT
I actually thought I was pregnant when I was 3 weeks! I was having some of the traditional symptoms- I wasn't feeling great in the morning, my chest was significantly bigger, and I was tired all the time.
I convinced Chuck I needed to take a pregnancy test around the last week in November so we did, but it came back negative. After taking the test I thought maybe I had a cold or was simply run down during the holiday season since it's the busiest time of the year for bloggers!
About a week later pregnancy fatigue started to set in (of course at the time I had no idea) and I wasn't able to go to Orange Theory as often as I wanted to. My normal routine had been to go to Orange Theory Monday-Friday every week. During the beginning of December my body was simply too tired to want to go to the gym and physically I couldn't do it.
This was one of the biggest signs I was pregnant since I grew up playing sports, swam in college, and was in the Army for five years. I knew the limits of what I was physically able to do, but this fatigue was something that I had never in my life experienced. It was almost like my body was telling me no and simply shutting down a bit.
Then, in the middle of December, Chuck and I took a trip to New York City to explore the city during the holiday season. I was super grateful for that trip, because I had gotten to the point where I didn't want to workout in the morning at all since I felt so horrible (again, I had no idea this was morning sickness and pregnancy fatigue!) and this was a great excuse to break up my routine.
That entire week I averaged about 10 hours of sleep a night, which is the most sleep I've ever gotten consistently for the past few years, but I kept waking up exhausted.
At this point I knew something was up and joked with Chuck that I am either getting some type of weird flu, or I was definitely pregnant. However, since I took a pregnancy test about three weeks prior and it had come back negative we didn't think there was any way I was pregnant.
After New York we went to Philly to watch the Army Navy game. I felt horrible the entire weekend, but had a blast catching up with my classmates. It wasn't until Sunday morning, December 15th, when we were at the airport about to fly home, that I had my first real experience with morning sickness.
Waiting for our flight I spent the entire time in the restroom vomiting, and the flight home wasn't much better. I vomited almost the entire plane ride home to the point where I was just dry heaving.
As soon as we got home that morning I told Chuck I was taking another pregnancy test. We still weren't convinced I was pregnant even though my chest had almost doubled in size, I was tired all the time, and I just had my first real experience with morning sickness. So I very nonchalantly took the test, put it on the kitchen counter, and went about my business unpacking all my stuff from our trip.
After awhile I came back to the test to see two lines on the screen! Chuck and I were both in shock and super excited! We tried getting pregnant January through March of 2019, but when we found out Chuck was deploying overseas in late March we stopped trying since I didn't want to be pregnant while he was gone.
We both looked at one another and started smiling because we truly couldn't believe it! These first thirteen weeks have been exciting, challenging, and rewarding all at the same time.
I'm so excited to share my pregnancy journey over these next few months and to finally have Baby C. arrive in August!
Thank you so much for stopping by Blush & Camo!
You can follow me on Pinterest by clicking here!
Get more daily inspo by following me on Instagram and YouTube!
xx, Julianna