This post is sponsored by Olay. All text and opinions are my own.
Welcome back to Blush & Camo! The life + style blog that gives budget friendly tips to elevate your lifestyle and grow your dream wardrobe without breaking the bank. I'm so excited to partner with Olay today to share how to find the best moisturizer for your skin.
If you follow me on Instagram, you know these past two months I've slowly but surely been cleaning out my skincare and beauty products. I'm switching out my old products in exchange for more affordable products without compromising the overall quality of each product I'm replacing.
On this two-month journey, I've replaced my concealer, setting powder, blush, lipstick, and body wash to items that are all under $10 and equal (in some cases, BETTER) quality then the more expensive item I had.
The one item I've been the most hesitant to replace is my face moisturizer because it's one of the products I'm really selective about using. To replace my current moisturizer, I would have to find a product that far surpasses the one I am currently using.
My skin is mostly SUPER dry with some areas that are combination. The wrong product can make my skin look dull and feel itchy since I'm not getting the moisture I need.
A few weeks ago, I finally decided to take the leap and look at other products I could use to replace my current moisturizer.
I FOUND A MOISTURIZER AND IT'S AMAZING!
The face moisturizers I fell in love with come in red jars and are pure magic!
Here are the two products I'm talking about: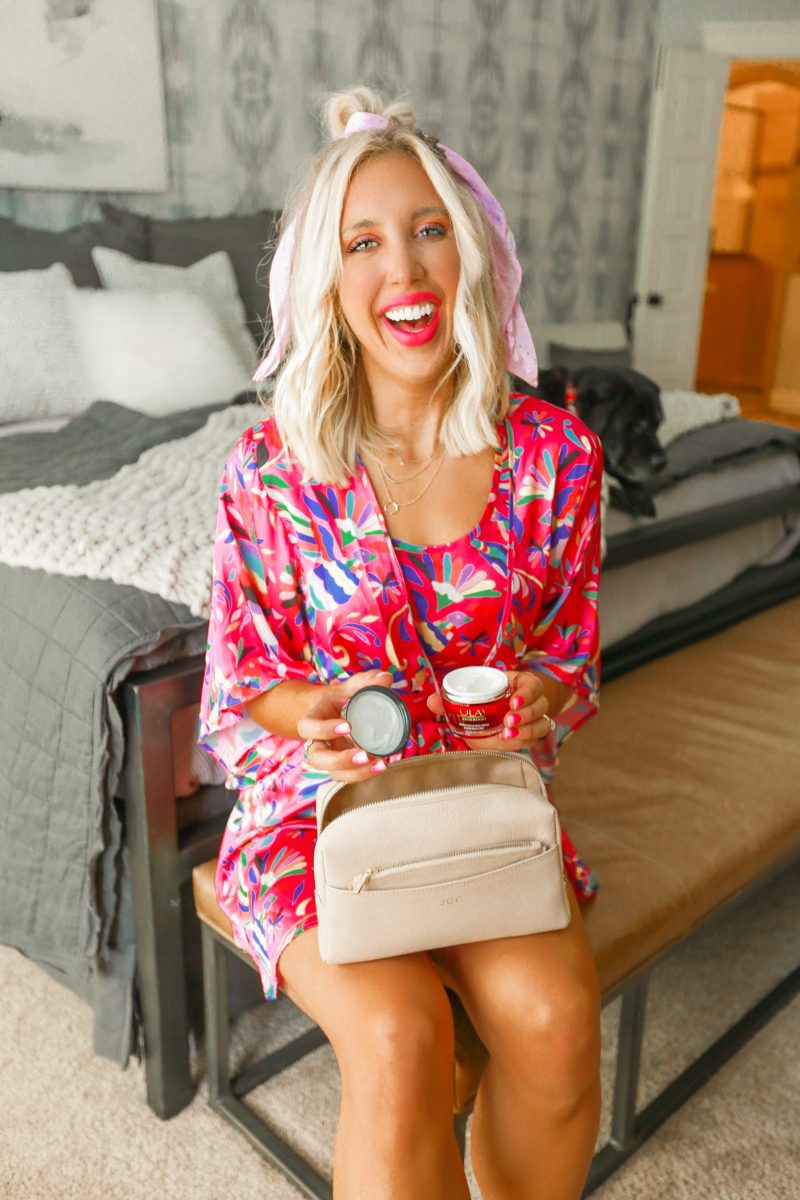 Olay Regenerist Whip Face Moisturizer
This moisturizer is really light and perfect for oily, combination skin. Olay Whip is very hydrating and I love how quickly it absorbs into my skin! This moisturizer is perfect to use as a make-up primer for glowing skin.
Olay Regenerist Micro-Sculpting Cream (MSC)
This moisturizer is great for normal to dry skin. It keeps your skin hydrated throughout the day and firms your skin over time! This is the moisturizer that works perfectly with my skin. I use it day and night. Over the last few weeks my skin always feels hydrated and healthy! The red jar also looks really luxe sitting on my vanity.
Both Products include:
Niacinamide (Vitamin B3) – a hardworking and exciting ingredient because it regenerates surface cells and strengthens skin's natural moisture barrier. In fact, each Regenerist red jar contains as much B3 as 2,500 cups of kale!
Amino–Peptide Complex II – helps improve skin's elasticity, smoothness and firmness.
I use the Regenerist MSC day and night! My skin feels hydrated and healthy.
Want to know which product is BEST for YOU?!
If your skin is mostly dry or normal
You want to feel richly moisturized
Your skin starts to feel dry and parched throughout the day
You don't mind if your moisturizer takes a while to fully absorb
You always use a primer before makeup
…then Olay Regenerist Micro-Sculpting Cream is right for you! This moisturizer feels luxurious and is very hydrating. Over time Olay's MSC moisturizer can soften the look of fine lines!
If your skin is mostly oily or combination
You want to feel like nothing is there after you moisturize
Your skin gets shinier throughout the day
You want your moisturizer to absorb in a flash
You'd prefer your moisturizer to do double duty as a primer
…then Olay Regenerist Whip Face Moisturizer is the one for you. It's a light, breathable moisturizer that leaves a matte finish and works well for normal, oily and combination skin.
I'm so happy I finally made the switch, and my skin is happy too!
You can purchase the Olay Regenerist moisturizer here.
Thank you so much for stopping by Blush & Camo!
xx, Julianna