**This post is sponsored by Olay. All thoughts and opinions are my own.
Welcome back to Blush & Camo! I love holiday shopping in November and December to find the perfect gifts for loved ones. As I'm shopping, I look for unique or exclusive gift sets you can't find anywhere else!
That's why I'm so excited about today's blog post! I recently learned that Olay created not one, but seven exclusive gift sets this holiday season. These gifts sets and their amazing prices are only sold on Olay.com during the holiday season this year. The seven Olay gifts sets are:
Fa-La-La-La Firmer: Collagen peptide & Retinol 24 gift set
Golden Hour Glow: Vitamin-C gift set
Twinkle, Twinkle Dewy Ski: Niacinamide & Hyaluronic Acid gift set
Anti-Wrinkle Wonderland: Retinol 24 & Niacinamide gift set
Mistle-Tone Corrector: Retinol 24 & Vitamin C gift set
Intro to Glow: Skincare starter pack gift set
Sleigh With the Best: Retinol 24 & Hyaluronic Acid gift set
All of these gift sets include multiple amazing Olay products and the one that I'm loving this season is the Olay Fa-La-La-La Firmer gift set, which was $135.96 and is now $99.99 (that's 26% off!)!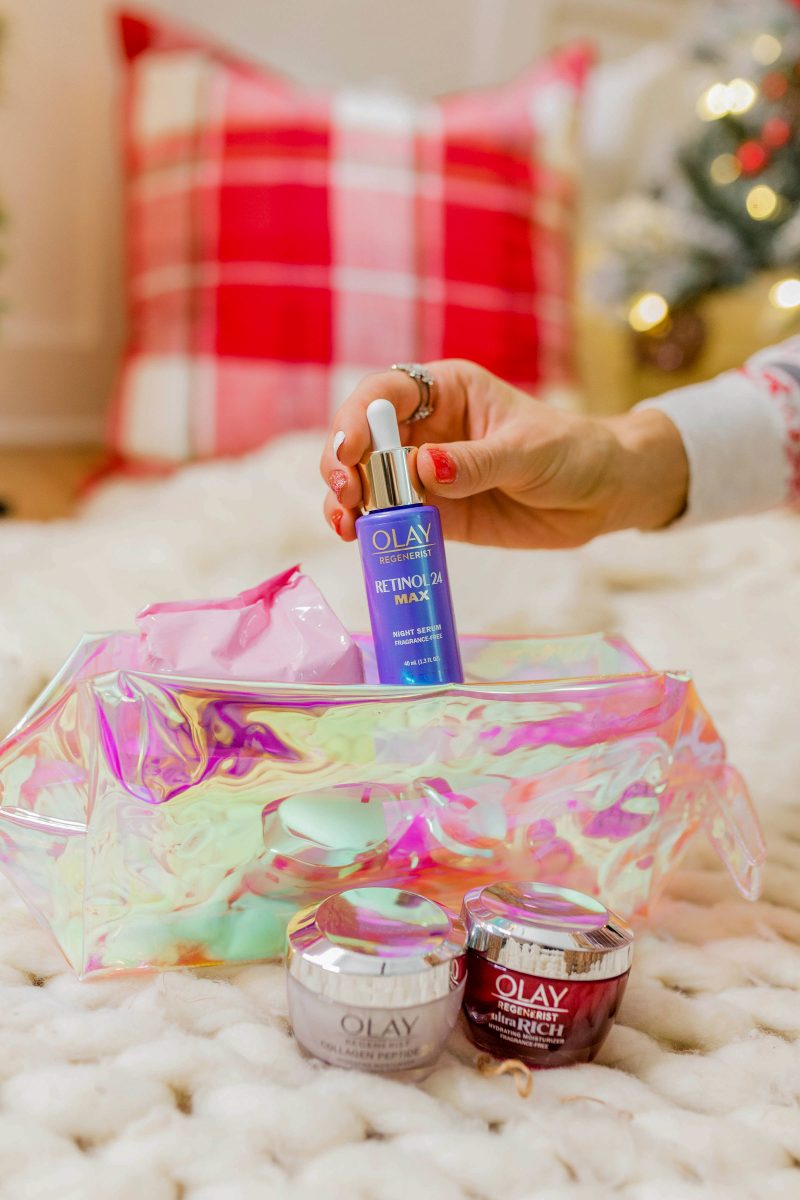 This holiday bundle includes four products for your AM and PM skincare routine!
These products include:
Daily Facials Hydrating Clean Wipes: I love these wipes to easily remove makeup! All you need to do is add water and lather. These hydrating clean wipes are formulated with grapeseed extract and glycerin to help nourish your skin. .
Retinol 24 MAX Night Serum: This is one of my favorite Olay products! This retinol serum leaves your skin feeling beyond hydrated, smooths wrinkles, and evens skin tone. I started using this product over a year ago and recommend Olay's Retinol 24 line to all of my family and friends! I saw results after using Olay's night serum after just 28 days.
Regenerist Collagen Peptide 24 Face Moisturizer (Fragrance Free): This moisturizer is lightweight and gives you 24 hours of hydration! I love that it's fragrance free for sensitive skin and created with Collagen Peptide and Vitamin B3+ ingredients.
Regenerist Ultra Rich Moisturizer (Fragrance Free): This moisturizer that I absolutely love and have talked about on my Instagram so many times! I've been using this product for over a year and love that it has Vitamin B3+ and Peptides. Another reason why I love this product so much is because this moisturizer does not include fragrance, parabens, phthalates, mineral oil, or synthetic dyes.
All of these products come in a super cute holographic bag!
Which gift set is your favorite?! Click this link here to find out which gift set is perfect for you and your loved ones this season!
Thank you for stopping my Blush & Camo!
You can follow me on Pinterest by clicking here!
Get more daily inspo by following me on Instagram and TikTok!
xx, Julianna