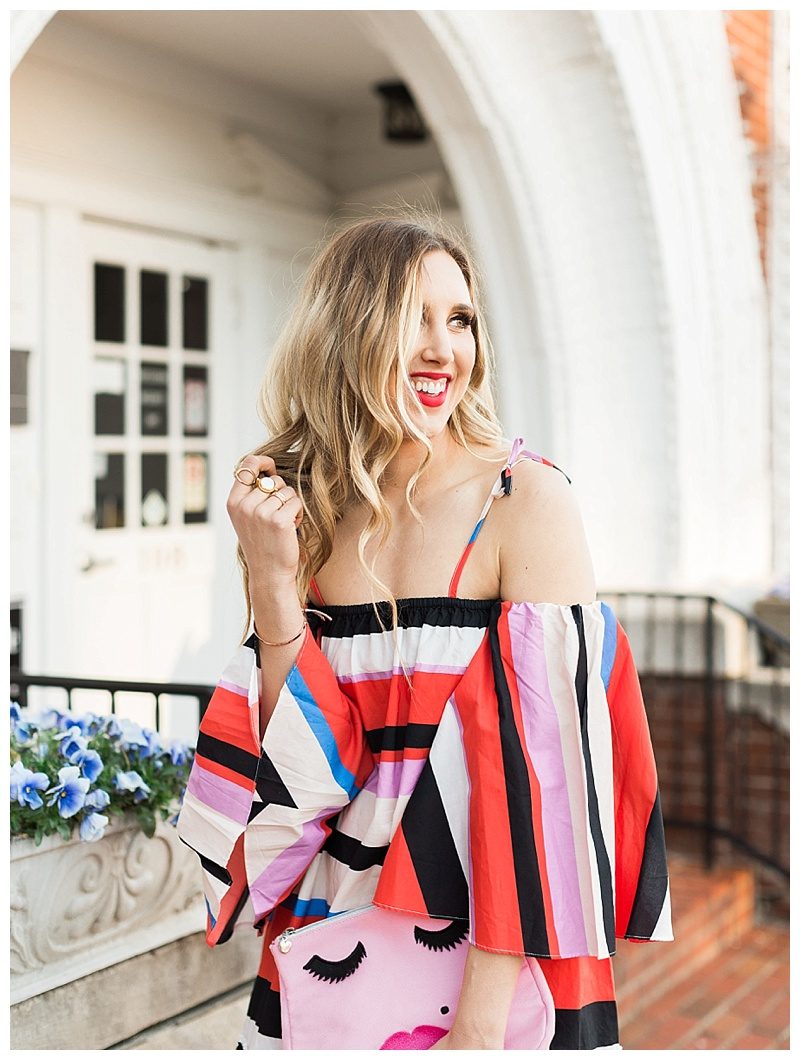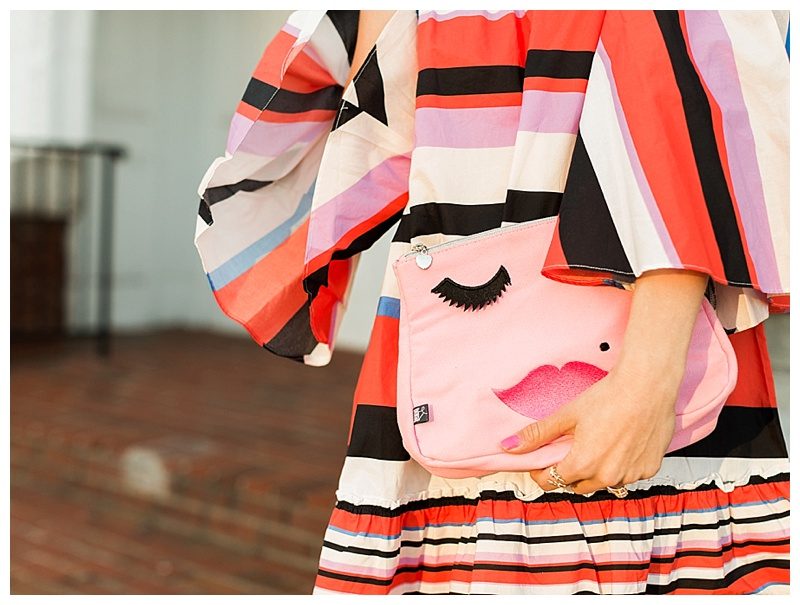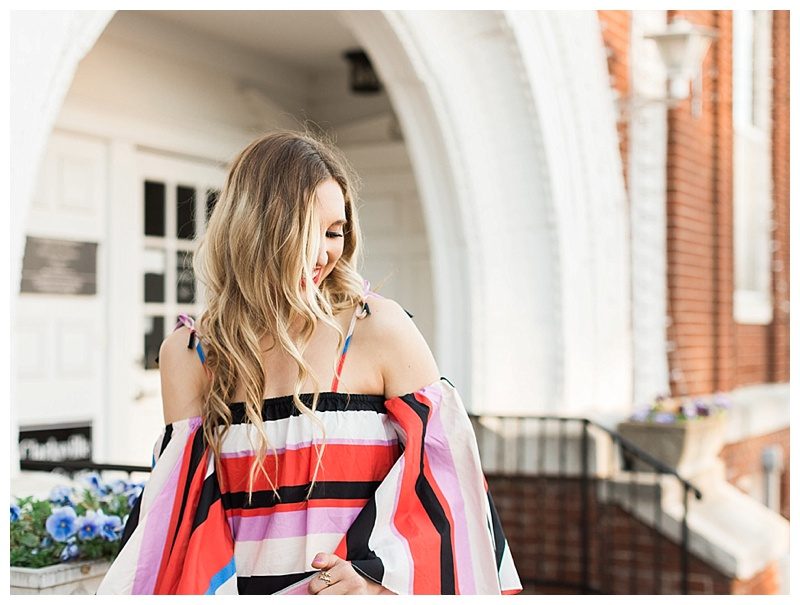 Hello, Gorgeous! Many women love to wear neutrals (I am totally with you!) and sometimes stay in their comfort zone of only wearing neutrals. Some days it's fun to step outside of your fashion comfort zone and wear a bold print like I did in today's post!
I don't think I've ever worn such a bold pattern before and I'll have to admit- I was a little nervous to wear this but I'm so glad I did. This dress is such a fun statement piece for a date night or going out with your girlfriends.
In today's post I'm sharing my top tips for rocking a bold print like a #GirlBoss so the next time you see a print you love at the store you go for it!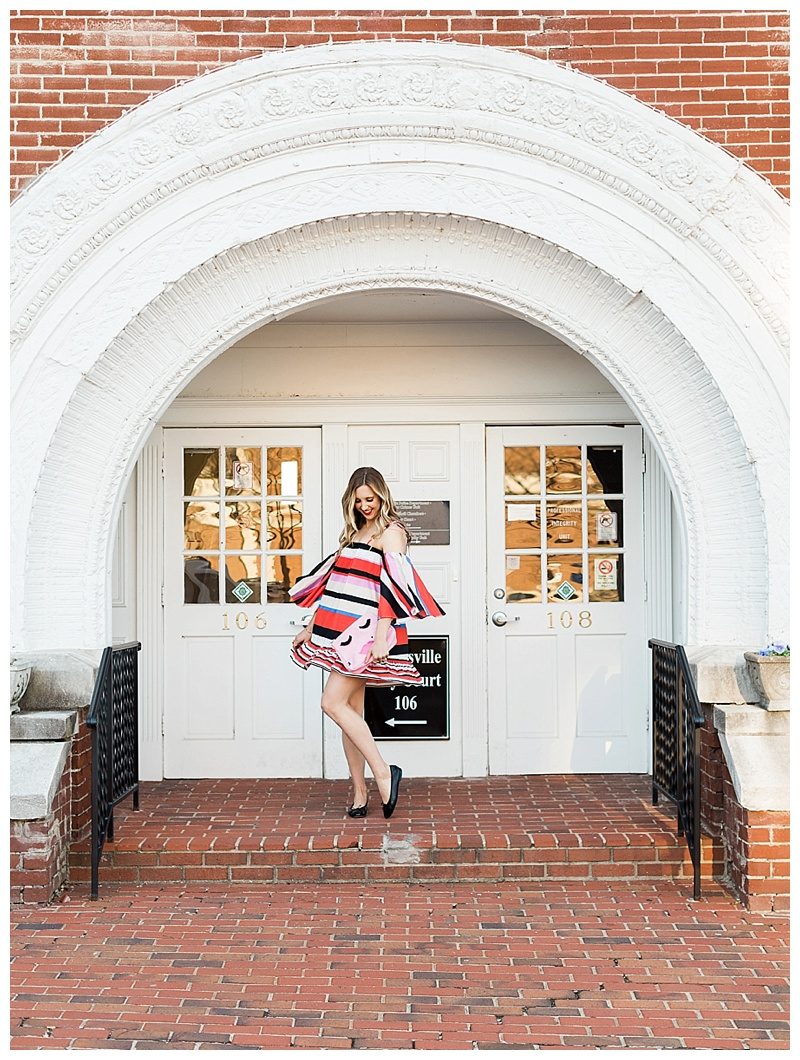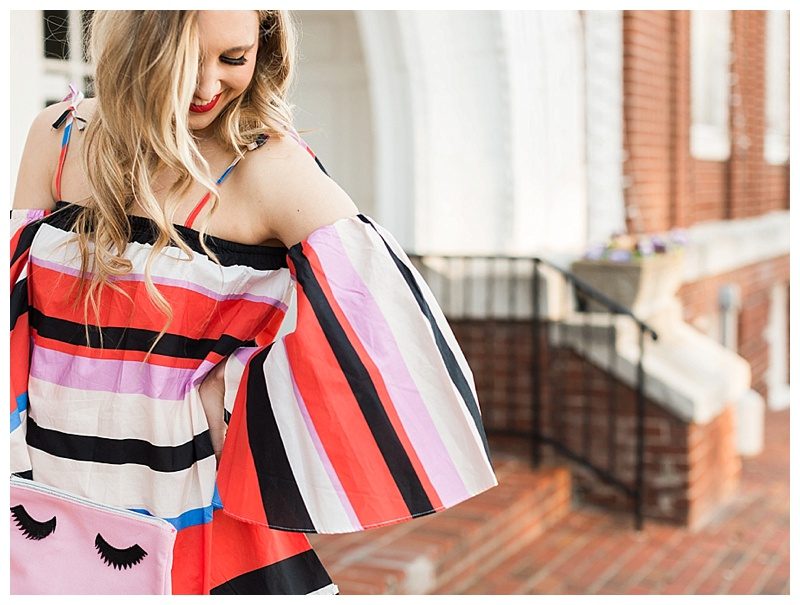 THREE STYLE TIPS FOR WEARING A BOLD PRINT 
THE 80/20 "RULE" TO WEARING COMPETING COLORS IN ONE COHESIVE OUTFIT
When you are wearing two competing colors together in one look (in today's look this is hot pink, blue, and orange!) I recommend picking one color you want to predominantly wear. That hue will dominate roughly 80% of your look! The other 20% of your look is the other color you opt to wear! It's that simple!
You want to wear purple and orange?! Awesome! Blue and Yellow?! Go for it!
By following this guideline you are ensuring there is a nice balance to your overall look. You don't want your two colors competing for attention. Remember, we want this look to be as cohesive as possible since we are being total fashion #rulebreakers.
When exclusively pairing two or more competing colors together it's important to decide on the shade. I highly recommend if one color is bright then the other is bright as well. If one color is more subdued, then have the other color subdued too!
For today's look all the  orange is the dominant color and the pink and touch of blue while bold- are not competing with the orange color throughout the dress!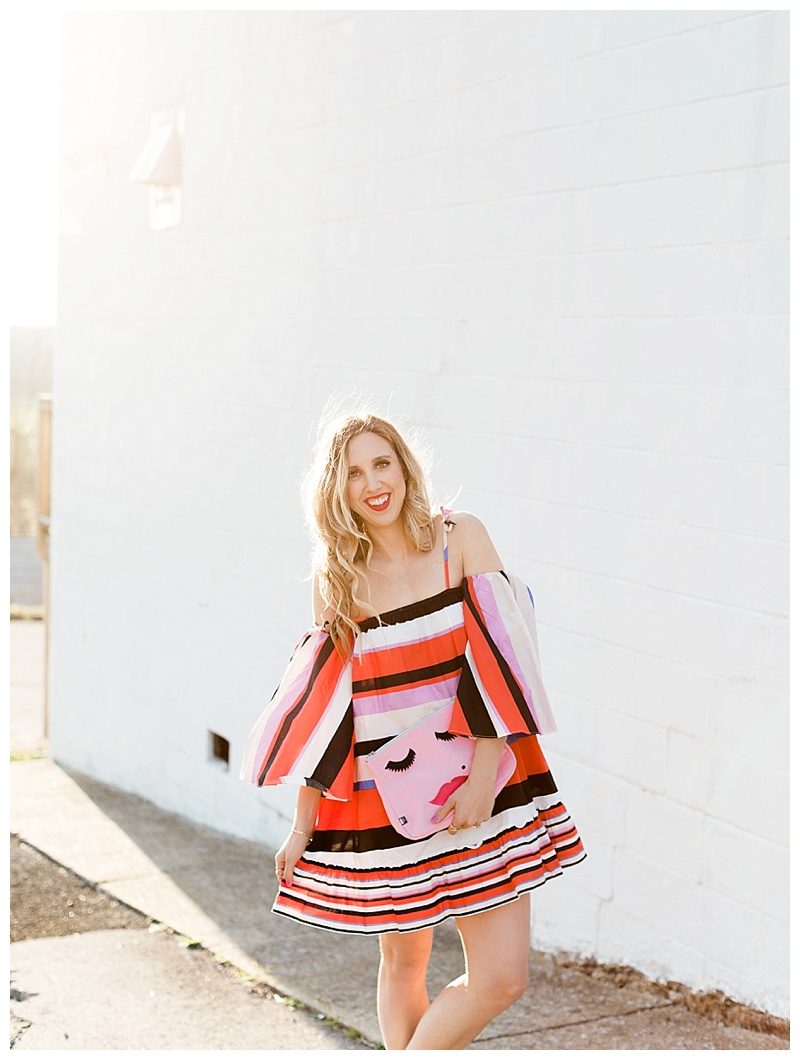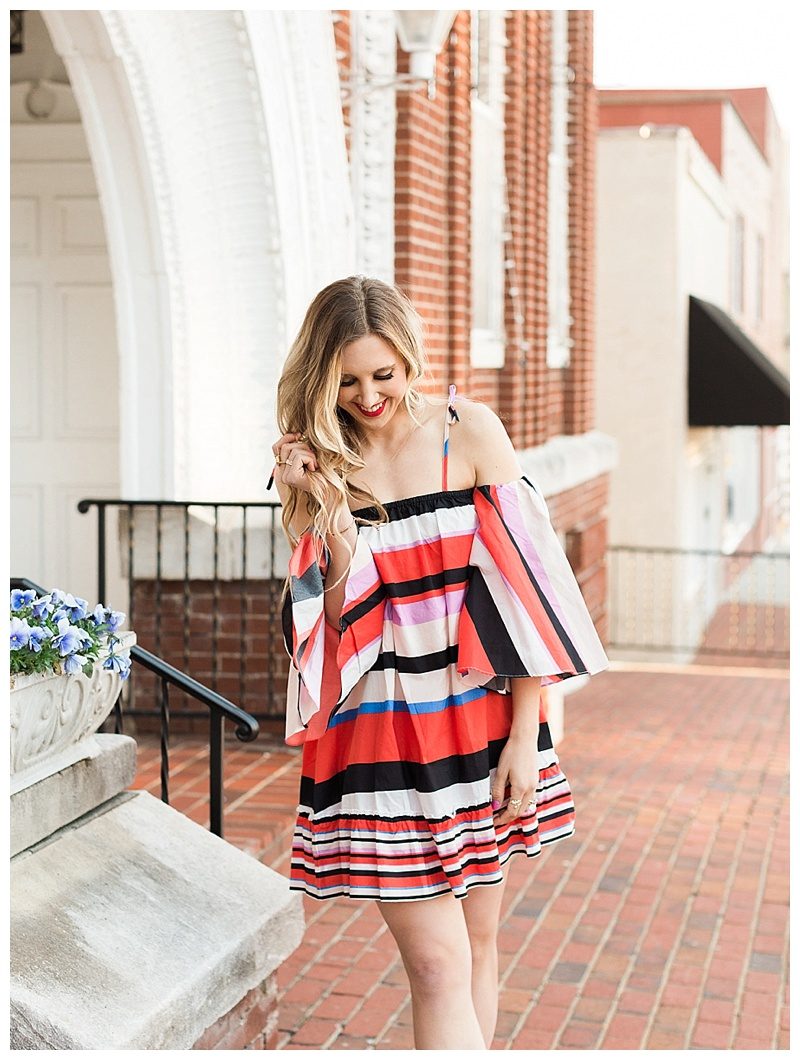 TO MAKE A COLOR REALLY POP
To make a color really pop you want the base of your outfit to be in a subdued or neutral hue. This will allow the color you really want to emphasize pop! You typically want the base of your outfit to be a color that is cohesive with the color you're about to emphasize!
In today's look my base color is black. You can find this hue on my shoes (I kept them a classic ballerina flat to not take any attention away from the dress) and also throughout the dress. Without the black neutral base on the dress, the colors would look extremely loud.
Now that you have your outfit base AND the color to make your entire outfit pop, it's time to accessorize! Accessorizing is the best way to really draw attention to your look. Why? Because these items such as shoes, handbags, and hair accessories are constantly moving and the eye is drawn to those areas!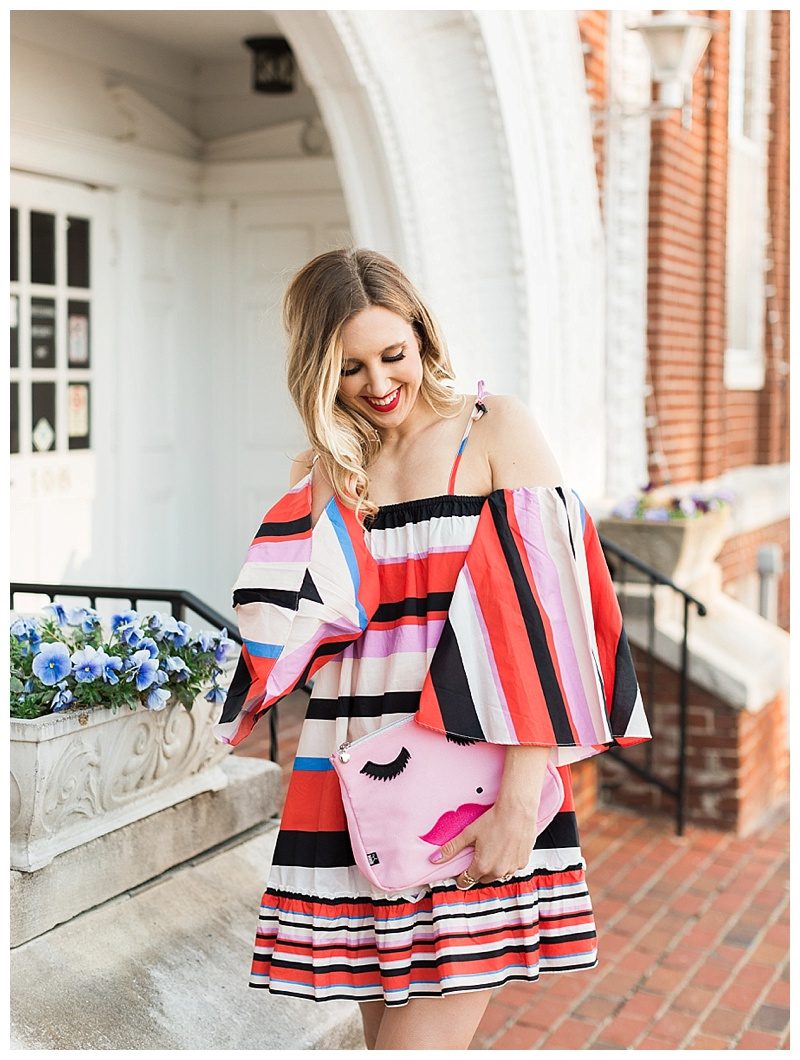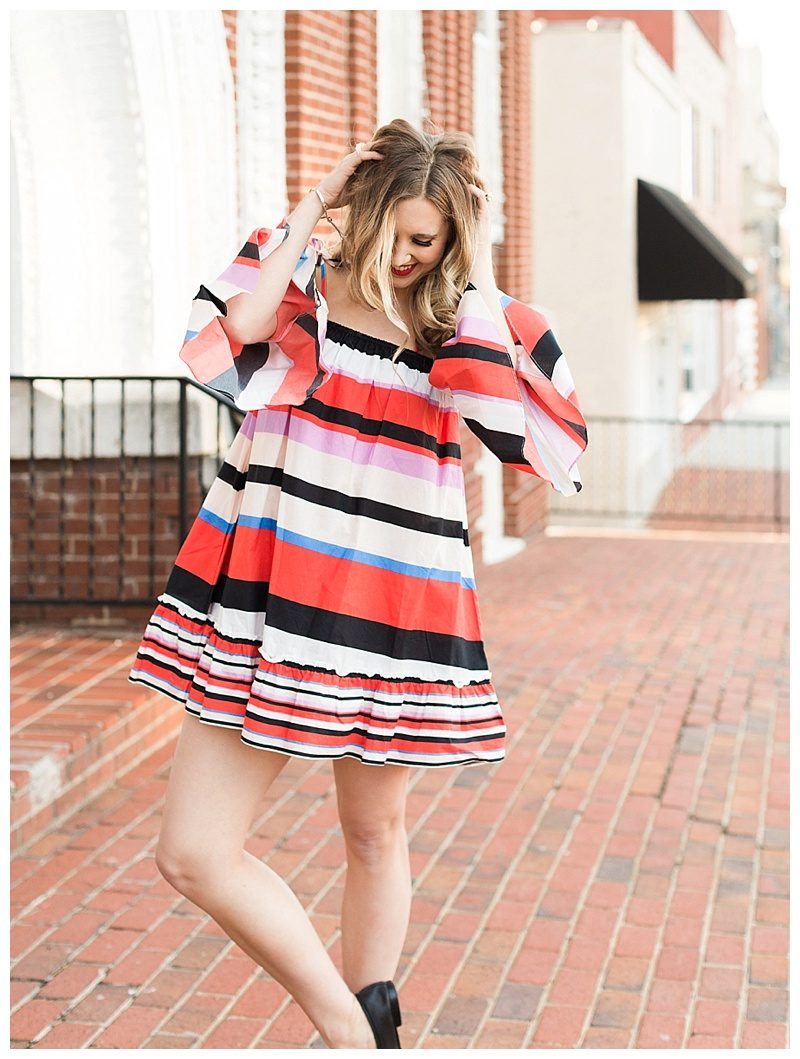 ADD COLOR TO YOUR ACCESSORIES
Adding a pop of color through your accessories is the perfect way to balance out your bold print! This outfit is not for the fain-hearted, so bold accessories are needed to truly make this look the bold, confident outfit it is. For example adding a handbag, scarf, or nail polish to add your pop of color to your look no matter how subtle it is!
What do you ladies think of this look?! Would you wear a bold print this season?  I wold love to hear from you in the comments below. Don't forget to follow me along on Instagram, Pinterest, and Facebook for daily style inspo!
Thank you so much for stopping by Blush & Camo!
xx Julianna
SHOP MY LOOK
**These items are from my affiliate partnership with ShopStyle. If you make a purchase I will make a small commission. There is no pressure to use these links (and you can totally Google these items if you find something you like!), but I just wanted to be honest about using affiliate links with you ladies!