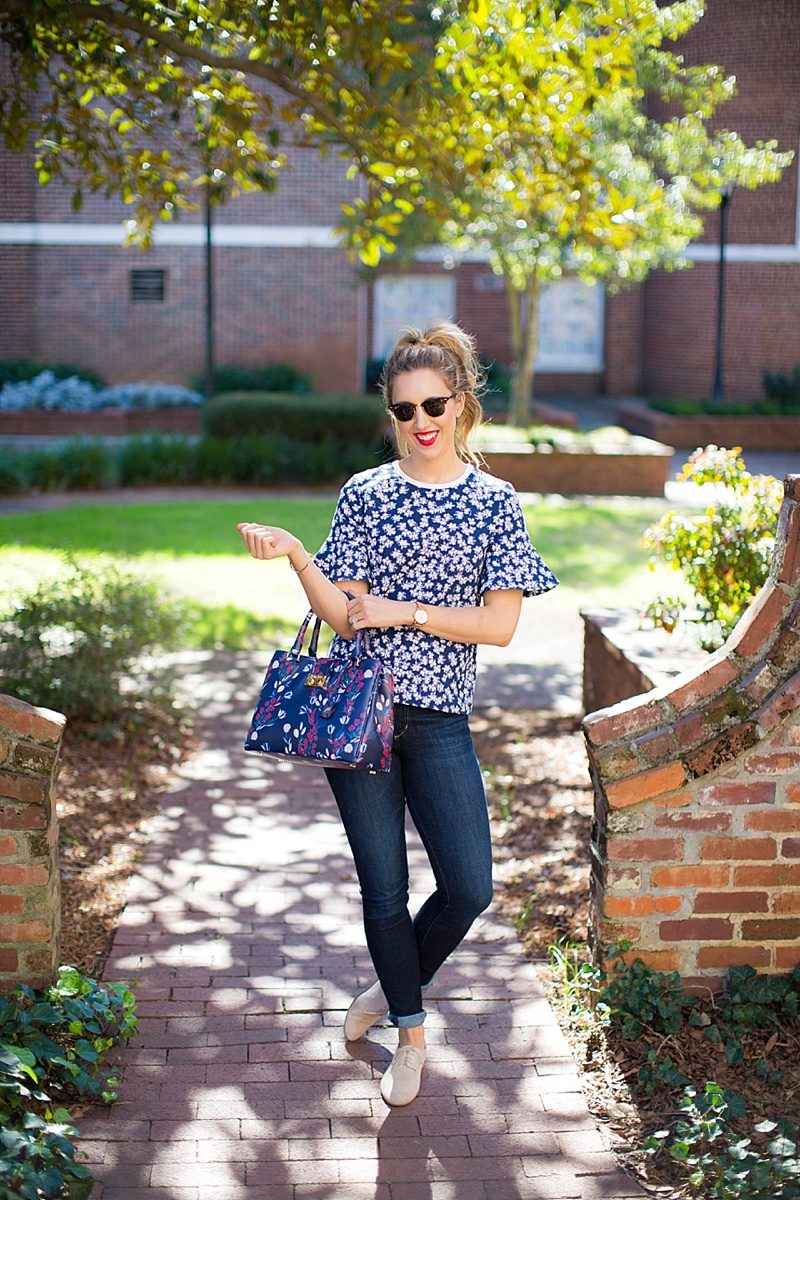 Hello, Gorgeous! As many of you ladies know, my obsession with the brand Draper James is so real. Not only because Reese Witherspoon is the #GirlBoss CEO behind the brand, but because the quality of every item and the fit are perfection. I first tried on a few pieces from Draper James when I went on my blogger babe retreat to Sea Island! The minute I tried on my DJ dress I was instantly in love.
I love a pretty, classic print and Draper James specializes in creating items in the most gorgeous prints. Their spring collection is filled with beautiful feminine silhouettes in floral, stripe, and gingham prints!
Draper James items are classic wardrobe items that will last you season after season. The price point for this brand is a little higher than average, but oh so worth it! I honestly cannot say enough amazing things about this brand and truly think this is a brand you want to splurge on!
Draper James recently launched their spring collection and today I'm sharing the six must have items from their spring collection you ladies need to put in your cart… like yesterday.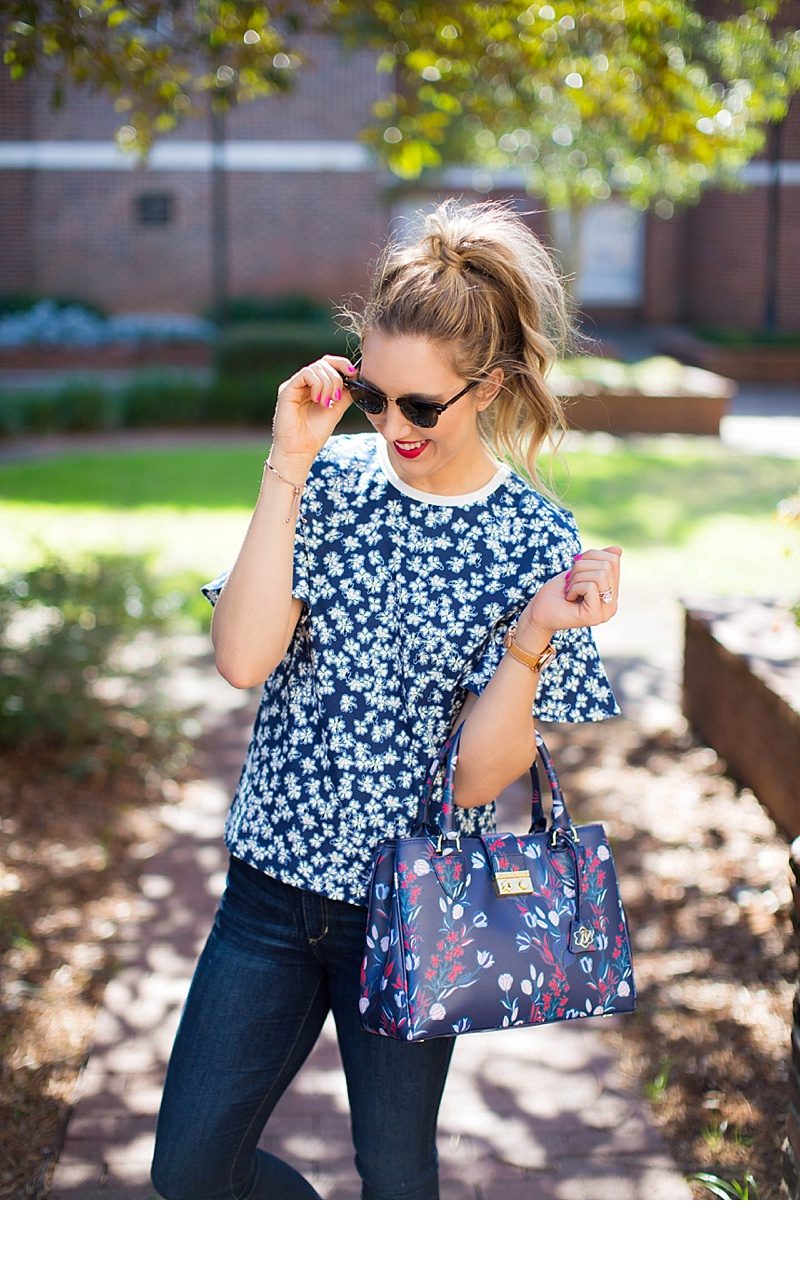 THE SIX MUST HAVE ITEMS FROM DRAPER JAMES
THE MEADOW GARDEN LIGHTWEIGHT TERRY TEE 
From the print to the silhouette I am living in this top every single weekend. The top  is made from 100% cotton (which is amazing!) and feels luxurious on the skin. The fit is perfect and the flutter sleeve makes this casual top more special.
And can we please have a moment of silence for how gorgeous this print is?! You can wear this print with other floral prints for a fun mix and match outfit or dress this print up or down. Draper James totally knows what they are doing when it comes to beautiful prints.
This top also comes in a striped print which you can see here! I plan on buying this top right after I finish this blog post because I know that I will wear these items season after season.
I am a sucker for anything with a collar which I think is super feminine and chic- especially on a dress. I also love how this dress cinches in at the waist to accurate your curves in all the right places. This dress can be wore for work, the weekend, or even for a causal date night. The styling possibilities are endless and this dress comes in two prints for you to choose from!
These shorts are a beautiful floral print and the base of the print is blush (which is having a major moment right now!). The scalloped edge gives these shorts an extra feminine vibe and are perfect for pattern mixing!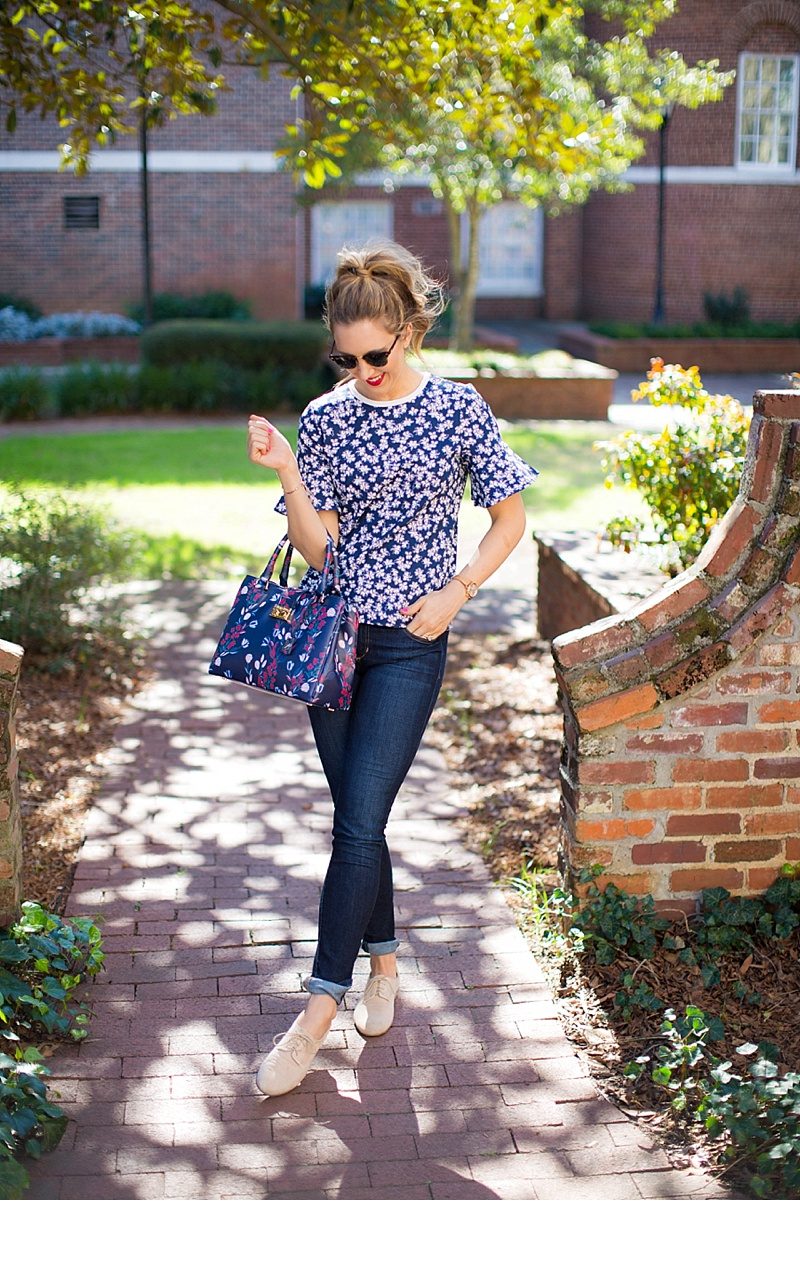 This romper comes in the same beautiful blush pattern as the Dunway Vines Scallop shorts! I love how feminine this romper is and the classic silhouette allows you to accessorize this item for multiple occasions. Flats or heels, this romper is a perfect piece for spring!
These jeans are super trendy right now and the perfect dark wash. The darker the wash the more occasions you can wear them too! Lighter washes tend to be more casual while darker washes are perfect for casual or more formal occasions. The bottom hem of these denim jeans are my favorite part and are super chic!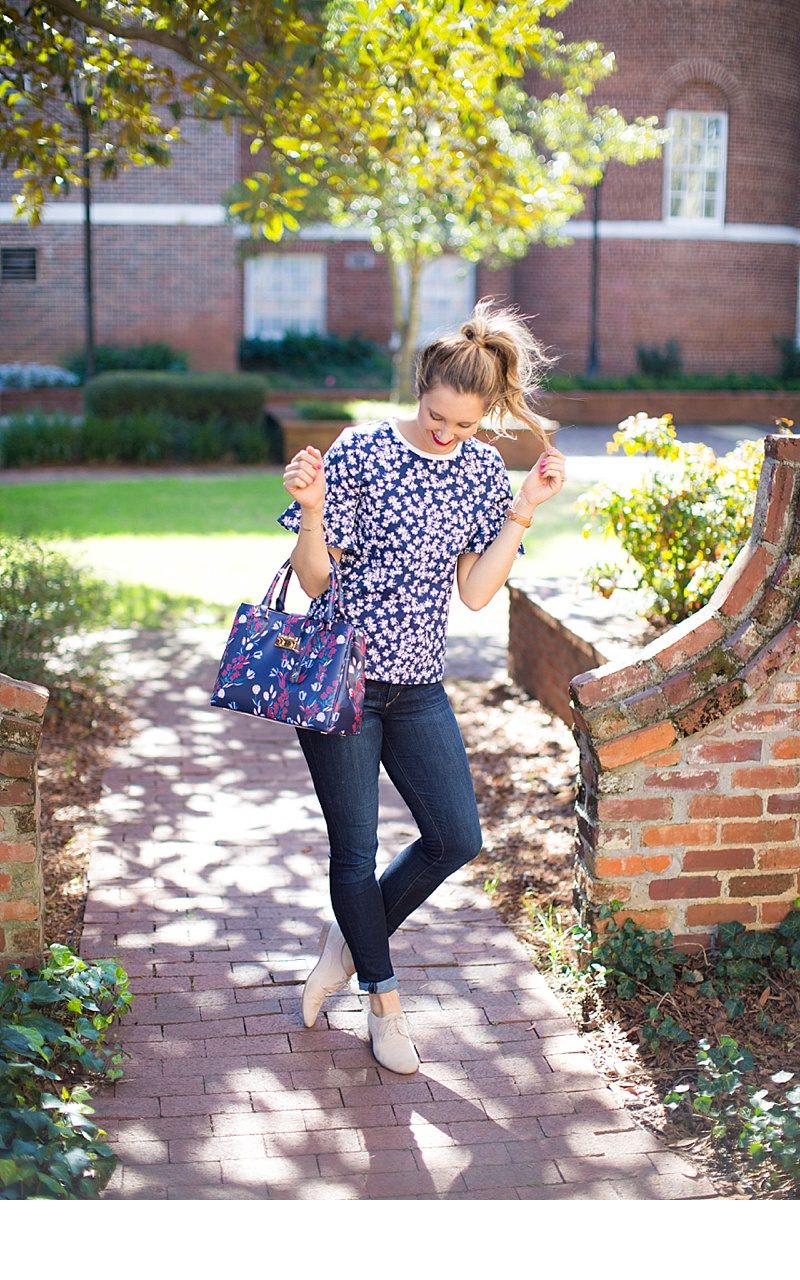 This handbag is everything! The size is perfect, the print is beautiful, and it has gold details which are my favorite. I love smaller handbags and this handbag is the perfect size to fit all my essentials, plus a few more:). I wear this handbag everywhere and since the base of the print is navy it matches all the items in my wardrobe (I rarely ever wear black).
If I could recommend one handbag for you ladies this spring it would be this handbag. My most requested (and popular!) handbag this past winter was my flannel printed Draper James handbag. Ladies, this brand knows how to create a high quality handbag in a print that will match everything!
These are the top six items from Draper James spring collection! I would love to hear what pieces your currently swooning over in the comments section below!
Don't forget to follow me along on Instagram, Pinterest, and Facebook for daily style inspo!
Thank you so much for stopping by Blush & Camo!
xx Julianna
*Thank you to Draper James for gifting me the items you see in today's post! I was not required to write a post, but I am so in love with this brand that I wanted to share with you Blush Babes the items I am currently swooning over from their spring collection!