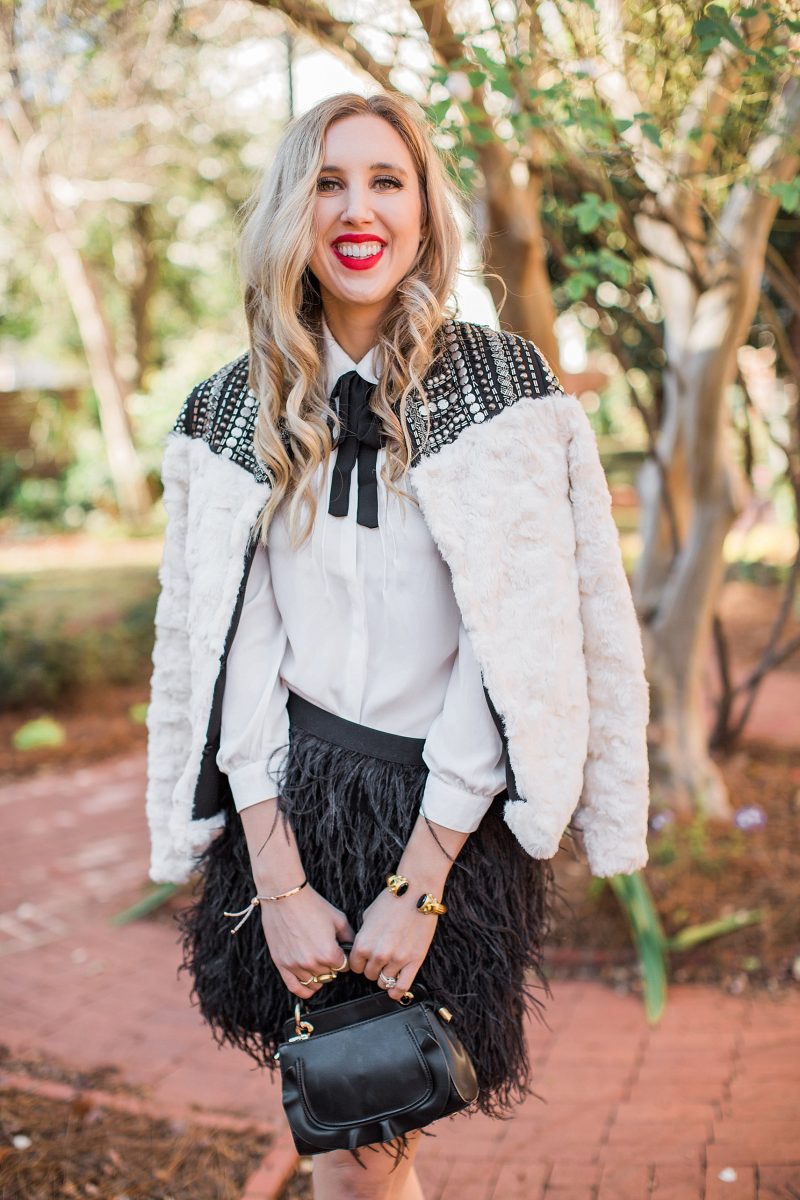 Hello, gorgeous! Today's post is all about how to style a glamorous look for NYE! This holiday is about extravagance and going a bit over the top. If you follow these 4 style tips you will be the belle of the ball for any NYE party!
Let's get started!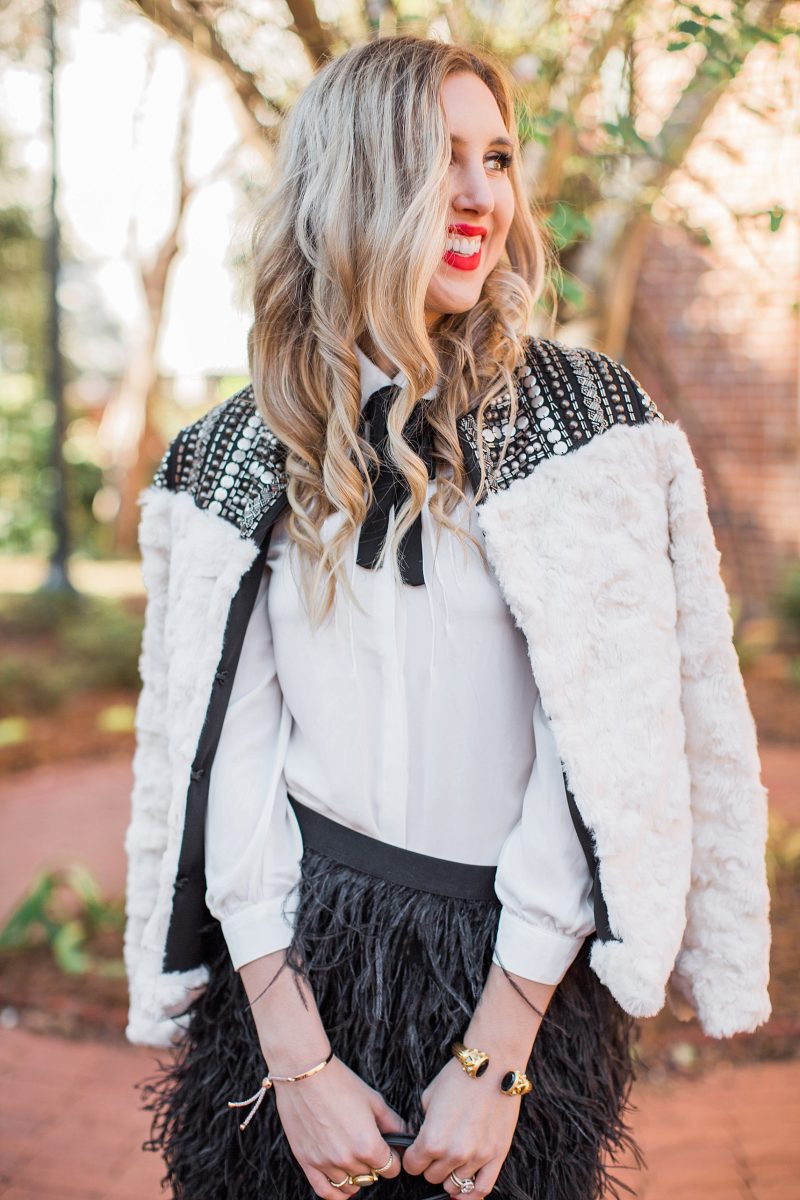 PLAY WITH TEXTURE
Since it's NYE you want to go a little over the top with your outfit! Textures to play with can include:
Feathers
Faux Fur
Sequins
Studs
Velvet
Lace
You don't have to pick one texture either! When creating a chic NYE outfit it's totally acceptable to incorporate three or more textures! In today's outfit I incorporated feathers, velvet, and faux fur. Typically this outfit may seem over the top, but for NYE is there really such a thing?! (Answer: No way!).
The key to this style tip is to stick with an neutral palette because multiple textures demand so much attention.  If you add bright colors to this look your outfit will stray from chic and start entering into the "busy" category (and we totally don't want that).
I opted for a classic black and white color palette because this color combo is timeless. Since I am incorporating so many textures into this outfit the black and white hues help to tie everything together into one cohesive look!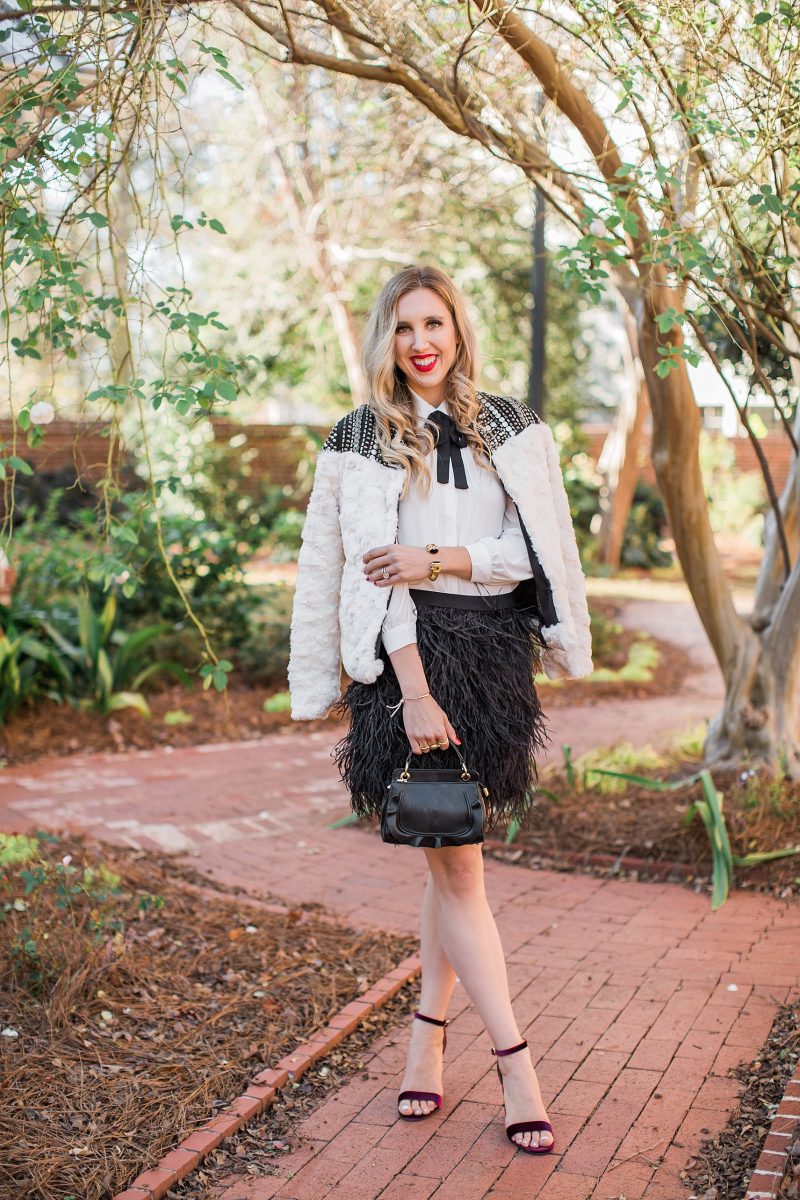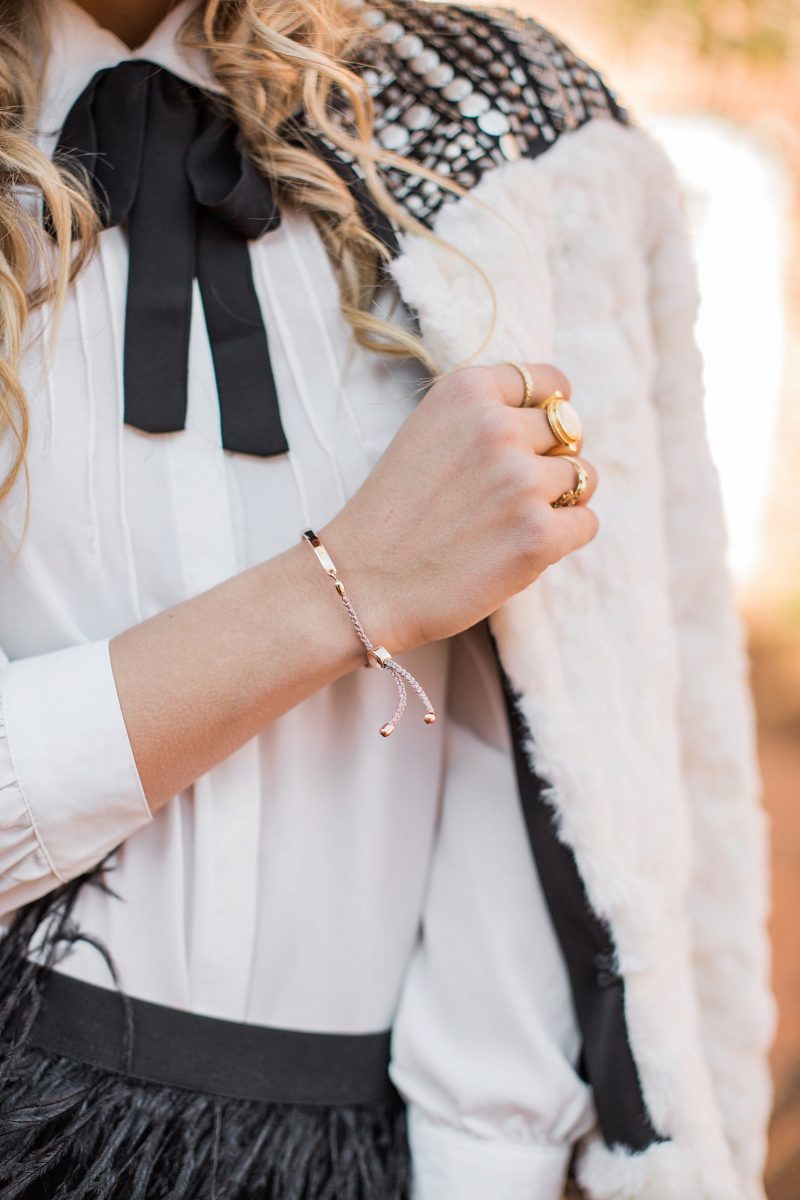 DO ADD ALL THE SPARKLE YOU WANT
When styling a NYE outfit  is NO limit on the amount of sparkle you can incorporate. The reason for this is because the holiday season is all about adding that extra "glam factor" to all your outfits. I promise you can add as much sparkle as you like during the holidays (especially NYE) because not only is it fashionably acceptable- it's encouraged!
BONUS STYLE TIP: If you love to wear necklaces in your outfits a fun style tip is to layer your bauble necklaces to creating a stunning focal point in your outfits and really add some sparkle to your holiday look!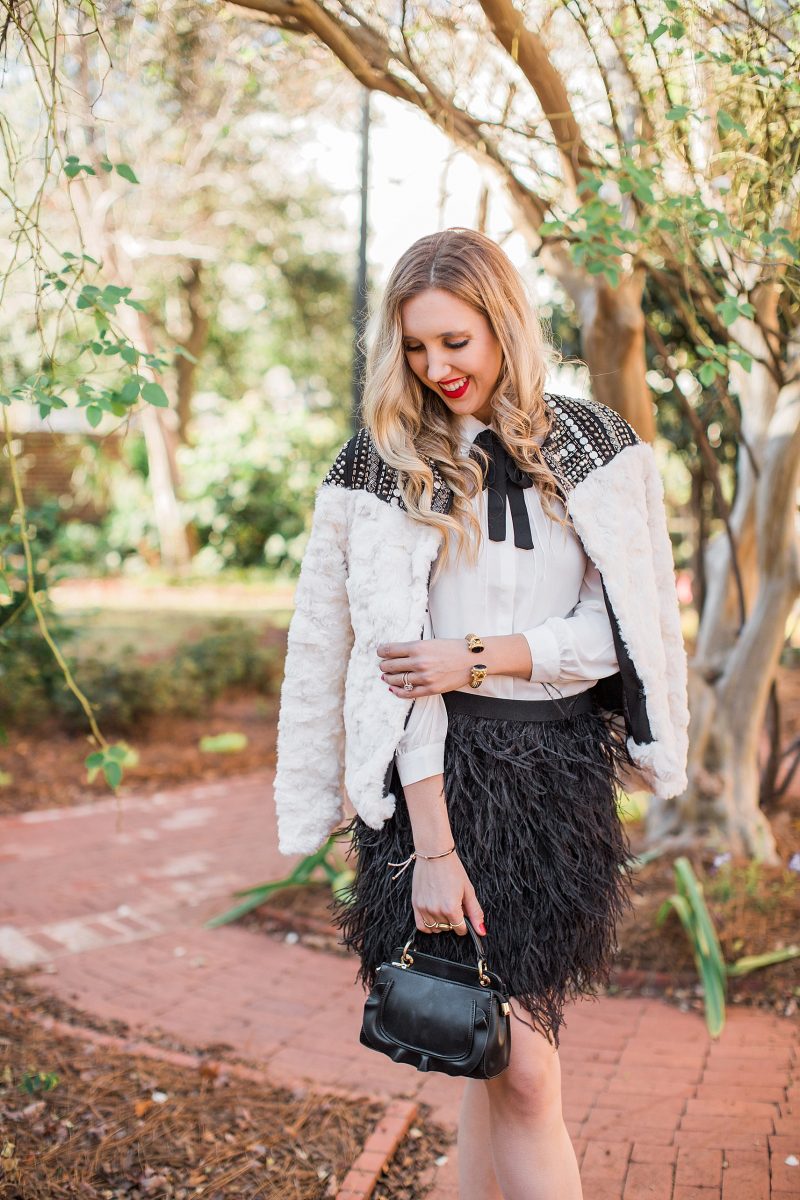 ROCK A BOLD LIP
Rocking a bold lip is a must when styling your NYE outfit! The reason for this is because a bold lip gives off serious #GirlBoss vibes and the boldness matches the outfit you are rocking for the night!
If you don't typically wear a bold lip I highly recommend starting with a classic red or bright pink lip since these hues will match just about any look. I also highly recommend wearing a kiss proof liquid lipstick because #NYEKiss.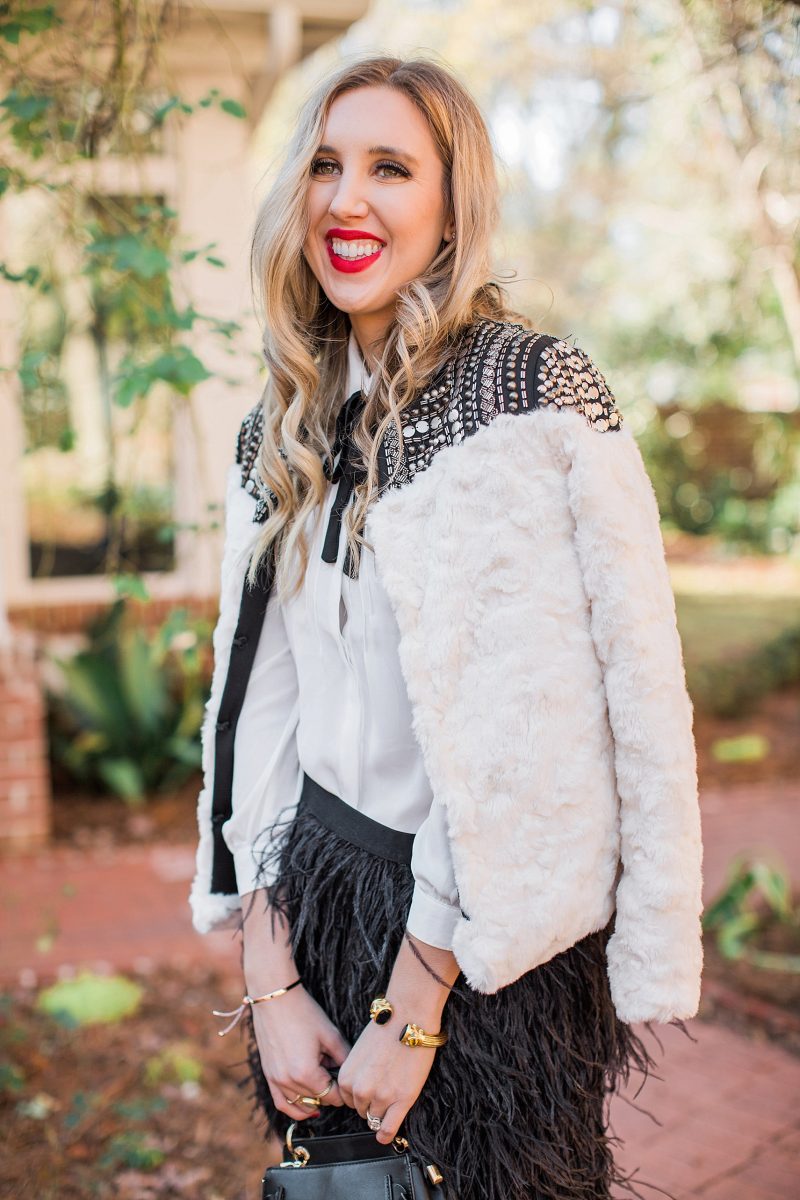 FINISH THE LOOK WITH A KILLER PAIR OF HEELS
Complete your NYE look with a killer pair of heels or embellished flats. I firmly believe that a great pair of shoes can make an entire outfit. For today's look I paired velvet block heels into my look to add that extra glam factor!
If your outfit is in a neutral hue your shoes are the perfect item to incorporate a punch of color! Think bold colors such as blue, red, pink, and violet.
Follow me along on Instagram, Pinterest, and Facebook for daily style inspo and if you loved this post don't forget to share with your friends:). Both your friends, and myself, will thank you!
Thank you SO much for stopping by Blush & Camo!
xx Julianna
SHOP MY POST