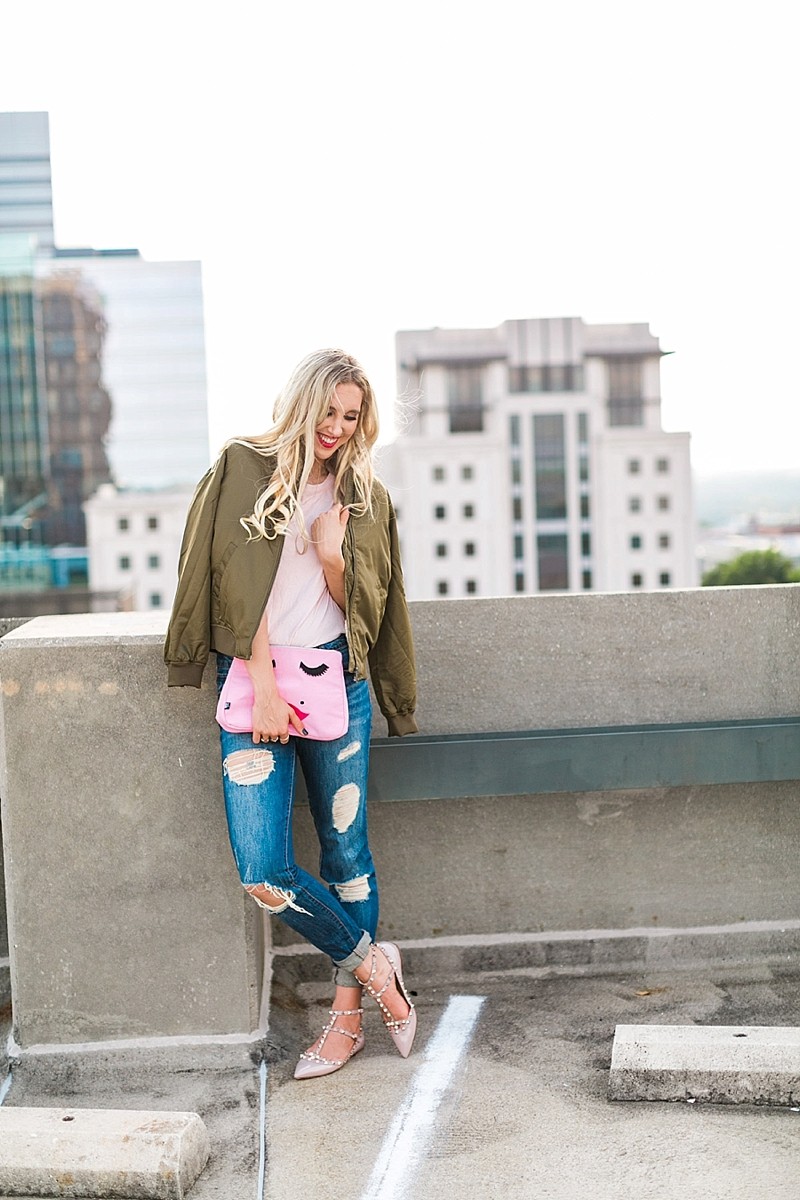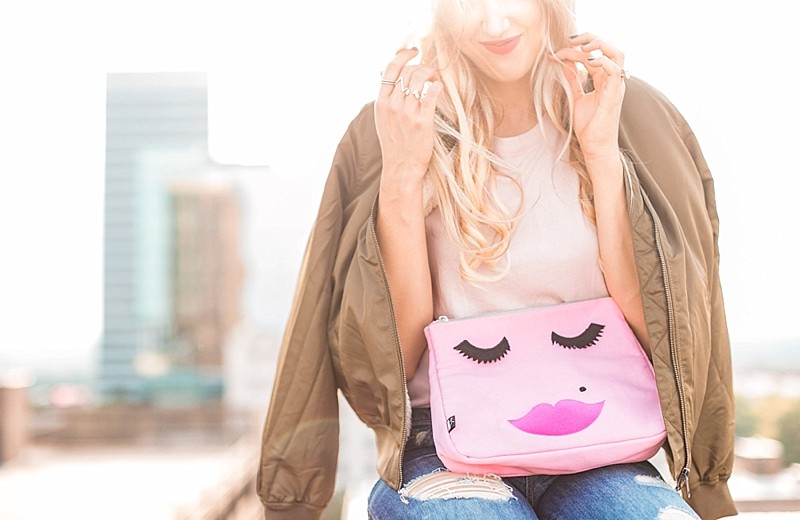 Hello, Gorgeous! It's no surprise that the bomber jacket is one of this fall's hottest trends. This jacket is a classic wardrobe item that has always held a place in any fashionista's wardrobe, but now the bomber jacket is totally having a major moment, and we are going to let this piece take all the attention it wants:).
If you are looking for ways to style this trend here are my best style tips for incorporating this jacket into any weekend look!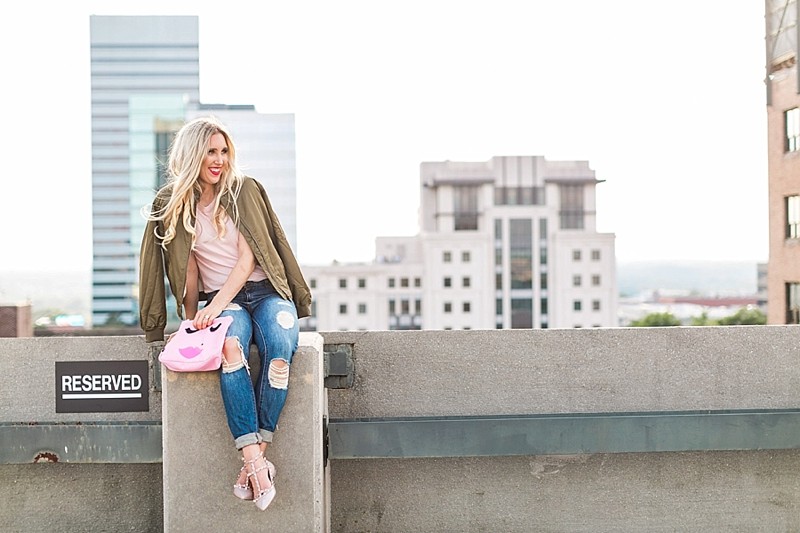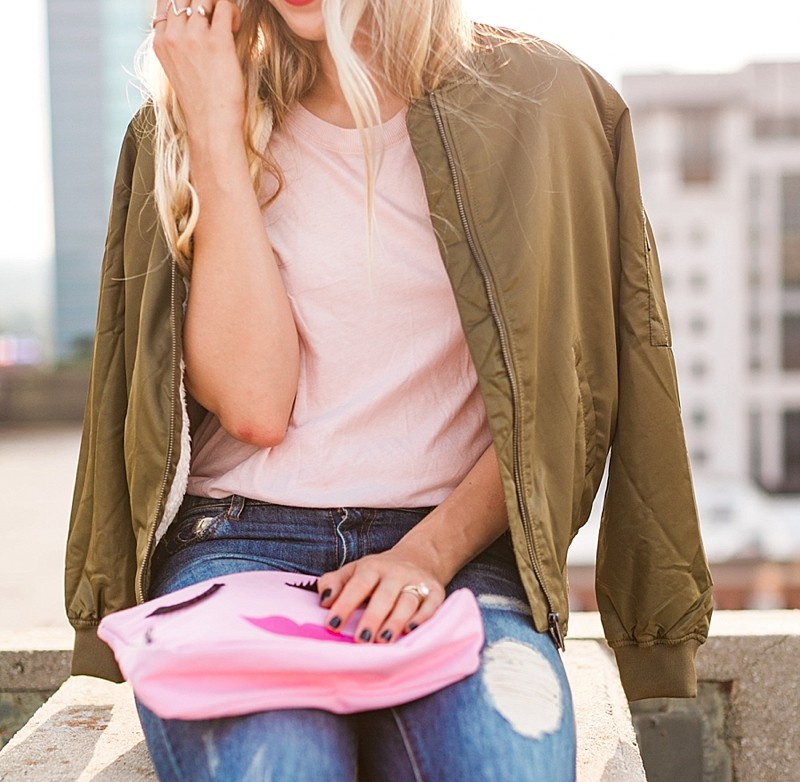 WHAT TO LOOK FOR IN A BOMBER JACKET
Before we dive into some style tips let's first talk about what to look for in a bomber jacket! There are so many options out there for you to choose from (which is amazing!). This can also make finding the perfect jacket for you a little confusing.
The most common bomber jacket is a simple silhouette in a neutral hue such as a hunter green, grey, or black. These jackets are a classic wardrobe piece that will never go out of style! I am wearing a hunter green jacket in today's post and this is a more classic take on the bomber. I highly recommend this jacket if you want to get the most bang for your buck and wear this coat season after season!
More edgy versions of the bomber jacket still come in the classic silhouette we all know and love but the texture or color is more trendy. Blush pink is a popular color this season, or bombers that come in or a silk textile are the perfect feminine touch! This style of jacket may not last you for decades, but will definitely last you for a few seasons!
The most edgy bomber jackets I've seen (and love!) are the bombers coming in both a unique material and pattern. Bomber jackets with floral embroidery or covered in a satin print are the trendiest jackets on the market. These jackets take a classic coat and add a chic twist. Of the three bomber jacket options listed this is definitely the edgiest, and may only last you one season. But, if this is your style, I say go for it babe! Rock that embroidered jacket!
Now that we've briefly covered the different bomber jacket options it's time to give my top 3 tips for styling them!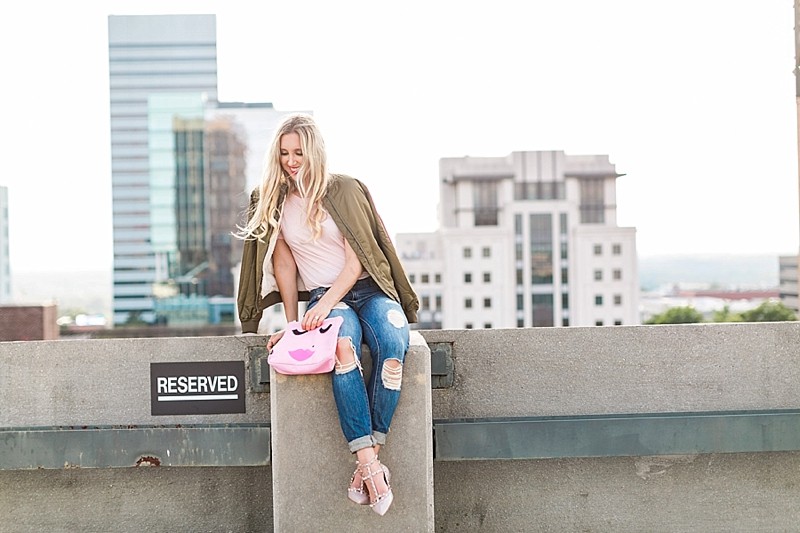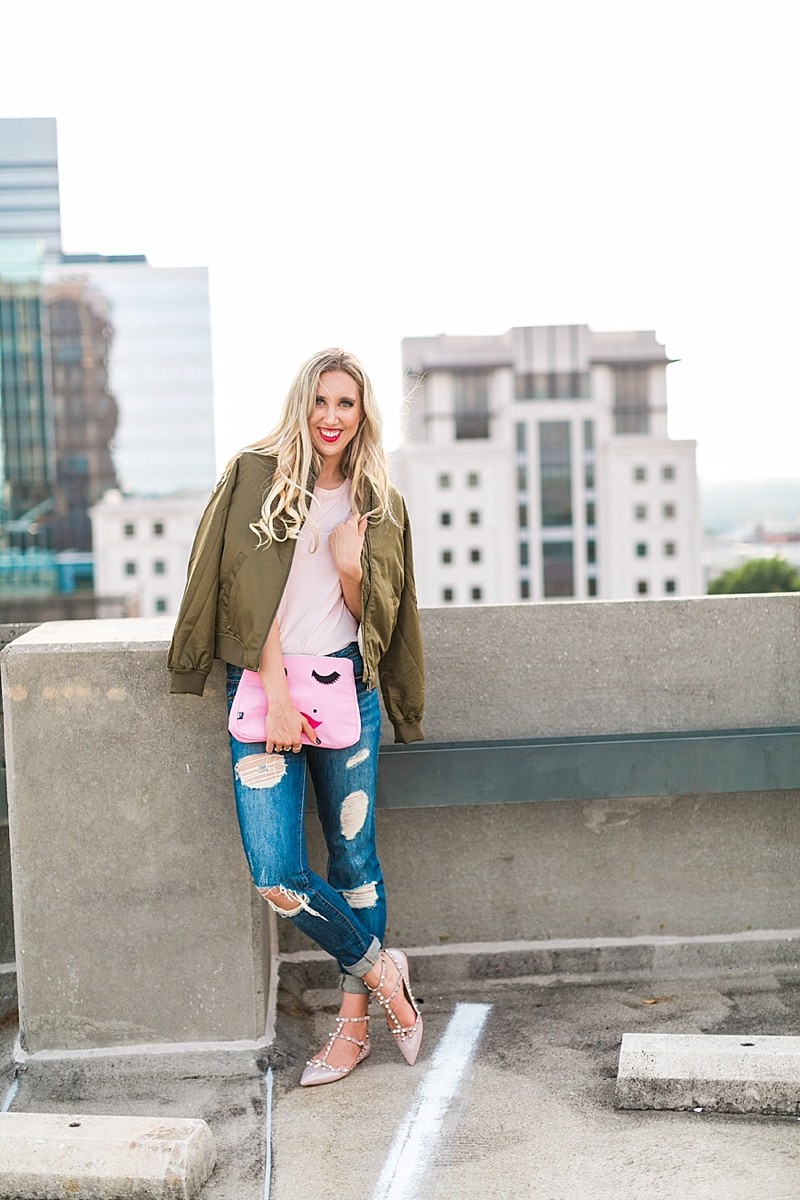 OVER THE SHOULDERS
Instead of actually wearing the jacket (I mean, who does that;) ) simply sling the jacket over your shoulder for an ultra chic look! When you wear your bomber this way I highly recommend carrying a clutch and not a purse. The reason for this is because your shoulders are going to be holding up your jacket and wearing a purse over your bomber jacket would be extremely challenging!
For an ultra, ultra chic look keep your hair tucked into the jacket and have a few loose strands hanging out. When you style the bomber jacket like this you are SLAYYING the style game like a #GirlBoss.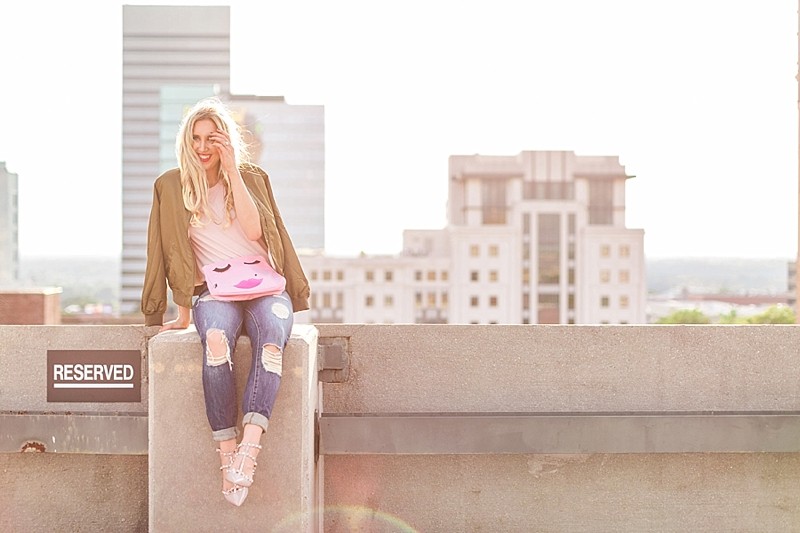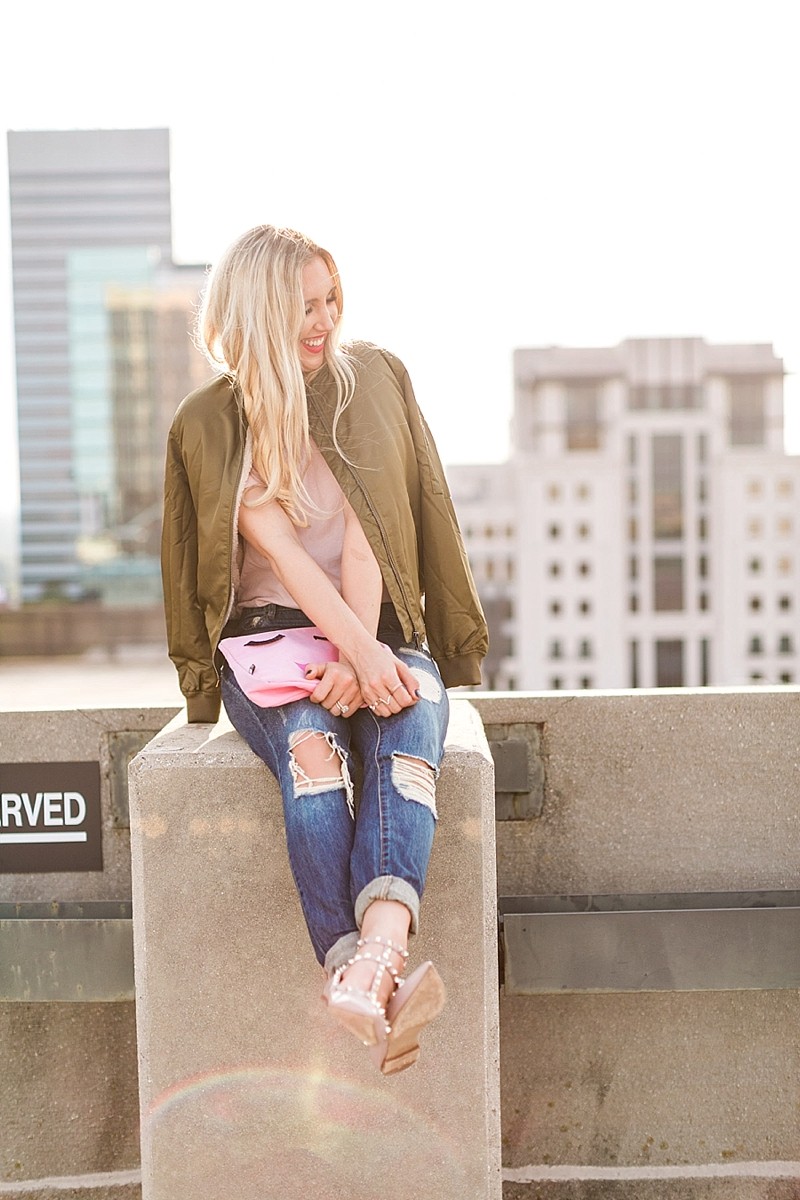 ADD A FEMININE PIECE TO YOUR LOOK
Bomber jackets are a more structured piece due to their silhouette and because they remind people of the military (hence, the name!). To soften up this jacket add a feminine piece or two to your outfit. The juxtaposition of edgy mixed with feminine is styling perfection and any fashionista's dream outfit! Plus, mixing these two style elements together also instantly makes your outfit more chic.
In today's look I incorporated blush tones in my shoes, clutch, and shoes to soften the edginess of the bomber jacket. My clutch is also ultra feminine.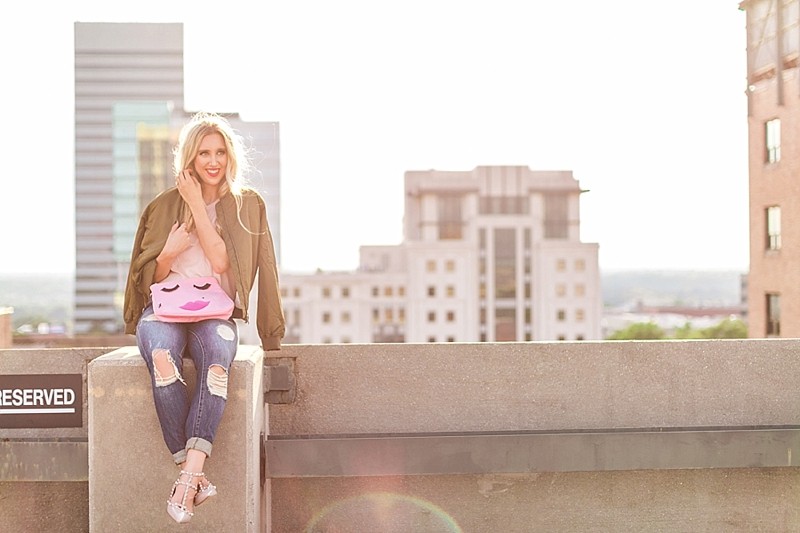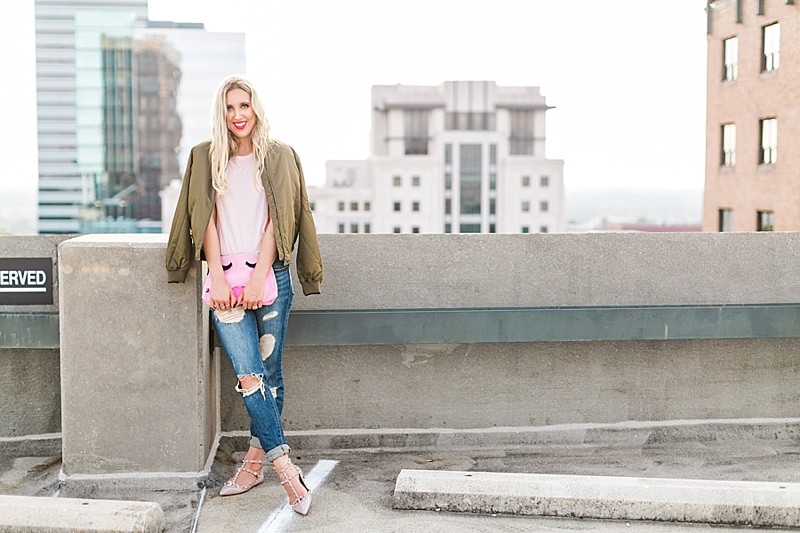 ADD A CHOKER
Choker necklaces are also having a major moment, so why not let these two trends shine together? There reason why  bomber jackets and the choker necklaces are a perfect combination is because both trends have simple silhouettes and aren't overly styled. They compliment one another perfectly. I love adding a black ribbon or embellished choker to my bomber jacket for perfectly styled look!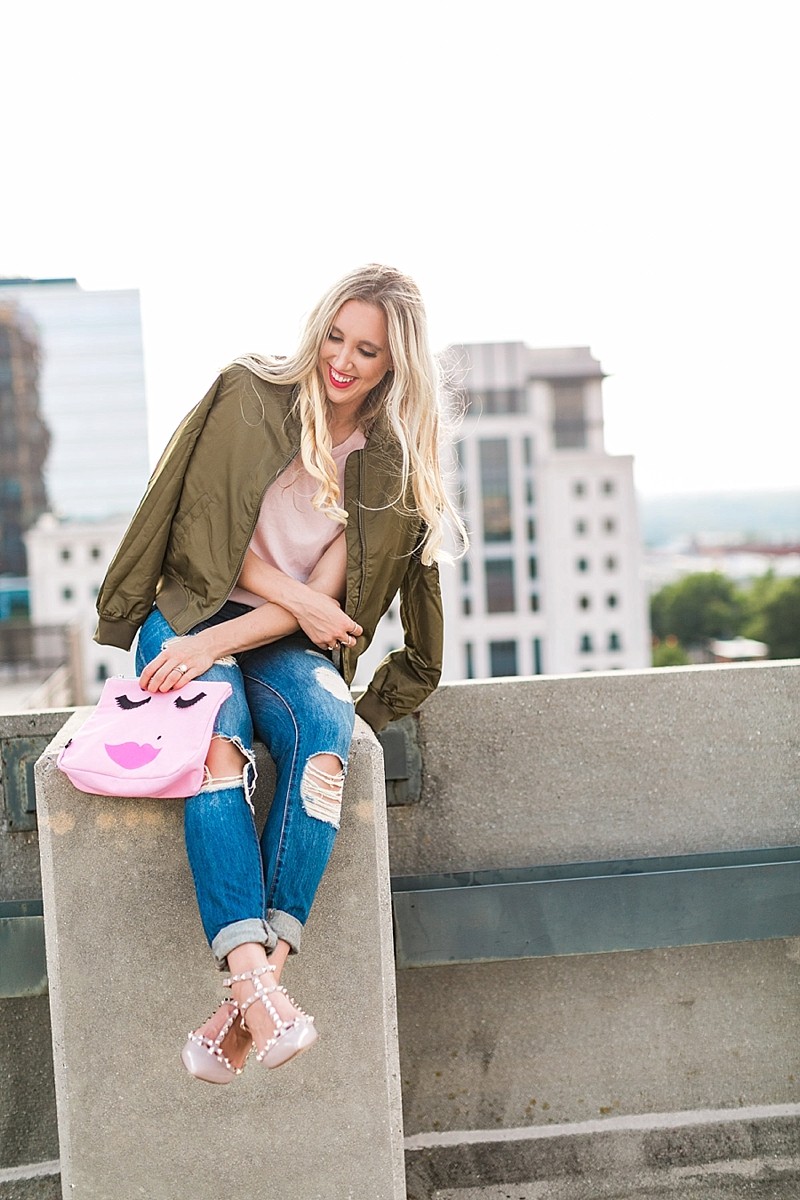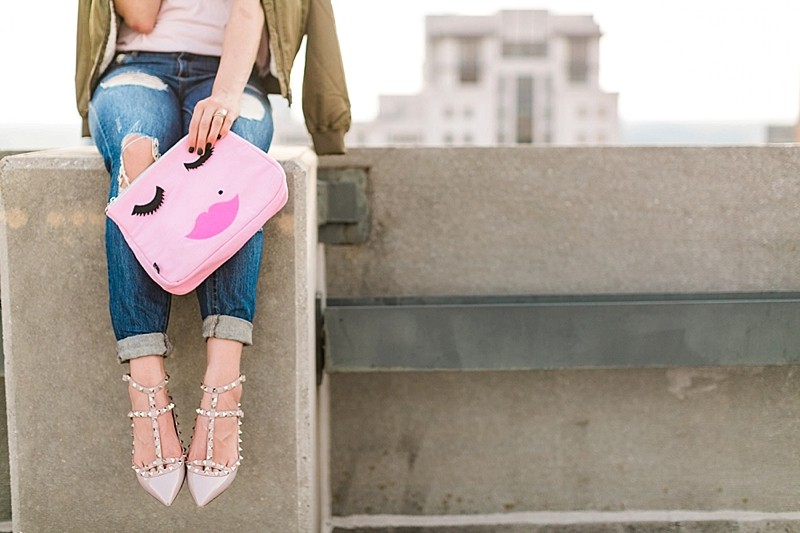 PERFECT FOR MONOCHROMATIC OUTFITS
The bomber jacket is the perfect layer for monochromatic looks! For example, if you are wearing all black, incorporating a bomber jacket adds structure, trendiness, and depth to any outfit. Especially if you use a few of the style tips talked about above and add a choker and simply style the bomber around your shoulder. Babe, you are rocking this trend like a #GirlBoss!
What did you think of today's blog post?! I would love to talk with you gorgeous Blush Babes in the comments below! You can also follow me along on Instagram, Pinterest, Facebook, and now Snapchat (@blushandcamo) for daily style inspo!
Thank you so much for stopping by Blush & Camo!
xx Julianna