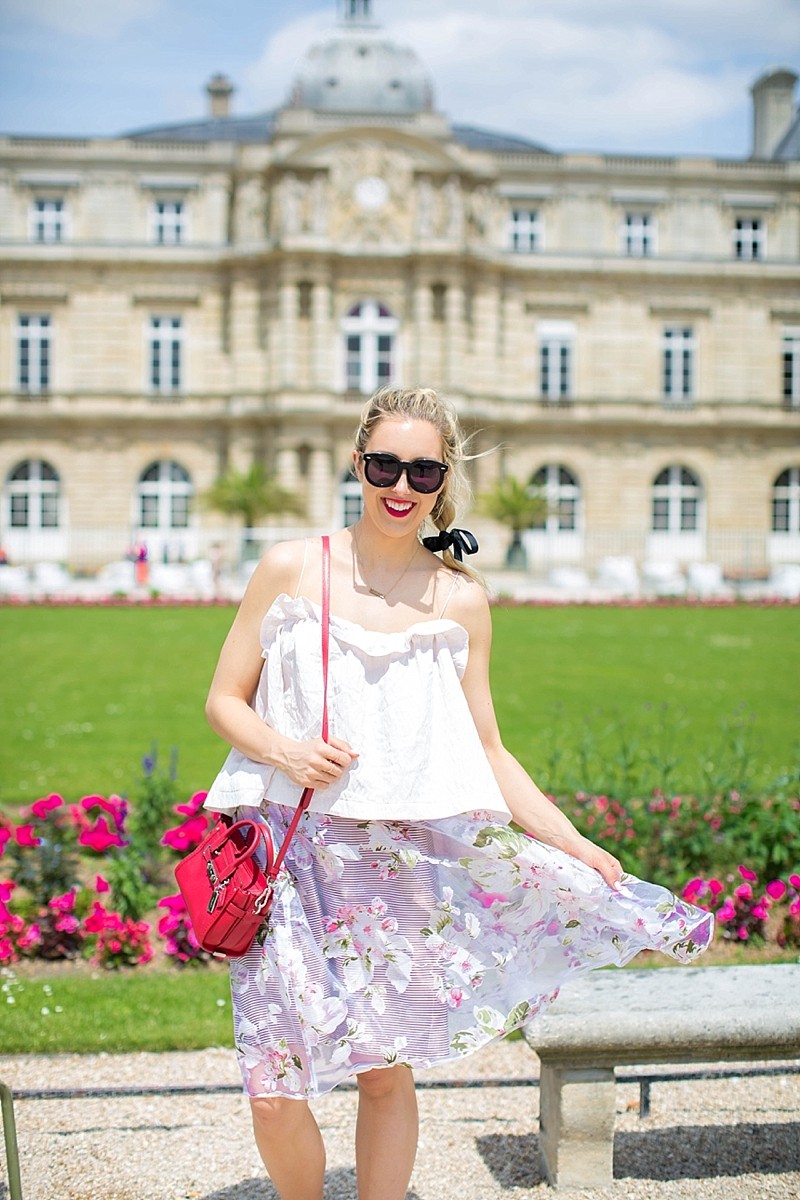 Hello Gorgeous! After a two week hiatus from blogging I am finally back and SO happy about it:). I missed interacting with you gorgeous ladies more than you know, and it feels great to be posting again! Thank you so much for all the kind comments both on the blog and social media about our wedding and honeymoon in France (it means SO much to the both of us!).
Chuck and I fly back from our honeymoon tomorrow and while I will miss all the quality time with my husband (aghhh it still feels weird to say that!) I will be happy to be back home and blogging again!
During our honeymoon we spent four days in Paris to visit all the sites such as the Effiel Tower and Luxemburg Gardens! Over this four day span my inner fashion blogger came out and I couldn't help but people watch- especially looking for trends in women's fashion!
What were all the women wearing? What were common fashion trends each woman seemed to wear? Would these trends be the same throughout all of Paris or were their certain areas of the city where certain trends would be more popular than others?
Chuck and I would sit at a café for a few hours (it's a French pastime!) and drink our espresso's as I looked for fashion trends.
After four days I found these 5 trends seem to be the most popular I could find among the women in Paris and I'm sharing them with you gorgeous Blush Babes!
Keep reading to find out 5 ways you can instantly look more Parisian (and it will cost you nothing!)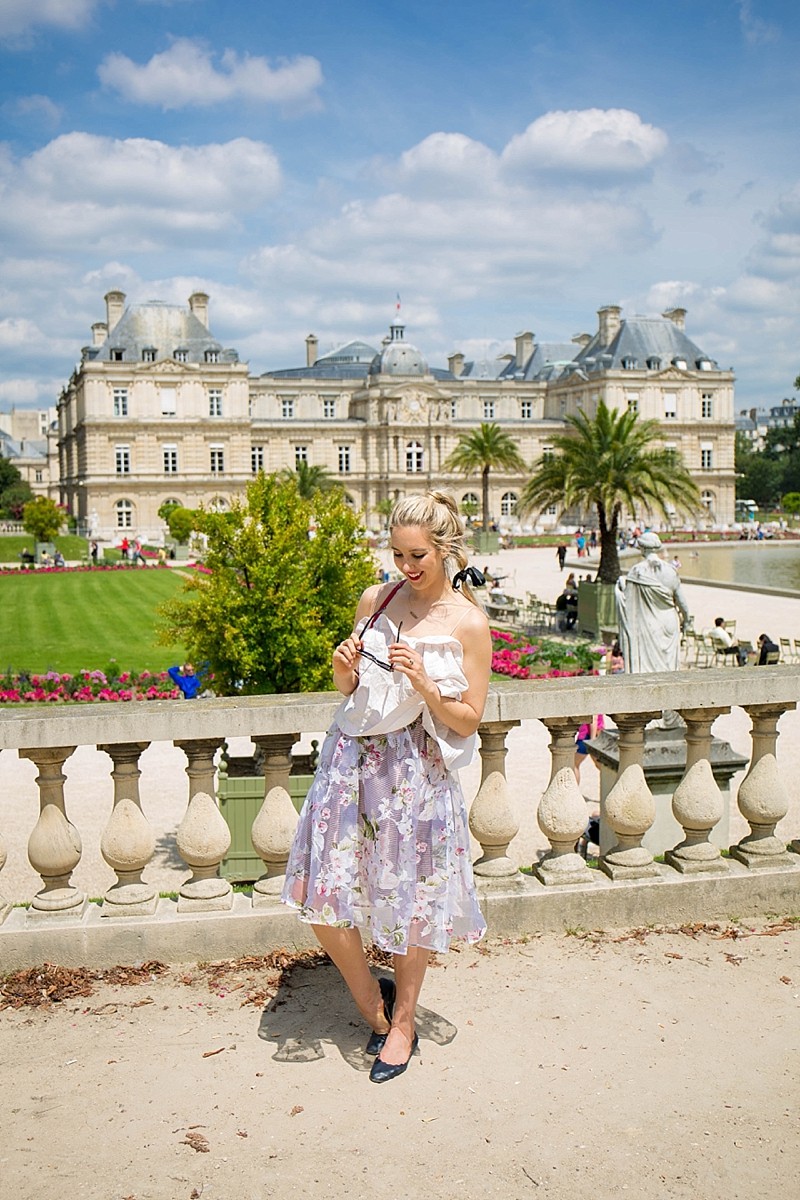 1.) ROCK THE NO MAKEUP MAKEUP TREND
The women in Paris (and throughout the parts of southern France Chuck and I visited) did not wear makeup and if they did it was very subtle. There was no contouring, baking, or Kylie Cosmetics lipcolors worn.
The no makeup makeup trend was ever prevalent throughout Paris and to be honest I LOVED it! The reason why I loved it was because these women looked so radiant and confident going about their day not worried about if their makeup was applied perfectly or if it smugged.
The women looked natural, fresh faced, and like total #girlbosses as they went about their day in the city. Lipstick was also not a huge makeup statement and if lipstick was worn it was a bright red lip. No pinks, corals, or lip glosses. Just a matte red lip (my favorite!).
I started out the trip packing/wearing all my makeup, but by the end of our two week honeymoon I too found myself adopting to the no makeup makeup trend!
My assessment of the Parisian way of wearing makeup is I felt more confident with the "less is more" mantra and Chuck (who rarely comments on my beauty regimene) started commenting on how amazing my "no makeup" makeup looked and how much he liked it! Needless to say Parisian women are onto something with this makeup trend and I have permanently adopted this way of applying makeup everyday!
I seriously can't get enough! To add a little Parisian flare to your outfit try this makeup trend (if you haven't already!) and to see if you like as much as Parisian women do! Or, if this truly isn't your style try rocking a bold red lip:).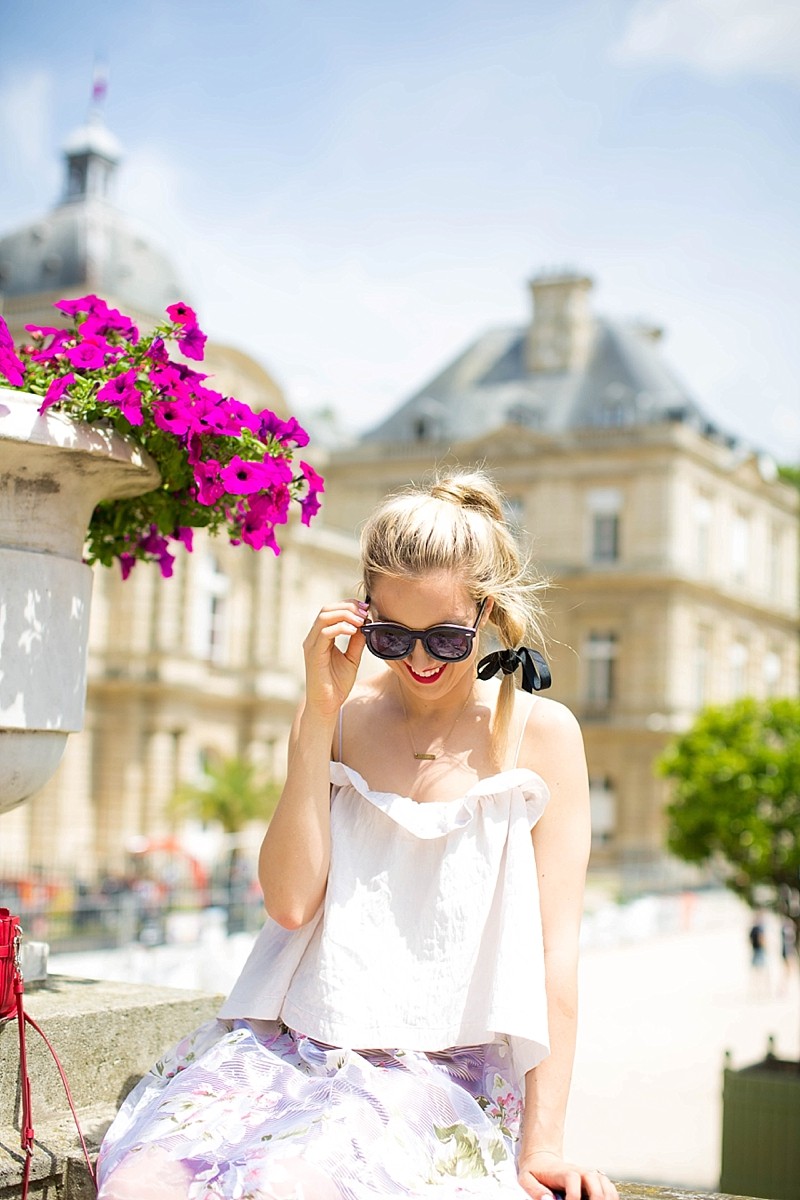 2.)OPT FOR YOUR NATURAL HAIR TEXTURE
In the U.S the coveted hairstyle are the perfect beachy waves that look effortless (except they totally aren't effortless to achieve!). I thought for sure this trend would carry over to Paris! They are after all, what I would consider, the New York City of Europe.
I was so very wrong.
Parisian women opt to have their hair maintain it's natural texture, and however their hair is, that's simply the way it is. There were a few times when I saw women who clearly took the time to straighten their hair (and it looked amazing!), but when I looked for curls or beachy waves it simply was not a trend in Paris.
There was something so very confident, and almost intimidating, about the way Parisian women not only rocked little to no makeup, but also accepted their natural hair texture the way it was. Looking at them walking around in the city they weren't trying to be effortlessly chic, they WERE (in every sense of the word) effortlessly chic!
If you want to look a bit more Parisian try having your hair air dry rocking a hairstyle with your natural texture, or if you're not feeling your your natural texture (I totally understand!) opt for straightening your hair instead of beachy waves!
BONUS PARISIAN TIP: Parisian women know how to do, and rock, a topknot like no one's business. I loved looking at all the variations of buns they wore. As always, they looked so effortlessly chic!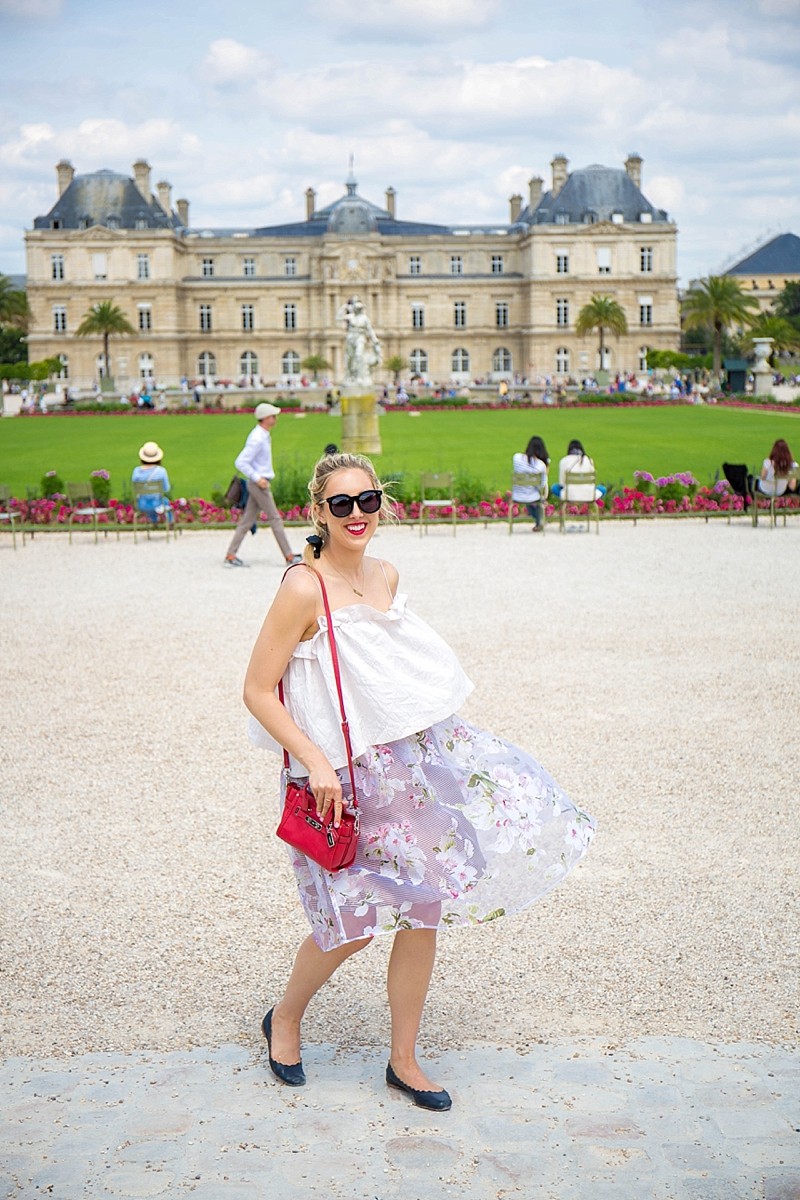 3.) TRADE YOUR HEELS FOR FLATS
I talked about this trend with Chuck for awhile to see if I maybe this was just Paris, but this is also a trend throughout the south of France as well!
Parisian women do not wear heels, and if they do they are kitten heels. Throughout the entire city I saw women rocking the prettiest ballet flats in neutral hues such as black, blush, and nude. This shoe was the most popular among Parisian women walking around in the city and since I too also wear flats on the reg (including my wedding day!). I felt very Parisian walking around in my favorite Chloe and Chanel flats.
Parisian women wore their flats with everything to include dresses, skirts, pants, shorts, and culottes!
Another popular shoe trend you can totally adapt to look more Parisian is wearing THIS Adidas tennis shoe. Again, if Parisian women weren't wearing flats, chances are, they were wearing Adidas tennis shoes. No clothing item was off limits to what they would pair with this shoe!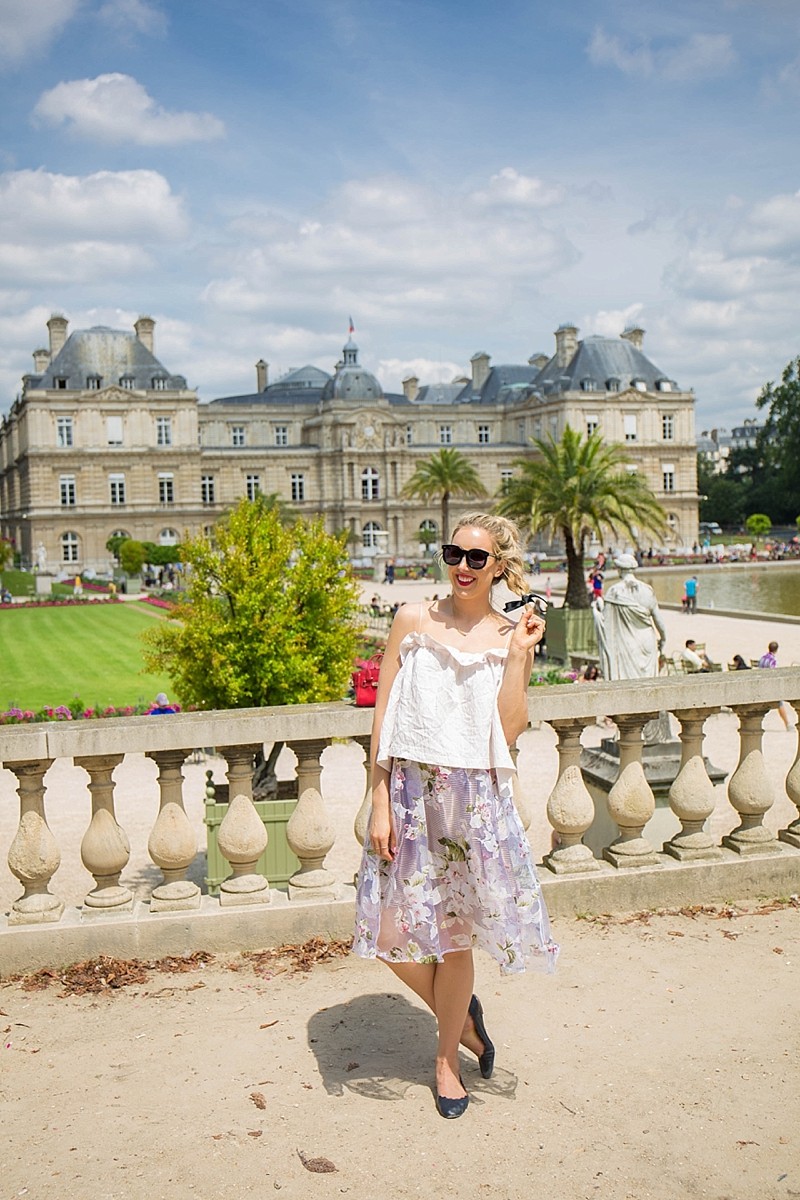 4.) DRESSES BEFORE PANTS
One of my favorite aspects of Parisian style was how most of the women wore dresses or skirts. Whether they were going to work, out enjoying themselves at a café, or hanging out with friends' flowy midi skirts were largely the trend!
I can totally understand why! These skirts/dresses are insanely comfortable, feminine, and look amazing with ballet flats or Adidas tennis shoes!
The next time you want to look instantly more Parisian opt for a flowy midi skirt/dress before heading out! (Yes! It's really that simple!)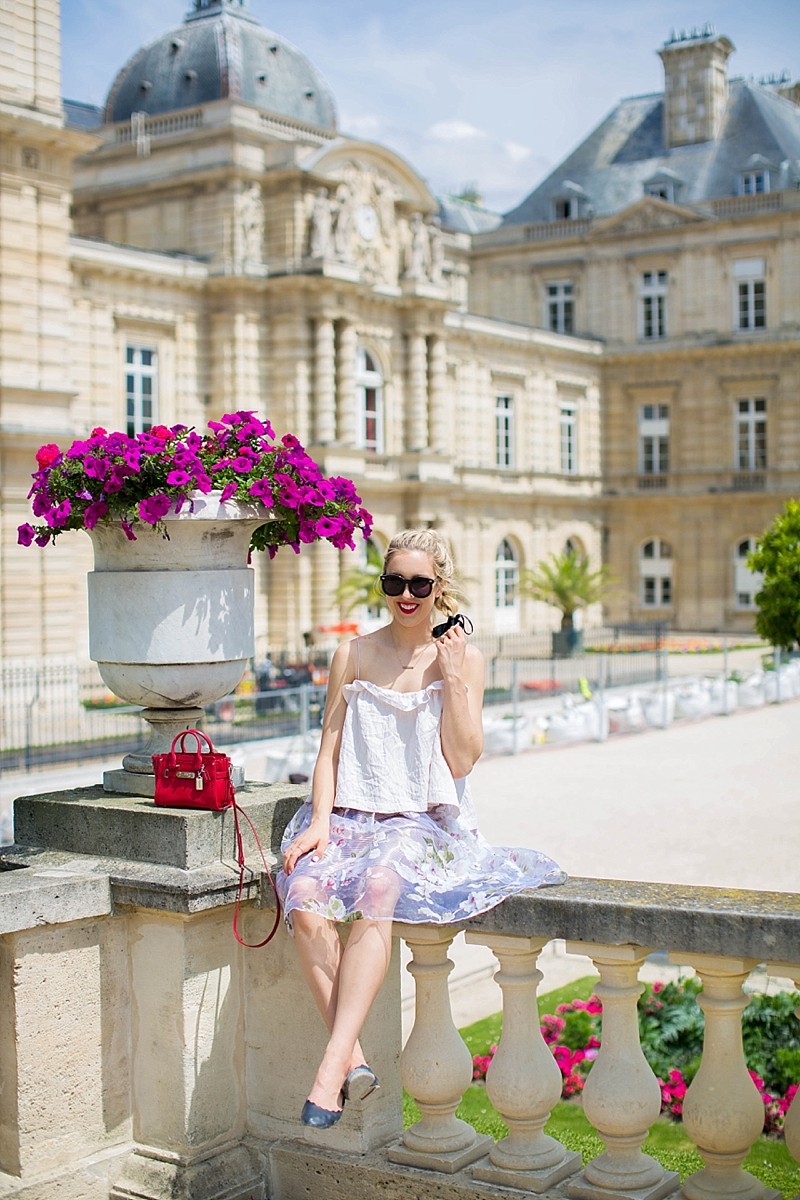 5.) ROUNDED SUNGLASSES
The last big trend I noticed while in Paris, and one that will instantly make you look more Parisian, are the sunglasses women in Paris wore. In the United States women love to wear oversized sunglasses with a mixture of frame shapes.
In Paris the commonly (almost exclusilvely) worn sunglasses were medium in size and rounded. These are my favorites you can shop!

Although there were so many trends Parisian women wore while in Paris these are the 5 big trends I couldn't help by notice!
What did you think of today's post?! Would you want to add some Parisian flare into your everyday style?! Send me a message below and I would love to talk with you:)!
Follow me along on Instagram, Pinterest, and Facebook for daily style inspo and if you loved this post don't forget to share with your friends:). Both your friends, and myself, will thank you!
Thank you SO much for stopping by Blush & Camo!
xx Julianna
SHOP MY LOOK
Top- Emma Knudsen  use code "BLUSH15" for 15% of your entire purchase!
Skirt- Morning Lavender
Shoes- Chloe
Bag- Coach 
Sunglasses- Karen Walker