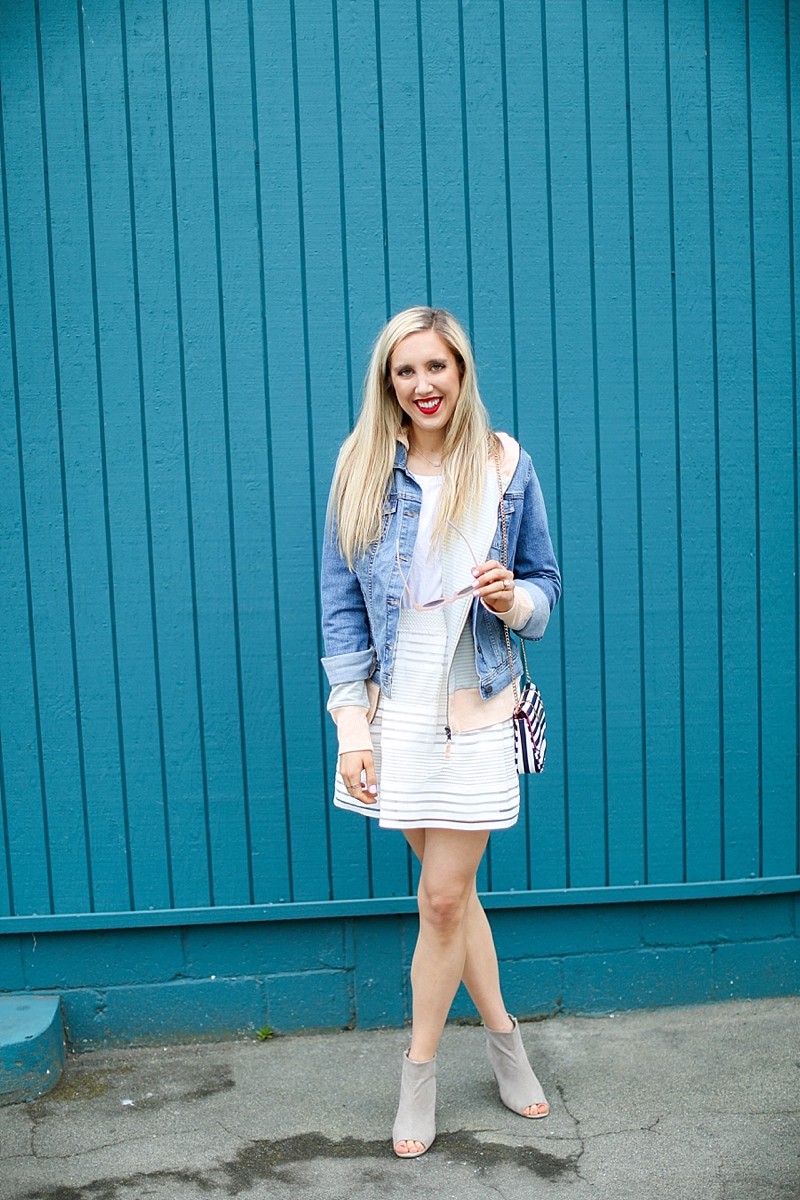 Hello Gorgeous! I have partnered with Evy's Tree to share the launch of their new hoodie the Lizzy. I celebration of this new launch I'm sharing style 4 tips guaranteed to make your outfit edgiest way you'll ever style a hoodie!
Let's get styling!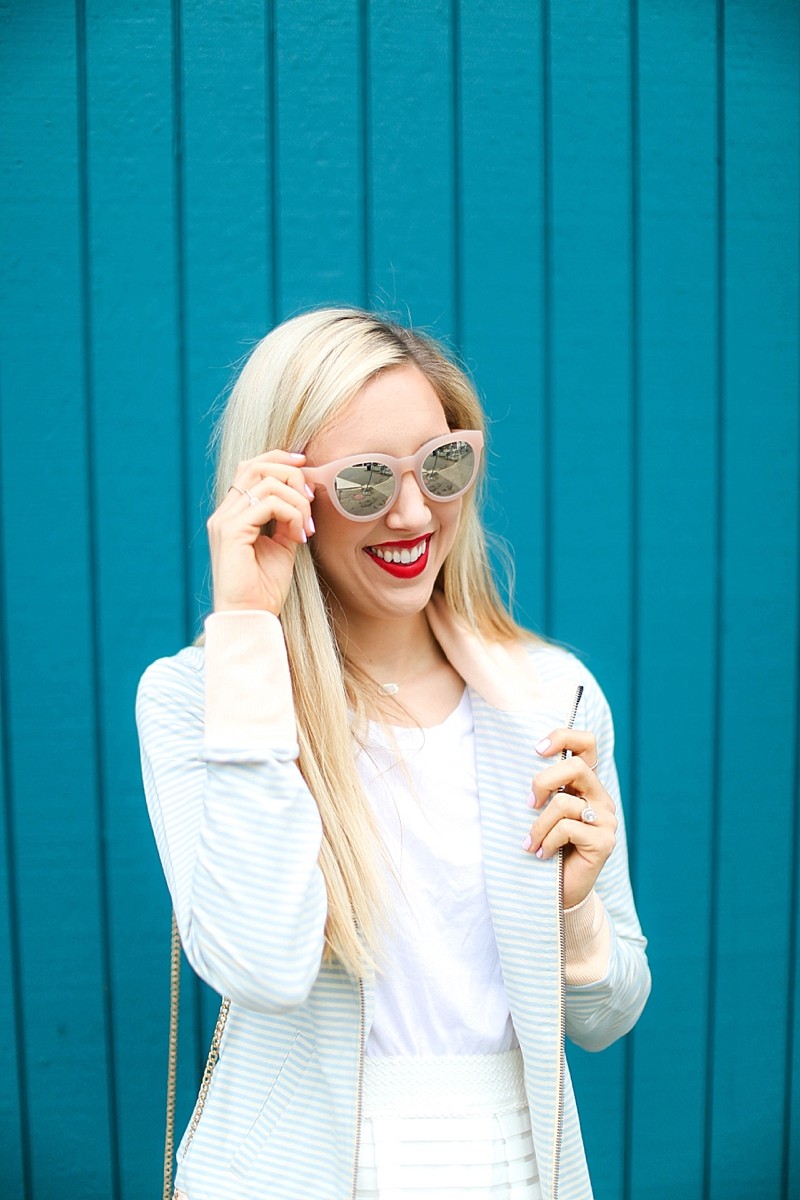 USE WHITE HUES AS YOUR BASE
To begin styling this look start with using white hues as your base. White hues allow you to incorporate many layers, patterns, and colors without overwhelming your outfit. Plus, white is super feminine and fresh for spring!
Examples of how to incorporate a white base include:
A white dress, romper, or jumpsuit
Shorts with a plain t-shirt
White denim with a plain t-shirt
A skirt with a plain t-shirt (as I did in today's post!)
These are some basic examples, but help to give you a little style inspo:).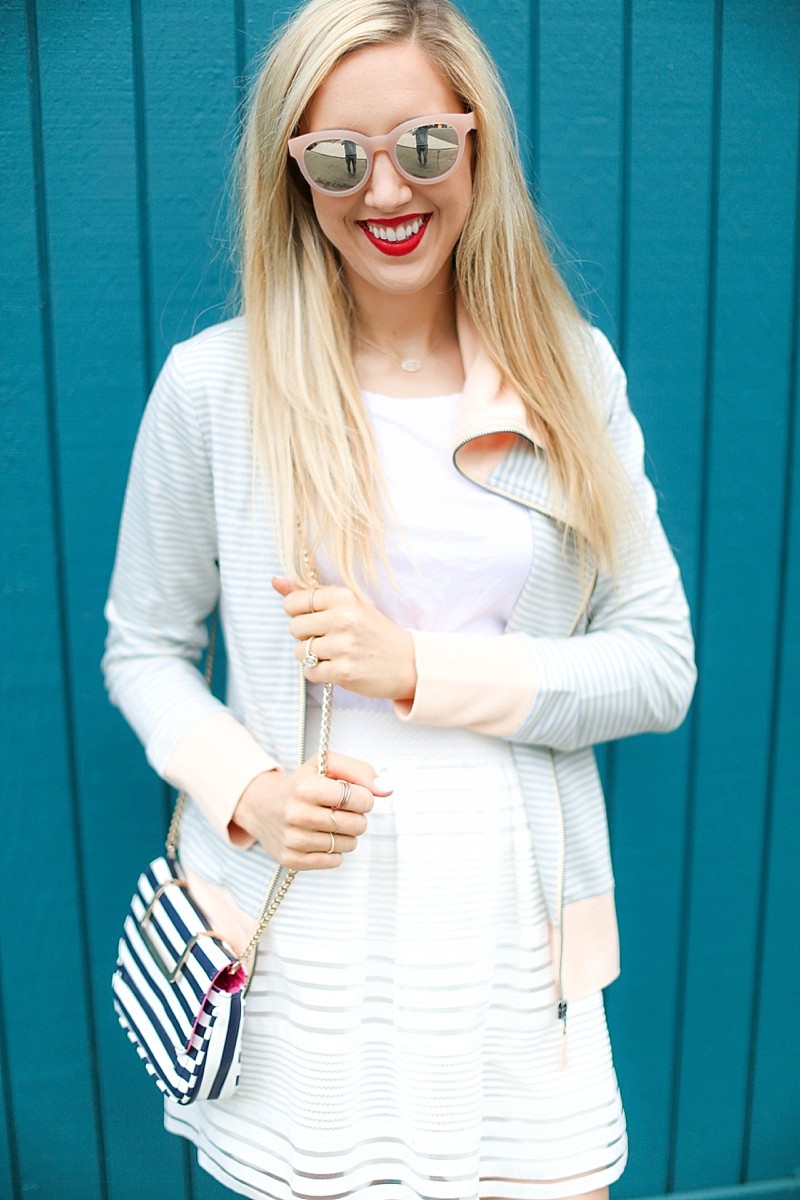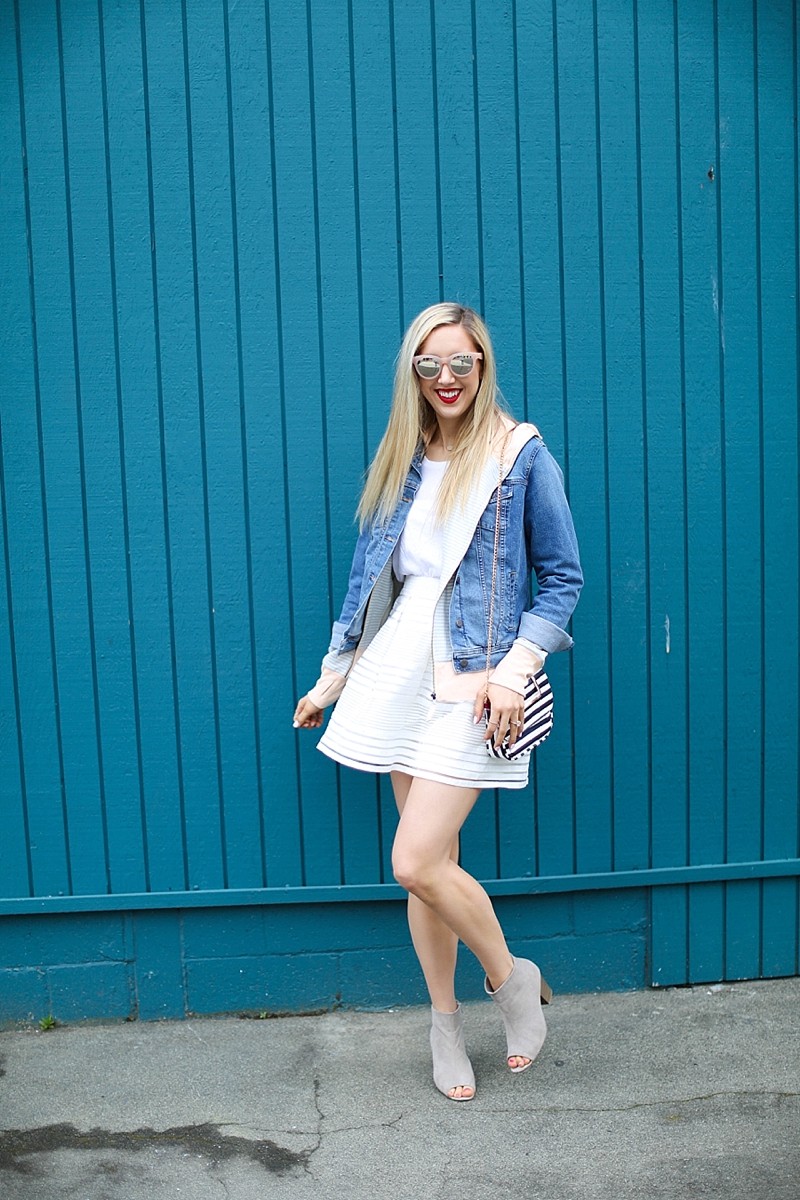 ADD A PAIR OF BOOTIES
The next style tip is to incorporate a pair of booties to match the feminine vibe of your look. There are two reasons why you want to use this style tip! Booties incorporate a heel (like a fancier pair of pumps) but are more casual- like the hoodie you're wearing! Adding booties elevates the feminine vibe of your overall look.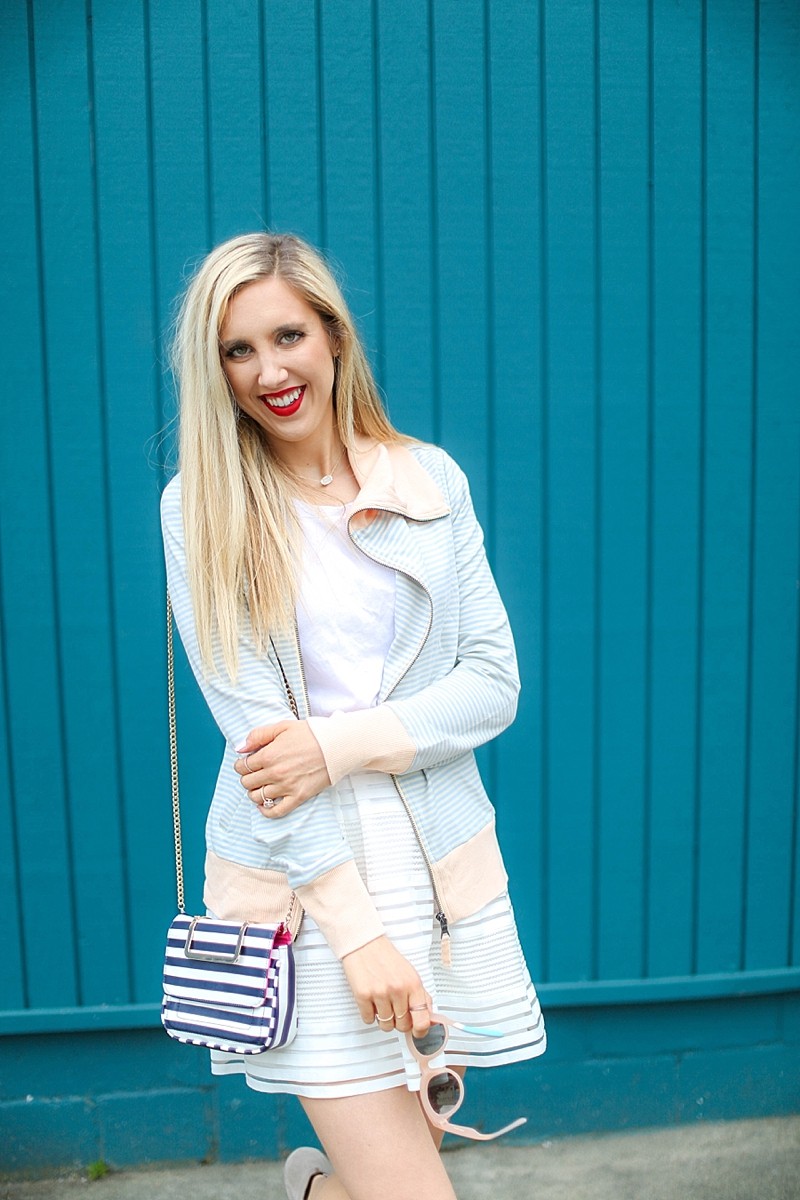 INCORPORATE YOUR HOODIE
Now that we've styled the bottom portion of the look it's time to start focusing on the top half! In this step incorporate your hoodie. Yes, this step is really that simple.
You don't need a specific fit or type of hoodie for this look. Any hoodie will work perfectly. However, if you do have the option of choosing your hoodie opt for a sweatshirt with a pattern on it. Since stripes are my weekend spirit animal I opted for Evy's Tree new Lizzy hoodie! I love the subtle stripe pattern because it helps to break up the solid hues throughout the outfit and the colors are still so feminine.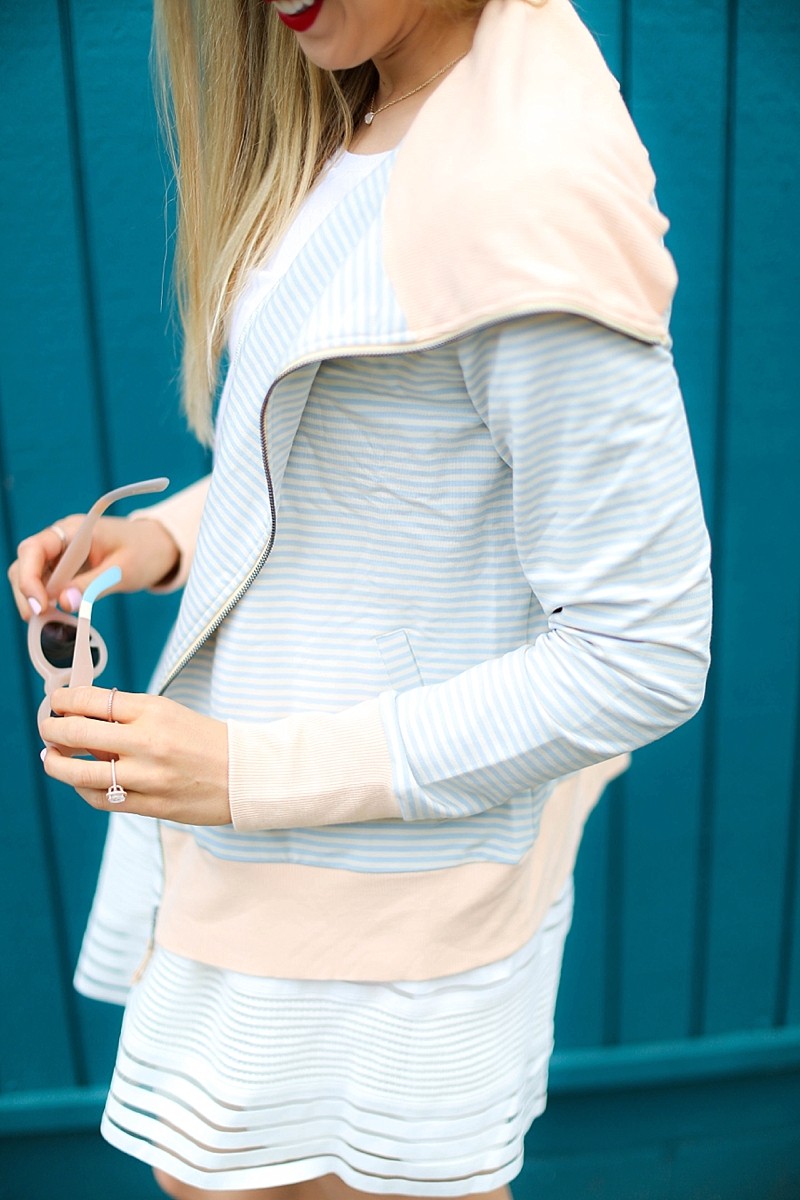 LAYER WITH A JEAN JACKET
Incorporate major spring vibes and layer your outfit with a jean jacket! Not only will this jacket add a chic layering element to your outfit, but this jacket will lock in some extra heat on those chiller spring days!
Make sure you pull your hood out of the jacket and let it hang naturally over the collar. This looks totally effortless and gives off It Girl vibes. I promise:).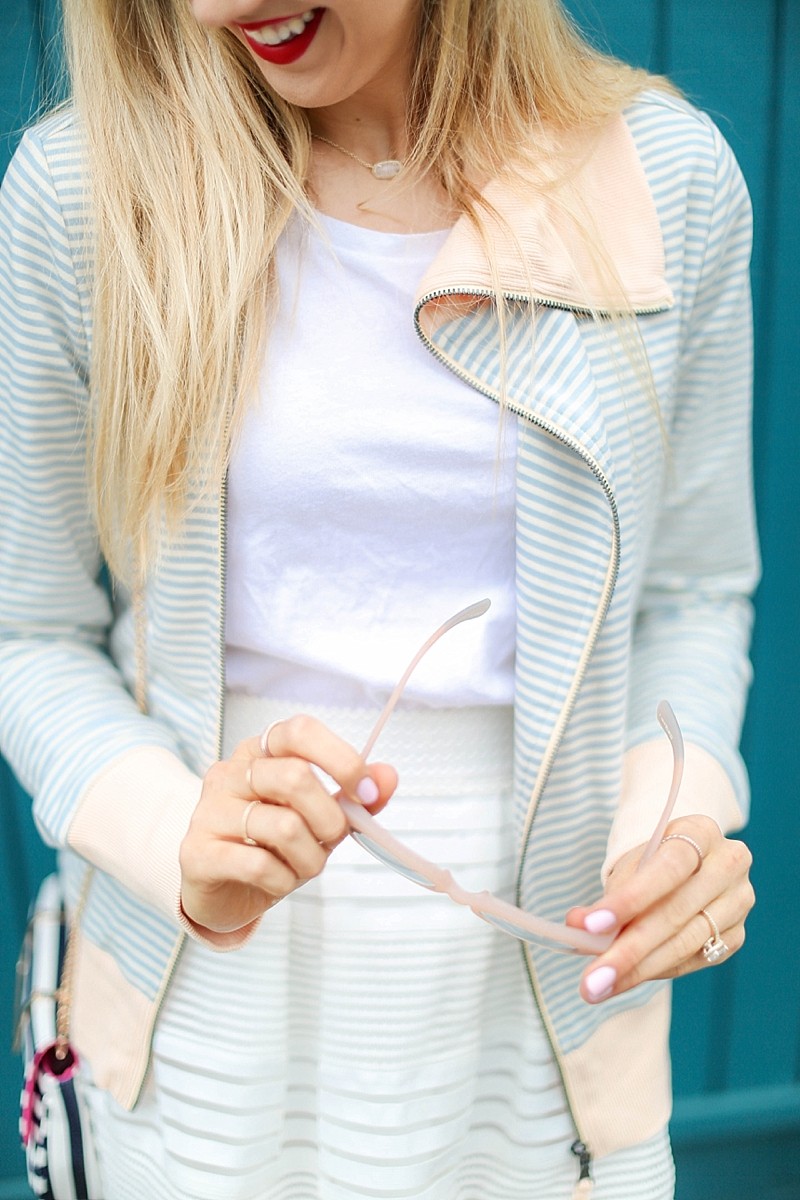 In this look you'll notice I mixed baby blue with a light orange. Mixing opposite colors together is both sophisticated and chic. Since both these colors are in soft pastels this ensures the look remains feminine!
If you're looking for other hoodie options from Evy's Tree I highly recommend the Harmony, Nicole in serenity, and the Bryony in cotton candy to use for this look. Not only are their hoodies beyond comfortable they are super stylish. What more could a Blush Babe want?!
What did you think of today's style tips?! Would you use any of these tips to style an edgy, comfy look? I would love to hear from you in the comments below!
Thank you SO much for stopping by Blush & Camo!
xx Julianna
*Thank you so much to Evy's Tree for sponsoring this post!
Denim Jacket for Women
Pleated Bandage Skater Skirt
Perfect Crew-Neck Tee
Sueded Ankle Peep-Toe Booties for Women