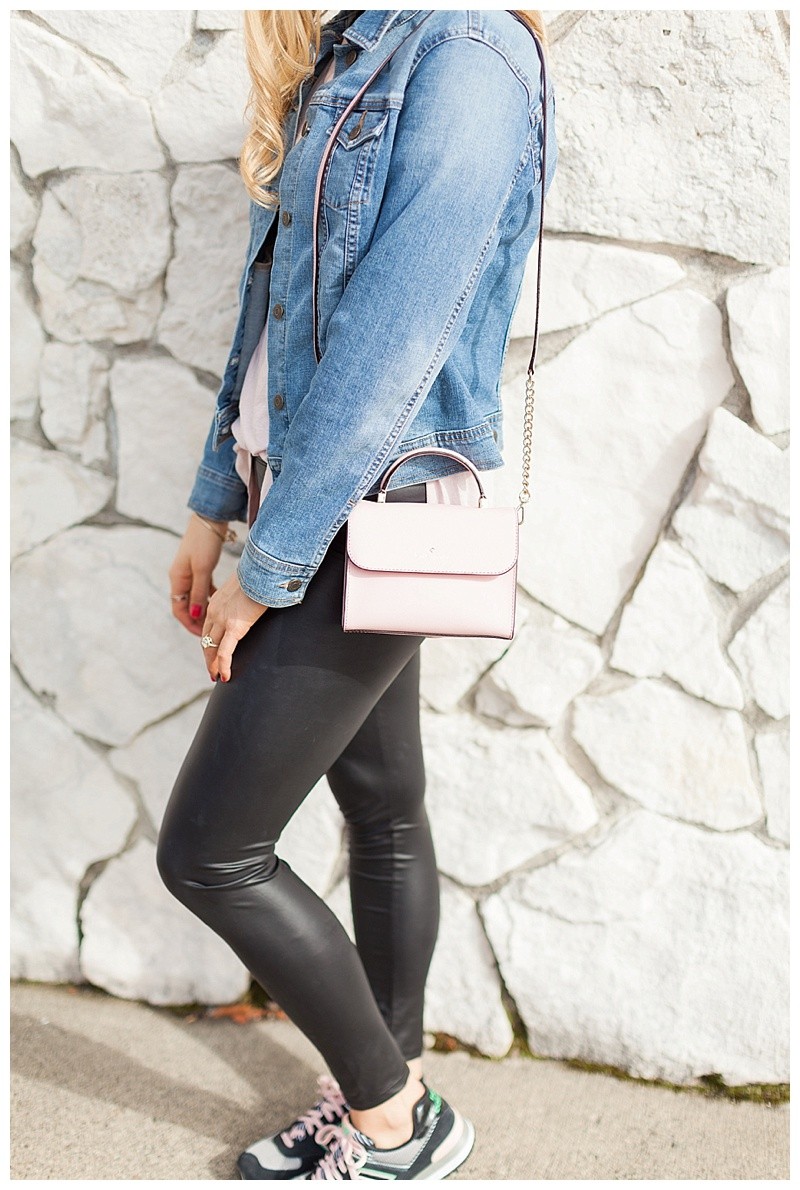 Hello Blush Babes! Today's post is all about how to style faux leather leggings for spring! Some of you may think these bottoms are more of a fall or winter pant, but with the right wardrobe pieces you can easily style faux leather leggings for a chic spring look.
With just four simple style tips you can extended the shelf life of your faux leather leggings (#win!)
Let's get styling!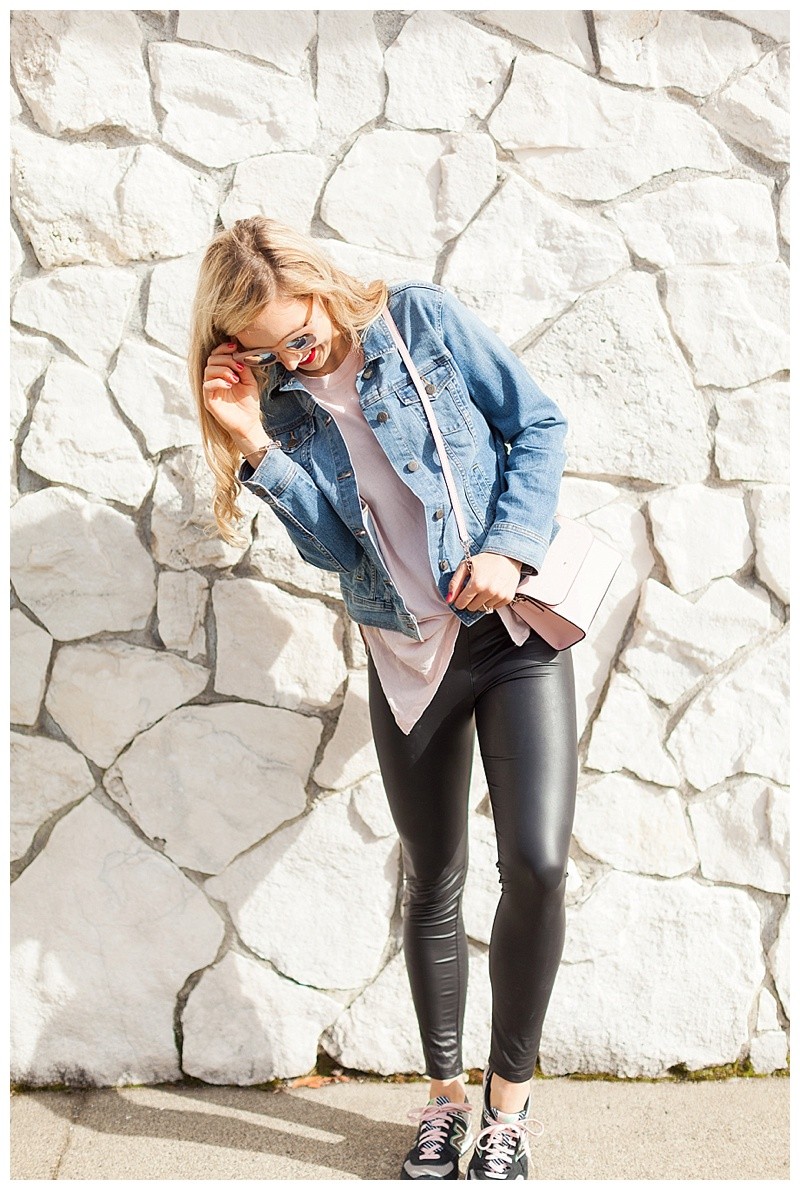 1.) ADDING A PASTEL (OR TWO!)
The first style tip is to incorporate pastel tones into your overall look. The reason you want to do this is because the pastel hue helps to counterbalance the edginess of the faux leather legging and helps to give your outfit a fresh, spring vibe!
I opted for blush pink because my obsession with this hue is SO. REAL. The best way to add pastel colors is by adding a top that incorporates a pastel color (or two!).
Other ways you can subtlety incorporate pastel colors is through your accessories such as your handbag and shoes! My shoes have just a hint of blush pink and my bag is a pretty shade of light pink!
BONUS STYLE TIP: If you aren't a pastel kinda girl (I totally understand!) adding a bright color, or pattern incorporating bright hues would also work perfectly!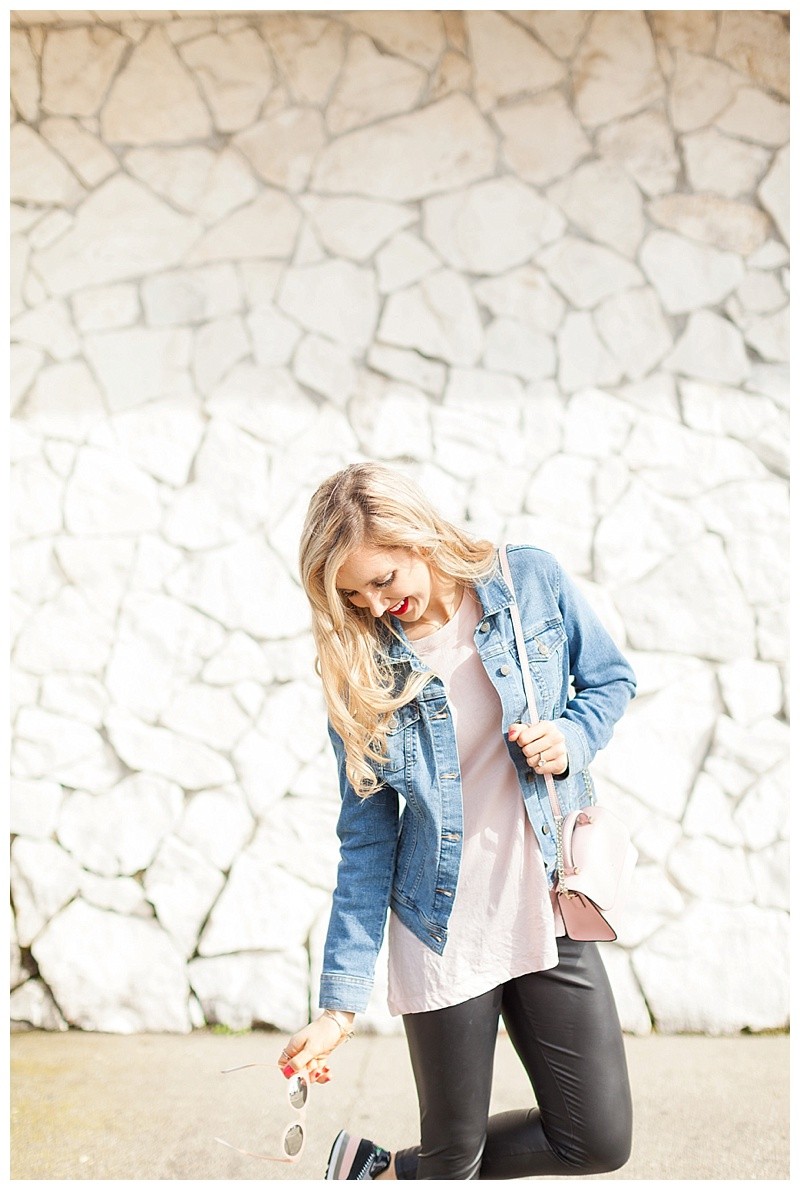 2.) INCORPORATE A SPRING JACKET
Spring is the perfect season to style outfits with light layers due to temperature fluctuations. To really give your outfit that perfect spring feel add a spring jacket (such as a jean jacket or a light colored cardigan). I love these options here and here!
The reason I emphasize a jean jacket is because this layer is specifically for spring. When styling faux leather leggings the rest of your outfit should incorporate spring appropriate pieces to really give your look that perfect spring feel.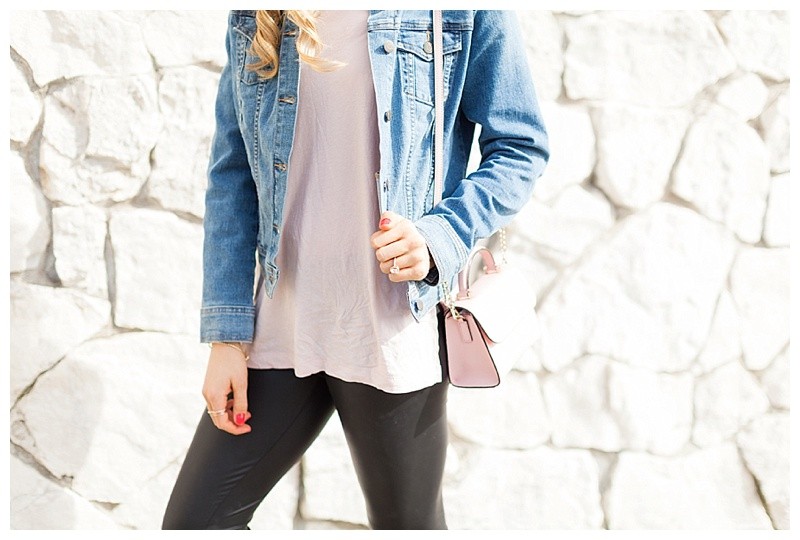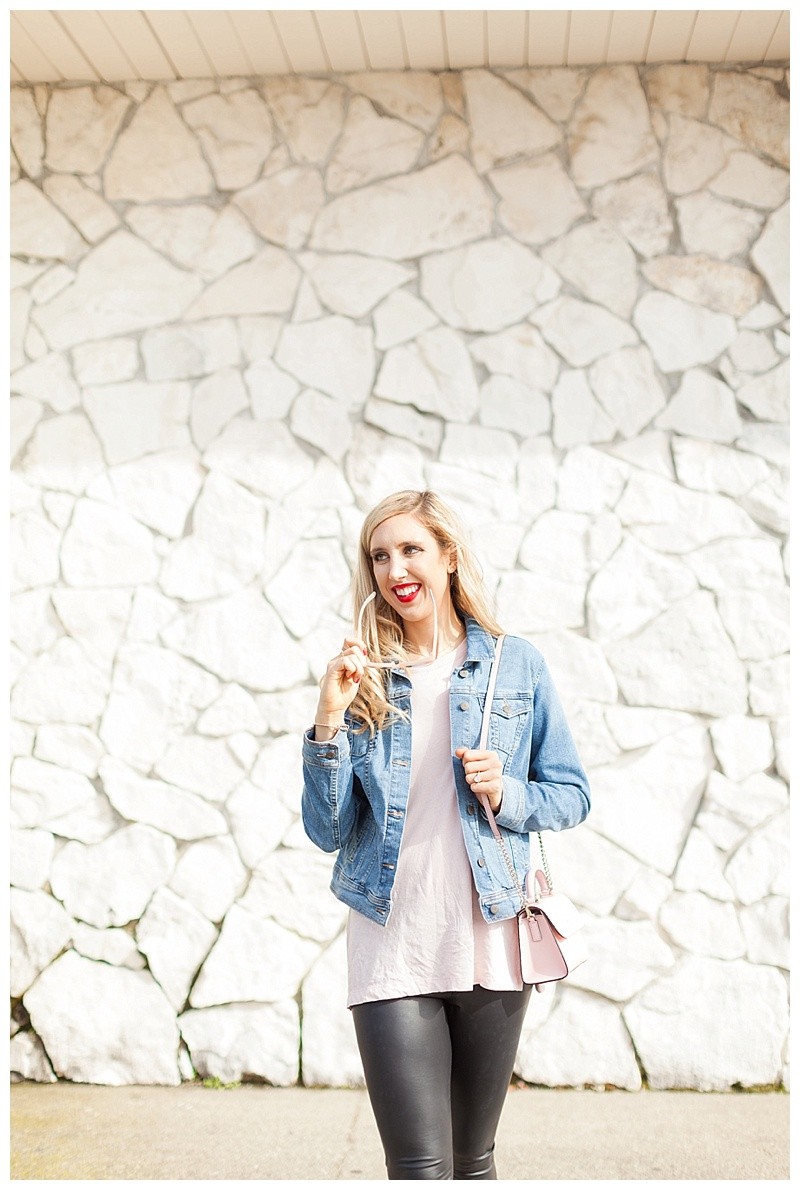 3.) THE SHOES DEFINE THE OUTFIT
The best part about this outfit is you can pair just about any shoe with this look and pull it off! This is the chance to really get creative with your personal style!
Take a moment and think about what type of shoes you would like to pair with this look. I opted for more of an athlesuire look and styled my New Balance tennis shoes with my faux leather leggings. Other shoes that would look amazing are flats, booties, and heels! I love these options here,  here, and here!
What did you think of today's style tips?! Would you use them for a faux leather spring look? I would love to talk with you in the comments below!
Thank you so much for stopping by Blush & Camo!
xx Julianna
SHOP MY LOOK
TOMS 'Florentin' 54mm Retro Sunglasses
Kate Spade New York Cami Cross Body Bag
Hue 'Leatherette Skimmer' Faux Leather Leggings
Women's SONOMA Goods for LifeTM Jean Jacket
574 Suede & Nylon Canvas Sneakers