Plaid is my absolute favorite pattern to wear in the fall. I love that the pattern stays the same, but the mixing and matching of colors creates entirely different shirts! Today I'm going to share with you how to style this classic fall top 4 different ways!
1.) PAIR WITH A SKIRT
This shirt looks so adorable when paired with a skirt. The material of the skirt could range from suede (which is totally trending right now), to tulle (wayyy cute!), to denim. When you pair this top with a skirt it gives the overall look of the outfit a more casual vibe and perfect for fall afternoon errand runs (or date night!).
This is how I styled my plaid top in today's post!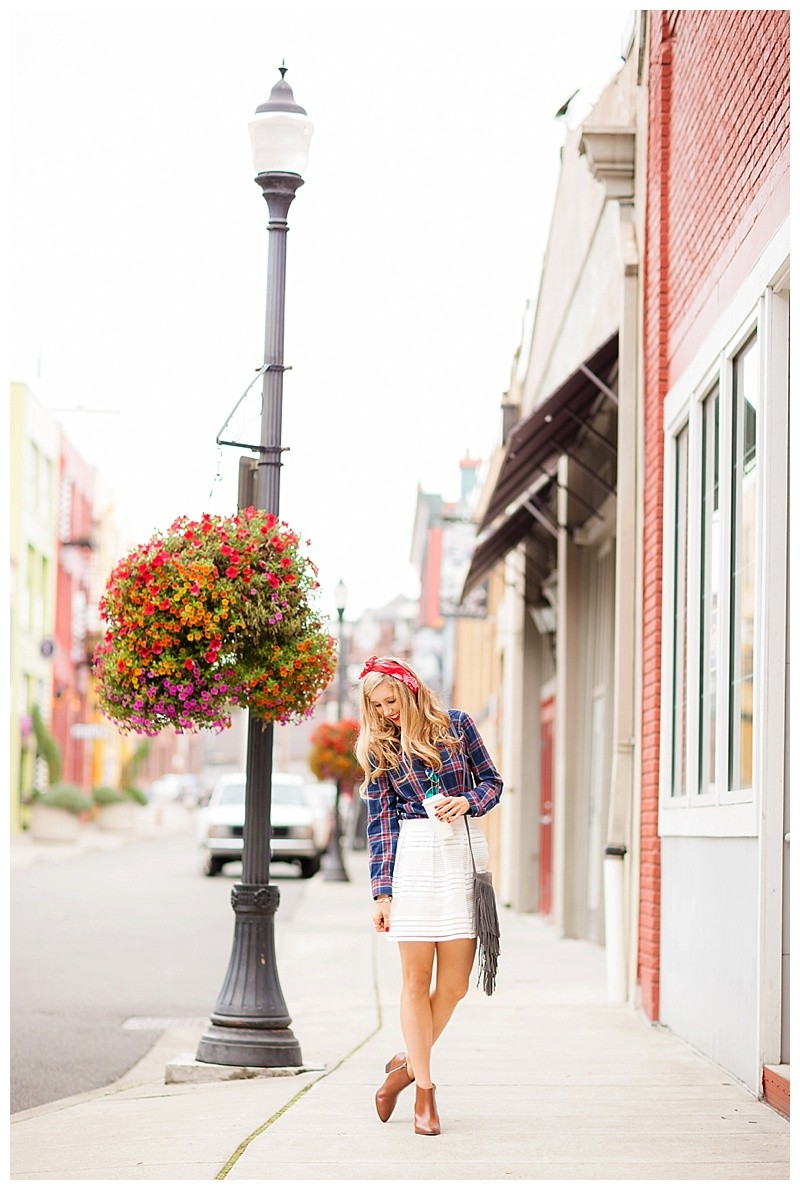 2. PAIR WITH JOGGER PANTS
The jogger pant trend started last fall and is still trending this season. This shirt would be perfect for this tapered pant leg and a pair of converse! You could even add a sparkly bauble necklace for an unexpected twist to this look! You'll look super cute AND be ultra comfortable (win!).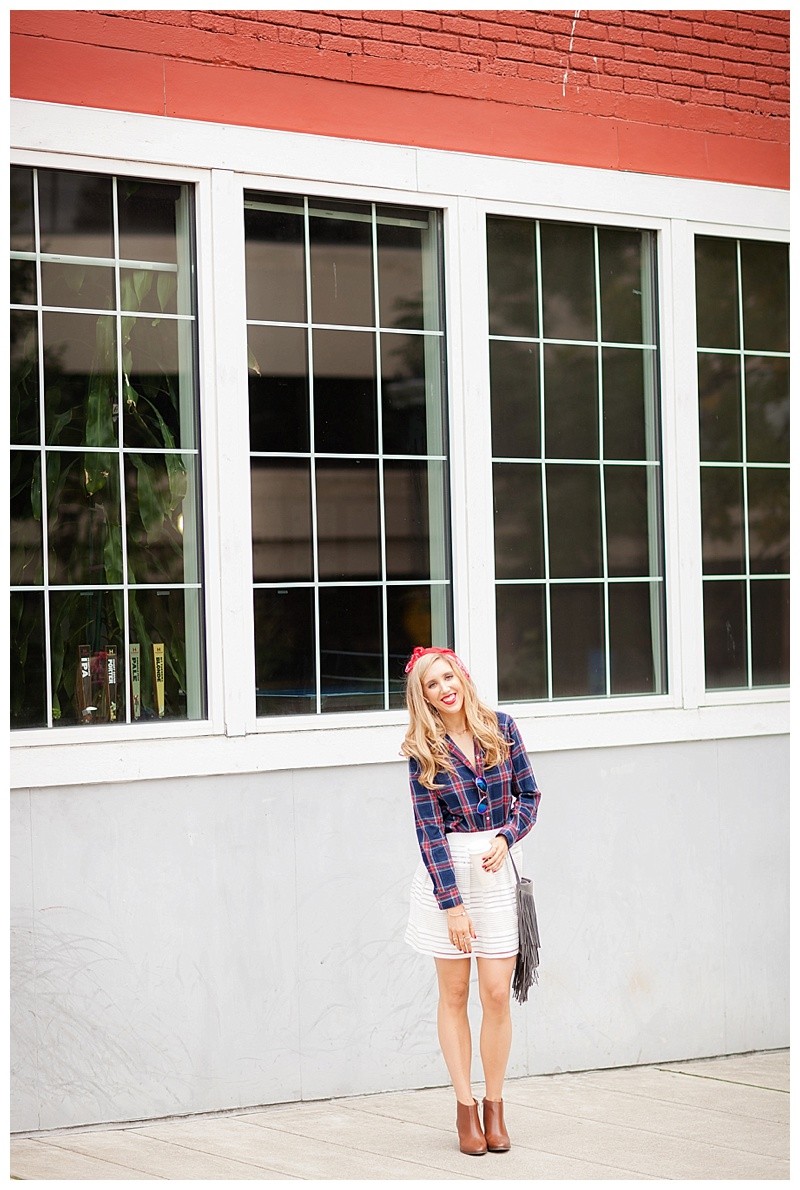 3. STYLE YOUR PLAID TOP WITH FAUX LEATHER LEGGINGS 
Yes, you can even style plaid with faux leather leggings! I recommend adding a motorcycle jacket with a pair of boots to complete this look:).
4.) PAIR WITH DENIM 
I would not be a good fashion blogger if I didn't mention you could style this patterned top with your go-to denim.
Rocking a pair of skinny jeans is the classic go-to jean for this look. Or, you could try out a trend this this season and tuck your plaid shirt into a pair of bell bottom jeans for more of a seventies vibe!
A plaid shirt is basically a neutral! You can style this top with whatever your inner glam goddess decides to! I started out with these four bottoms to hopefully give you some #styleinspo to create your own plaid look:)!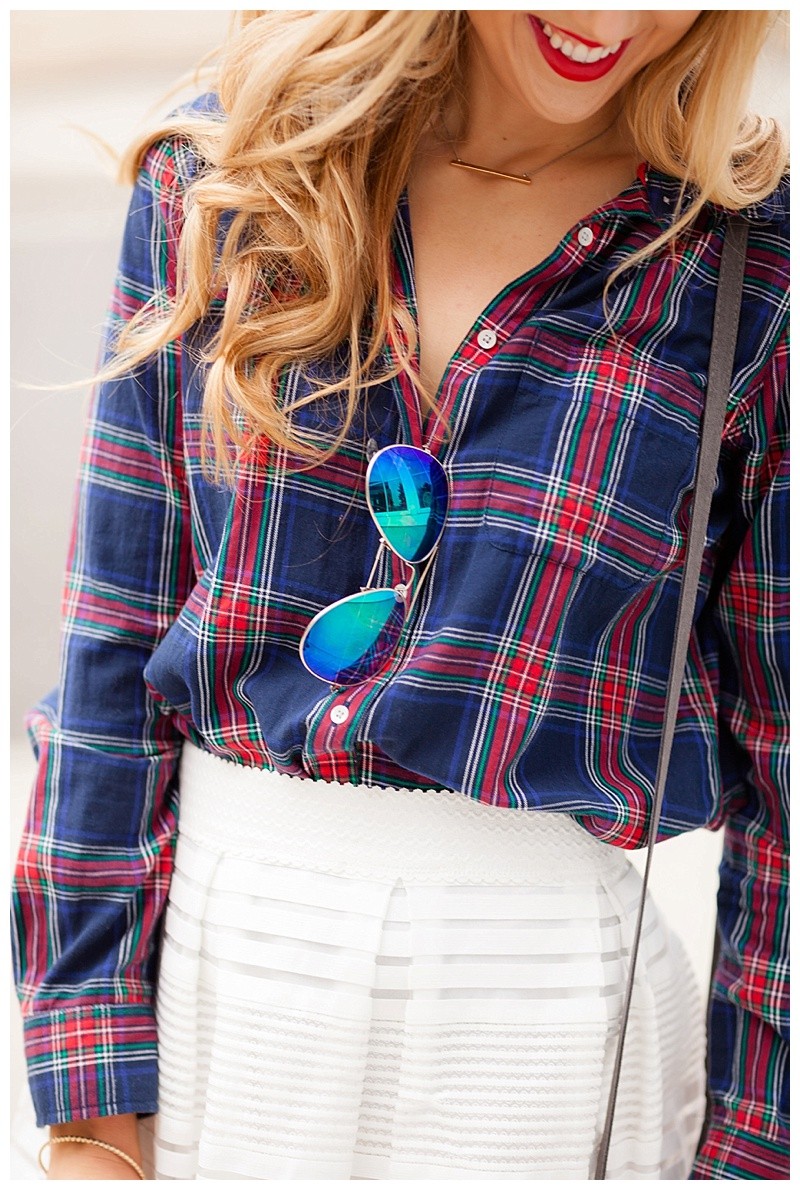 Thank you so much for stopping by Blush & Camo!
Want to be a Blush Babe?! Follow me along on Instagram @julianna_claire, twitter @blushandcamo, or Facebook to join the community of gorgeous Blush & Camo readers!
xx Julianna
Top- Old, but LOVE this one; Skirt- Francesca's; Booties- J. Crew