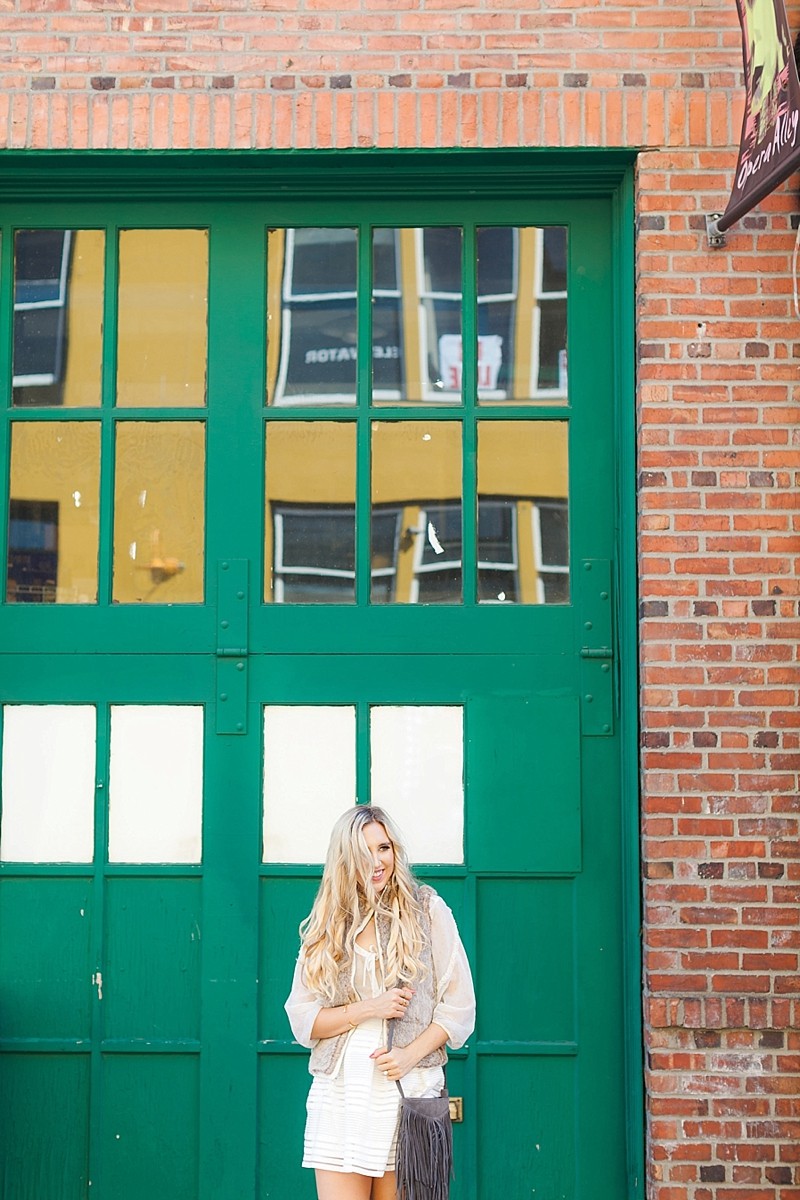 Hello, Gorgeous!
I don't know what it is about the fall season, but it makes me (and Chuck!) want to sleep in and keep pressing the snooze button in the morning. This is problematic for a few reasons:
1.) I have to get to work at a specific time otherwise I'll be late.
2.) The longer I press the snooze button and stay in bed- the grumpier I am when I get out the the warm bed.
3.) I have less time to get ready in the morning!
I can live with the first two issues, but having less time in the morning to get ready is a fashion blogger's nightmare (ladies, whose with me?!). I know us Blush Babes need at least a little time in the morning to get ready. But, if you're like me when the temperatures drop, you may tend to press the snooze button one too many times. Now, you're left with less than 10 minutes to look fabulous and get out the door to work!
What if I told you that you can press snooze all you want and look fabulous in under 10 minutes?! It's true because today's post breaks down the top 4 styling tips for looking AMAZING in a rush!
Let's elevate your style!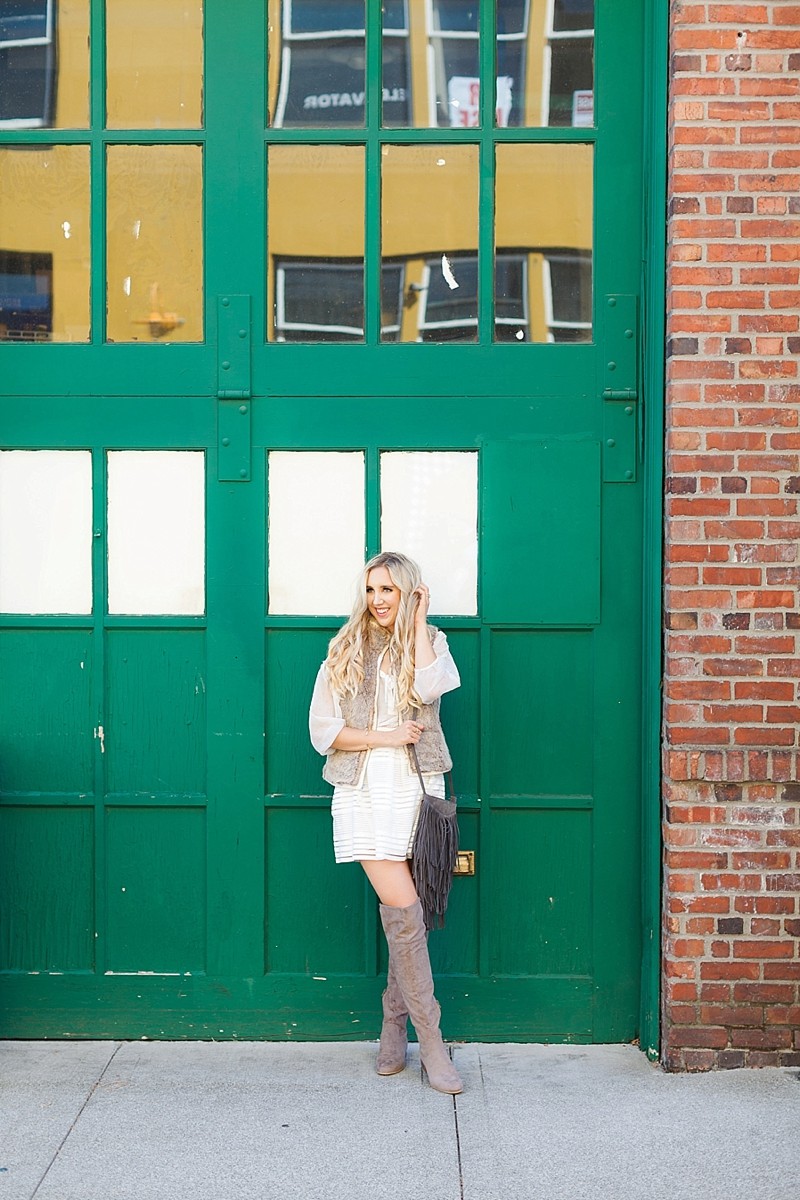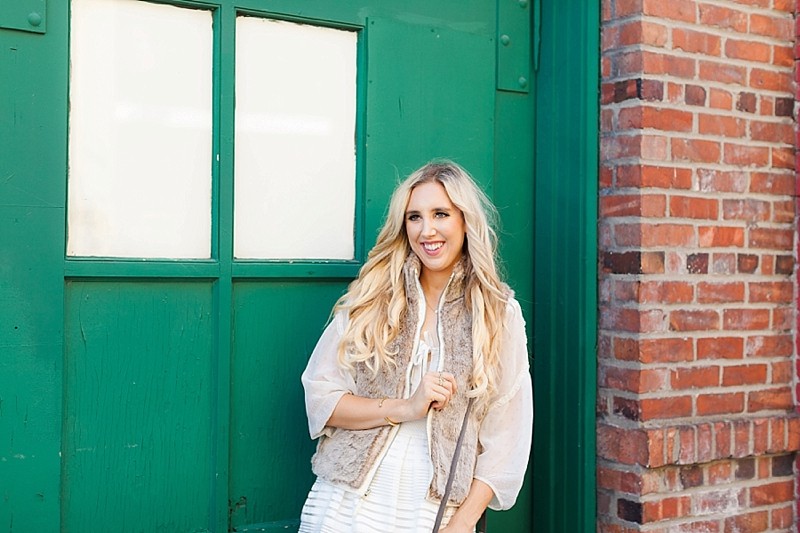 START MONOCHROMATIC
When looking for a chic outfit to throw together in just a few minutes I highly recommend styling a monochromatic outfit. An example outfit could could be: black jeans, booties, and a black sweater or a white midi skirt, a white sweater, and nude flats.
The reason why you want to style this monochromatic look is because wearing all one hue is ultra chic and you don't have to worry about prints or other hues not matching. I also read an article in a magazine where Alexander Wang stated (to my surprise!) that his entire closet is black. Black jeans, shirts, sweaters, etc.
He went on the explain the reason why he did this was so he didn't have to put any thought or waste time/energy in what he was going to wear that day. He knew if is entire closet was one hue then everything would match. Alexander Wang could grab anything and look amazing!
Ladies, if this style tip works for Alexander Wang it will totally work for us! #YASSS
All you need to do is find a hue that is perfect for your personal style and add a few more pieces of that color to your wardrobe (if you haven't already!).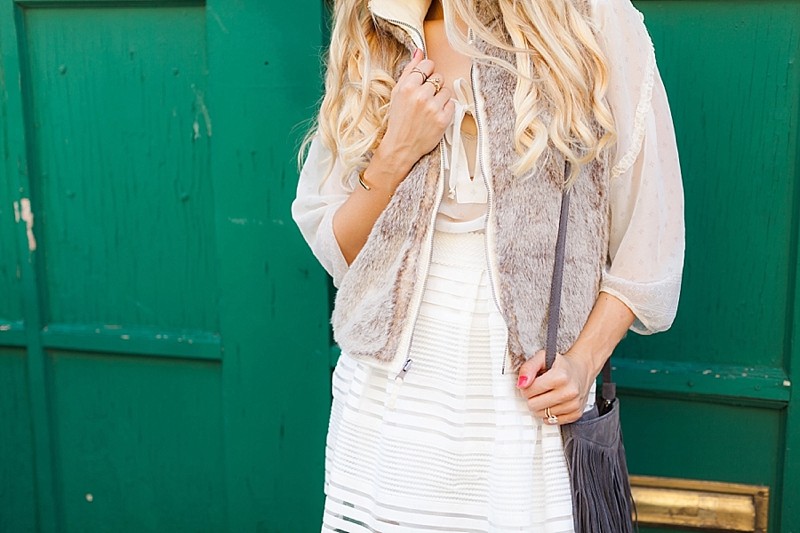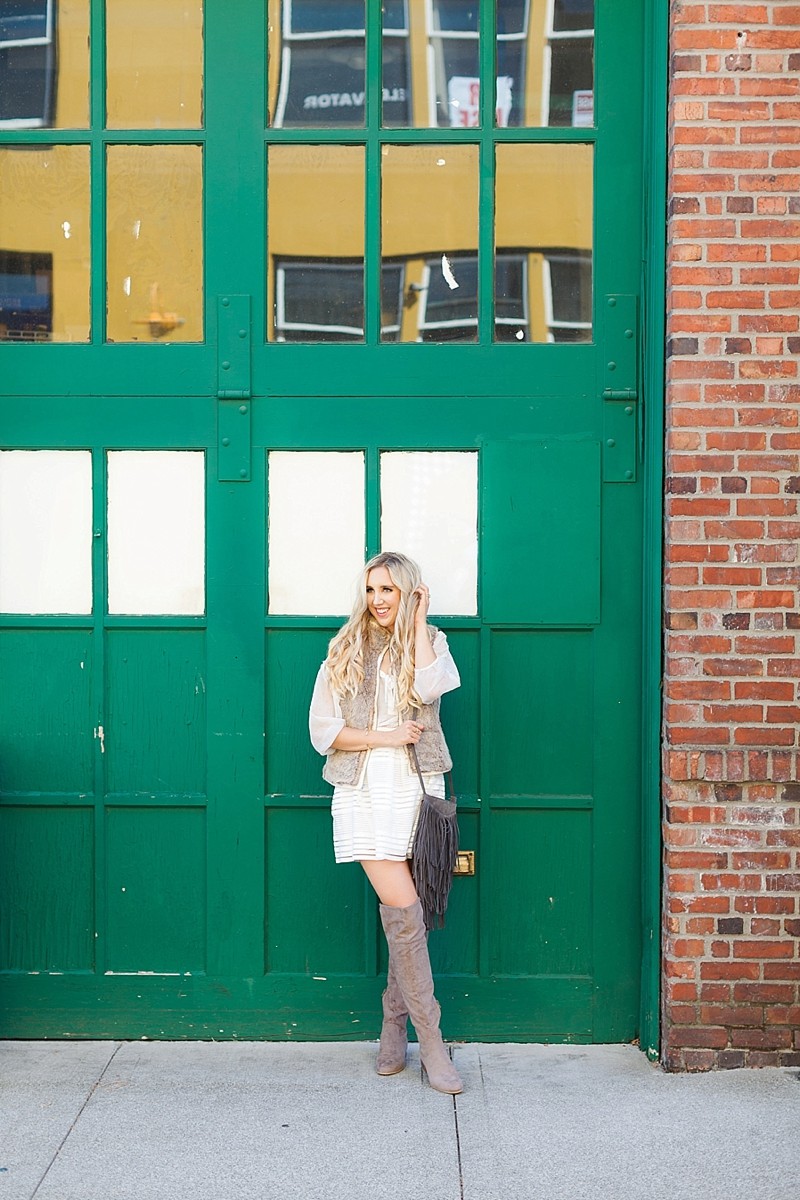 THE THREE PIECE RULE
Have you ladies ever heard of the "three piece [styling] rule"? The rule states that when styling a look always incorporate a layer. For example, if your monochromatic outfit is black jeans and a black sweater you'll want to add a jacket/vest/or scarf to add that layer.
This way your outfit has three pieces to it. The reason you want to do this is because your overall outfit appears more put together and chic. And Ladies, when we are getting ready in record time, we need all the chicness we can muster in our 10 power minutes to take on the day!
In the outfit my monochromatic "base" is a white skirt and blouse. My third piece is my fux fur vest! Without the vest my look wouldn't appear as polished versus with the vest!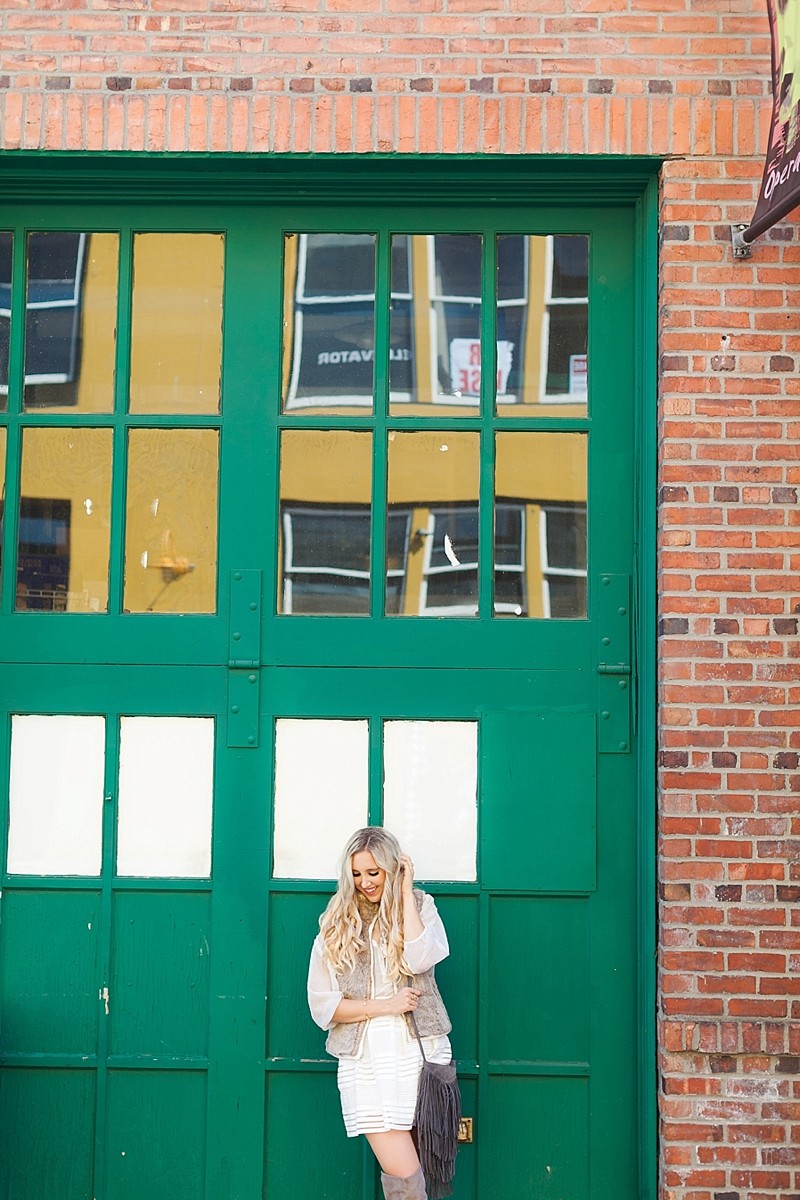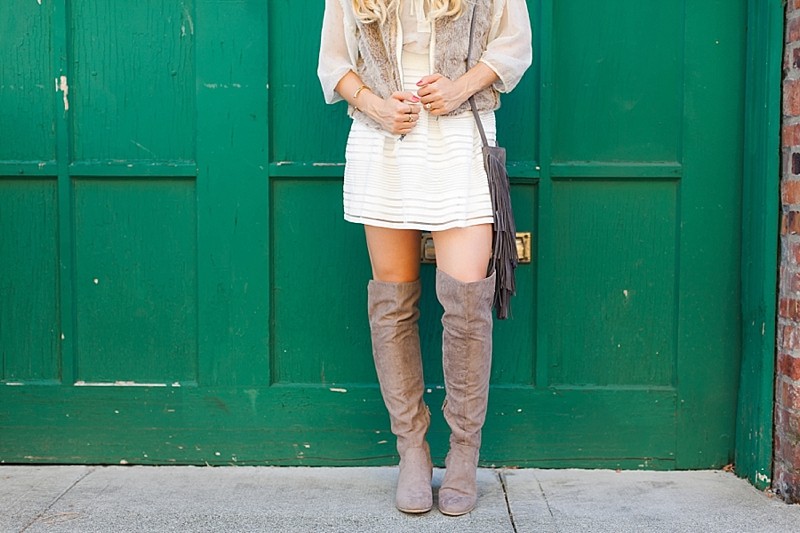 THE "NO FAIL" SHOES
When thinking of what shoes to wear don't go any further than looking at your boot collection. I promise, you cannot go wrong with adding a pair of booties, riding boots, or OTK boots to complete your fab look!
In the fall your boots will never fail you! They keep your feet warm, are appropriate for any occasion, and make your look chic and polished (which is totally what we are going for!).
Since this look in today's post is more of a casual look than a workday outfit I opted for my OTK boots to complete my look.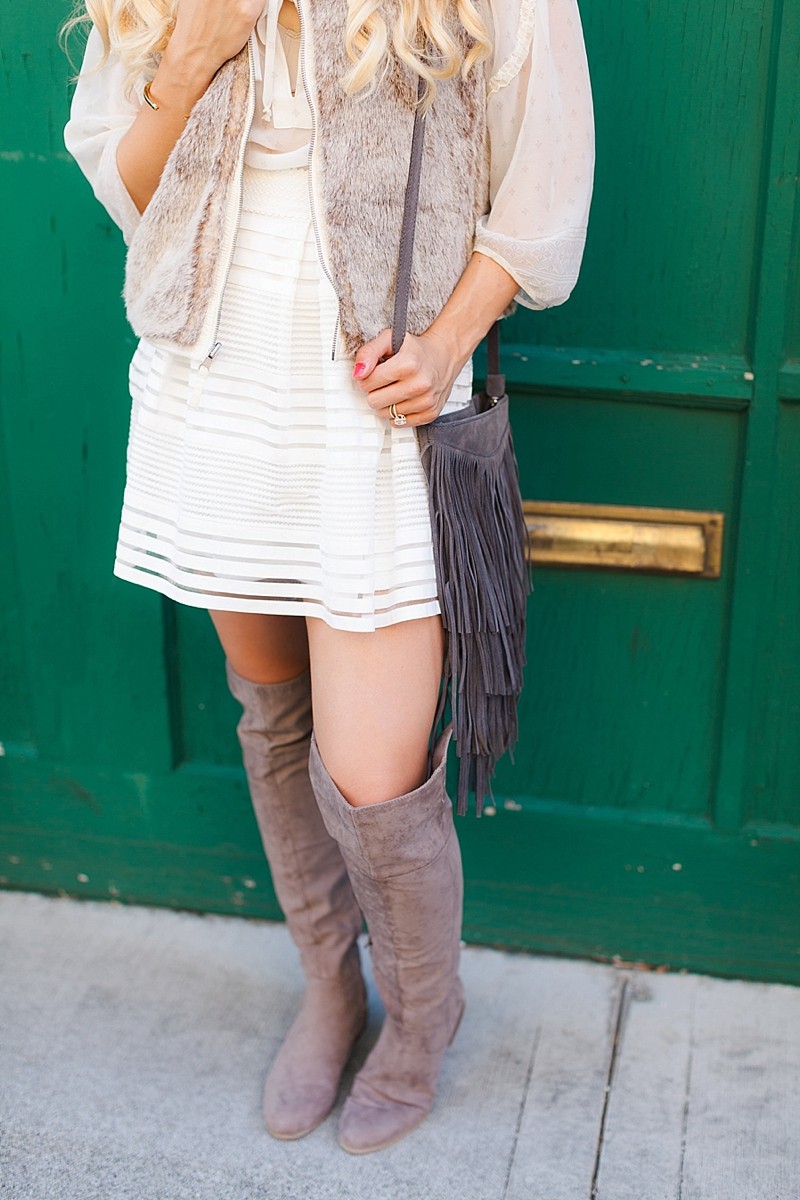 USE THE NO MAKEUP, MAKEUP TO YOUR ADVANTAGE
The No makeup, makeup trend is still going strong, and babe- with less than 10 minutes to get ready, use this trend to your advantage! Simply dab on a bit of concealer, foundation (if you choose), blush, and finish with a bit of mascara! Voila! You are glowing and ready to take on the day!
Styling this outfit and putting on just a bit of makeup (if that's your thing!) is totally achievable by following today's style tips. You'll be the chicest women in the office:).
What did you think of today's tips? Have you ever needed to get ready in a rush?! I would love to chat with you in the comments below! Follow me along on 
Instagram
, 
Pinterest
, and
 Facebook 
for daily style inspo!
Don't forget to…
Click Here to Get Your FREE Guide!  which is all about how to budget and build your dream wardrobe (#heckyes!). 
Thank you SO much for stopping by Blush & Camo!
xx Julianna
SHOP THIS POST
Shop 603 Grey Fringe Handbag
Public Desire Gray Flat Tie Back Over The Knee Boot
Daisy Street Gray Over The Knee Tie Back Flat Boots
Boohoo Chiffon Blouse
Bandage Full Skirt