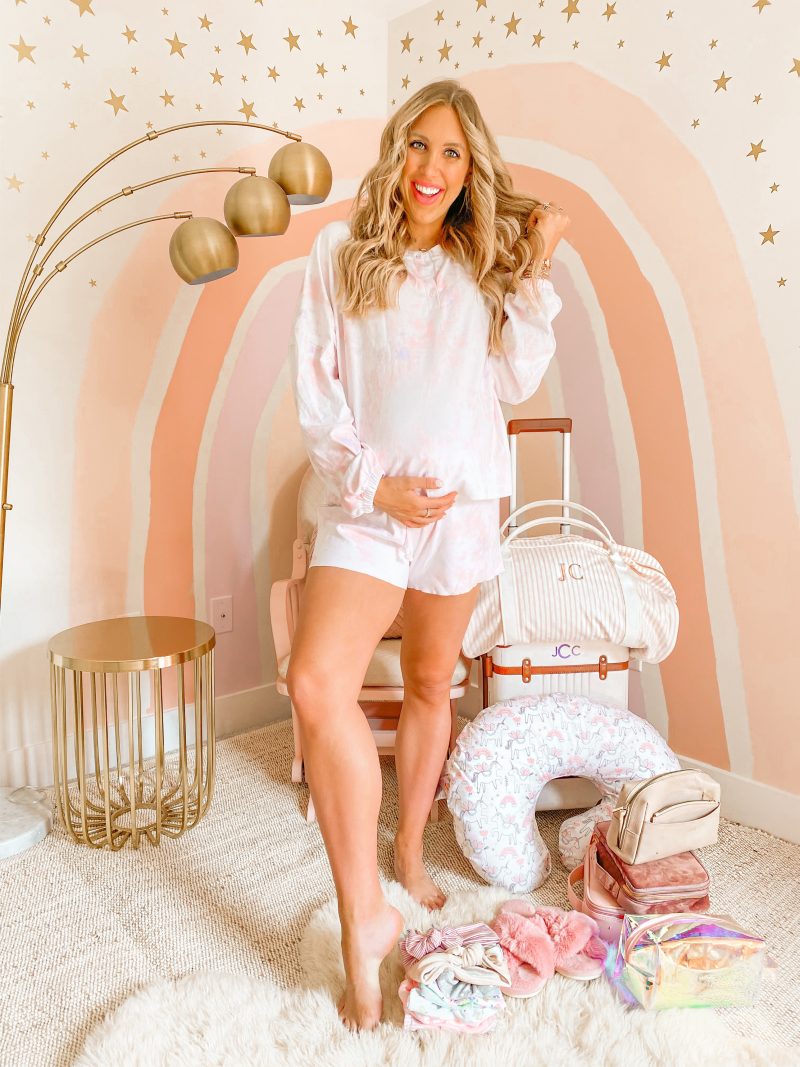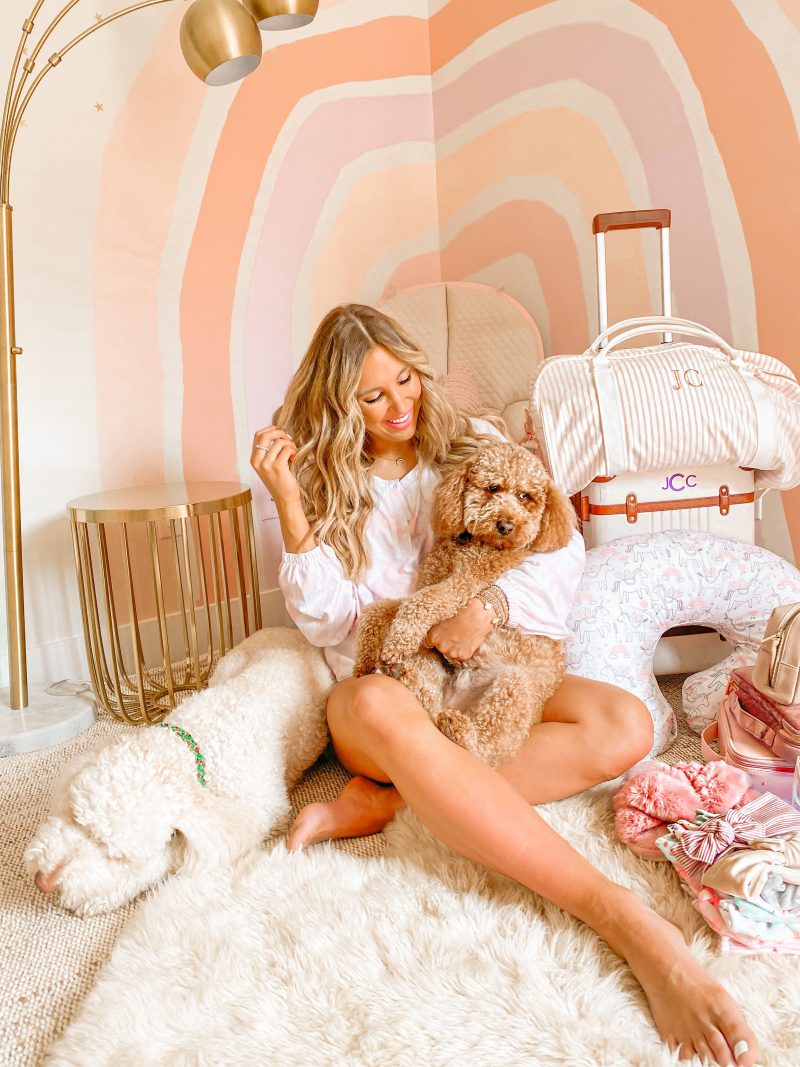 Welcome back to Blush & Camo! Baby C is due so soon and today I wanted to share my entire hospital checklist for myself, Chuck, and Baby C.
Chuck and I have read countless books, talked with our friends who are already parents, and I also asked my Instagram community to give their input on what I should pack in my hospital bag.
This post is all the information I've complied and narrowed it down to the items I think are the most important.
This is not an all inclusive list, and depending on the mama-to-be your list may look a little different. I hope this list helps you when you are packing for your big day!
MY HOSPITAL BAG
– My Hospital Bag: I opted for a weekender sized bag to fit all the items I will need! I love the monogrammed one I found on Etsy. Amazing quality and comes in a variety of colors!

– Toiletries:
Toothbrush
TULA face wash and TULA toner (use code "JULIANNA" for 15% off your entire order!)
Toothbrush & Toothpaste
Hairbrush
Hair ties
TULA Moisturizer
Body Wash
Deodorant
Chapstick (this one is my all time favorite!)

– Makeup Bag– I'm packing this in case I feel up to putting on a little makeup for pictures after Baby C's birth!

– Cozy Robe

– Two pairs of comfy pajamas

– A pair of slippers

– Two pairs of warm socks

– Nursing bras

– Going home outfit: I plan on packing a lounge-set
– Blanket and pillow from home: I'm told hospital pillows and blankets aren't the comfiest.
– Portable bluetooth speaker: Chuck and I want to create a calming environment during labor and delivery.

– Sound machine

– Extra long cell phone charger cord: This was the number one most recommended item from my followers on Instagram!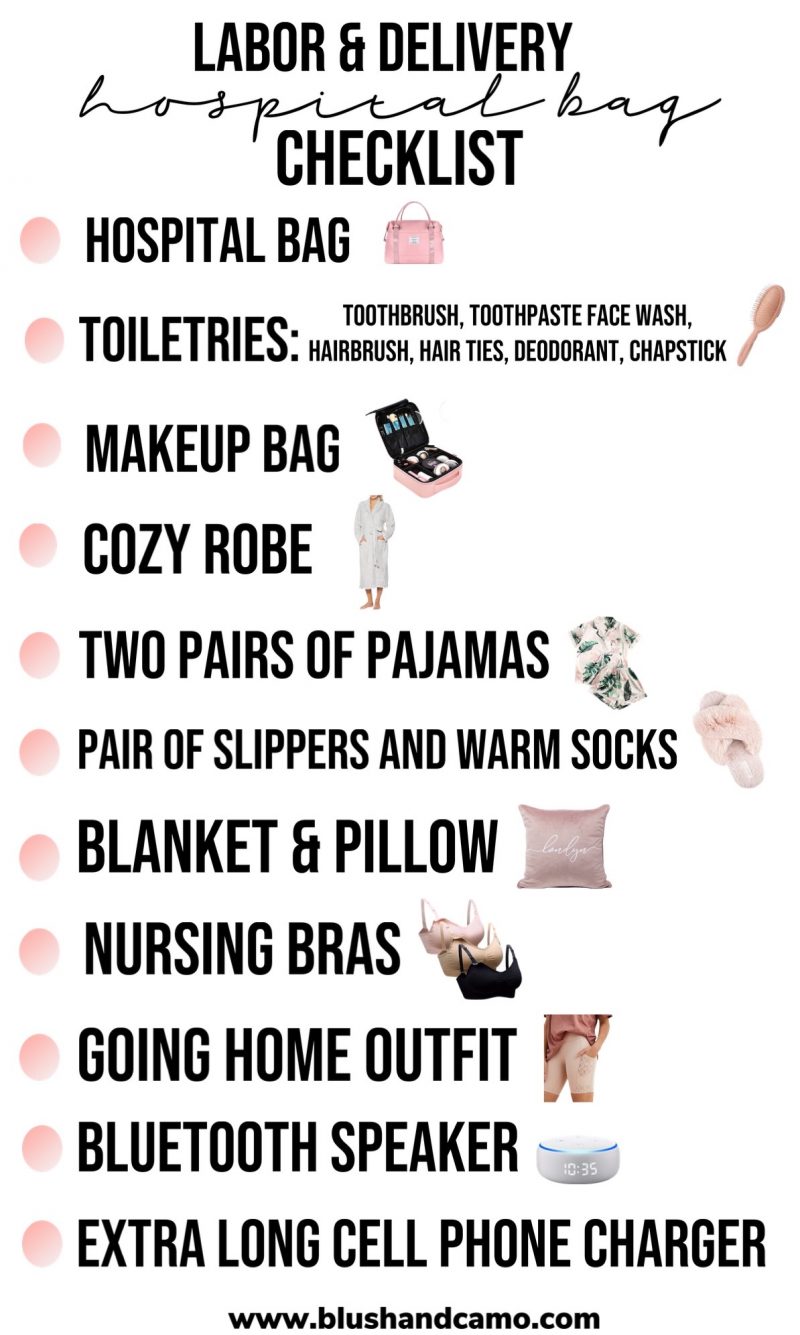 CHUCK'S HOSPITAL BAG
– Copy of our birth plan: I'm not sure how Chuck and I will be feeling in the moment so we want to ensure we have our plan written out so we don't forget anything! I know that many labor & delivery plans don't go according to plan, but I'm a huge planner so this is more of a comfort to have it more than anything.
– Toiletries
– Snacks: Many hospitals have no food available at night except vending machine items.
– Reusable water bottle
– Sweatshirt or two: Hospitals can get cold! I'm also told during labor & delivery I might get very hot and want the room on a low temperature!
– Change of clothes
– Pajamas
– Timer or watch: To time contractions
– Reading materials or computer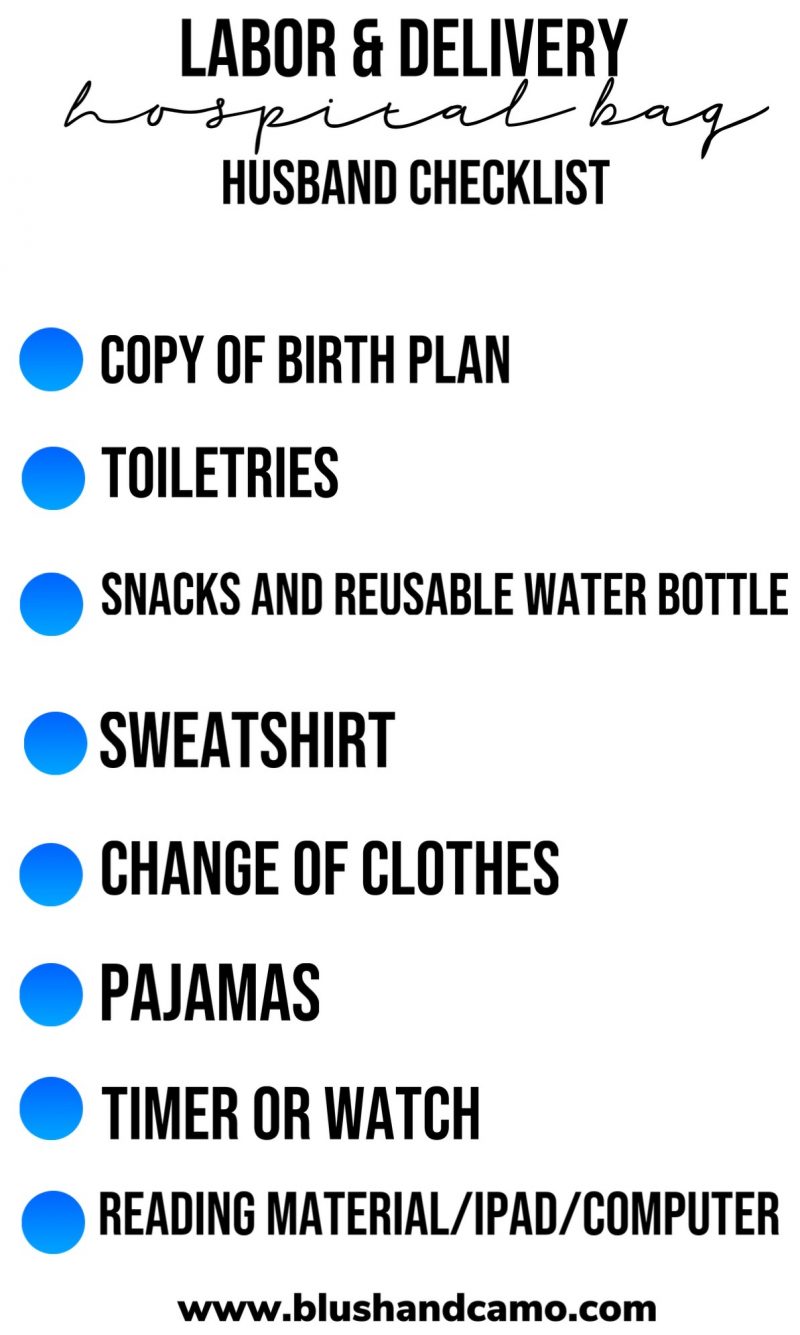 BABY C's HOSPITAL BAG
– Clothing for hospital and trip home
– Swaddles

– Announcement Outfit
– Breastfeeding pillow

– Baby blanket

– Anti-scratch mittens and booties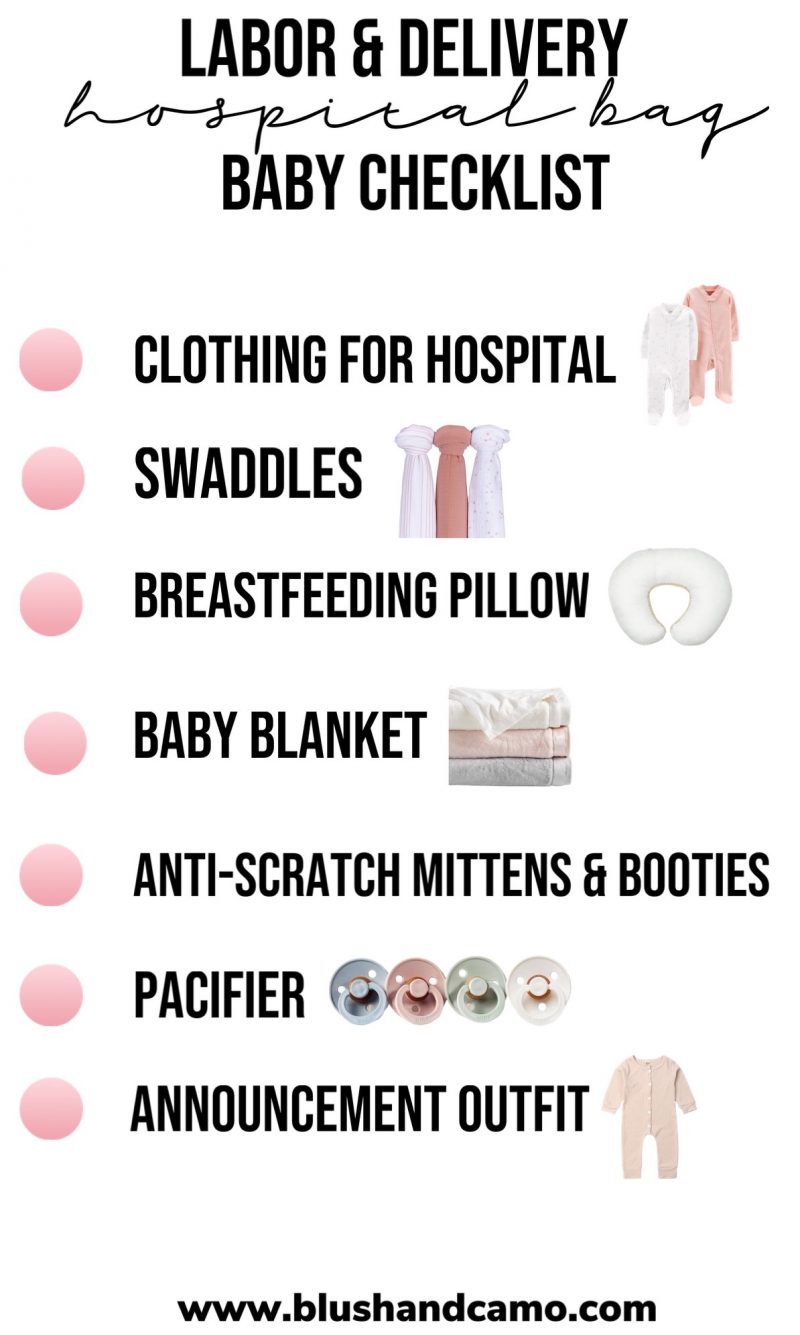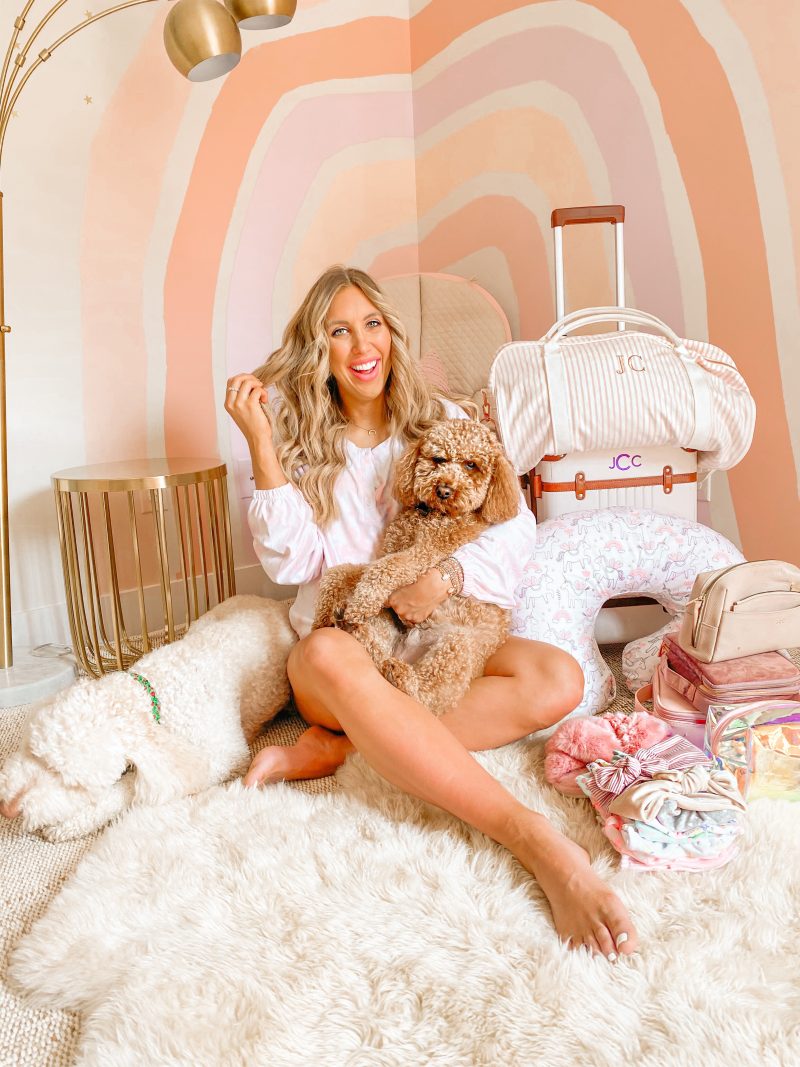 I was told not to bring diapers because hospitals have an endless supply!
Hopefully this post was helpful! You can pin the images and lists in this blog post on your Pinterest so you can refer back to this post later.
Thank you so much for stopping by Blush & Camo!
Thank you for stopping by Blush & Camo!
You can follow me on Pinterest by clicking here!
Get more daily inspo by following me on Instagram and TikTok!
xx, Julianna