Welcome back to Blush & Camo! Today I'm sharing my 8 best tips for growing your Pinterest account!
This post contains affiliate links, which means I will make a commission at no extra cost to you should you click and make a purchase.
Just a few weeks ago I reached the 1 million monthly viewers mark in just under four weeks and after two weeks of hitting that milestone I am inching towards the 2 million monthly viewers mark!
***You can follow me on Pinterest by clicking here!***
When I relaunched my blog back in May 2018 I didn't really put much thought into Pinterest and put all my focus on Instagram. My blog traffic was good, but it wasn't great and I didn't know how to fix it.
Fast forward six months and I took a hard look at my social media and blog analytics. Instagram was NOT bringing in the most traffic to my blog. Not even close. Pinterest was driving 60% of all traffic to my blog and I was completely neglecting this platform.
I was shocked to say the least.
Numbers don't lie, and I knew I needed to put more attention on Pinterest to grow my blog traffic. Especially since Instagram is only showing about 6% of my followers my content any time I post a new picture.
After focusing my attention on Pinterest my blog traffic MORE THAN DOUBLED!! You heard that right- DOUBLED. And my blog traffic continues to rise every day. And now Pinterest drives 80% of all traffic to my blog. That's SO crazy, right?!
When I first started concentrating on Pinterest I was hovering around 200,000 monthly viewers and managed to grow my audience my 750,000 viewers under four weeks to a total of 1 MILLION monthly viewers! That's a lot of eyes seeing your content!!
Are you sick of pouring your heart into your blog content and feeling like no one is seeing it?
Or, maybe your completely fed up with the Instagram algorithm (girl, same!) and don't want to relay on one platform to share your content.
If this sounds like you then keep reading to find out my 8 best tips for how I reached 1 million monthly views in just under four weeks!

#1: SCHEDULE PINS WITH TAILWIND
This has been huge towards my growth on Pinterest. Tailwind gives you further insight into what pins are the most successful for you and will also schedule pins for you at the most ideal times of the day (no guessing needed!). This is a paid service, but you can try your first 100 pins FREE!
This is the NUMBER ONE reason why my Pinterest traffic increased so much in such as short period of time. I will be creating a blog post about how to use Tailwind soon!
If you are serious about treating your blog like a business I cannot recommend Tailwind enough.
***CLICK HERE TO GET YOUR FIRST 100 SCHEDULED PINS FREE! ***
#2: GET A PINTEREST BUSINESS ACCOUNT
Creating a Pinterest business account gives you a world of analytics and will share with you your monthly viewers, monthly engaged, top performing pins and boards, and so much more! A business account will give you insight to what your followers are loving (and you can create blog posts around this information too!)
#3: USE THE DYNAMIC COVER FEATURE TO YOUR ADVANTAGE
If you take a look at my Pinterest you'll notice my cover screen is a bunch of pins! You can select boards to feature behind your profile picture. Take full advantage of this and look at your analytics to see what your top performing boards are! Use those boards as your cover screen to attract more people to your Pinterest account.
#4: ENABLE RICH PINS
With a Pinterest business account you can enable rich pins. Rich Pins make your pins look more professional and eye catching! They also provide more context about an idea because they show extra information directly on a Pin. There are four types of Rich Pins: app, product, recipe and article. I have article pins enabled for all my pins that come from my blog!
#5: CREATE EYE-CATCHING QUALITY PINS
When creating a pin you want to ensure the picture is ALWAYS vertical. The reason for this is because when scrolling vertical pins catch the eye and horizontal pins get lost in the shuffle.
My detail shots of jewelry, home decor, etc also do really well on Pinterest verses pictures that look too "busy". Keep in mind that when people are scrolling on Pinterest you have seconds to catch someone's eye and make them stop to re-pin your picture! Detail shots give an up close picture and so the person knows exactly what they are pinning!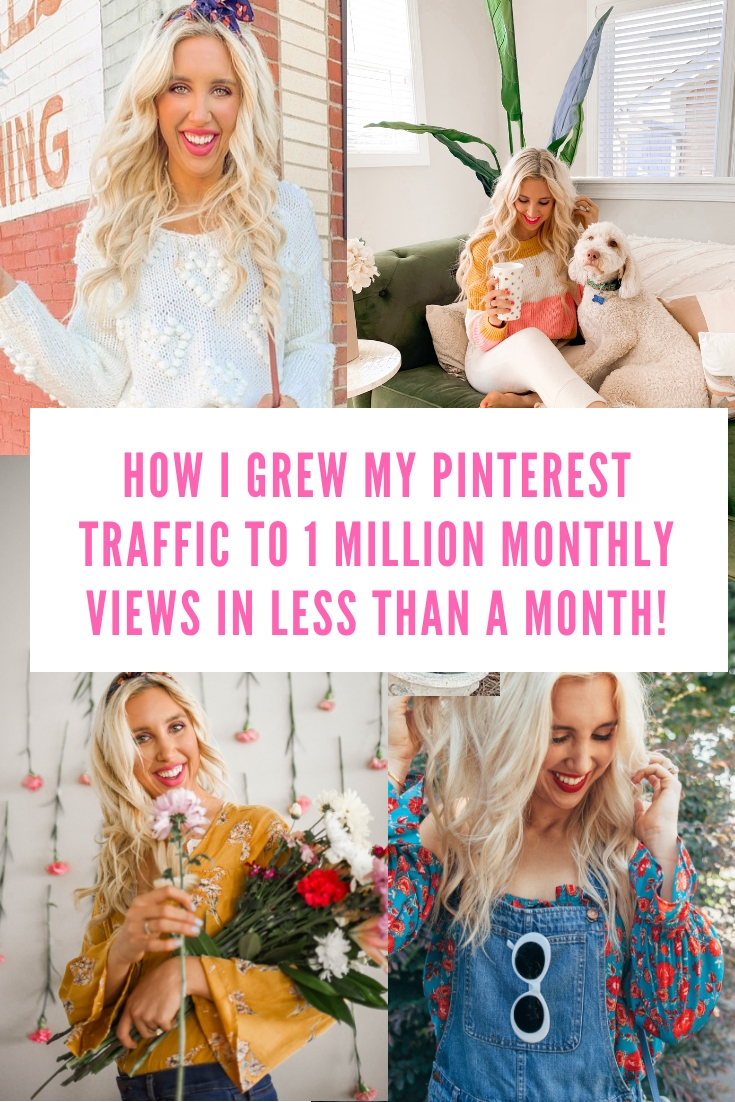 #6: CREATE MULTIPLE BOARDS FOR THE SAME NICHE
This is another huge tip of mine! For example, I have a least four boards dedicated towards home decor. The reason for this is because I have varying interests in home decor and so each board in slightly different giving variety to my followers to pull inspo from. Plus, it enables you to pin more pins which boosts your account in the algorithm!
#7: RE-PIN QUALITY PINS
I try and pin 50% my own pins and 50% pins that I truly love. For my community Pinterest is a place where my followers can go to get a glimpse of what inspires me, trends I'm loving, and home decor that I think is beautiful that I simply wouldn't be able to share on any other platform.
#8: CREATE BOARDS THAT BRING VALUE TO YOUR AUDIENCE
When building your Pinterest account it's important to note that while this is a place for you to save pins that bring you inspiration, it's also important to bring value to your audience. Find out what their interests are, pins they continue to pin from you, and create boards around those topics. Do you home decor or makeup pins go viral? Create more boards for that!
Do you have a large audience that also blogs? Maybe creating a blog tips board is perfect for your community!
These are my 8 best tips for growing your Instagram traffic! Let me know your thoughts in the comments below! Have you tried growing your Pinterest traffic or used Tailwind? Let me know in the comments below!
You can follow me on Pinterest by clicking here! 
Get more daily inspo by following me on Instagram and YouTube!
xx, Julianna