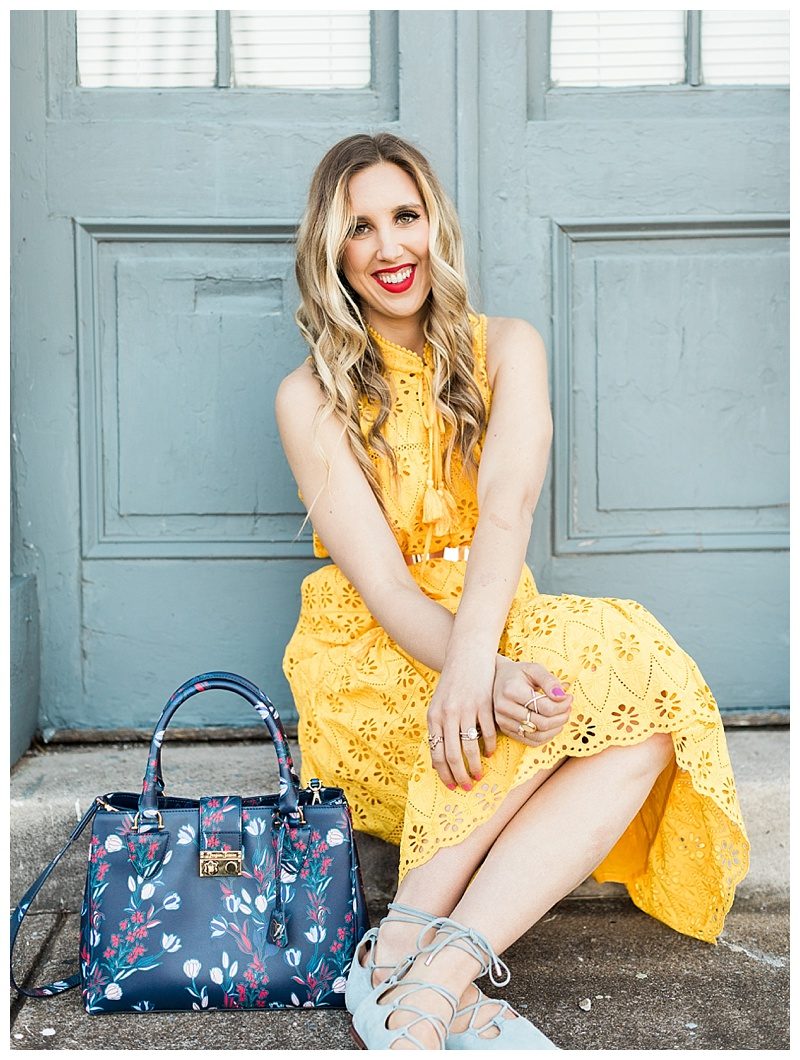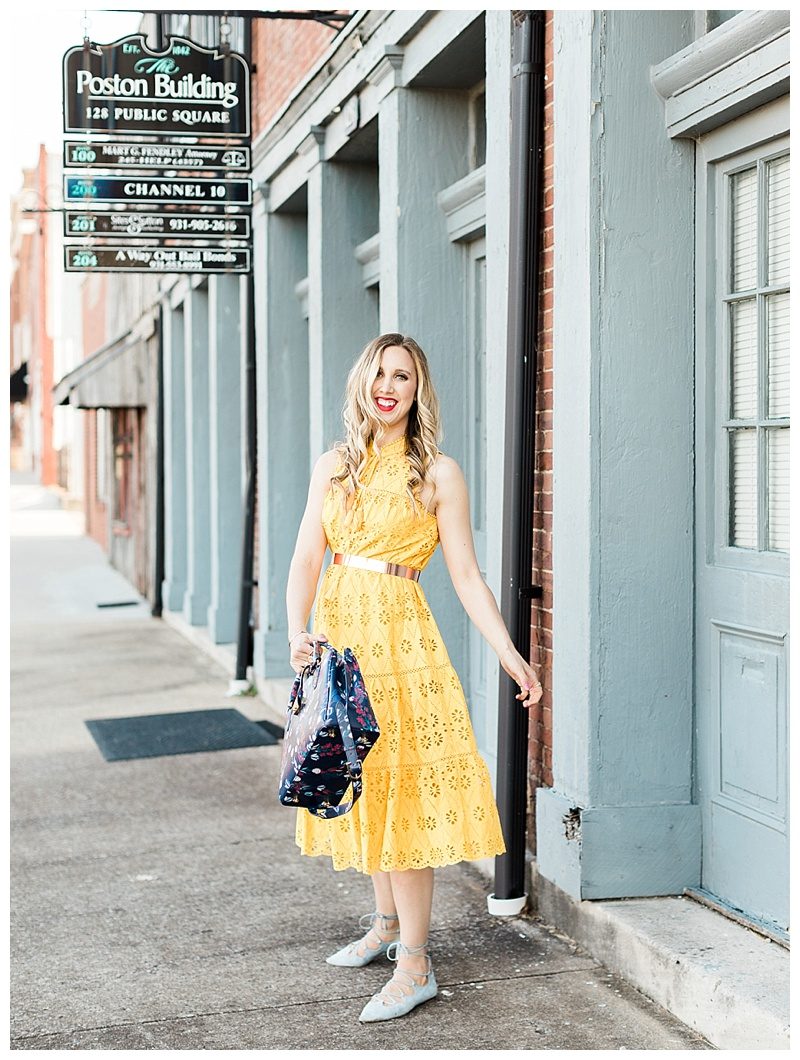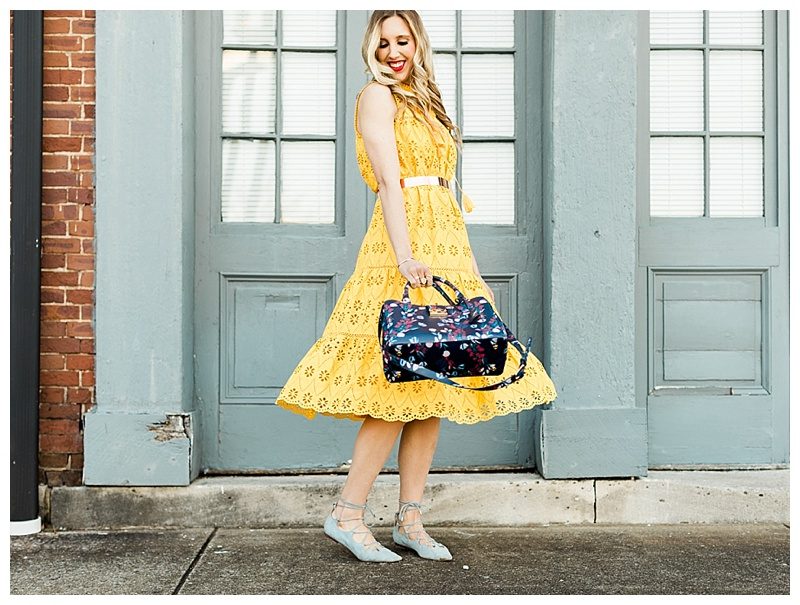 Hello, Gorgeous! Yellow is having a major moment right now and we are just going to let it shine. I personally adore this color and it's a perfect reflection of the spring/summer seasons! It exudes happiness, sunshine, and confidence. All amazing buzzwords to describe how we want to feel when we get dressed.
In today's post I'm breaking down my top three tips for styling this hue this season and linking some cute yellow dresses below!
Let's get styling!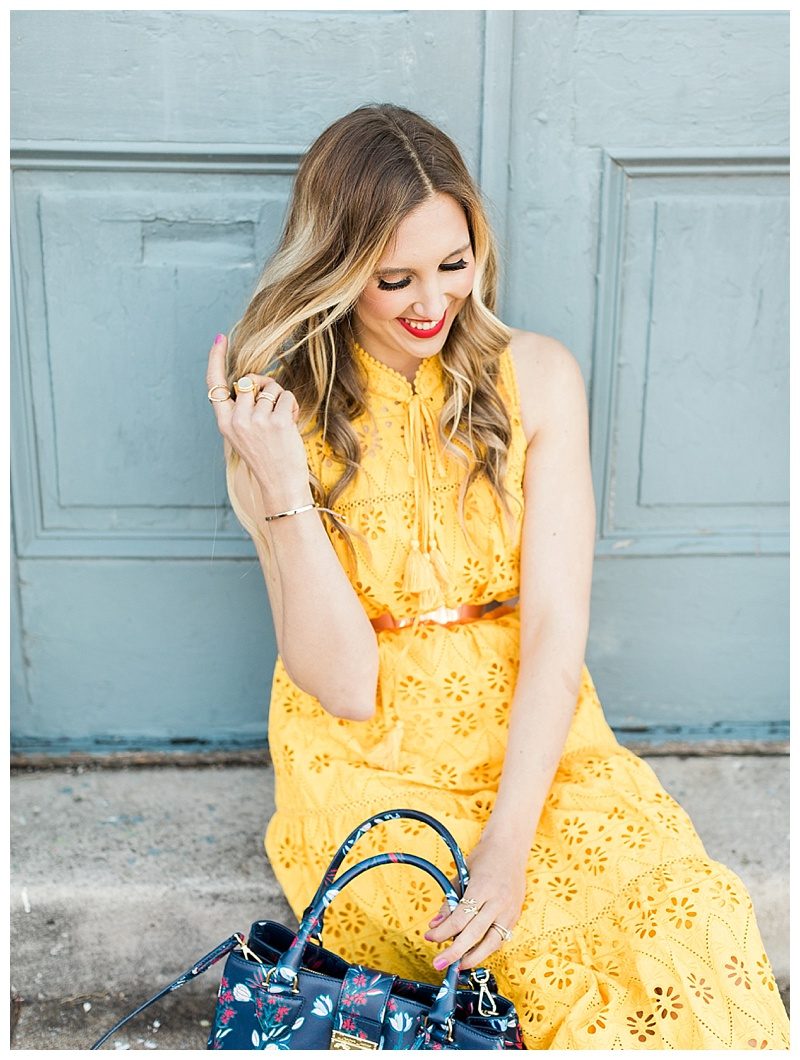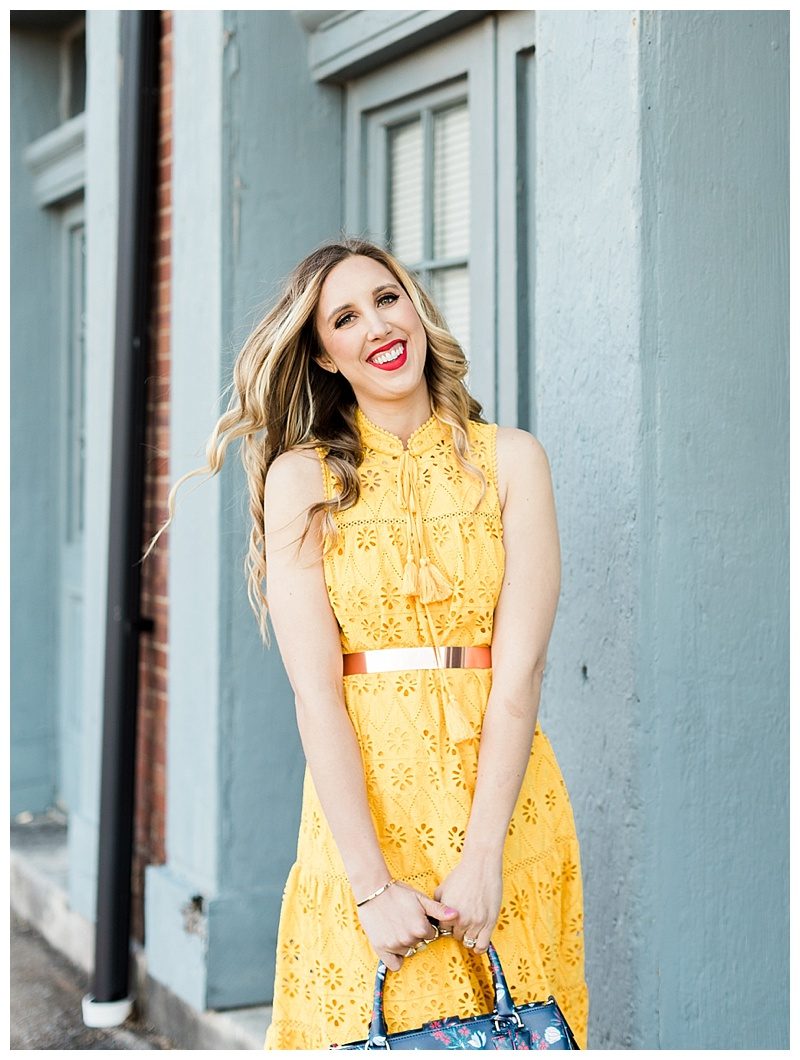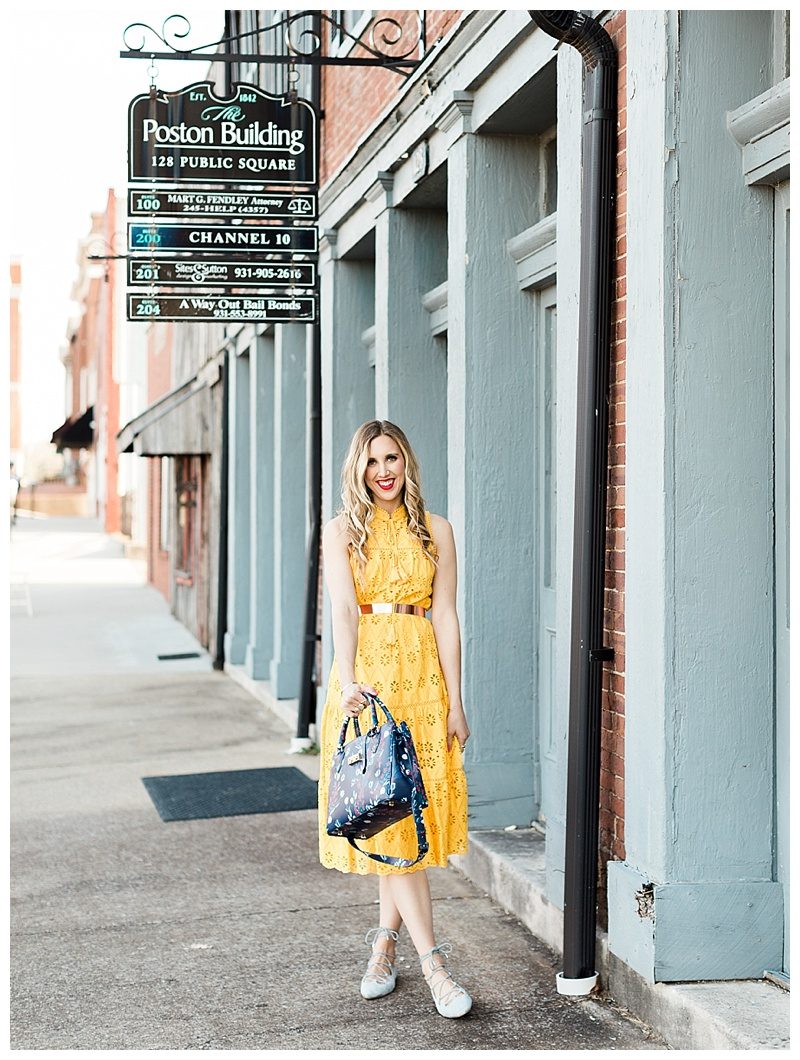 HOW TO STYLE THE COLOR YELLOW 
ACCESSORIZE WITH PRIMARY COLORS 
For those of you thinking that's great Julianna, but I don't even know what a primary color is these colors are yellow, blue, and red. These are the only colors that can't be created by mixing other hues together, hence the name primary (they come first and then you can add other colors or shades to create more colors)!
The reason why you want to incorporate other primary colors is because yellow is an extremely bold hue. In order to balance out this hue to actually have to use other bold hues to complete the look. Primary colors pair with each other perfectly (because art class said so!). This is the simplest color trick when pairing bold colors with other bold colors. Simply pair hues together that are in the same "color family"!
This style tips is completely opposite of what I normally suggest when accessorizing an outfit. Typically, if you are wearing a bold print you accessorize with a neutral color. But Babe, we are dealing with the color yellow and this color demands other bold hues to go with it!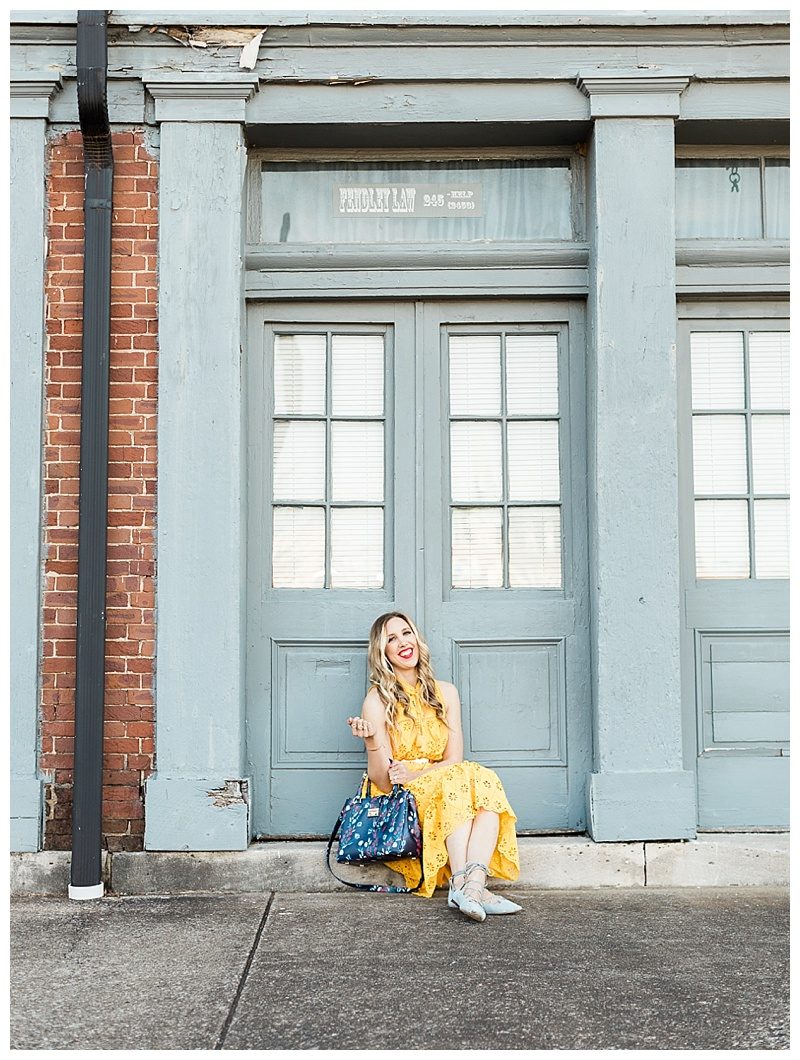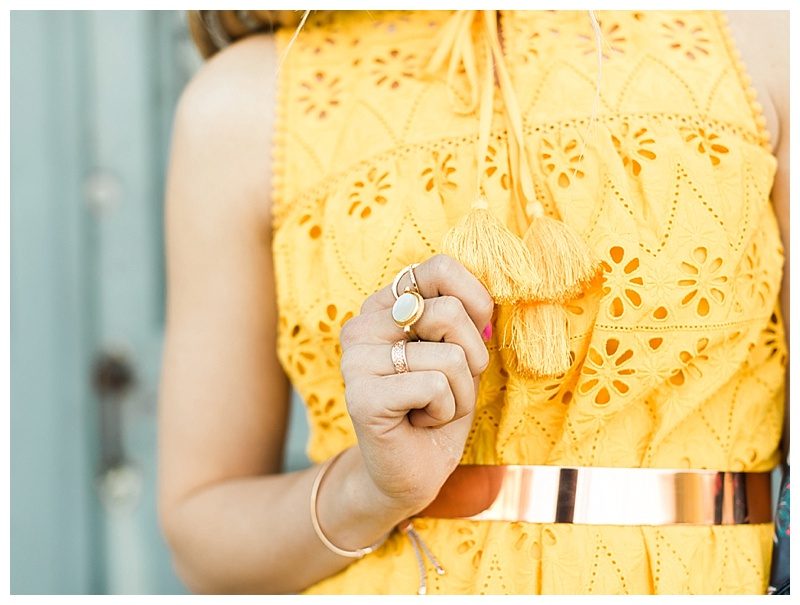 STAY AWAY FROM NEUTRALS 
Here's the reason why. If you wear or accessorize with black then you may be giving off bumblebee vibes which is totally awesome for Halloween, but totally not awesome when creating a chic outfit.
Grey, white, cream, and beige are also all hues that yellow simply over powers and they look washed out when paired with this season's hottest color.
If you are a Blush Babe that loves neutrals the only color that could hold it's own when paired with yellow is a carmel brown shade. This color picks up on the warm under tones in yellow and if the carmel brown is in a suede material would look extremely luxe and work perfectly with yellow!
Other than this shade I highly recommend staying away from all neutrals when styling this bold hue.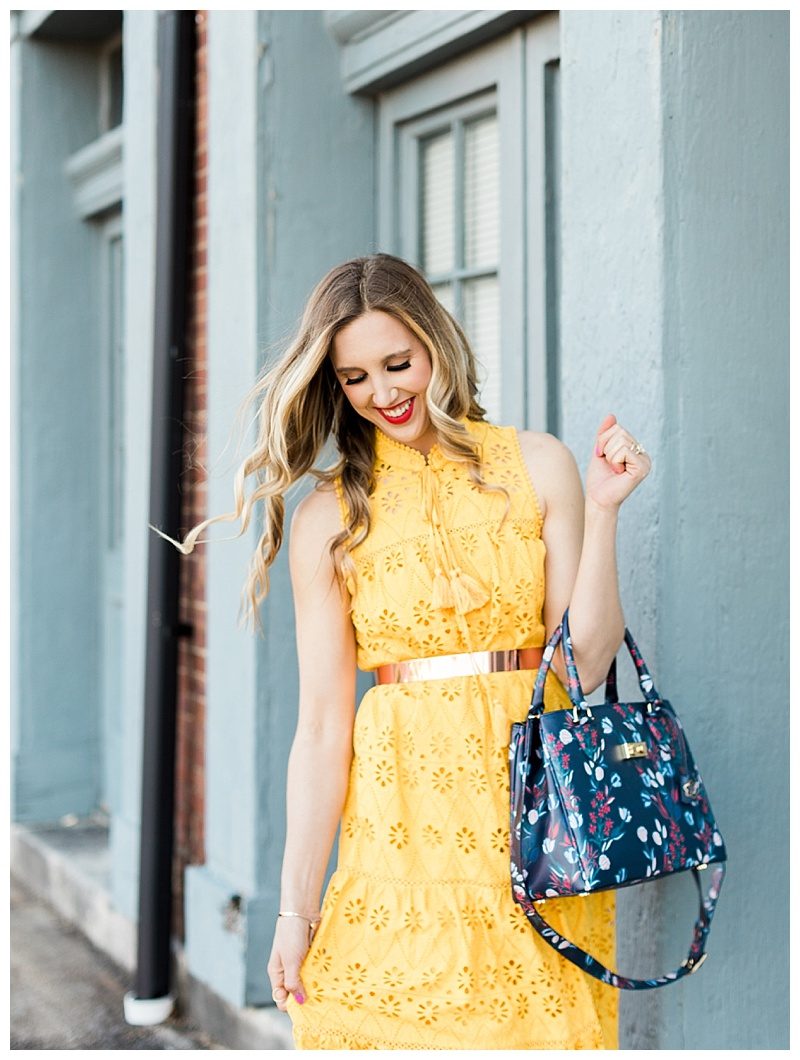 MIX AND MATCH PRINTS
As stated in my first style tip, yellow is an extremely bold hue. The only way to balance this color is go bold on bold. This means you can accessorize with bold prints. The bolder the better!
In today's outfit I used both primary (blue) and a bold floral print!
What do you ladies think of the color yellow?! Would you wear this hue this season?  I wold love to hear from you in the comments below. Don't forget to follow me along on Instagram, Pinterest, and Facebook for daily style inspo!
Thank you so much for stopping by Blush & Camo!
xx Julianna
SHOP MY LOOK
**These items are from my affiliate partnership with ShopStyle. If you make a purchase I will make a small commission. There is no pressure to use these links (and you can totally Google these items if you find something you like!), but I just wanted to be honest about using affiliate links with you ladies!