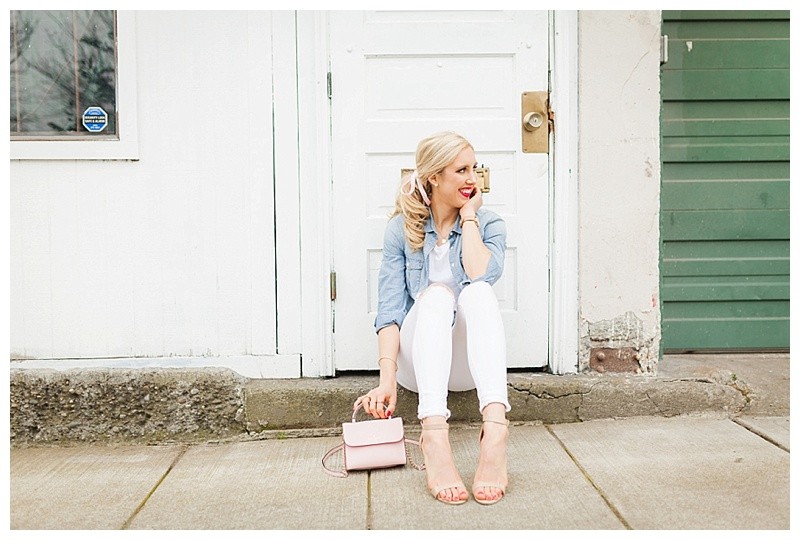 Hello, Gorgeous! A Canadian Tux is a classic outfit that will never go out of style. I first wore and talked about wearing this look in this post here! For those Blush Babes who don't know what the heck I'm talking about a Canadian Tux is an outfit where you style a denim top with a denim bottom!
In today's post I'm sharing 6 ways to make a Canadian Tux cooler because Blush Babes are always looking for style tips to be trend setters!
Keep reading to see which style tips you can using today!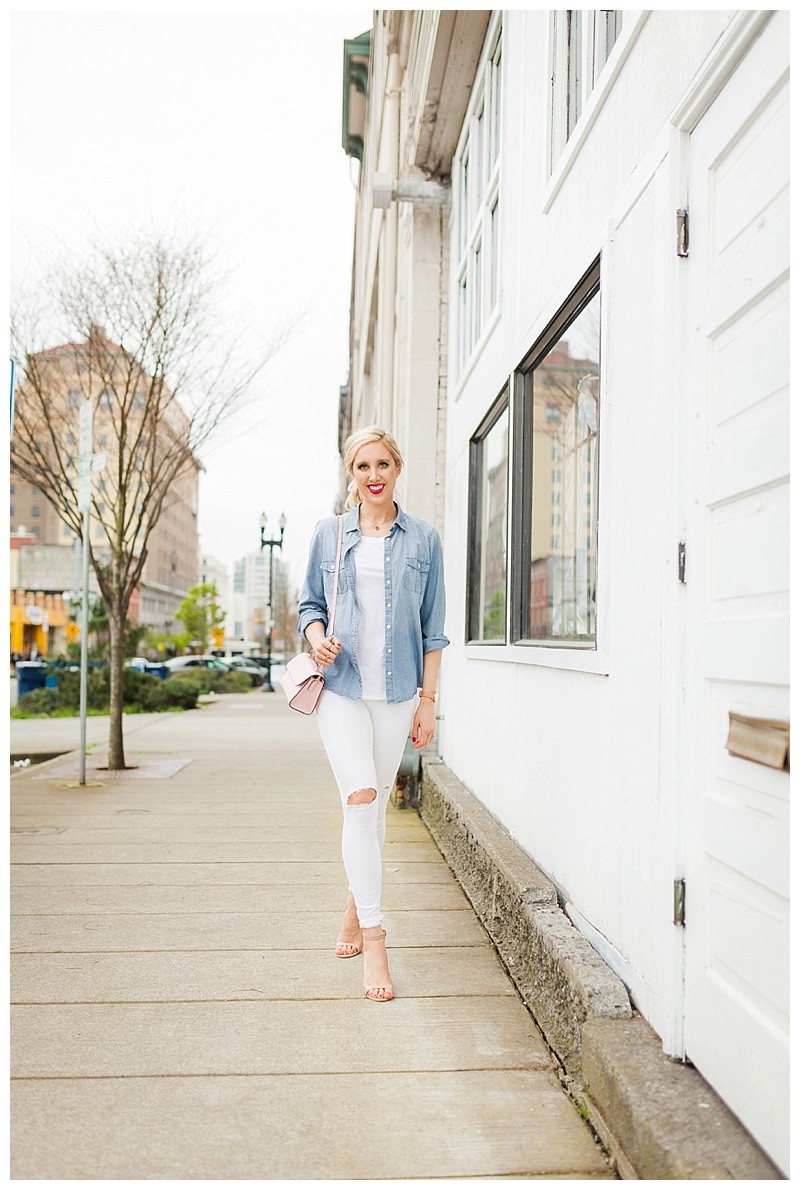 1.) CREATE A REVERSE CANADIAN TUX
I absolutely love this idea to "reverse" the Canadian Tux. To accomplish this style tip a pair of white denim with a white top and add a chambray shirt to complete the look!
This outfit is perfect for spring because the white hues are fresh and light. Add a few pastel accessories to complete this feminine look!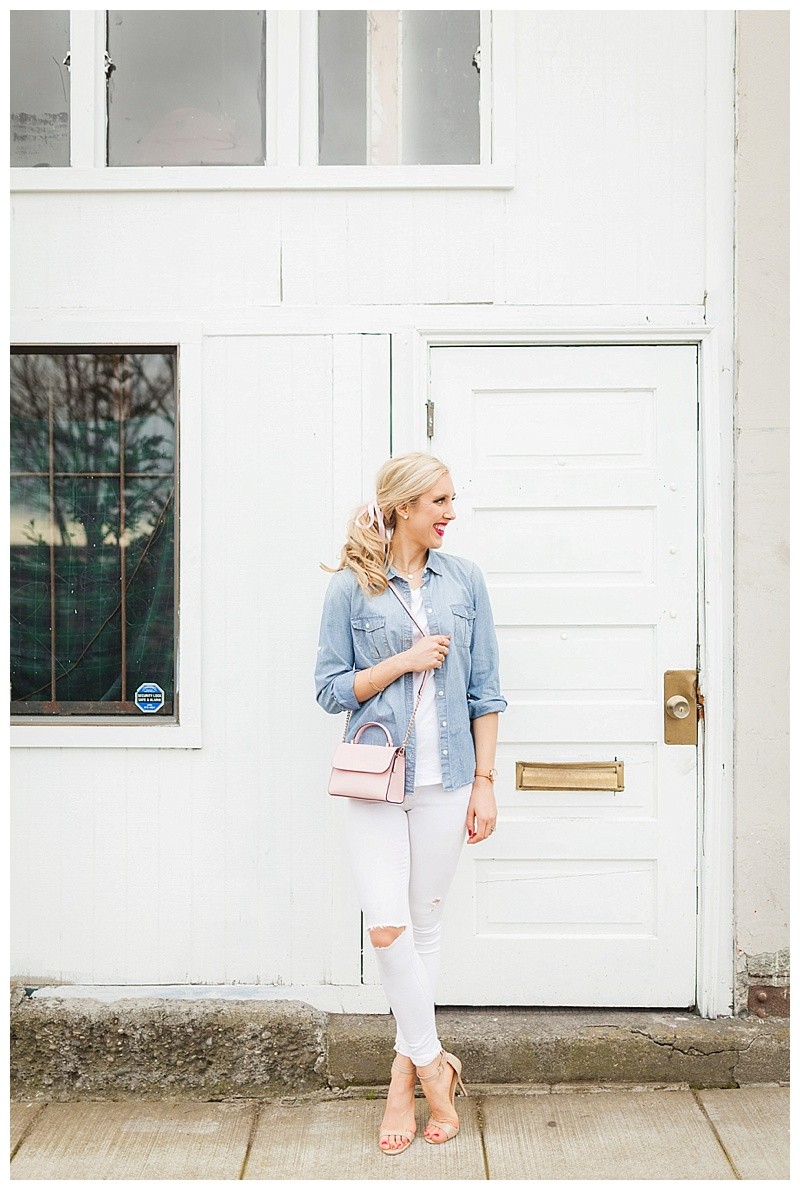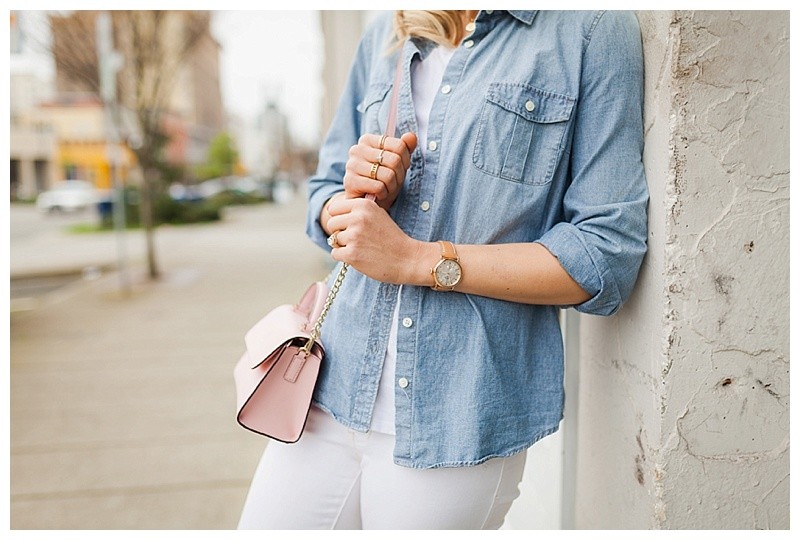 2.) INCORPORATE LIGHT AND DARK WASH
Adding two (or more!) denim washes is a great way to add a twist to this otherwise monochromatic look! For example, if your chambray shirt is a light wash opt for dark wash jeans, or vice versa. Incorporating this style tip adds depth to your overall look!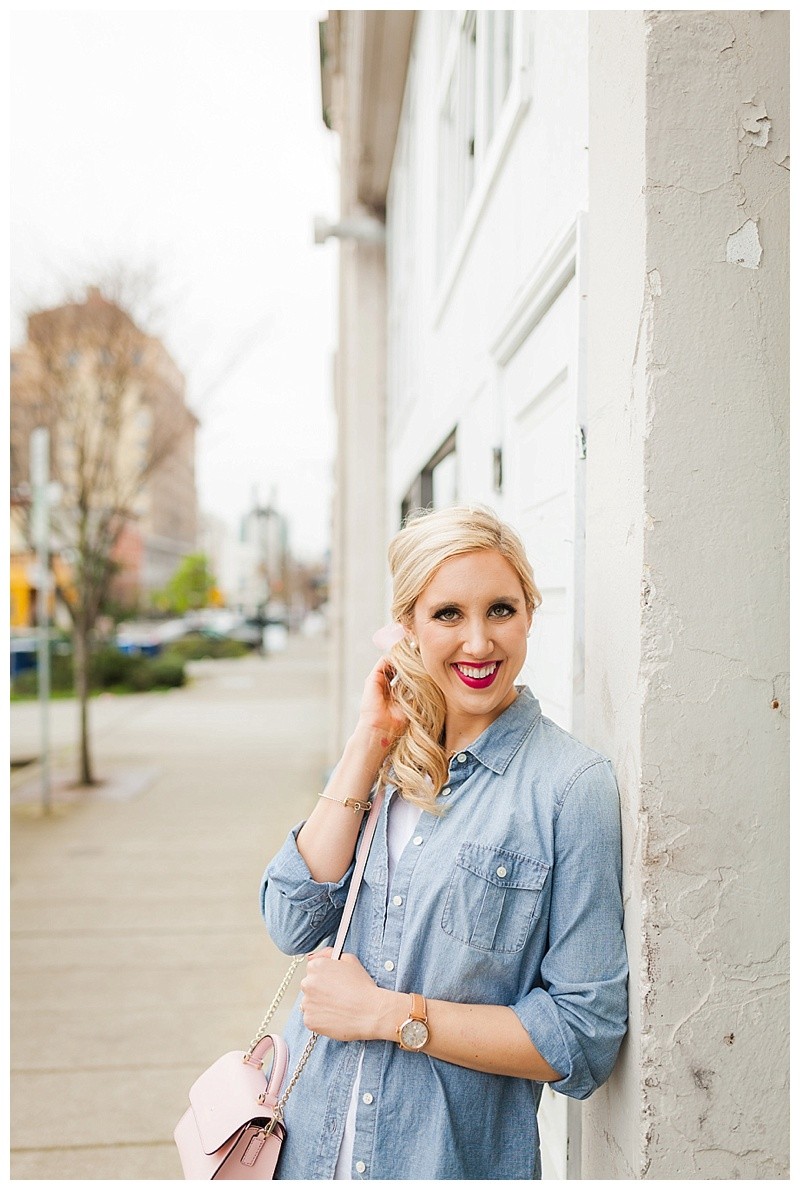 3.) CREATE A DENIM x DENIM LOOK IN A DIFFERENT COLOR
No one said you have to create your Canadian Tux in navy! If you own a pair of white denim and a white denim shirt (or just like this look more!) this is a modern take on this classic outfit.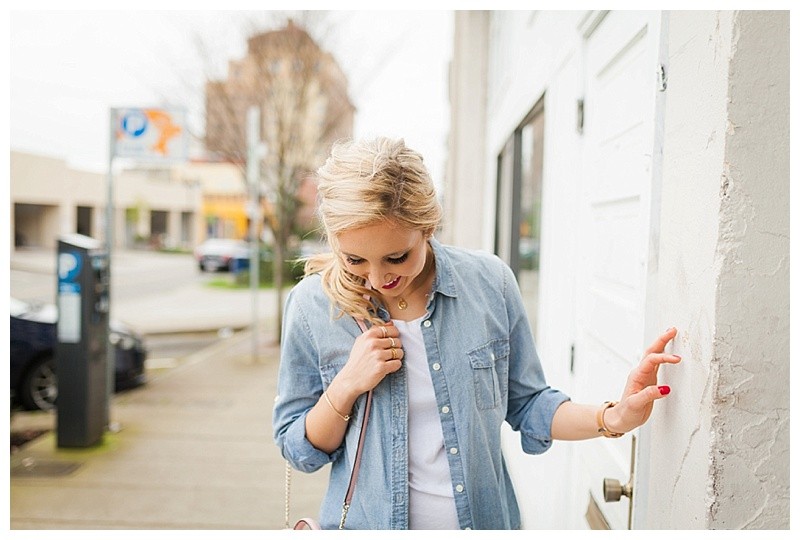 4.) THE "GLAM" CANADIAN TUX
Sometimes in our quest  to find the perfect chambray shirt you come across a denim button down with embellishments on the front (see this post here for an example!). If you are more of a glam gal go ahead and style that embellished top with your favorite pair of denim bottoms! I'm calling this outfit the "glam" Canadian Tux!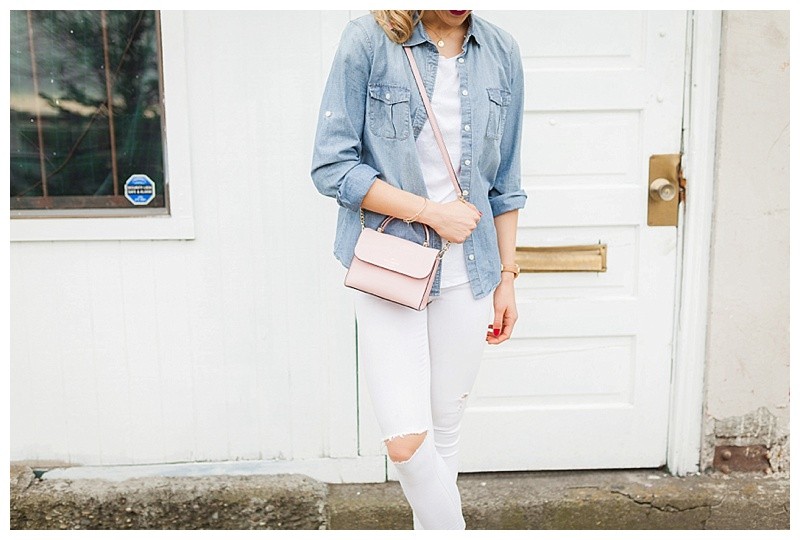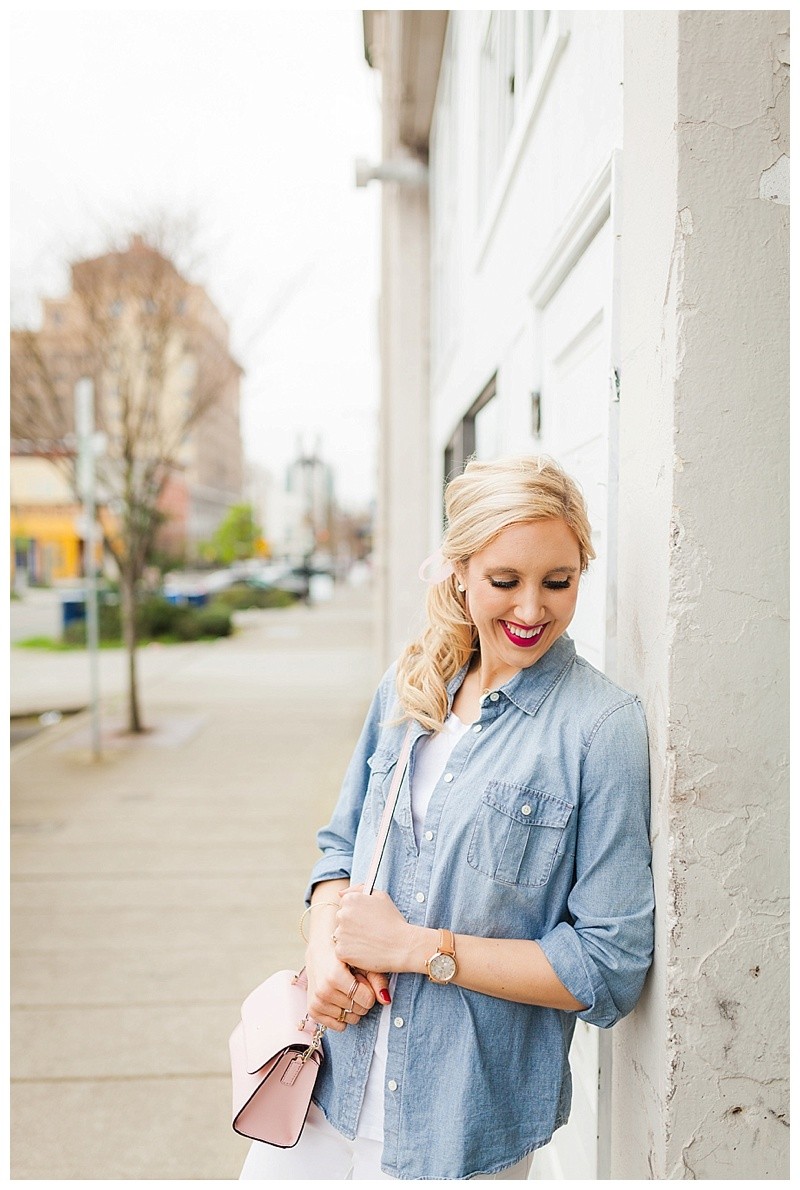 5.) ADD BRIGHT POPS OF COLOR
Maybe you love the traditional Canadian Tux and don't want to change anything about this classic style. If this is you try adding bright pops of color in your accessories to brighten up the look for spring. Think neon yellow, blue, or pink! I love these options here, here, and here!
What did you think of today's style post?! I would love to talk with you in the comments below! Follow me on Instagram, Pinterest, and Facebook to receive daily style inspo!
Thank you SO much for stopping by Blush & Camo!
xx Julianna
SHOP MY POST
J.Crew Always Cotton-Chambray Shirt
Mid-Rise Stay-White Rockstar Super Skinny Jeans for Women
H&M – Basic Tank Top – Black – Ladies
Cedar street magnolia
Women's Pamela Heeled Sandal – MossimoTM