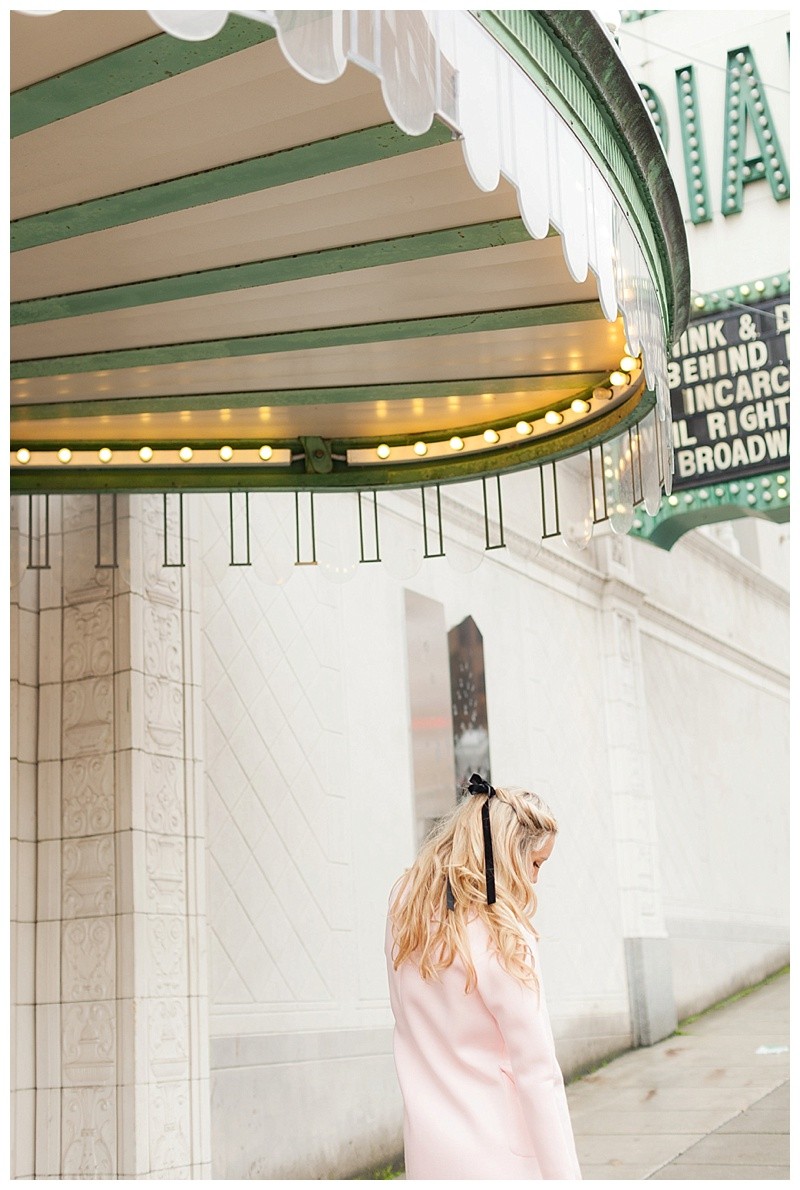 Happy Monday! I hope you all had a wonderful Thanksgiving!
When you think of the holidays and what you will wear to parties I'm sure the traditional red and green colors pop into your head. Or, maybe you are thinking of going a little more trendy this season and wearing a suede fabric or a burgundy color.
Regardless if you go traditional or trendy, pink is probably not one of the colors you think of wearing for the holidays! No matter what the season (or time of year) I can't let go of my love of pink! So today I am going to share how to wear pink during the holiday season!
WEAR A STATEMENT PIECE 
When wearing pink you want to keep your pink colored item to one statement piece during the holiday season. I recommend this piece as a coat because this leaves you with a TON of possibilities to accessorize (and who doesn't want that!).
Anything more than one pink statement piece will detract from the overall holiday look we are going for.
ACCESSORIZE LIKE YOU ARE DRESSING FOR THE HOLIDAYS
Once you have the item picked out that incorporates the color pink the rest of the styling is easy (I promise!). The next step is to accessorize like you would for the holidays!
This means to incorporate chunky knits, like the turtleneck I am wearing, or fabrics such as plaid or velvet into your outfit. For example, if I wasn't wearing a this chunky knit I could also wear a plaid button down that incorporates colors that mix well with pink!
I also added velvet which exudes the holidays by adding a simple velvet bow to my hair! You don't have to go overboard when accessorizing since your pink item will be the focal point of the whole look. For this outfit I could also wear suede OTK boots which I am loving this season- and would totally wear for the holidays!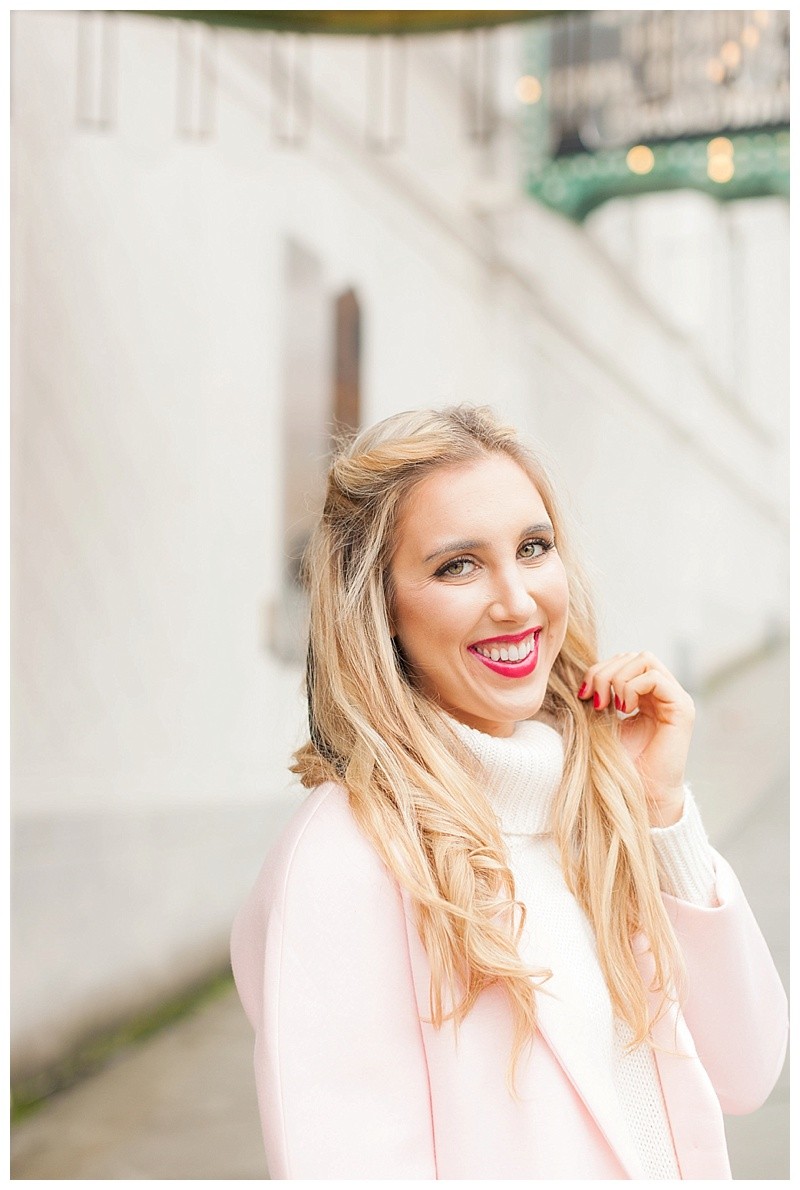 GO FOR A BOLD LIP
To really tie the whole look together (and because the tiniest details matter!)- rock a bold pink lip. A traditional red lip is usually worn during the holiday season, but since this is not your traditional holiday outfit, a bold pink lip would be holiday appropriate and totally chic.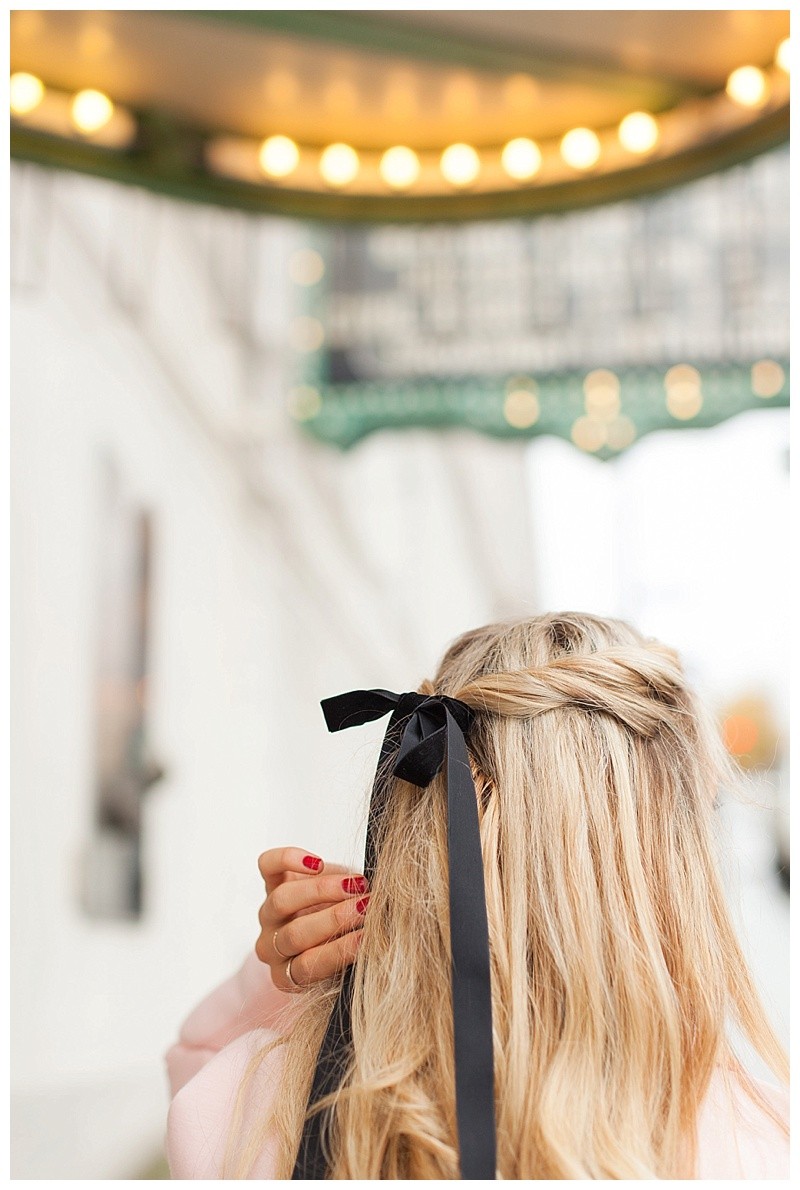 What do you think of today's nontraditional holiday post?! Would you wear an outfit like this? I would love to hear from you in the comments below!
Thank you so much for stopping by Blush & Camo!
xx Julianna
Coat- ASOS. old, similar (and gorgeous option) here; Turtleneck- Forever21, old, very similar here; Jeans- Old Navy; Shoes- Chanel; Handbag- Kate Spade