**Today's post was sponsored by Amazon! It's partnerships like these that make Blush & Camo possible. All opinions are my own.[
Welcome back to Blush & Camo! Thank you so much for taking time out of your busy schedule to be here and I'm so happy you are.
For those of you who are new around here, welcome! I'm Julianna, and I inspire women to boost their lifestyle and grow their dream wardrobe through budget friendly tips! I believe you don't have to break to have an elevated lifestyle!
Today I'm getting a little personal and sharing insight to how my everyday routine changes when Chuck is deployed + giving tips on how I manage to get it all done!
Let's get started!
LIFESTYLE CHANGES WHEN CHUCK IS DEPLOYED
For the duration of our 8 years together Chuck and I have always been a military couple. We both met at West Point in 2011 and ever since then at least one, or both of us, has been in the Army. Part of the military lifestyle is getting moved to various places around the country or getting deployed.
Throughout our 8 years together we've done a little over 4 years together long distance. It can be difficult going from being a team and tackling everyday life together to then being by yourself for an extended period of time!
Currently, Chuck is deployed overseas for a considerable amount of time. This means when he's gone it's up to me to not only run my business Blush & Camo, but to also take care of our dogs, complete all day to day tasks that need to get accomplished. This means grocery shopping, cleaning the house, mowing the lawn, laundry, and scheduling appointments for the dogs. The list of things that needs to get done goes on and on!
Shout-out to all the military families who also have kids! I struggle with the day to day adulting activities that need to happen without having kids.
When Chuck is deployed it takes a while for me to adjust to my new "normal" and get into a new routine. Some days there doesn't feel like there is enough time in the day to get everything done by myself and successfully run my blog.
After four years of experience of long-distance relationship experience I'm going to share my top tips for tackling your everyday life head on while your significant other is away!
TOP 3 TIPS FOR LONG DISTANCE
LEAN INTO YOUR FRIENDS AND FAMILY
It's so important, especially in those first few weeks to lean into your friends and family! Try and get out of the house as much as possible to stay social.
FIND A HOBBY THAT YOU LOVE
While your significant other is away you may have additional free time to yourself. Take this time to explore a new hobby or activity you've always been interested in!
PUT SYSTEMS IN PLACE TO HELP WITH EVERYDAY TASKS
When Chuck is gone I evaluate my schedule to try and see where I might need additional help. For example, I like to mow the lawn and do laundry, but I really hate to vacuum. I don't think I can overemphasize enough how much I hate to vacuum, especially with all the dirt, sticks, and Elvis hair (Frankie doesn't shed!) brought into our home every day.
That's why I'm so thankful Chuck and I got our first smart home product from Amazon- a robotic vacuum!
Our robotic vacuum is amazing! It saves me time throughout the entire week because I don't have to take time out of my schedule to vacuum every day. Our vacuum is super simple to use!
It can turn itself on and off at specific times or can be remotely controlled! Added bonus – if you have Alexa, you don't even have to stop what you are doing! Just voice command the vacuum to clean and off it goes!
It comes with a charging station and is quiet while in use. Pet hair is also no problem for these mighty little cleaning machines, although it did take Frankie and Elvis a little bit to get used to seeing this robot roaming around the house!
Smart products like this alleviate stress in my life while Chuck is gone and enable me to focus on all the other adulting things I need to get done on a daily basis and it also gives me some additional time to spend running my business!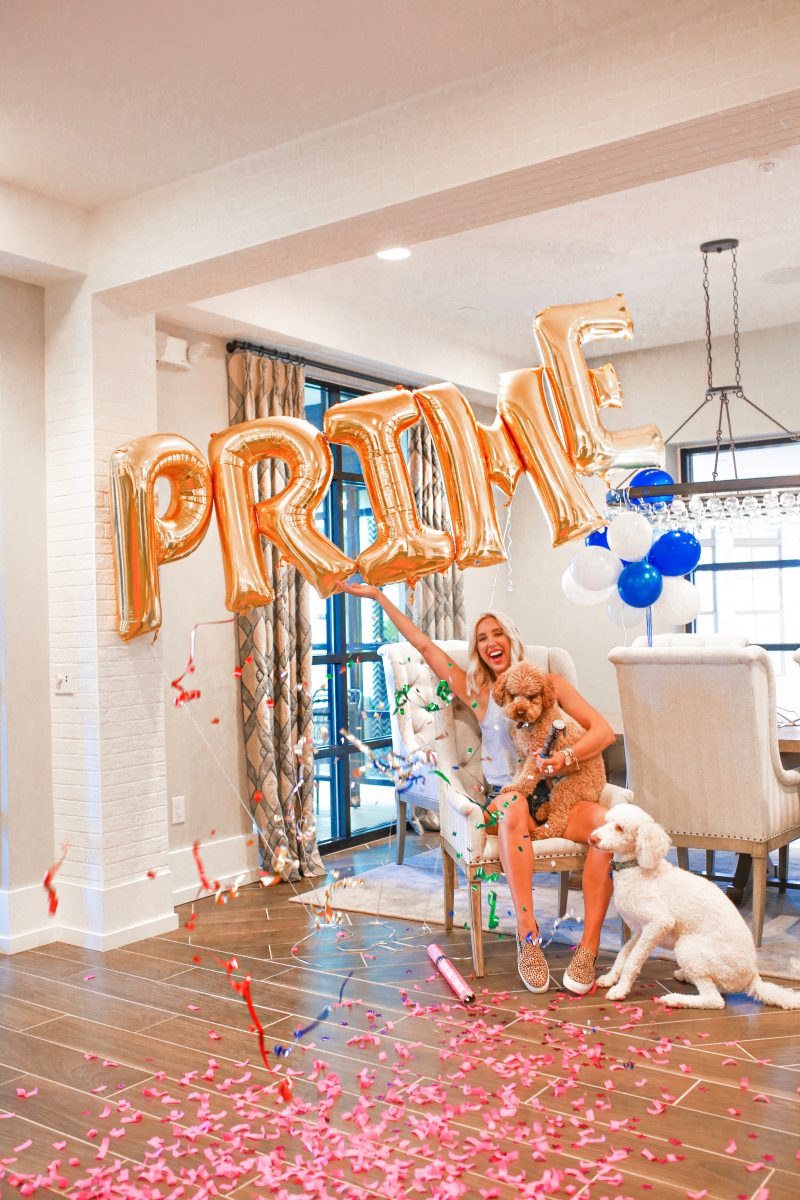 HOW TO SAVE MONEY ON YOUR SMART HOME PRODUCTS
Chuck and I have been Amazon Prime members for years! This is where we purchase almost everything (who else can relate?!) and I'm so excited to share that Amazon Prime day is this Monday July 15th and Tuesday July 16th! Prime Day 2019 is Amazon's most exciting deals event yet, with over million deals worldwide.
If you've been thinking about purchasing a smart home product to take away some of the stress of balancing your everyday life, or simply want to pick up a few clothing items (girl, SAME!), then Prime Day is for you!
You can CLICK HERE to get more details about my favorite Smart Home product right now and remember to check in tomorrow to take advantage of the many Prime Day deals on Amazon and get your very own robotic vacuum!
Thank you so much for stopping by Blush & Camo!
You can follow me on Pinterest by clicking here! 
Get more daily inspo by following me on Instagram and YouTube!
xx, Julianna