Hello, gorgeous! I am so happy you stopped by the blog today because I'm sharing how to create a double fishtail braid hairstyle! Do NOT be intimidated by this hairstyle- it looks more complicated then it actually is. I promise!
Follow these simple steps for a chic updo!
1.) Brush your hair to get all the tangles out and part your hair in a deep side part.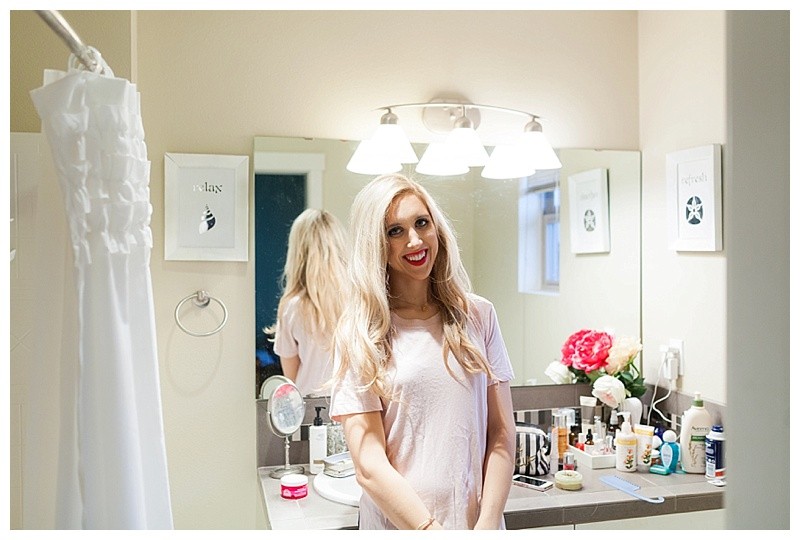 2.) Take all the hair on the side of your part with the most hair and tie the rest of your hair with a hairband.
You don't have to tie it (I didn't in this post), but if  this is the first time trying out this hairstyle using a hair tie makes the braiding so much easier!
3.) Take the thick section of hair you left out of the ponytail and divide into two sections. I recommend making these sections even, OR you can make the first section of hair (closest to your face) slightly thicker then the other.
4.) Take the section of hair that is closet to the back of your head and tie with a hairband to keep the hair away while you do your first braid.
5.) Now comes the braiding part! You will take your first section of hair and do a dutch fishtail braid. This means you will take all the hair in your first section and divide that hair into two more sections. To do a fishtail you will take a piece of hair from the outside of your newly created sections and braid under to combine with the other section of hair.
6.) You will continue to take little sections of hair from one side and braid under to the other side until you get to the middle of your ear. Then, you will start to pull the braid apart to give your braid a thick, full effect. You will then continue to braid and pull the braid apart until you run out of hair. Tie with a hairband!
7.) For the second braid you will repeat steps 5 & 6 for your second braid!
8.) Pull the rest of the hair you didn't braid out of the hairtie and style the two braids you just created into a half up/half down hairstyle, or combine both braids into an amazing ponytail!
I love creating this hairstyle on the weekends when I am to lazy to curl or straighten my hair. What did you think of today's tutorial?! I would love to hear from you in the comments below!
Thank you so much for stopping by Blush & Camo!
xx Julianna