I would first like to apologize for the quality of these photos! If you read my weekly wrap up story here I explained how I broke my camera during the trip (as well as lost my memory card in the process) and only have iPhone photos to share. I wanted to share this snorkeling experience with you all so here are some iPhone pics:)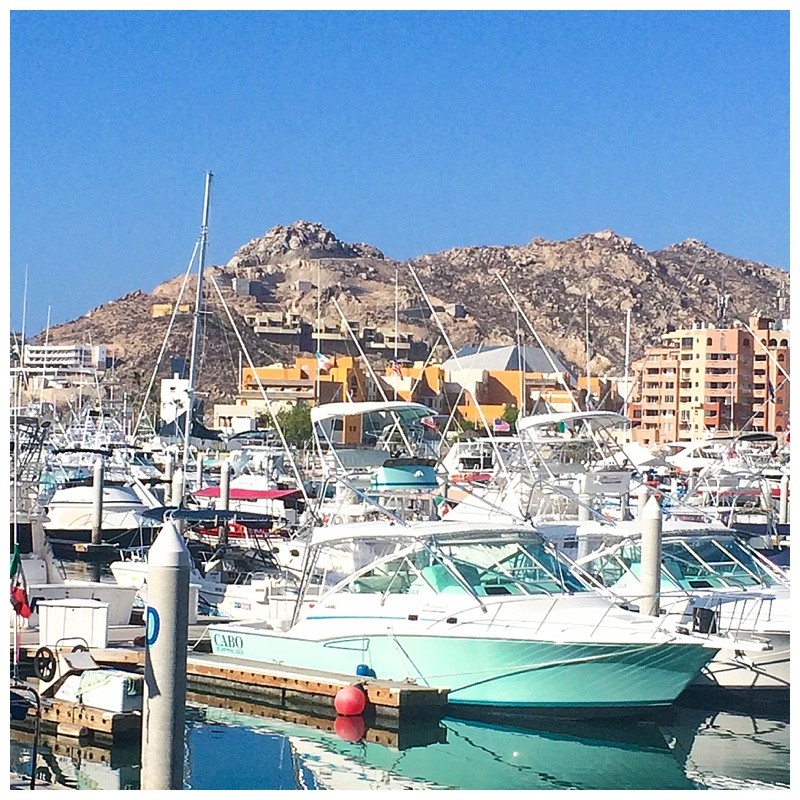 The Marina where Chuck and I first met with our tour guide. There were so many beautiful boats and shops in this area.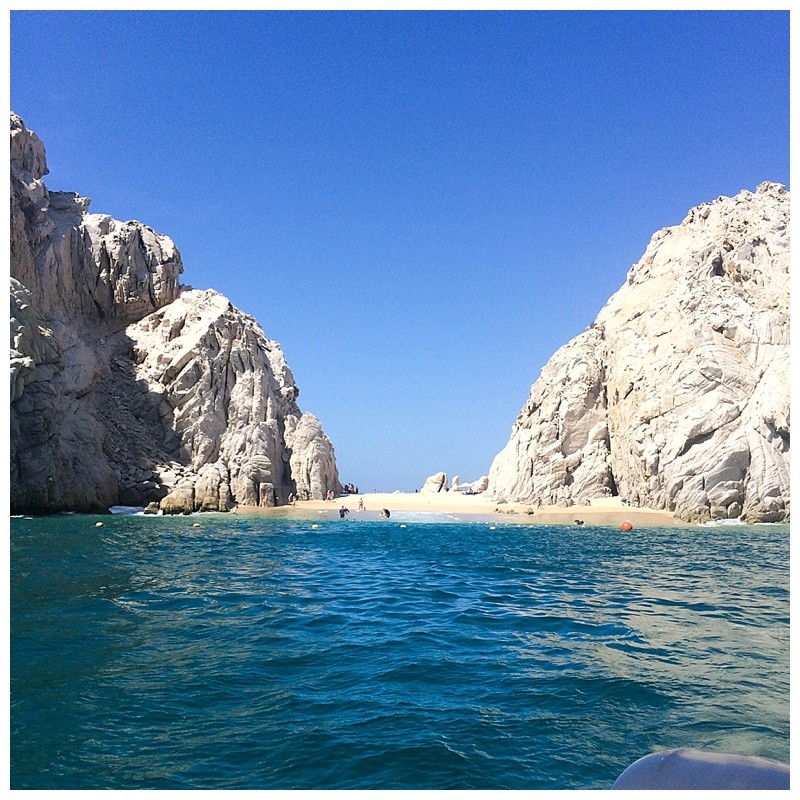 Lawyer's Beach! The waves were pretty rough around here so this beach was not as populated as Lover's Beach.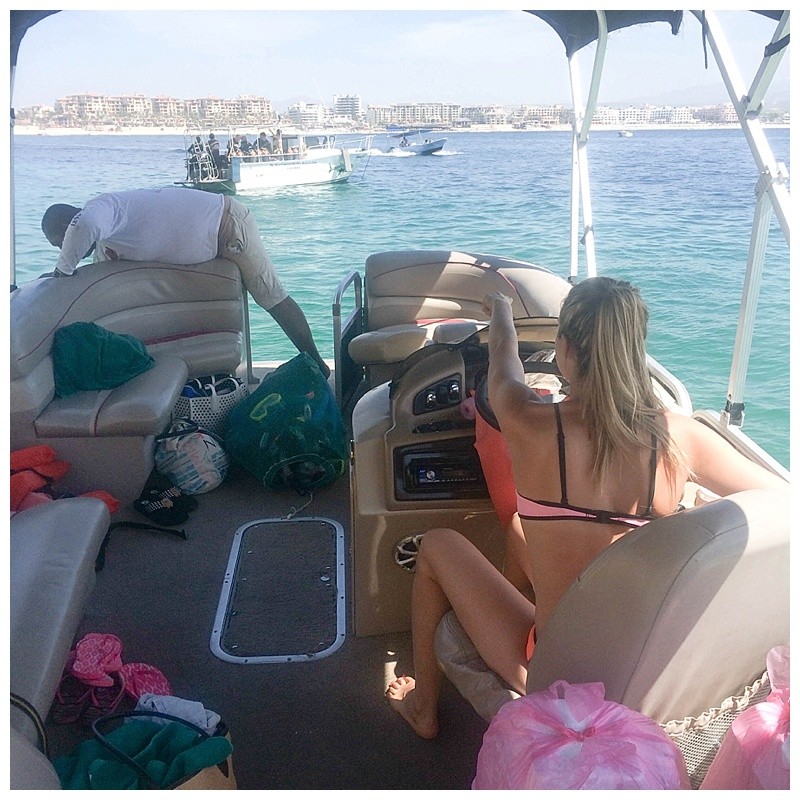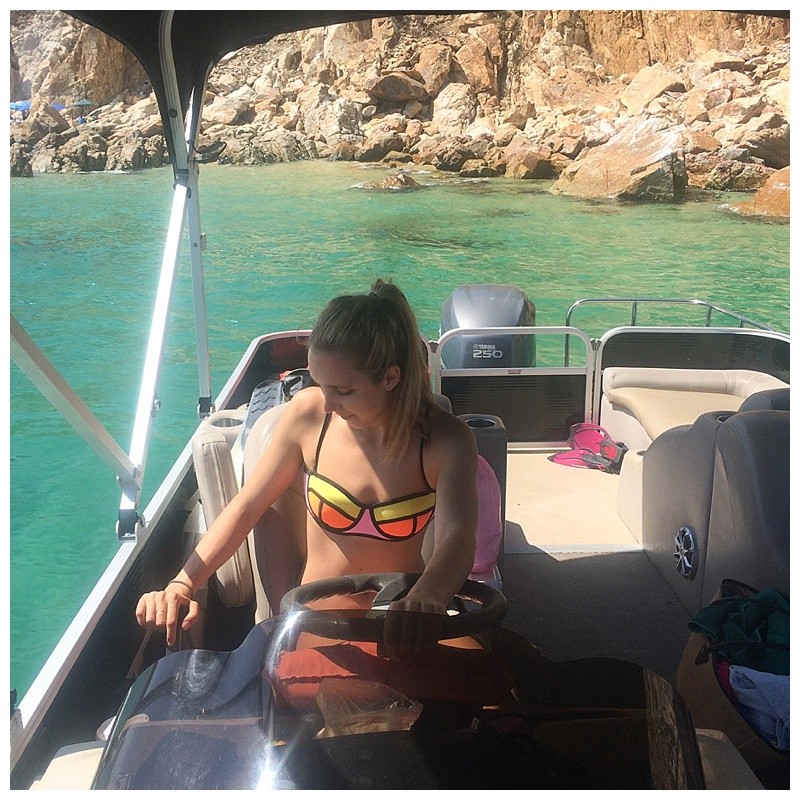 Our instructor let me anchor the boat!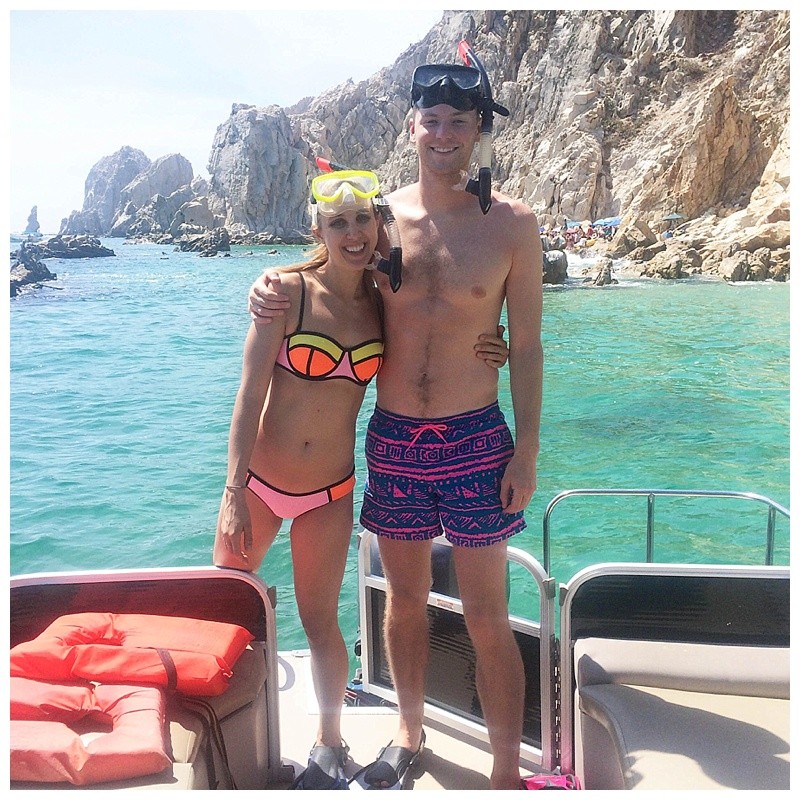 I recently got back from a one week vacation from Cabo, San Lucas Mexico! Chuck and have not taken a vacation in all the years we have been dating so when our leave times at work matched up, we jumped at the opportunity to travel. We both knew we wanted to go someplace tropical and also somewhere we have never been before.
Chuck's dad owns a time share which allows him to travel anywhere in the world for one week a year, so long as he goes through the time share company. He wasn't planning a trip this year and graciously gave those points to Chuck and I. When looking at available dates and places Cabo became the obvious choice very fast- less than two hours later the hotel reservation was set and plane tickets bought!
Upon arriving to Cabo I could not believe my eyes! The water was a vibrant shade of blue, and the views were breathtaking. As soon as we dumped our bags into our hotel room we ran onto the beach and started playing in the Pacific not caring it was almost nine o'clock at night!
For the most part we just relaxed by the private beach our hotel had to offer, but there were two days where Chuck and I decided to venture out. We went parasailing one day, which was a blast, and then we went snorkeling the next day!
Parasailing was my idea, and Chuck's was the snorkeling. I kept hearing in the news about all the shark attacks occurring this summer and wasn't completely thrilled with the idea of snorkeling, but since Chuck really wanted to do it I happily agreed. That morning our instructor loaded us onto the boat and I asked him if he had ever seen a shark while snorkeling. He told me his boss would get mad if he told me the truth, but there was my answer…He had seen a shark (I was freaking out on the inside)! Our instructor took the boat right next to the infamous Cabo Arch before we started snorkeling, and let us view the coves surrounding the area and Lawyer's Beach before anchoring right next the Lover's beach. It was go time!
The waves were pretty rough, but I felt reassured knowing there were more that just Chuck and I in the designated snorkeling area. The experience was awesome! Our instructor put a bunch of tortillas in his pockets, which the fish loved, so wherever he went so did all the fish (I thought that was pretty smart of him)! I got to touch a blow fish and feel the heart beat of a crab. Towards the end of the snorkeling adventure our instructor pointed out that the large groups of long, skinny fish were actually baby barracudas (umm what?!). He told us the babies stay close to the shore while they are little (they can't hurt you when they are small) but once they get bigger they meander into the heart of the ocean to get more food. Then, as I was swimming towards the boat to take off my gear the instructor said to me "Julianna, come check out this baby eel." Now, I am no marine biologist, but I know eels are not the friendliest of fishes in the ocean. I thought he was messing with me so I swam over and looked at the bottom. Sure enough, curled right next to a large rock, was a baby eel sleeping. That was enough for me- I took off towards the boat. Once Chuck and the instructor got back he told me he had never seen someone swim that fast before. I told him I swam in college so I decided to use my skills to get away from that eel.
Overall, I am so glad for the experience and that Chuck took me out of my comfort zone. I really loved seeing all the different types of fish and getting to touch some of them. I would do it again in a heartbeat, and loved every second of staying in Cabo:)
Thank you so much for reading!