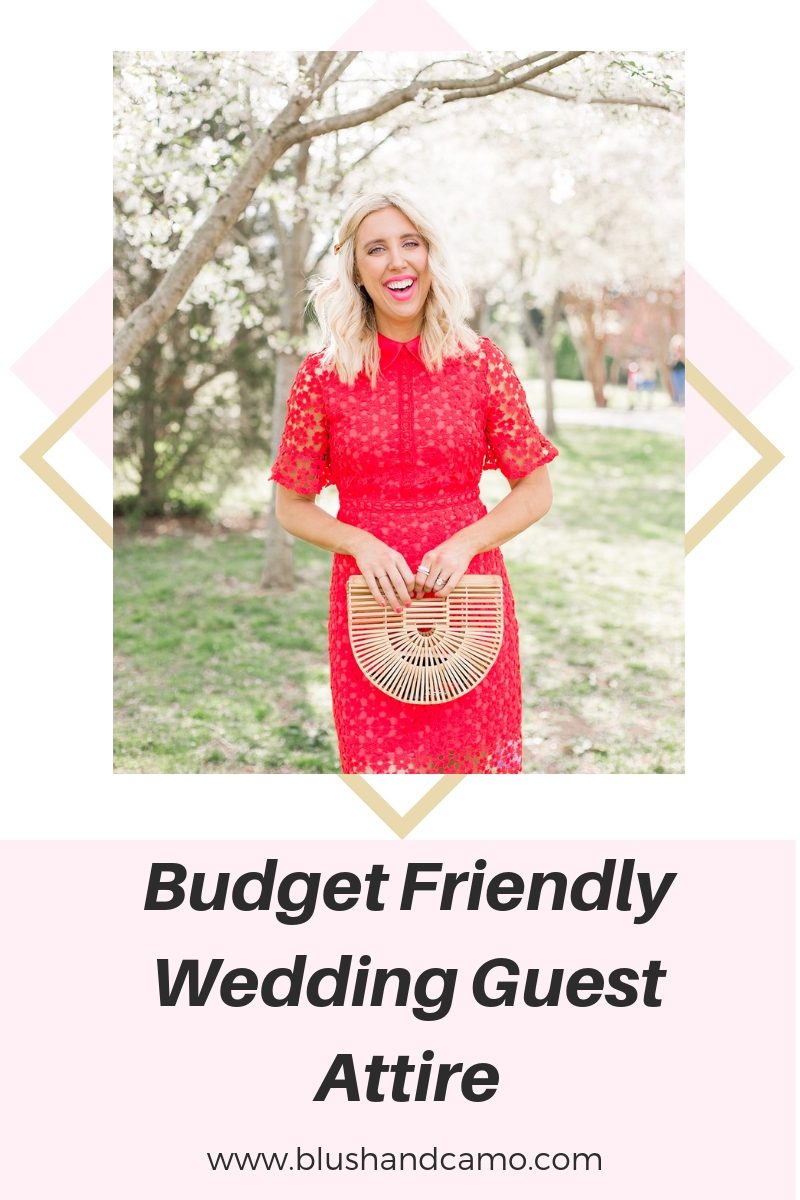 Welcome back to Blush & Camo! Thank you so much for taking time out of your busy schedule to be here and I'm so happy you are. For those of you who are new around here, welcome! I'm Julianna, and I inspire women to elevate their lifestyle and grow their dream wardrobe through budget friendly tips!
We are officially in wedding season and today I'm sharing my best wedding guest style tips and also a few budget friendly wedding guest dresses you'll love!
STYLE TIP #1: DON'T WEAR WHITE
This may seem obvious, but I have been to weddings where there was a least one girl wearing some shade of white. I highly recommend not wearing any hue of white when attending a wedding. Off-white, cream, ivory, or even dresses that incorporate other colors but are majority white I recommend staying away from. There are so many dresses to choose from and you don't want anyone to think you're trying to take attention away from the bride on her big day.
STYLE TIP #2: THINK ABOUT THE WEDDING'S DRESS CODE
Each wedding has it's own "dress code". Some wedding's are super casual and you may already have a dress in your closet that is appropriate. Other wedding's are more fancy and have a black tie dress code.
A general rule of thumb for wedding attire is the fancier the dress code the longer your dress needs to be. For black-tie weddings a formal gown is usually the best call, whereas for casual wedding attire you can wear a summer dress you already own!
Normally the dress code will be on the wedding invitation!
STYLE TIP #3: DON'T LOOK LIKE A BRIDESMAID
If you are a wedding guest and not in the wedding party you don't want to choose a dress that looks like a bridesmaid dress. I know you're probably thinking how the heck am I supposed to know what the bridesmaid dresses look like?!
A good rule of thumb is to look at the wedding invitation (usually a great indicator of the wedding colors) and stay away from any long maxi dress that resembles any of the colors on the invitation!
Also in today's post I've rounded up 27 budget friendly wedding guest dresses for you to shop! Which one is your favorite? Let me know below!

You can follow me on Pinterest by clicking here! 
Get more daily inspo by following me on Instagram and YouTube!
Thank you for stopping by Blush & Camo!
xx, Julianna